Wildflower Wheat
| Marble Brewery
BA SCORE
81
good
34
Reviews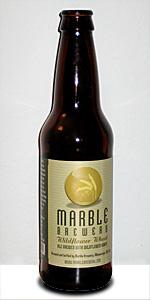 BEER INFO
Brewed by:
Marble Brewery
New Mexico
,
United States
|
website
Style:
American Pale Wheat Ale
Alcohol by volume (ABV):
5.60%
Availability:
Year-round
Notes / Commercial Description:
No notes at this time.
Added by vurt on 01-16-2010
Reviews: 34 | Ratings: 109

3.6
/5
rDev
+2.9%
look: 3.5 | smell: 3.5 | taste: 3.5 | feel: 3.5 | overall: 4
Being in a hot climate ( in the summer and early Fall), this beer is pretty decent for the style and with the addition of NM wildflowers to the beer and nice sweetness arises in the finish. Like most AW beers their is not a lot of complexity or big flavours but the overall beer is well balanced and refreshing .
★
312 characters

3.38
/5
rDev
-3.4%
look: 4 | smell: 3.5 | taste: 3.5 | feel: 3 | overall: 3
Sampled August 2010
A steady pour into my 25cl tulip glass produces a two-finger thick, pale tan, off-white colored head. The beer is a gold color that shows a brilliantly clear, bright yellow color when held up to the light. The aroma smells of dusty crushed pale malt, biscuit like grain notes, and slightly stale wheat-berries. There is perhaps a hint of a herbal note here, and something that seems to remind me of over-ripe cheese, or perhaps moldy fruit. This last note is very faint though. I am quite surprised how much pale, cracker like grain character is in the nose; definitely different than I was expecting.
The beer has a mediumish body to it as well as a soft grain sweetness up front. It gets a little funny towards the finish, where it reminds me of a cross between kiwi fruit, a slight metallic note, some wild herbs and a musky, but under-ripe melon. This beer is pretty dry, which is a bit surprising given that most commercial honey beers try and manipulate the fermentation process to keep sweetness in the beer (honey will easily 100% ferment to dryness if given the chance). I like that this isn't sweet though. The huge crushed pale malt note from the nose is muted quite a bit here in the flavor, but still adds some complexity to the overall flavor profile.
This would be quite refreshing if not for that slightly weird character found in both the nose and flavor. I wonder if this is from the wild-flower honey used; who knows what those bees got into. Interesting, but not enough to really make me want to drink this.
★
1,549 characters

2.88
/5
rDev
-17.7%
look: 3 | smell: 2.5 | taste: 3 | feel: 3 | overall: 3
Tasted from bottle. Pours clear light orange with a bubbly head that quickly recedes to minimal lace. Nose is light wheat and sweetness with a hint of tartness and light yeast. The palate is rather non-descript with light notes of wheat, honey, yeast, and a light tartness. The body is medium with light carbonation and a decent honey finish. This beer is underwhelming, and I was hoping for quite a bit more.
★
409 characters

2.43
/5
rDev
-30.6%
look: 2.5 | smell: 2 | taste: 2.5 | feel: 3 | overall: 2.5
Looks: the color of lovely golden sunshine, however almost perfectly clear and with a transient head that becomes a negligible ring in mere seconds. For an unfiltered wheat ale, as the bottle states, this has exceptional clarity -- which isn't a good thing.
Smells: heavily grainy, with the pale malt flavors of cereal and sourdough overpowering the others. I'm maybe getting the slightest hints of rotten bananas and coriander as it warms. Not the best.
Tastes: like the smell exactly. Mostly grainy, a little fruity. Bananas, light citrus, heavy cereal.
Feels: fuzzy, becoming fizzy as it swirls about the mouth. Medium-light body, with a numbing and encompassing carbonation.
Drinks: like disappointment. I usually like what Marble throws down, but not in this case. Stick to the hoppy stuff, guys.
★
809 characters
3.88
/5
rDev
+10.9%
look: 4 | smell: 3.5 | taste: 4 | feel: 4 | overall: 4
Pours a hazy golden straw color with a frothy white head that leaves a good amount of lacing.
Smells of citrus wheat notes and banana fruitiness.
Tastes of big wheat notes. Plenty of lemon is present with some back end, honey sweetness. Banana also comes through and a bit of floral notes.
Mouthfeel is medium-light with a creamy amount of carbonation.
★
355 characters
3.71
/5
rDev
+6%
look: 4.5 | smell: 3.5 | taste: 3.5 | feel: 4 | overall: 4
Marble Wildflower Wheat, poured into a Weizen glass.
Appearance:
It pours hazy golden with a very nice creamy four finger head even with a very light pour, and it retains its head for quite a long time. A bit of yeast can be seen, which is good.
Smell:
It smells grainy with a bit of malts and a little honey with hops coming to the forefront, along with a bit of lemon at the end, which is nice.
Taste:
I first taste a good amount of wheat and a bit of malt and lemon, first off. A quirky combination. Then the hops kick in, followed somewhat slowly by the honey, which stays for some time in the aftertaste.
Mouthfeel:
It is quite creamy and grainy in how it feels, but somehow it is in balance. Maybe the honey adds some nice thickness to it.
Drinkability:
A nice light beer for summertime that I could drink quite a few of, indeed.
★
840 characters

3.71
/5
rDev
+6%
look: 4.5 | smell: 3.5 | taste: 3.5 | feel: 4 | overall: 4
Pours a luminous but hazy golden color with silky smooth 'n creamy head. Plenty of residual yeast at the bottom, which was a surprise given that it is categorized as American wheat rather than as a fine Bavarian Weissbier. Nose has a clean bready aroma with some light lemon. On the palate it is noted to be quite creamy & smooth (again, the head helping out) with a soft wheaty malt component that is rounded out with light citrus notes and some sweet 'n sour flavors. Easy drinking.
★
484 characters
3.68
/5
rDev
+5.1%
look: 4 | smell: 3.5 | taste: 3.5 | feel: 4 | overall: 4
Marble wildflower wheat
Pours with a big fluffy off white head. Great retention, and oddly
enough nice stick for a wheat beer. Nice cloudy orange color.
Nose has clove, fresh grain, and some raw honey.
Taste is clove, a slight sourness, some grainy malt, and some
lingering honey on the finish. The sour flavor is a little weird, but
not offputting or anything.
Mouthfeel is typical wheat, light but not watery or thin, just refreshing.
A good all around beer, one that you could give to guests without
upsetting to many people.
★
533 characters

3.94
/5
rDev
+12.6%
look: 3 | smell: 4 | taste: 4 | feel: 4 | overall: 4
EDIT:
The brewer at Marble Brewing just informed me that Wildflower Wheat is supposed to be more of an American Pale Wheat Ale instead of a hefeweizen. An American Pale Wheat Ale, by definition, has a more neutral yeast profile than a traditional German hefeweizen. In other words, the attributes I thought were missing aren't supposed to be there in the first place.
My original ratings were 3/3.5/3.5/4/3.5. I have updated these ratings and edited the text of my review because the beer does indeed conform to the style it is supposed to be.
---
12 oz. bottle, enjoyed in a Becker glass I picked up at the pub attached to the Marble Brewery in Albuquerque, NM.
Appearance:
Rich gold color, moderately hazy. Surprisingly small head of foam for an unfiltered wheat beer. Very little lacing left behind.
Smell:
Starts with mild banana and plenty of lightly sweet malt. Honey and floral notes follow, leading into some delicious toasted wheat bread character. There's a little whiff of lemon at the finish along with a warm, nutty yeastiness.
Taste:
Malty sweet at the start, followed by a little bit more banana character than the nose led me to expect. The middle is nutty and slightly sweet like GrapeNuts cereal. A citrusy tang comes next, and it leads right into flavors of toasted bread with honey and a touch of floral hops. Finishes more like a sturdy German lager than a wheat beer. The honey flavor lingers in the aftertaste.
Mouthfeel:
Light-to-medium body with gentle carbonation. Smooth and softly textured.
Drinkability:
This beer is crisp and quenching, and has plenty of flavor as well. The refreshing citrus twang plays well against the excellent bready flavors, and the honey notes tie the two together. This beer has drinkability and flavor to spare. Nice one.
★
1,785 characters
Wildflower Wheat from Marble Brewery
81
out of
100
based on
34
ratings.