Tangerine IPA
| Potosi Brewing Company
BA SCORE
84
good
15
Reviews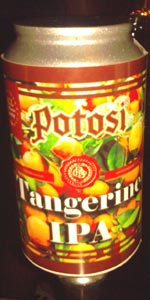 BEER INFO
Brewed by:
Potosi Brewing Company
Wisconsin
,
United States
|
website
Style:
American IPA
Alcohol by volume (ABV):
7.00%
Availability:
Rotating
Notes / Commercial Description:
No notes at this time.
Added by emerge077 on 08-15-2011
Reviews: 15 | Ratings: 93
3.75
/5
rDev
+1.1%
look: 3.75 | smell: 3.75 | taste: 3.75 | feel: 3.75 | overall: 3.75
Tasted in a Spiegelau IPA glass from a 1 pint can on September 13, 2015. 55 ibu and 6.5% abv. Look is medium copper amber, thick head that fades to a ring, and nice lingering lacing. Smell is tangerine with hints floral hop. Taste is tangerine, tart citrus, bitter hop and sweet malt notes. Feel is medium in body, syrupy at first but then creamy in the finish.
★
366 characters

3.47
/5
rDev
-6.5%
look: 3.5 | smell: 3.25 | taste: 3.5 | feel: 3.75 | overall: 3.5
Tangerine IPA pours a darker copper color with a very small head. There is a maltier aroma, with hints of tangerine. The taste has big tangerine flavors, with a crisp malt flavor. Most of the bitterness comes from the tangerine opposed to the hops. Nice body, good flavors. Overall its a nice beer, bigger tangerine then IPA flavors though.
★
345 characters

3.98
/5
rDev
+7.3%
look: 4 | smell: 4 | taste: 4 | feel: 3.75 | overall: 4
Poured from 16 oz can into goblet.
A: Pours golden brown with 1-2 finger white head. Fairly long retention and plenty of lacing.
S: Bright floral hops and a huge punch of citrus that hit me as soon as I popped the top. Mostly tangerine but some pine and grapefruit hanging around in the back.
T: Sweet tangerines dominate but mixed with grapefruit, orange peel, and earthy hops.
M: Medium body and average carbonation leaving some oily resins on the tongue.
O: Refreshing twist on an IPA. Not something I want everyday, but I liked it quite a bit.
★
563 characters
3.45
/5
rDev
-7%
look: 3.75 | smell: 3.75 | taste: 3.5 | feel: 3.25 | overall: 3
Nice slightly hazy deep Amber color with a decent head, good retention and nice sticky lacing. Nice aromas of citrus and fruit. The flavor started Ok but grew more cloying as the glass wore on. Started promising but the farther I went, the less enjoyable the beer got
★
270 characters
3.89
/5
rDev
+4.9%
look: 4 | smell: 4.25 | taste: 3.75 | feel: 3.75 | overall: 3.75
16 oz pint glass poured into an imperial pint glass, the beer is a chill hazed bronze with a thick and clingy tan head.
The smell hits you as soon as you pour it into a glass. Big pine and citrus (both grapefruit and tangerine notes).
The beer leads with sweet tangerine upfront but quickly morphs into a resiny IPA backed with some cracker like malts. The tangerine is on display but never dominates the beer thanks to the heft does of hops. It is a trifle sweeter than a normal IPA but it is tasty.
The mouth is decent and touch coating.
I like this one a lot, it's a great change of pace beer!
★
608 characters
3.27
/5
rDev
-11.9%
look: 3.75 | smell: 3.5 | taste: 3 | feel: 3.5 | overall: 3.25
Picked up a four-pack of pint cans at the Trig's Cellar 70 in Wausau. No production date is visible. Poured right from the fridge into a nonic pint glass.
L: Pours a bright orange blossom honey amber with about an inch-and-a-half of off-white head marked by large, quickly-dissipating bubbles. There's moderate lacing left on the glass. Quite clear, with minimal, lazy visible carbonation.
S: The aroma from the first pour is a little overwhelming, with a very strong canned (meaning not fresh and with some definite metallic notes) orange juice. This settles down pretty well after a bit: there's still a considerable orange/tangerine juice presence, but this works much better against some nice pine hop notes. The malt presence is bread-like, and there are some sour/herbal/earthy notes going on, as well.
T: Bread-like malts up front--sourdough-esque. A lot of sweetness coming in right away, perhaps some from the malts but the majority of it from what must be the tangerine fruit juice. The tangerine juice doesn't have a fresh flavor--definitely more like getting it from a can. The middle introduces some pine and grassy hop flavors, along with a bit of earthiness. There's still a good bit of sweet tangerine coming through here and into the back end. The close has a bit more of the malt and the pine hop shining through. There's a good bit of citric astringency at the finish, but there isn't much in the way of lingering hop bitterness. A slight bit of metallic notes on the close, as well.
F: On the lighter side of medium-bodied, this one has some creaminess to it aided by a good level of carbonation. There's a bit of syrupy quality likely owing to the fruit juice. A bit astringent and tart, but not particularly bitter.
O: I really wanted to like this beer: I'm a fan of Potosi's Snake Hollow IPA and their business philosophy (all profits going to charity). However, this one has too much sweetness and not a fresh enough juice quality to make it something that I'd recommend. It's possible that I got an old pack, so I will try again and update my review.
★
2,080 characters

3.33
/5
rDev
-10.2%
look: 3.5 | smell: 3.5 | taste: 3.25 | feel: 3.25 | overall: 3.25
16oz tallboy, served in a snifter glass.
Pours a darker copper body, two finger white head with nice retention, a bit of splotchy lacing. Smells of dank oranges and citrus; non-descript caramel sweetness. Fairly simple, but not bad. Flavour is not quite so interesting, unfortunately- a decent bit of a metallic flavour overshadows a hefty tangerine/orange presence; it's almost to the point where it's more of a fruit beer than an IPA. Fairly bitter orange rind presence. Mouthfeel is thinner bodied, quite bitter, good carbonation, dry with a bitter orange rind finish. Overall, it just didn't work for me; I think there was too much tangerine involved here that it essentially tasted like boozy metallic tangerine juice.
★
724 characters

3.97
/5
rDev
+7%
look: 4 | smell: 3.75 | taste: 4 | feel: 4.25 | overall: 4
poured 16oz can into snifter
A - Pours a pretty light orange/golden hazy color. Big white 2 finger head on my pour and a nice amount of thick lacing.
S - A very pleasant scent as I pour. Big sticky sweet tangerine, citrus and floral hops with a nice caramel malt aroma.
T - Big on the sweet tangerine and citrus fruit flavors. Middle has a sweet caramel malty, honey flavor to really smooth it out. Finish has just enough bitterness.
M - Nice carbonation. Leaves oily residue on the tongue and is sticky sweet with bitter finish.
O - This is a very authentic tangerine flavor and an easy drinking IPA. 16oz cans are the perfect vessel for this beer.
★
657 characters
3.8
/5
rDev
+2.4%
On-tap at Three Cellars in Franklin, WI:
Pours orange-amber with a thin, lasting head. Lacing sticks.
The smell is of tangerine and a general citrus aroma. The aroma is robust, fruity and pleasant!
The taste is of tangerine - in a very real way. It has a touch of sweet pine to keep it from being too one-dimensional, but the tangerine stays in the front in a genuine way. There is a bitter touch to keep it an "IPA" in the finish.
It has a reasonably creamy body, though there is a bit of a sharpness to it.
The tangerine gets stronger as it progresses. There is a bitterness that balances it. It's an interesting fruit IPA!
★
631 characters

3.79
/5
rDev
+2.2%
look: 3.75 | smell: 4 | taste: 3.75 | feel: 3.5 | overall: 3.75
Growler brought from the brewery - thanks to my sister
A - pours a clear orange-copper, little bit of white head
S - tangerine comes through, not too strong, with citrus and malt subtly following
T - tangerine present here too, fairly sweet, complemented by bitter, piny hops
M - fairly thin, well-carbonated
O - good take on a fruit IPA - similar to Scurvy from Tyranena but a bit sweeter with the tangerine
★
414 characters

2.85
/5
rDev
-23.2%
look: 3.25 | smell: 3.25 | taste: 2.5 | feel: 3.25 | overall: 2.75
On tap at Old Fashion, Madison.
Served in a standard pint glass. Virtually no head and what is there dissipates to nothingness fairly quickly. No lacing. Aroma is... Tangerine. But it's a fermented tangerine, not the fresh juicy tangerine. And orange zest. First taste is brutal. Pure tangerine zest and citrus oils. Brutally pungent with intense citrus oils. But the pungent astringency wears on the taste buds and eventually you're able to pick up more than just orange zest. Tart, slightly acidic, orange, some mild pale malts. Bile. Lighter bodied, tart, moderately bitter, but its more of an astringency than a bitterness.
In the end this tastes like a blend of beer and orange juice. Not for me.
★
703 characters

4
/5
rDev
+7.8%
look: 4 | smell: 4 | taste: 4 | feel: 4 | overall: 4
Pretty tasty stuff and an interesting approach. Served at a good temperature with a nice, foamy, thick, cream colored head that slowly settles down and lots of lace. Color is a clear, orange amber with some varying sized bubble trails. Aroma is malt, hop, caramel, fruit, Flavor is like nose - tangerine comes thru along with citrus, resin hop flavor and some carbonic tang. Body is good and ditto carbonation. Finish is like flavor, longish and good for at least one more draught.
★
481 characters
4.62
/5
rDev
+24.5%
look: 4.5 | smell: 5 | taste: 4.5 | feel: 4.5 | overall: 4.5
I loved this beer and if they don't bring it back soon, they're crazy. The greatest thing is that it introduces people like me to a brew that would be "unpalatable," to one that just allows one to slowly get accustomed to the IPA standards. We went there for Valentine's Day. I was so disappointed that I couldn't have my husband try the Tangerine IPA. He doesn't like IPAs as a rule. Food was great and beers they served were great!
★
433 characters

3.95
/5
rDev
+6.5%
look: 4 | smell: 4 | taste: 4 | feel: 3.5 | overall: 4
Transferred over from my tasting notebook.
"A Blend of Snake Hollow IPA and tangerine juice" is how it describes itself, and it plays out exactly as advertised. This brew is indeed both an American IPA and a Fruit Beer... so its one of those beers that is free-form rather than adhering to conventional styles... which is neither good nor bad, it just..."is".
Appears vibrant orange with a frothy, fine bubbled head with medium levels of lacing. The body is slightly too thick from the addition of the fruit juice, however, which is a minor problem. Puckery sweet-tart tangerine on the beginning of the sip complements the pineapple and heavy citric hopping presence quite well. Backs off on the sweetness just before it would have become cloying, tempered by the grainy malt and piney hopping. Aroma has some cannabis aspects as a minor element. On the sweet/sour spectrum, sits up at about the same place as a nice puckery tart kriek, only this brew has IPA hopping on top of all that tartness...I like it a lot, and my only nitpick is that the viscosity is about 10% too high, but tastes do vary on issues like that. It actually feels kind of "healthy" as I drink it..as if I were having an (modified) tall glass of orange juice! When it comes back into season, I will certainly be seeking this one out again.
★
1,314 characters

4.39
/5
rDev
+18.3%
look: 4 | smell: 5 | taste: 4 | feel: 4.5 | overall: 4.5
"Snake Hollow IPA infused with 100% natural Tangerine juice."
Two drafts served in a fluted tulip glass, on tap at Mason Lounge in Madison, WI.
In the dim light, it looked to have sharp clarity, a bright orange color with a slim white cap of sticky foam. Random arcs and spotty lacing inside the glass.
Dank! Wow, this has a really nice and pungent aroma... funky, earthy hops and a burst of fruity citrus in the form of sweet tangerine/nectarine. Juicy and fresh, with distinct sticky hop resin bleeding through. They had to have dry-hopped this a bit, Snake Hollow never smelled this dank. Love it.
Distinctly sweet tangerine/nectarine notes, underlying resiny hop bitterness and supporting citrus notes. Pale malt is there too, hanging out underneath, giving a little bit of heft and balance. Smooth nectar-like feel, low to medium carbonation. Had to have two in a row, definitely unique and drinkable. Hope they bottle this, or at least get extra kegs out to more specialty beer bars in WI.
2015: the early test batches of this were way better than the version they finally canned.
Canned version I'd rate a 3.75 or so.
★
1,132 characters
Tangerine IPA from Potosi Brewing Company
84
out of
100
based on
15
ratings.