Hair of the Dog Brewing Company / Brewery and Tasting Room
BEER STATS
Beers:

44

Reviews:

Ratings:
PLACE STATS
Reviews:

73

Ratings:

Avg:

4.31

pDev:

6.03%

Taps:

8

Bottles/Cans:

15

Cask:

N

Beer-to-Go:

Y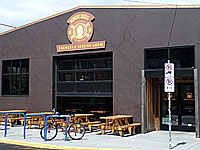 PLACE INFO
Type:
Brewery, Bar, Eatery
61 SE Yamhill St
Portland
,
Oregon
, 97214
United States
(503) 232-6585 |
map
www.hairofthedog.com
Notes:
HOURS:
11:30am - 8:00pm Tuesday - Thursday & Sunday
11:30am - 10:00pm Friday - Saturday
CLOSED MONDAY
Brewery and Tasting Room (new location) - opened August 2010.
Former address (this location closed in early 2010, moved in spring):
4509 SE 23rd Ave Portland, OR 97202
Added by BeerAdvocate
Reviews: 73 | Ratings: 247
4.72
/5
rDev
+9.5%
vibe: 4 | quality: 5 | service: 5 | selection: 4.5 | food: 4.5
Visited 9.4.2010 with my better half late afternoon for a pre-dinner beer.
After considerable (and I understand costly, no fault of owner) delay, the Hair of the Dog Brewery and Tasting Room opened in mid August, after a couple of one day events (Fredfest and OBF Open House). Located in the Eastside Industrial District within eyeshot of downtown after years in the Brooklyn railroad yard district of SE Portland, the new facility sits hard at the base of an I-5 northbound off ramp, a real boon for travelers who found themselves bewildered by the old brewery location. The Tasting Room is quite spacious, an old converted warehouse, nice custom hardwood bar with about 20 seats and ten butcher block picnic tables. On a nice day the old garage door can be opened for air circulation, though on a hot day (OBF) with a good size crowd this place, as The Old Professor, Casey Stengel, once said, "sure holds the heat well".
The open kitchen, capably manned by former chef and current Top Dog, Alan Sprints, is located in the rear of the tasting room. At this early juncture, the food menu is fairly limited, with cheese and meat plates features top flight products from Cowgirl Creamy, Cypress Grove, and I understand the meats come from neighbor and PDX sensation Olympic Provisions. There are also a couple of salads and a Brisket plate (cooked in Adam) available. Looking forward to Alan having the opportunity to let his considerable culinary skills shine, a friend of mine enjoyed small plates of duck breast and the like on a earlier visit. Moreover, there are some artisan chocolate available, which certainly pairs well with several of Alan's world class beers.
While the Tasting Room is minimally staffed, the bartender (Alan's sister) and I believe a niece manning the floor was quick, friendly and helpful. While the newbies unfamiliar with Alan's beers need a bit of education, my beer was quickly poured with a smile.
The beers, of course, speak for themselves. The OBF open house featured Cherry Adam from the Wood (killer), and the current tap list features, Greg, Blue Dot, Fred, Adam, a 2007 Doggie Claws and Fred from the Wood, along with one guest tap (Caldera Pilsener). The 'regular' beers are $4.50 with FFTW and DC $6.50 for a 12 oz. pour, a bargain for beer of this quality. The extensive vintage bottle list, features three different vintages of FFTW, a 2005 Rose Casais, 5 vintages of Doggie Claws, Michael, Matt (!), and for the festive occasion, magnums of Cherry Adam and Doggie Claws. The beers are a bit on the expensive side for PDX, but once again please remember these are world class beers, if you could find them in San Francisco, etc. I'd expect to pay nearly twice as much.
All in all, this is (along with the soon to open Cascade Barrel House) the center of an emerging craft beer district on Portland's Eastside, within walking distance across the Morrison bridge of downtown. For the traveling BA, this is an absolute must when visiting Beervana, and for locals, a soon to be regular on the beer rota.
When the history of beer tourism is written, this will be on the short list of beer places you must visit. Thanks, Alan, for calling Portland home.
EDIT - Bumped up service score. Wendy does a *great* job at the bar, and having Bourbon Fred from the Wood? Alan's Cherry Adam Bread Pudding or braised short ribs? Sharing a bottle of Adam #1 with The Usual Suspects? Are you kidding me?
RE-EDIT - Maxed out service score, Wendy is the best ;)
★
3,492 characters

4.4
/5
rDev
+2.1%
vibe: 3 | quality: 5 | service: 5 | selection: 4 | food: 3.5
Stopped by here today after a quick BA event visit over at Beermongers.
The tasting room is pretty spacious, and appears to be a converted warehouse space. Not a whole lot to it otherwise.... walls are painted green and blue, with a good size wrap around bar in the middle holding around 20 patrons. There are also a few tables and chairs strewn around, with the dining area probably holding close to 70 or 80 patrons. Selection this day consisted of 6 different HOTD beers on tap and then 15 HOTD vintage, bottled selections. There was also a pils from Caldera on tap. As for quality, what else can I say? Everything here is great, and it was a treat to see fresh FFTW and 2007 doggie claws on tap. Likewise, the vintage bottled selection is incredible (albeit rather spendy as well). There are few brewers in America making beer any better than what Alan Sprints is kicking out of his brewery in Portland, and in that regard this place clearly deserves top marks. As for service, it was friendly and not too distracted... at least for me. I was sitting at the bar, where service was pretty decent. However, the friendly bartender was otherwise expected to handle the entire tasting room, and the Sunday afternoon I was there that meant some 40 patrons waiting for beer and food. Alan was working in the kitchen (I don't even want to speculate why he was working at the tasting room at all, but there he was.... with an apron wrapped around his waist... serving up food and replacing dirty glasses), which helped somewhat, but not much. As for food, I got the brisket sampler. It was OK, but was hardly anything to get excited about. Pricing was OK, but someone needs to explain to me why three small pieces of sliced meat cost $6 (especially when one slice was nearly a third fat). Otherwise, FFTW and DC cost $6.50 for a 12 ounce pour, with everything else going for $4.50 a 12 ounce pour. Normally I'd call that a bit high as well, but not for these beers. They're worth every penny.
If you're a HOTD groupie (and I guess that probably includes me), then this is a place you have to visit whenever you're in PDX. Otherwise, it's just another solid spot to hit whenever one visits beer rich PDX.
Edit from 5/2/11 and 5/29/11. Stopped by several times over the past weekend, but really have nothing new to say about this place. Beer is excellent as always, and this time I sampled some of the vintage bottled stuff (fabulous 2011 Cherry Adam and 2005 Doggie Claws). However, I feel as if I need to up my service score a point, after Wendy gratiously allowed me take a bottle of Cherry Adam home as a carry out. Service here just seems to get better and better every time I go (they're employing more staff now, which helps). Regarding the food here... I still can't give it more than the original 3.5 score. I recently had the brewer's salad and the meat & cheese plate. They were fine for what they were, but were hardly anything remarkable. In any event, regardless of my feelings about the food, there's no denying that this place is just excellent....
Last edit from 9/11. Call me completely converted... I'm with Jeff (Jdense) regarding Wendy. She's as good as it gets when it comes to service. I have adjusted my service score accordingly.
I now stop by here whenever I'm back in town. You should too. Cheers!
★
3,323 characters

4.74
/5
rDev
+10%
vibe: 4 | quality: 5 | service: 5 | selection: 4.5
Hair of the Dog just recently opened its tasting room at its new Yamhill location and the response has been great! I went there last night with my wife for the first time and will be repeat customers in the future.
It was a nice day yesterday so the front roll up door to the tasting room was open to allow a nice breeze in. The location itself is near a train crossing and in the span of a few hours we had to hold our conversation for half a minute while the train went by. The train and industrial feel to the place lent to a certain counter-culture feel that will receive a ton of support from beer geeks and HotD fans. There was a central bar and several tables around the perimeter. The restrooms were easy to spot and accessible unlike a couple tasting rooms I've visited.
Our waitress was extremely attentive and quick to bring us our drinks. Alan Sprints was there in the kitchen but seemed approachable for any beer related banter. It was a family affair for him as well because a couple young boys the spitting image of him were walking around the room as well.
The beer! For $12 Misty and I shared a half dozen 3 ounce taster glasses of the HotD beers available on tap. Greg, Blue Dot, Fred, Adam, and 2007 Doggie Claws were all great but the 1 beer that we both needed our very own 12 ounce tulip of was Fred from the Wood. For $6.50 a piece I got to try for the first time I beer I called "my new favorite beer" in my review. While that is a little spendy for beer in Portland, I think it was absolutely worth it. Apparently last week Cherry Adam was on tap in its place so expect that sixth tap to be an ever changing one.
Go to Hair of the Dog, get a beer, and enjoy one of Portland's finest. To that extent, if its one of Portland's finest, its in the elite list for the planet!
★
1,803 characters
Hair of the Dog Brewing Company / Brewery and Tasting Room in Portland, OR
95
out of
100
based on
73
ratings.