Dismiss Notice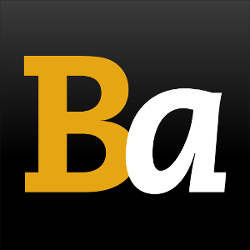 Site Performance Updates: We're aware of the nightly site outage, and working on resolving the issue.
Vallejo
| Half Acre Beer Company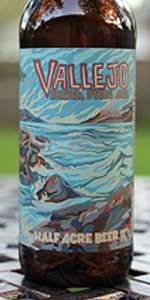 BEER INFO
Brewed by:
Half Acre Beer Company
Illinois
,
United States
|
website
Style:
American IPA
Alcohol by volume (ABV):
6.70%
Availability:
Rotating
Notes / Commercial Description:
An India Pale Ale we brewed with coastal spirit. This hop crasher sharply dives into the very deep waters of bitter beers.
Added by MasterSki on 10-04-2012
Reviews: 58 | Ratings: 556

3.93
/5
rDev
-4.1%
look: 4 | smell: 3.5 | taste: 4 | feel: 4.5 | overall: 4
On Tap at Lucky's Last Chance in Philly, served in a pint glass.
Vallejo looks the part, bright gold, some spots of faded bronze, a rising of bubbles forming a cream colored cap of foam leaving some sqiggles on the glass. Looks like an IPA. Smell is tropic fruit forward with some bubblegum appeal and light graham cracker/biscuit. A nice burst of lemon some pale/crystal malt, a God down to earth IPA, nothing more, nothing less. Smells very fresh and tastes very fresh with a west coast tropic fruit vibe and an underlining sweetness mid palate that balances everything all nice. Not very bitter, juicy with orange, papaya, pale/crystal malt. Body is at a step below medium with a ice chugging capability on this one, easy drinking, some bubbles felt on the tounge. I drank two pints back to back, something don't normally do, I'll keep an eye out for this one, but perhaps Half Acre is experimenting with IPA's possibly for a future new year round release. Heres to hoping.
★
977 characters

3.55
/5
rDev
-13.4%
look: 3.5 | smell: 3.5 | taste: 3.5 | feel: 4 | overall: 3.5
Served in a Half Acre shaker pint glass at Fountainhead.
I do love that owl-squid motif... Anyway, this stuff pours a cloudy tawny-straw topped by a couple fingers of cream-white foam. The nose comprises flowers, vanilla, orange zest, lemon zest, and light caramel. The taste brings in more of the same, but with a touch more orange zest. The body is a light medium, with a light moderate carbonation and a sorta/kinda dry finish. Overall, a good little IPA, but there isn't all that much there to impress or anything. I'd drink it again, though.
★
547 characters

4.17
/5
rDev
+1.7%
look: 4 | smell: 4.5 | taste: 4 | feel: 4.5 | overall: 4
On tap at Half Acre's taproom grand opening, served in a pint glass.
Pour: Nice hazy yellow, with a finger and a half of frothy head. Really great lacing with this one.
Smell: Nice citrus up front, characterized with tangerine and clementines. Some pine in there too. Not much malt on the nose to speak of.
Taste: Follows the nose, but with a much great dank resinous stickiness added in. Sweetness is secondary.
Mouthfeel: Super drinkable, and quite dry. This glass went down quick.
Overall: Really solid new IPA from these guys. Something I'll get often, and will look forward to falling back on every time I go to the taproom.
★
634 characters

3.7
/5
rDev
-9.8%
look: 4 | smell: 4 | taste: 3.5 | feel: 4 | overall: 3.5
A: Hazy light amber in color on earlier pours. Fairly cloudy on later pours. Forms a moderate white head that reduces to a moderate surface coating leaving a moderate amount of lace on the way down.
S: Lots of hops and virtually no malts. Juicy citrus hops, yeasty bread, mild lemon, and grapefruit. A slight note of pine and a touch of alcohol.
T: Oddly yeasty for an IPA. Actually this one reminds me a lot of a HA saison. It's not bad, but it is odd, especially considering HA Saisons seem to have this same unique yeasty characteristic. Flavor is dominated by yeasty bread, then lots of citrus hops. Passionfruit, and a bit of light lemon. Finish is fairly quick.
M: Medium bodied, medium carbonation. Mild to moderate bitterness. Milky mouthfeel.
O: Got to say, given HA's reputation with the IPAs and the description of this beer, I was expecting a bitter, hop bomb of a beer. What I got was a mildly bitter, overly yeasty, fairly middle of the road IPA that could easily pass for an APA. Personally, I don't expect much from HA's stouts, browns, or Belgians and I expect even less from their BA beers. But I do expect their IPAs to be top-notch and this one just isn't.
★
1,183 characters

4.2
/5
rDev
+2.4%
look: 4.5 | smell: 4.5 | taste: 4 | feel: 3.5 | overall: 4.5
Poured into a tumbler glass, a perfect two fingers width of creamy foam settles and sits on the surface for a good while, and an ever present skim on the surface that lasted for the duration of the glass. Sea spray lace patterns wedged in between concentric rings of foam that materialize after each sip.
Tangerine, citrus forward with some light pale malt in the middle. Woody hop element with some sweet herbals that reminded me of tarragon.
Citrus peel, punchy bitter lemon and grapefruit peels. Smooth feel, moderate bitterness, ample hop character. Light bodied, about on par with Daisy Cutter, maybe a little softer. Honey in the aftertaste. If this was year round instead of Daisy Cutter it would be a new staple beer. Although it's yet another riff on Half Acre's many similar IPA variations, it's an excellent one that is seemingly flawless overall and extremely drinkable.
★
884 characters

4.12
/5
rDev
+0.5%
look: 4 | smell: 4.5 | taste: 4 | feel: 4 | overall: 4
Poured from a 64oz growler into two pint glasses. Thanks to HeatherAnn for the assist!
A: Pours a hazy & pale orange color. A quick one finger flash of bright white foam camps out on top for about a minute before sinking down to a thin collar that leaves no lace. Carbonation is exceedingly lazy but the haze is pretty.
S: Big blast of bright grapefruit and dank hops mixed with some grass clippings, onion, clipped pine boughs, and tangerine.
T: Mostly grapefruit and dank hops with the earthy pine and grass clippings taking a ride in the back seat.
M: Peppery hop astringency with suprising staying power. Finish is long lasting, dry, and spicy.
O: Very enjoyable new AIPA from Half Acre. Keep the hoppy ones flowing guys!
★
732 characters

3.95
/5
rDev
-3.7%
look: 4.5 | smell: 4.5 | taste: 3.5 | feel: 4 | overall: 4
Growler shared by Chris (spycow). Served in a Hill Farmstead tulip.
A - A finger of white foam settles to a thin cap, thicker collar, and splotches of lace. Hazed peach-flesh body.
S - Great hop aroma, with a delightful mix of dank, citrus, tropical fruits, and perhaps a hint of onion. I'm thinking a hefty dose of Citra with perhaps a hint of Nelson Sauvin? Minimal malt character and very West Coast in vibe.
T - Unfortunately the taste doesn't leave up to the promising aroma. There's a hefty dose of citrus again, but it peters out into a flaccid, yeasty, and somewhat watery finish. There's minimal bitterness present, and not quite enough malt flavor to support all these hops. Not bad, just a bit of a missed opportunity.
M - Medium body, pleasant carbonation, dry texture, and a clean finish. Goes down very easily, and drinks more like a pale ale than an IPA in some ways. A bit of lingering hop oil.
D - A nice hoppy brew from Half Acre that could be an excellent one with a few tweaks to it. I had a few pours throughout the evening, but it just didn't stack up to the Edward we also had available. Still, I'd order this if I saw it on-tap somewhere as a change of pace from other other local hoppy offerings.
★
1,226 characters

4.12
/5
rDev
+0.5%
look: 4 | smell: 4.5 | taste: 4 | feel: 4 | overall: 4
Cloudy honey color with a full rocky cap.
A tart, spicy fresh hop aroma consisting of apricot, green apple, and grapefruit with some light pine.
The taste is a full on hop assault. Fruity at the start turning to intense bitterness for hop heads only. Grapefruit pith and sour apple with light cracker and biscuit malt fully highlighting the hops.
A medium body and medium carbonation is right on target for this style. Slick and oily hop resin coats the tongue.
A nice counterpoint to the smooth, malty and balanced "Space" (released last week anticipating the Grand opening of their beautiful new taproom). I am psyched to sit and sample some fresh brews whenever the taproom debuts. Great job Half Acre and congratulations to you for a great effort to upgrade the entire brewery from store to brewhouse and finally the taproom! You are poised to offer beer to Chicagoland (I hope).
★
888 characters
Vallejo from Half Acre Beer Company
91
out of
100
based on
58
ratings.