Beer Hates Astronauts
| Half Acre Beer Company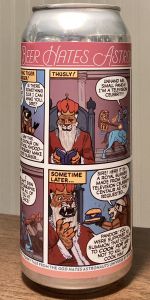 BEER INFO
Brewed by:
Half Acre Beer Company
Illinois
,
United States
|
website
Style:
American IPA
Alcohol by volume (ABV):
7.00%
Availability:
Rotating
Notes / Commercial Description:
Imagine a comic book. The kind with superheroes and punching and stuff. Now imagine that most of those superheroes are kind of total jerks. Add in a lot of profanity. No, more profanity than that. Ok, now throw in felonious owls, spectral bovines, gorilla arms, lots of bears, unplanned pregnancy, and 19th century boxer John L. Sullivan. And then a little more profanity. And be sure to include almost nothing about theology or space exploration.
Now imagine—and this is key—being able to drink all that. And then imagine it's called Beer Hates Astronauts, because that's what we're calling it. And we're calling it that because it's the beer version of God Hates Astronauts, which is the actual comic I completely failed to properly evoke above.
This is just the latest step in creator Ryan Browne's attempt to dominate the world by means of one of the most unsummarizable comics in existence. Having recently Kickstarted the deluxe hardcover edition of God Hates Astronauts with massive success, he has joined forces with Half Acre for a groundbreaking venture in distributing comics in hoppy liquid form.
Beer Hates Astronauts will be set free from its containment unit here at the brewery on Friday, August 30. It is a 7% ABV India Pale Ale brewed with Vienna malt and Citra hops.
Added by MasterSki on 08-19-2013
Reviews: 34 | Ratings: 310

4.38
/5
rDev
+0.2%
look: 4.25 | smell: 4.25 | taste: 4.5 | feel: 4.5 | overall: 4.25
Appearance: golden, sunny, hints of orange, rocky bone white head.
Aroma: citra, citra, citra. Bright citrus, tropical,fruits, pineapple and resins, with touches of crackery malts.
Taste: again, high citrus, and tropical notes, light pale maltiness, medium bitterness.
Mouthfeel: light body, clean crisp finish, dry, overall a joy on the palate.
Overall: a shining citra hopped ipa. Great body, wonderful nose and taste. Excellent through and through.
★
455 characters

4.31
/5
rDev
-1.4%
look: 3.5 | smell: 4.25 | taste: 4.5 | feel: 4.25 | overall: 4.25
650 mL bottle poured into a snifter.
Appearance - Hazy and murky orange. Small white head. Thin collar.
Smell - Huge citra hop. Bright orange. Some lemon. A little bit of sweetness.
Taste - Tons of orange hops. Sweet tropical fruits. Some sweet malts, but very minimal. The faintest of grainy textures.
Mouthfeel - A little sweet. Medium body. Minimal bitterness.
Overall - This is really impressive. Delicious IPA.
★
422 characters

4.11
/5
rDev
-5.9%
look: 4 | smell: 4.25 | taste: 4.25 | feel: 3.5 | overall: 4
22oz bomber from jermy in the recent pipeworks box. This was an afterthought on the trade "hey, you want me to add a God Hates Astronauts?" Yes. And thanks.
Murky copper color, clean billowing white topper that left a quantity of meringue-like dollops. A big floral and citrus hop aroma with very little pine or dank. A solid caramel backbone that shows up more in the taste.
Nicely balanced IPA that has a good burst of citrus up-front which is complemented by the light malt notes at the end. This does have a nice, crisp finish with only the faintest trace of lemon zest as an aftertaste.
Quite good. Wish this would make it into the regular rotation and find itself in 16oz cans alongside Daisy Cutter....
(209th)
★
722 characters
3.92
/5
rDev
-10.3%
look: 4 | smell: 3.75 | taste: 4 | feel: 4.25 | overall: 3.75
650ml bottle, poured into a Half Acre SquidOwl Willibecher glass.
The beer pours a bright copper color, hues of orange and gold, clear complexion with a slight haze with a soft, cloudy white head that rises about 2 fingers high that has moderate retention and leaves a few spots of lace behind. The aroma is of bright citrus, lots of grapefruit, wildflower, pineapple and sweet, sticky malt that draws out a bit of alcohol. Flavors are in line, lots of grapefruit, pineapple, mango, lightly floral, with a healthy backbone of rich malt. The fruit flavors are nice and pungent, juicy and ripe, while the malt helps to settle out the tangy flavors and the bitterness nicely. The mouthfeel is good, juicy and full bodied, carbonation is lively but on the lower end of the spectrum, coats the mouth well with a nice smooth finish that is lightly dry.
Verdict: A very nice IPA from Half Acre and a great showing of the Citra hop. The malt isn't too overpowering, which I find tends to happen more often than not with beers solely hopped on Citra, as it is quite a delicate hop. A good balance of fruit flavors, bitterness and malty sweetness, which really lets the hop flavors shine.
★
1,181 characters
4.16
/5
rDev
-4.8%
look: 4 | smell: 4.25 | taste: 4.25 | feel: 4 | overall: 4
22oz Bomber
Thanks for grabbing me a bottle last weekend, Mark! A pale orange, bordering on dark golden body glugs into the glass with a bit of a chill haze. A big ol' fluffy powder white head forms and remains as a thick cap throughout. Patchy lacing gets left behind as the beer gets drained. This beer is surprisingly pale when held to the light.
Wheat with a little twang and pale malt galore make for a foundation built to highlight hops. Banana, peach, pineapple, and lightly sugared grapefruit make up the fruity aspect of the hop profile while there's a touch of cut grass flashing through as well. It's not the most in your face or intense hop profile I've come across but it is one of the more complex.
Lemon oil, underripe peach, pineapple, and a little banana again sit over the top of malt that becomes dry and biscuity. Sugary grapefruit picks up on the backend and while this beer isn't necessarily bitter on the first few drinks the bitterness certainly grows with each successive sip. There's a nice tropical melange that's picks up as this beer warms. Is there wheat in here because I swear I get some twang.
Medium bodied with a moderate carbonation. There's a welcoming dry finish that accentuates the hop profile nicely and not a touch of alcohol. The bitterness grows and grows until my gums are as numb as Rick James'.
I've been drinking Half Acre since the day they opened their store and I have yet to find a hoppy creation from them that's merely good. They're all worthy of even the most discerning hophead.
★
1,540 characters

4.21
/5
rDev
-3.7%
look: 4.25 | smell: 4.5 | taste: 4 | feel: 4.25 | overall: 4.25
Hazy saturated orange, lazy rising carb trails, an initial finger of dense white foam. Lasting skim and a frothy collar around the edges. Spindly webs of lace in the glass.
Pungently fruity and dank hop aromas, mango, grapefruit, nectarine, sandalwood.
Citrus forward with tropical hop character, all the aforementioned fruits from the aroma play across the palate. A dry bitter finish with a little bit of wheat and pale malt in the middle. A little less intense than the nose. Light bodied but substantial, and pretty easy to drink. Not too far off from other solid IPA's like Shewolf and Annica, it's a very drinkable fruit-forward hop bomb.
★
646 characters

4.88
/5
rDev
+11.7%
look: 4.75 | smell: 4.75 | taste: 5 | feel: 4.5 | overall: 5
About my favorite citra-hopped beer, and one of the few beers I not only buy at its limited yearly release, but I also buy multiple. I'm a huge DIPA guy, and this is the only non-DIPA on my list of best pale ales.
For all the Zombie Dust hype, this is my vote for the best citra beer in the Chicago-area. Not quite as balanced as ZD, but just as delicious, if not more so. My only regret is that Half Acre hasn't started canning this and distributing it on a regular basis (it was canned in 2014, but not 2015, and is only released once a year).
★
546 characters

4.68
/5
rDev
+7.1%
look: 4.5 | smell: 4.5 | taste: 4.75 | feel: 4.75 | overall: 4.75
22 oz bottle a little over 1 week fresh poured into a HA glass.
Pours a golden hazy color with a nice eggshell white head of great thickness, retention, and lacing.
Smells of bright citrus fruit with grapefruit, lemon, orange zest, and mango, with freshly cut pine needles.
Taste is where this shines, the citra hops really coming forward in full force with the aforementioned fruit tastes and hoppy pine and bitterness. Incredibly balanced with a good malt backbone without being overly sweet and solid bitterness (I'd guess 80IBU) without being overwhelming in any regard.
Mouthfeel is medium, definitely light enough to throw down quickly, dry finish, carbonation is medium and appropriate, definitely nice feel here.
Overall just an outstanding IPA. Half Acre makes a fantastic IPA and for once they have bottled one - having had it fresh and bottled it is equally good in both regards. Track this down if you can.
★
923 characters
3.86
/5
rDev
-11.7%
look: 4.25 | smell: 3.75 | taste: 3.75 | feel: 4.5 | overall: 3.75
Enjoyed on tap at the brewery, out of the cask with extra citra hops added (Gnarled Winslow) and out of the bottle. This review is of the bottle version.
A: Pours a hazy orange color with a one finger height of white head forming on the pour. It recedes to a thicker collar that leaves some sticky sheets of lace down the glass.
S: Pure citra hop up front. Some nice grapefruit, lemon and orange flesh character. The Vienna malt comes through with a nice grain bread sweetness. Great balance between the two with the Citra really being showcased.
T: Again, the balance between the two is there and it's really nice. Sweet cereal grain Vienna malt with a nice balance of orange flesh and light grass from the Citra. Mild lemony bitterness in the periphery as well.
M: Light bodied with a medium carbonation level. Finish is sweet and citrusy.
O: Really nice balance of hops and malt. Simple and clean with a little more emphasis on the Citra which was a nice. Another drink and refreshing IPA from Half Acre, color me surprised.
★
1,032 characters
Beer Hates Astronauts from Half Acre Beer Company
94
out of
100
based on
34
ratings.