Vale /LGR
| McLaren Vale Beer Company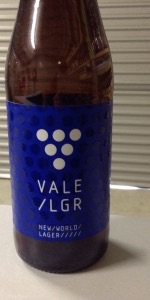 BEER INFO
Brewed by:
McLaren Vale Beer Company
Australia
|
website
Style:
American Pale Lager
Alcohol by volume (ABV):
4.50%
Availability:
Year-round
Notes / Commercial Description:
No notes at this time.
Added by ADZA on 09-01-2013
Reviews: 6 | Ratings: 14

3.8
/5
rDev
+8.9%
look: 4 | smell: 4 | taste: 3.75 | feel: 3.5 | overall: 3.75
Bottled beer served in a glass.
Appearance -
A clear yellow colour. White, thick and enduring head when poured. Moderate to strong carbonation.
Smell -
A sweet smelling beer with hints of caramel, elderflower, pine, spice and citrus.
Taste -
An earthy, spicy taste overall, with floral and elderflower notes when sipped. A hint of bitterness is revealed when swallowed, presenting cut grass and grapefruit flavours. As the beer warms, caramel flavours become more prominent, as well a pine/medicinal after-taste. It becomes sweeter as it warms.
Mouthfeel -
The carbonation seen initially is definitely reflected in the mouthfeel, resulting in a vigorous fizz as the beer sits on the tongue. The beer has a moderate body, and leaves a clean feel after drinks.
Overall -
I first had this on tap at the Ed Castle, and it really stood out as a beer that packed a lot of flavour. It was very sweet, spicy and fruity then and goes down easily and doesn't sit too heavily. Out of a bottle, it is similar, although I have noticed the earthiness more than on tap.
Overall, a great beer packed with flavour and enough complexity to keep it interesting. Only gripe is that the medicinal notes can be a bit strong when it warms, and it does not play well with certain foods. Best served while still below room temperature and before food.
★
1,333 characters
More User Reviews:
3
/5
rDev
-14%
look: 3 | smell: 3 | taste: 3 | feel: 3 | overall: 3
An earthy spicey taste worth a try
34 characters


3.81
/5
rDev
+9.2%
look: 3 | smell: 3.75 | taste: 4 | feel: 3.25 | overall: 4
chilled bottle served in glass.
bottle: standard 330 ml brown bottle.
great marketing on the label. simple yet effective.
Mclaren vale is known for its wines and you can actually feel the vintners effect on the marketing.
Appearance: mild yellow/amber look.
Pours well enough. Not much of a head and even what little it did produce didnt last for long.
Aroma: spice and citric aroma with a hint of honey.smells like a well designed lager.
taste: A pleasant taste, once again with a hint of honey.
bitterness is not overwhelming. after taste lingers and begins to cloy giving you that UN-brushed teeth feel in the back of your throat.
Summary: its quite a nice beer. I could probably drink a few of these before it became too much.
More of a starter to the night kind of beer. not a sustain-er though
★
808 characters
3.89
/5
rDev
+11.5%
look: 3.75 | smell: 4 | taste: 4 | feel: 3.5 | overall: 3.75
A: Clear gold colour, white, thick, creamy 2 finger head when poured. Above average carbonation. Leaves a nice lacing.
S: Rich hoppy smell with citrus notes.
T:Light bitter taster develops into a rich bitterness with a nice bready aftertaste. Citrus is ever so slight compared to the smell.
M: Considering the rich finish to this beer it actually feels very thin but not quite watery.
O: I really like what to my palate seems like a contradiction of taste and mouthfeel, making this beer feel complex and really enjoyable.
★
527 characters



3.55
/5
rDev
+1.7%
look: 3 | smell: 3.5 | taste: 3.75 | feel: 3.25 | overall: 3.5
A new offering from these guys and on the front label it states it is a New World Lager which pours a see through golden straw hue with a wispy one finger head with not much lacing,the smell is quite enticing for a lager with aromas of citrus,freshly cut grass,gooseberries,damper and blackberries,the mouthfeel is just over light bodied and a touch over carbonated with tastes of freshly picked herbal earthy hops followed by a crisp citrus bitterness and rounded out with a spicy peppery hoppy bitterness,overall I was quite surprised with this I don't know if I'm smashed but I'd buy this again cheers.
★
605 characters

3.7
/5
rDev
+6%
look: 3.75 | smell: 3.75 | taste: 3.75 | feel: 3.25 | overall: 3.75
Bottle: standard brown 330mL bottle, semi-macro label with a touch of classic minimalism. Stylish. They make a big point of noting that it is a 'New World' lager, so I guess we'll see what they mean by that.
Appearance: pours a pleasant light honey-amber colour with a good flow. A fluffy bright-white head hangs around for a short time at a half a finger before dropping to a thin ring. Sparse but lumpy carbonation visible across the profile.
Aroma: a very refreshing aroma of spice and citrus hops with some floral / grassy backnotes. Not mind-blowing, but smells of a quality lager / pilsner.
Taste: ahh, this is what they meant by New World. For a lager it is quite complex - the spice is still there but the citrus has backed off, to be replaced by a big earth flavour. Some stone fruits also, with a lasting bitterness.
Aftertaste: The bitterness lingers for a time, but eventually turns a bit cloying. I wouldn't consider it massively sessional.
Mouth feel: The mouth feel leaves a little to be desired - the moderate body is fine, but the carbonation is a bit lumpy until the beer warms a little, which is unusual for a lager.
Overall: definitely a different take on the lager - plenty of different flavours combining quite nicely. If anything I think the flavours and the big lager-style carbonation almost make the flavours a bit too big and slightly harsh, but all told this is a good, robust and quality lager. Pretty good for AU$66 a case of 24 x 330mL (2014).
★
1,480 characters

2.84
/5
rDev
-18.6%
look: 2.75 | smell: 3 | taste: 2.75 | feel: 3 | overall: 2.75



3.31
/5
rDev
-5.2%
look: 3.5 | smell: 3 | taste: 3.5 | feel: 3.25 | overall: 3.25
Clear golden beer with solid white head. A few bubbles. Cleansing bitter taste. Finish is good. Early maltiness is overtaken by increasing hop bitterness then a floral hop note right at the end.
★
194 characters
Vale /LGR from McLaren Vale Beer Company
-
out of
100
based on
6
ratings.