Nut Brown Ale
| Garrison Brewing Company
BA SCORE
82
good
40
Reviews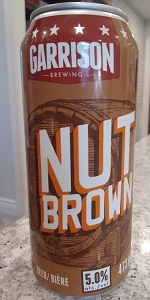 BEER INFO
Brewed by:
Garrison Brewing Company
Nova Scotia
,
Canada
|
website
Style:
English Brown Ale
Alcohol by volume (ABV):
5.00%
Availability:
Year-round
Notes / Commercial Description:
Like the rich, dark brews of southern England this traditional ale draws on specialty malts such as chocolate, caramel and black patent. "Nut Brown Ale" is a deliciously flavourful dark beer like those popular in early Nova Scotia.
20 IBU
Added by BeerAdvocate on 07-30-2002
Reviews: 40 | Ratings: 76

3.13
/5
rDev
-12.6%
look: 3 | smell: 2.5 | taste: 3.5 | feel: 3.5 | overall: 3
Pours a very dark, deep, blackened ruby color with an off-white head that dies down and slowly fades away. Almost more like a porter.
Smells mostly roasty. Almost more like a porter. A little nutty. Just a hint of halitosis.
And it tastes roasty and dry. Almost more like a porter. A little smoky. A hit of nuttiness enters the fray, with some black coffee, it's sweet in the middle with a bitter, drying finish. A tad metallic and slightly tart.
It has the same mouthfeel as a lot of other Garrison's beer, smooth and creamy. It works well with this beer, better than in the Amber or Red ale at any rate.
For me this registers almost like a hybrid of a porter and an English brown ale. Aaaand yeah. It's all right.
★
719 characters
3.73
/5
rDev
+4.2%
look: 4 | smell: 3.5 | taste: 4 | feel: 3.5 | overall: 3.5
On tap fresh at the brewery in Halifax. Dark brown colour with one finger beige head and sheet lace. Smell is caramel. Nice bitter roasted malt flavour, hints of caramel and chocolate. There is also an array of nutty flavours here as well with low astringency and a dry frinish. Not too sweet. Nice balance, refreshing and flavourful - good stuff!
★
347 characters

3.88
/5
rDev
+8.4%
look: 4 | smell: 3.5 | taste: 4 | feel: 4 | overall: 4
Since Im down here in Hali, I decided to pick up this homegrown brew. Pours a deep redish brown with a really nice thick rocky tan head that stays around. Smells of roasted nuts and chocolate. The taste is very similar with a little bit of caramel. Really nice lacing that goes all the way down the glass. Sticking to the style, this brew is very smooth with little carbonation and no bitterness. Im very glad I picked this one up and cant wait to try their other brews.
★
470 characters
3.52
/5
rDev
-1.7%
look: 3 | smell: 3.5 | taste: 3.5 | feel: 3 | overall: 4
Oak colured body with an off-white head, that like other Garrison brews doesn't have much retention. Roasted malt aroma, with bread and nuts. Good roastiness in the flavour, and it does bring out the nuttiness present in the malts. Chocolate and toast round it out. Ever once in a while a slight metallic edge creeps in, which obviously detracts from an otherwise solid brown. Fairly light body, and medium-aggressive carbonation. By no means will this beer wow anyone, but its fairly decent.
★
492 characters
3.62
/5
rDev
+1.1%
look: 3 | smell: 3.5 | taste: 3.5 | feel: 4 | overall: 4
Looks decent, somewhat dark, almost cola coloured. Garnet highlights when back lit. Half finger tan head on the pour. Not much for retention, head fades quickly to leave a very fine collar.
Interesting aroma. Theres some treacle, nuts, toffee, a hint of grain husk, some fruity esters of apple or perhaps cherry, and some earthy and floral hop scents in the back as well.
Good stuff. Hints at roastiness and some cocoa powder comes through in the taste, this is almost getting into porter territory. Treacle, toffee and walnut are the main malt flavours, and are nicely accented by the touch of roastiness and cocoa powder. Fruity esters mix nicely and compliment the overall character of this ale. Very mildly hopped, certainly brewed to the English versus American style.
Fairly light bodied, and quite mildly carbonated. Nicely balanced brew. Almost creamy in feel, makes up somewhat for the thin body and very mild level of carbonation.
A very drinkable and sessionable brew. This would always be close to my fridge if available locally for those reasons, as well as the fact that it is tasty. This is fairly approachable for a darker brew as well, and would be a great stepping stone to get newbies into darker and roastier brews. Nice work NASH and thanks for the bottle.
★
1,281 characters
3.28
/5
rDev
-8.4%
look: 4 | smell: 3.5 | taste: 3 | feel: 3 | overall: 3.5
Pours a fairly dark reddish brown with lots of ruby around the edges of the glass and a large medium tan head that is retained well but leaves very little lacing. Smell is quite sweet and malty, with nutty notes and a little bit of coffee. Taste rather fruity, with cherry and plum showing up alongside the caramel and coffee, and a dry astringency in the finish. Mouthfeel is slick and oily, undercarbonated and not all that pleasing, and the drinkability is average. A bit disappointing, I had high hopes for this one. Their Martello Stout is quite nice, but this doesn't do it for me.
★
587 characters
2.95
/5
rDev
-17.6%
look: 3.5 | smell: 3.5 | taste: 2.5 | feel: 3 | overall: 3
Now known as Garrison Nut Brown Ale, formerly Barrack Street Brown Ale.
Poured into a pint glass relatively quickly. A medium to dark brown with some definite redness to it. The beige head climbed only to about 3/4 of a centimetre thick, and faded to a thin cap and ring around the glass.
First impression from the smell is that it is a bit chocolatey and nutty, though at the same time it isn't overly sweet. Though I can't place the hops, I can tell that there are enough to compete with the malt aroma. The two smells don't seem to mix, they almost feel like they are coming from two different places. The overall effect is alright, but not mind blowing.
Chocolate and nut make themselves known again in the taste department, though they are subtle about it. Hop finish is not very strong and what lingers is a slight mustiness, almost an off flavour. This gets better as you drink, becomes less potent. In the end I don't find it to be very pleasing though.
Light and slick across the tongue, not a lot of body here. Carbonation is mild. Together it is just an okay feel.
Not a bad beer, but has its shortcomings. I really don't like the stale mustiness in the finish. Perhaps their yeast doesn't agree with me.
★
1,230 characters

3.32
/5
rDev
-7.3%
look: 3 | smell: 3.5 | taste: 3.5 | feel: 3 | overall: 3
Poured a rich chestnut brown into the glass. Smallish tan head, weak retention some lacing on the glass.
Aroma of sweet caramel malts and some coffee tones (strange for a traditional brown ale)
Light bodied, reduced malt spine, fluid bready character, soapy mouthfeel.
Up front a mild dose of caramel malts some toastiness, light nutty notes, fast bready finish with a light twabg from some late-to-arrive fuggles hops.
A so-so craft Brown, nothing spectacular but a solid entry in the Canadian brown ale category.
★
526 characters
2.97
/5
rDev
-17%
look: 2.5 | smell: 3 | taste: 3.5 | feel: 2 | overall: 2.5
Appearance: Not that brown...When you expose it to a little light it's more of a dark sanguine. Not much head, only a ring around my glass.
Smell: A bit of coffee, some freshly ground grain, a cola-like caramel and a bit of ash/burnt aroma.
Taste: Also a bit ashy at first, it did turn out some interesting toasted walnuts/roasted peanut flavor. However the mouthfeel was too light for me. Maybe I'm just not a fan of this style.
★
435 characters
3
/5
rDev
-16.2%
look: 3 | smell: 3 | taste: 3 | feel: 3 | overall: 3
Hmm judging by the reviews here I think I may have gotten a substandard bottle or I'm the only one with good taste. Poured a mahogany brown, big head forms and goes, no lace. Had a strange citrusy aroma? Very sharp and lagery. The taste was too crisp, almost lager like, there were slight coffee/chocolate undertones, it was very strange and not pleasant. It was way too crisp, not complex at all, light bodied and highly carbonated with not very much flavour. I'll have to try again. Thanks northyorksammy. If it was a bad bottle I don't want to rate it down too much, so this is being generous for how it tasted.
★
614 characters

3.92
/5
rDev
+9.5%
look: 3.5 | smell: 4 | taste: 4 | feel: 3.5 | overall: 4
Clear, dark brown beer with chestnut highlights. Thin, light brown lace of head. Roasted malt aroma dominates, while chocolate and caramel back it up. Good balance of dark malts and bitterness in the flavour, but seems to be missing some malty sweetness that would fill it out a little. Finishes on the bitter side with some grainy dryness and a bit of yeasty flavour. The texture is a bit slick, particularly towards the end. Moderate carbonation, but it seems to add a bit of acidity. This is a decent beer and is quite tasty, but the combination of flavours seems a bit strange to me.
★
587 characters
3.95
/5
rDev
+10.3%
look: 4 | smell: 4 | taste: 4 | feel: 3.5 | overall: 4
Surprisingly well hopped, with decent licorish and hoppy aroma, good dark brown, and nice bitter but also malted finish.Another decent beer from Halifax, with this brewery and Garrison they are not famished for drink. Thanks for bringing back Terry Z.
★
251 characters

3.78
/5
rDev
+5.6%
look: 4 | smell: 3.5 | taste: 4 | feel: 4 | overall: 3.5
This beer pours a very dark brown, its almost the color of porter. The aroma is of husky malts, chocolate, roasted barley and a farmyard funkyness (which is common to all Garrison beers, must be the house yeast). The taste is full of malts, with a very minimal hop character. Theres big chocolate and crystal malt flavors and also some musty notes. The mouthfeel is grainy and finely carbonated. This is probably my favorite Garrison beer. It has a great depth of malt flavors that is very effective in concealing the house yeast. I dont like that soapy barnyardy taste.
★
570 characters
3.83
/5
rDev
+7%
look: 4 | smell: 3.5 | taste: 4 | feel: 3.5 | overall: 4
Barrack St. pours out a thin light brown head that stays on the edge 'til the end. A malty nose - very friendly. A smooth feel with the first mouthful. Thin but not watery. Wonderfully balanced aftertase (hops and a creamy dark choclate taste). With each mouthful it tasted better - I think the new mouthful taste overlaped with the lingering aftertaste of the last one and it just kept getting better.
★
402 characters
3.8
/5
rDev
+6.1%
look: 3.5 | smell: 3.5 | taste: 4 | feel: 3.5 | overall: 4
On the pour, a very deep garnet in color with a modest sized head and the texture frothy as it depletes the lace forms a nice fine sheet to obscure the glass. The nose a nice Brown Ale nutty sweet, loads of malt, some hints of sweet butter and quite fresh and pleasant to the senses. Front is sweet, the top is skinny in its feel to the palate, finish has a light carbonation and the hops apropos to the style, dry aftertaste and a nice quaffable brew 'tis true.
★
463 characters
Nut Brown Ale from Garrison Brewing Company
82
out of
100
based on
40
ratings.