Naughty Hildegard ESB
| Driftwood Brewery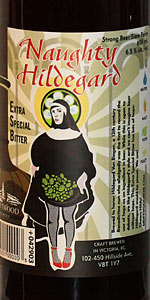 BEER INFO
Brewed by:
Driftwood Brewery
British Columbia
,
Canada
|
website
Style:
Extra Special / Strong Bitter (ESB)
Alcohol by volume (ABV):
6.50%
Availability:
Spring
Notes / Commercial Description:
Brewed to honor Hildegard Von Bingen, a 12th century Benedictine nun who allegedly was the first to record the use of hops as an ingredient in beer. While this is open to debate, we like Hildegard's style and we can't imagine a beer without hops. This extra special bitter has lots of hops- Hildegard would be proud. We are! Cheers Hildy!
Added by bobsy on 02-16-2010
Reviews: 33 | Ratings: 101

4.03
/5
rDev
-5%
look: 4.5 | smell: 4 | taste: 4 | feel: 4 | overall: 4
Naughty Hildegard pours an orange copper with a nice offwhite head that lingers. Earthy, herbal and spicy hops are prominent in the aroma, with a nice caramel maltiness. Hops are featured in the flavor as well, with more spicy and slightly citrusy hops. There is a nice malt backbone that isn't completely in the background, with more nice caramel and toffee notes. The finish is bitter and slightly resiny. Overall I'd say this is a hoppy take on the ESB, but a delicious beer none the less.
★
492 characters

4.63
/5
rDev
+9.2%
look: 5 | smell: 4.5 | taste: 4.5 | feel: 4.5 | overall: 5
Cask just tapped at Kingfishers for CAMRA Fraser Valley's first cask event. Love this label!!!
Appearance. Awesome. Deep golden amber with just a little haze. Three fingers of thick off white head that leaves some pretty bands of lace.
Smell. Sweet caramel and citrus, spicy hops.
Taste. Nice grassy, floral hops and citrus fruits, just enough dry caramel malt. A little lingering bitterness. Real good stuff.
Mouthfeel. Medium body with smooth medium carbonation.
Overall. Awesome stuff that was just made better by enjoying it with a bunch of cool local craft beer fans
★
576 characters

4.2
/5
rDev
-0.9%
look: 4 | smell: 4 | taste: 4.5 | feel: 4 | overall: 4
Amazing bitter from Driftwood with lower carbonation and loads of hops. Drinks extremely smooth.
Colour is a wonderous light orange when raised to the light with a nice white head.
Exceptionally smooth with a bitter hoppiness that comes off with a spicey, sweet taste. Nice mild aftertaste.
★
292 characters
4.47
/5
rDev
+5.4%
look: 4 | smell: 4.5 | taste: 4.5 | feel: 4.5 | overall: 4.5
A - poured from a 650ml bottle into a pilsner glass. It pours clear ruddy amber with a tan head that does not subside and laces in thick rings.
S - bready malt, fresh pitted fruit, light caramel, rich piny hops and spice
T - sweet fruity malt, piny and herbal hops and a spicy hop finish. There is no funky taste at all here which is different from other brews with such pronounced hop flavors.
M - medium carbonation, medium body, benign viscosity, and semi dry finish that warms the stomach and the throat.
D - all around great beer
★
538 characters
4.03
/5
rDev
-5%
look: 4.5 | smell: 4 | taste: 4 | feel: 4 | overall: 4
This is like a 3 Floyd's take on the style.
A: Clear, copper-bronze with a huge, off-white head; good retention & lacing.
S: Tangerine, nectarine, pine & grass with hints of sweet toffee.
T: Tangerine, nectarine, grapefruit rind, grass, pine, floral, hints of toffee & cotton-candy fruity esters, balanced bitterness.
M: Well-attenuated, moderate body has a slightly drying finish.
D: A good drinker.
Over-the-top for the style, but the hop-heads will love it.
★
467 characters

4.6
/5
rDev
+8.5%
look: 4.5 | smell: 4.5 | taste: 4.5 | feel: 4.5 | overall: 5
Damn this is good. Tons of hops but balanced to the dime this is why Driftwood is among the top tier of BC's brewers. A west coast ESB that is big and beautiful with excellent drinkability make this a new favourite. Now to put in cans and sell it in 6 packs
★
257 characters
4.15
/5
rDev
-2.1%
look: 4.5 | smell: 4.5 | taste: 4 | feel: 4 | overall: 4
Pours a clear copper color with a big white head that leaves plenty of lacing. Really nice aroma of piney hops. Balanced flavor with hops and caramel malt. Light-medium body with a fairly dry finish. Quite drinkable, this is an enjoyable beer from Driftwood.
★
258 characters
4.47
/5
rDev
+5.4%
look: 4.5 | smell: 5 | taste: 4.5 | feel: 4 | overall: 4
I popped it open. The bottle made an alluring hiss at me. It was like a siren song. "Drink me Dave" it called out. I succumbed to it. As I was pouring it, the beautiful smell of earthy hops, with whispers of spiciness, filled the room. Oh Ms. Hildegard! You smell divine. Hildegard's red-copper body makes the perfect palate of maltiness. When you go in for that first taste Her Hoppiness just explodes in your mouth. The spiciness of them really picks up. This beer is sexy. This beer makes me feel sexy.
quick facts:
a) red to copper body. off-white head, good retention, good lacing
s)huge earthy, piney, some citrus, some spicy hops
t) earthy and piney hops, much more spicy hops, some citrus hops, nice sweet caramel maltness
m) good presence
d) a pleasure to drink.
★
773 characters
Naughty Hildegard ESB from Driftwood Brewery
92
out of
100
based on
33
ratings.