Dismiss Notice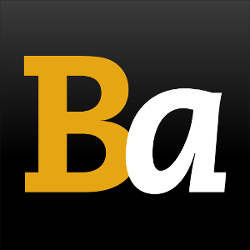 Site Performance Updates: We're aware of the nightly site outage, and working on resolving the issue.
Huge Arker
| Anderson Valley Brewing Company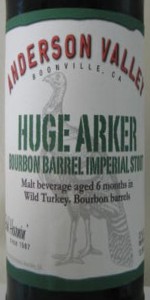 BEER INFO
Brewed by:
Anderson Valley Brewing Company
California
,
United States
|
website
Style:
Russian Imperial Stout
Alcohol by volume (ABV):
13.50%
Availability:
Rotating
Notes / Commercial Description:
Bourbon Barrel-aged Russian Imperial Stout.
Added by chinchill on 01-29-2014
Reviews: 64 | Ratings: 304

3.88
/5
rDev
-5.8%
look: 4 | smell: 3.5 | taste: 4 | feel: 4 | overall: 4
22 oz. bottle, with no apparent bottled on date present. I've been holding this bottle down for a couple months now, and I decided now was the time to try it. My second bourbon barrel aged stout from Anderson Valley Brewing Co.
Poured into a clear balloon snifter.
A - Pours a dark woodsy brown color; opaque black in the glass. A finger and a half of creamy khaki mocha head. Nice scattered spotty lacing. Looks pretty nice.
S - The smell is good, but not great for the style especially. Some fudgey chocolate / cookie dough, mild vanilla, mild caramel / toffee, and lots of alcohol fumes. Pretty nice, but I was expecting a little more.
T - Taste follows the nose - some fudgey chocolate / cookie dough / vanilla, mild caramel / toffee presence, and lots of boozey Wild Turkey bourbon heat. Some mild dark fruit presence noticeable as the beer warms.
M - The feel is smooth and creamy. Sticky, bitter, roasty, and dry. Medium-full bodied with good adequate carbonation.
Overall, it's a nice beer, but not quite as amazing as some of the other bourbon barrel aged stouts I've had. The booze character is high with this one, leaving lots of residual heat behind.
Anderson Valley Huge Arker ---4/5.
★
1,204 characters

4.15
/5
rDev
+0.7%
look: 4 | smell: 4.5 | taste: 4 | feel: 3.75 | overall: 4.25
A big bad bourbon bomb. You could really taste the wild turkey. And that on a huge imperial stout to begin with.
Had tremendous body and a syrupy stout taste, and bourbon all over it.
As powerful its taste and impact, this might as well be your last beer of a long weekend.... but very worthy of that honor.
★
310 characters

4.25
/5
rDev
+3.2%
look: 3.75 | smell: 4.25 | taste: 4.25 | feel: 4.5 | overall: 4.25
I have been waiting to try this and luckily found it at an awesome place in Eugene Oregon. Thanks to The Bier Stein for getting this one. Barrel aged imperial stouts are mt favorite style of beer, when I want something strong.
Pours a weak black, kind of brownish hues, and a small khaki head that recedes to a ring and bubbles. Not the best looking RIS.
Smell is a big whiff of bourbon and plum/prune. Its sort of one dimensional, but it smells good though. You can faintly make out some toffee or caramel. Not much chocolate or coffee smell.
Taste is a big bourbon hit. Wild turkey whiskey on your tongue, and its quite hot at 13.5%.
This beer is half and half too big and boozy, and being balanced. Its not like parabola, yet its got a sort of sophistication that invites more sips. It seemed this could have been better with more roasted barley or black patent, as the flavor is almost like a barrel aged imperial brown ale. Still, there is moderate tones of cocoa here and there, but mostly its a huge caramel and bourbon bomb, that is melded decently. I don't get any coffee notes, which I enjoy in this style.
Mouthfeel is just above average, being on the thicker side. It is creamy in carbonation, and loads the tongue with flavor each sip.
This beer isn't for the amateur, its complex in its own, while falling just short of the style mark for BA'RIS, STILL - I will give this a high rating as there are no off flavors, the bourbon is not off putting in any way, it is quite pleasant
★
1,498 characters
4.6
/5
rDev
+11.7%
look: 4.5 | smell: 4.5 | taste: 4.75 | feel: 4.5 | overall: 4.5
Serving Type: 22 ounce bottle poured into a Belgian style tulip glass.
Appearance: Pitch black, no hint of ruby on the edges, beautiful creamy tan head with tiny bubbles floating on top, nice lacing down the sides, head diminishes after a few minutes.
Smell: Big bourbon smell upfront, no hint of roasted malt or coffee, not a huge bourbon smell like other bourbon barrel aged stouts I have tasted. You get some alcohol on the back end.
Taste: Big bourbon taste up front, then comes the alcohol on the back end, the bourbon dominates on the palate, some alcohol, some bitterness on the backend, no dark fruity flavors that I can notice.
Mouthfeel: Some carbonation, not as heavy as I expected, thicker than your average stout but no as thick as other Imperial Bourbon Barrel Aged stout I have tasted.
Overall: Awesome beer, I hope this is made year round, enjoyed it greatly. Just cracked a bottle with a year on it, still getting some bourbon but it has aged really well, a lot smoother aged than it is fresh. Looking to see what two years does to it.
★
1,057 characters

4.13
/5
rDev
+0.2%
look: 4.25 | smell: 3.75 | taste: 4.25 | feel: 4.25 | overall: 4.25
Appearance: very dark brown, nearly opaque. Some ruby highlights around the edges when held to light. Big mocha head on the pour, impressive for such a big abv.
Smell: surprisingly subdued for such a beast. Some roasty notes and vanilla but fairly subtle.
Taste: big and roasty. Much richer than the nose. Some vanilla and bourbon and a hint of booze (would never guess 13% though). The flavors meld well IMO.
Mouthfeel: full and creamy.
Overall: nicely done. Not quite up to Bcbs standards but nice big bourbon barrel stout to be sure.
★
537 characters

4.09
/5
rDev
-0.7%
look: 4 | smell: 4.25 | taste: 4 | feel: 4.25 | overall: 4
In comparison of all the arkers that I know, there are small ones, there are large ones, there are medium-sized ones, but this one is huge!
Just a shade off of black, the dark "bark" brown hue is laced with powdered cocoa appearances. Its dense haze prevents any light as its cauldron simmers with a creamy lather of espresso-like creme to top glass. Trailing with mild fingerling lace, the stout is masculine and calm.
Its robust scent of charred toast, french-roast coffee and dark chocolate is moderately strong even though there's a somber tone to its intensity. With a growing bourbon presence, the nose is soon under command of its oak, caramel, vanilla, light coconut and its own spicy char. Woven together with malted milk, roasted nuts and subtle campfire, the bourbon and roast pull together seamlessly.
Its decadent taste of coffee, chocolate, nuts and toast are supported with toasted caramel, milkshake and cake batter-type of sweetness and breadiness. Again, it mid-intense flavor is smooth and cream filled. But the rise of bourbon carries a classy taste with its whisky-soaked oak, vanillans and and wood spices that offset the beer's lavish taste to start.
Creamy and lush in texture, its tightly woven carbonation dissolves deeply into the stout's sweetness and is slow to separate. This silky texture remains in tact deep into taste and lifts only as the bourbon spice and warmth dissect the marshmallowy feel and allow the wood spices to dry the palate like fine powder.
Huge Arker is a deceptively smooth bourbon-laced stout. There's' really no indication to its powerful strength as it plays out with remarkable drinkability on the tongue and palate. I don't know what an Arker is.
★
1,709 characters
3.94
/5
rDev
-4.4%
look: 4 | smell: 4.25 | taste: 3.75 | feel: 3.75 | overall: 4
Pours a tan head. Leaves a lot of lace. Color is pretty much black.
Flavors: nothing out of the ordinary here. A heavy dose of whiskey. Some oak and vanilla with molasses. Roasted malts with hints of coffee. Lots of chocolate and caramel. Finishes with a huge dose of alcohol.
Mouthfeel: smooth, hot, and creamy. Full bodied.
Overall, a solid ba stout, but a bit too hot. Still, very enjoyable.
★
398 characters

4.03
/5
rDev
-2.2%
look: 4.5 | smell: 4 | taste: 4 | feel: 4 | overall: 4
Huge Arker? What's an Arker? In any case, it arrived in a stemmed glassed. Black all the way through, especially in the dim lighting of the establishment. A centimeter or two of dense foam topped it off. The aroma is deep and rich with strong elements of bourbon, along with coffee, vanilla. On the palate the bourbon moves to forefront showing off its oak and vanilla notes. The dark malt does penetrate into the profile with the usual coffee and chocolate accents. Smooth but strong, one eight ounce glass is sufficient for a causal night out. The bourbon is the main player here, more so than in any beer I've tried.
★
619 characters
4.89
/5
rDev
+18.7%
look: 5 | smell: 4.75 | taste: 5 | feel: 5 | overall: 4.75
A - Beautiful, pitch black with a nice tan head on the pour. Recedes to a thin collar.
S - Bourbon, delicious! Slight hints of chocolate and malt.
T - Much like the nose this is a bourbon bomb. Some malt after the bourbon flavor.
M - Pretty light actually. Very slick and goes down easy.
O - This is how I hope my bourbon barrel aged beers taste. This is not a cheap beer but I will be buying several more to cellar. This beer compares very nicely to my favorite BBL aged beer, Allagash Black.
★
497 characters

4.09
/5
rDev
-0.7%
look: 4 | smell: 4.25 | taste: 4 | feel: 4.25 | overall: 4
Poured into a Reuben's Brew snifter. Pours pitch black with a half finger light brown head with good retention and lots of lacing. Aroma of bourbon with dark malt and chocolate barely making themselves known. Flavor follows, with an intense bourbon, vanilla, dark malt and hints of chocolate, very boozy; light chocolate and vanilla appear in the finish after the bourbon settles. Medium, creamy bodied. Whoa, this is one bourbon monster. Many bourbon aged stouts taste like a stout with a shot bourbon, this tastes like a bourbon with a shot of stout. Not sure how I feel about this one. I like bourbon and I do really like drinking this, but it really seems to be a bit unbalanced in favor of of the booze. I am certainly going to buy a couple of these to cellar, this could be interesting with a few years on it. Rating is a bit below my actual enjoyment value because it deviates so much from the style. A powerful, bourbon flavored sipper.
★
944 characters
3.71
/5
rDev
-10%
look: 3.75 | smell: 4 | taste: 3.5 | feel: 3.75 | overall: 3.75
Not sure what to make of this beer. Came from the tap with a shout bubbly head that went away quickly with little lacing on the glass. I enjoyed the aroma, vanilla and bread. Flavor is vanilla and toffee and then wham, the alcohol takes over. Definitely true to the bourbon heritage, but it overpowered the beer. I'd like more coffee flavor in this to balance the booze. It started out nice, but is quickly losing it's best qualities. I'm glad I tried this one, but not one I'd buy again.
★
488 characters

4.03
/5
rDev
-2.2%
look: 4.5 | smell: 4 | taste: 4 | feel: 4 | overall: 4
Served in a tulip at the Yardhouse in Dedham.
Appearance: One inch mocha color head, pitch black, no visibility, and mocha lacing all the way down the glass.
Smell: vanilla, bourbon, chocolate, roasted coffee, smoke, toasted malts, oak, and a little booze.
Taste: Chocolate and roasted notes battle through with the vanilla, oak, and bourbon flavors. A little smoke and booze.
Mouthfeel: Creamy smooth, medium bodied, medium carbonation, tingly, and boozy.
Overall: I think most beers aged in bourbon barrels are solid. Including this one. Hopefully I see this on draft again. Delicious.
★
592 characters

4
/5
rDev
-2.9%
look: 4 | smell: 4 | taste: 4 | feel: 4 | overall: 4
On tap at the Yardhouse, eight ounce pour was $6.75. Completely black, decent head at first. Smell is nice, mild bourbon notes and a hint of chocolate. Surprising. Flavor had more chocolate, roasted malts, sweetness, mild bourbon barrel. This was actually a lot better than I thought it would be, I might need to grab a bottle if I see one.
★
340 characters

3.93
/5
rDev
-4.6%
look: 3.25 | smell: 4 | taste: 4 | feel: 3.75 | overall: 4
On tap at Yard House in Northridge, CA.
Pours an opaque black with a foamy dark khaki head that settles to wisps of film on top of the beer. Small dots of lace slowly drip into the remaining beer on the drink down. Smell is of dark roasted malt, cocoa, wood, and huge bourbon aromas. Taste is much the same with cocoa and bourbon flavors on the finish. There is a mild amount of roast and wood bitterness on the palate with each sip. This beer has a lower level of carbonation with a crisp mouthfeel. Overall, this is a good beer that is tasty but super bourbon forward, especially in the taste.
★
596 characters
Huge Arker from Anderson Valley Brewing Company
91
out of
100
based on
64
ratings.