Troubadour Imperial Stout
| Brouwerij De Musketiers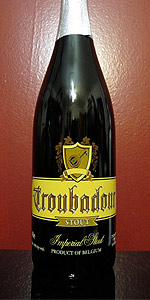 BEER INFO
Brewed by:
Brouwerij De Musketiers
Belgium
|
website
Style:
Russian Imperial Stout
Alcohol by volume (ABV):
9.00%
Availability:
Year-round
Notes / Commercial Description:
No notes at this time.
Added by OWSLEY069 on 09-30-2011
Reviews: 33 | Ratings: 142

3.88
/5
rDev
-0.5%
look: 4.5 | smell: 4 | taste: 4 | feel: 3.5 | overall: 3.5
Bought a bomber at Specs in Round Rock for $3.99!!! What the hell? Was thinking it may be a bad batch, but the managers told me it just wasn't moving so the price was slashed.
Poured a very dark, nearly black pour...a big beautiful head on this one...lots of lacing. Very attractive beer.
Nice scent...but not stellar for a russian. Some smoky sweet malt, dark fruits, anise, a bit of bitter coffee. Good.
Yum, taste follows scent, but not a typical Russian Imp stout here...more like a black ale hybrid. Much more hop bitterness than you get with a typical RIS. Not that it's a bad thing, just different. A bit thin for the style, but overall, quite a treat. Wish I woulda picked up a few more at such a great price.
★
720 characters

3.62
/5
rDev
-7.2%
look: 3.5 | smell: 4 | taste: 3.5 | feel: 3.5 | overall: 3.5
Served from tap into a Troubadour tulip. Poured a massively dark reddish brown with a three finger khaki colored head that subsided to one finger very slowly. Maintained phenomenal lacing throughout the glass. The aroma was comprised of roasted malt, dark fruit, dark chocolate, milk chocolate, and subtle cream. The flavor was of roasted malt, dark chocolate, subtle alcohol, and wood. It had a medium feel on the palate with medium carbonation. Overall this was a pretty decent brew. I really liked the aroma on this one as it smelled like I had just walked into a chocolate store which was quite appealing. However, the flavor did not follow suit and was not quite as complex as the nose led on. It was a little more on the bitter side with the roastiness and dark chcoolate character going on. Worth trying if you get the chance however.
★
841 characters
4.02
/5
rDev
+3.1%
look: 3 | smell: 3.5 | taste: 4.5 | feel: 4 | overall: 4
Served from a conviviale (75 cl bottle).
Poured a dark black with a frothy, bubbling head that dissipated quickly. Visually not great and, naturally, limited lacing.
On the nose its dark fruits, coffee, anise - classic stouty nose.
The taste was great. A real positive surprise. I find many Belgian attempts at stout either overdo the sugar or the smoke. The Troubadour stout falls into neither trap. It is a well balanced stout. On flavours, I got the classics - coffee, mild lquorice, maybe a bit of cardamon. It has a nice bitterness that lasts all the way through the finish without being over-dominiating.
Decent mouthfeel too - not too flat, not too fizzy.
I would stick my neck out and say it is the best Belgian IR stout I have tasted. I was expecting something too sweet (like their Obscura) but this is a really good balanced stout.
Drink it Belgians!
★
868 characters
3.82
/5
rDev
-2.1%
look: 4 | smell: 4.5 | taste: 3.5 | feel: 4 | overall: 3.5
Had this one at the Flying Saucer Houston on 1/29 on draft - served in a snifter
Appearance: Motor Oil with a little bit of caramel-colored froth on top
Nose: Dried fruit: sweet raisins, plums, figs and some booze in there too
Taste: Somewhat different from the taste in that it's almost wine-like with cherry notes coming through. Slightly acidic with a warm, boozy finish
Mouthfeel: Definitely adequate, with some smooth creaminess present
Overall: While I am generally quite fond of a variety of Belgian beer styles, I am not sure if this particular style is that compatible w/Belgian yeast strains. I tend to like "standard" Anglo-American Imperial Stouts better.
★
672 characters

3.39
/5
rDev
-13.1%
look: 2.5 | smell: 3.5 | taste: 3.5 | feel: 3 | overall: 3.5
Got this one at Bert's Bierhuis in Utrecht.
From a 75cl bottle into a snifter.
APPEARANCE: Transparent brown pour yields a large, 3+ finger, medium looking, light tan head with very good retention. Sienna brown body, transparent, with a touch of carbonation evident. Head slowly fades to a full foam cap and leaves some immediate lacing. A good cap remains until the end and leaves some loose, chunky lacing. Not nearly dark enough for the style.
SMELL: A touch of smoky roasted malts and a good dose of dark fruits. Raisins, dates, plumbs and some spicy notes. A hint of cocoa as well. Nice, but a little off style.
TASTE: Follows the nose for the most part. Smoky and some roasted notes up front. Lots of dark fruit, such as raisins, grapes, dates and plumbs, with some spicy alcohol at the swallow. Finish is slightly roasted with some cocoa, peppery spicy alcohol and a good dose of hop bitterness. Not quite stout-like, but still an enjoyable and flavorful dark ale. Very Belgian in style.
PALATE: Medium body and medium carbonation. Enough weight and creamy enough on the palate, goes down smooth with a relatively dry finish. Fine here.
OVERALL: This is definitely very Belgian, covering the Belgian strong dark ale category just as much as the imperial stout category. While this would not quench my thirst for a big imperial stout, it was certainly an enjoyable dark ale that I wouldn't pass on if offered. Give it a chance if you see it in your area.
★
1,474 characters

3.96
/5
rDev
+1.5%
look: 4.5 | smell: 3.5 | taste: 4 | feel: 4.5 | overall: 4
Poured into a Pint glass. A buddy and I split a bottle of this to celebrate the end of the semester.
It poured a fantastically dense and fluffy tan head, possibly the densest that I've seen/had. Nothing great about the smell, nothing bad. Roasted malts and average notes of coffee, a little alcohol present as well. The taste was the same as the nose, though with an odd smokiness that wasn't unpleasant. It has a good bitter, dry and smooth finish. Quite disappointed in how mundane it tastes. The mouthfeel was perfect for the beer, nice and smooth and creamy, the way a stout like this should be.
In addition to this as our celebratory beer, we also bought some cigars ($5 Turanos) which we started on about halfway through the beer, because it was fairly boring. When we started smoking, the beer went from decent to tremendous, which makes me wonder if other beers can be improved with cigars. The nose didn't improve with the smoke, but the flavor improved dramatically, the malts popped and the coffee became front and center. Also, the odd smoky flavor became masked.
Overall, judging the beer solely by itself, the beer was decent, if disappointing (especially for the price). I wouldn't get this again, but the bottle does look pretty atop our cabinet.
★
1,265 characters

3.48
/5
rDev
-10.8%
look: 4 | smell: 3.5 | taste: 3.5 | feel: 3 | overall: 3.5
First of all, make sure you have your tetanus shot before this one because there was clearly some moisture issues somewhere along the way and the cap under the foil is super rusted and pretty nasty...
A - Pours dark brownish into my snifter with about two fingers of head, decent retention and nice lacing.
S - Roasted malt, anise, dark fruits, kind of like chocolate covered cherries and yeast.
T - Roasted malts, dark fruits - cherries mostly, semi sweet chocolate, touch of anise and molasses, espresso like bitterness from start to finish.
M - Medium and over carbonated.
O - Really not overly excited by this one, it's OK I suppose, but really not worth seeking out.
★
676 characters

4.13
/5
rDev
+5.9%
look: 4.5 | smell: 4 | taste: 4 | feel: 4 | overall: 4.5
Pours a deep amber to black in color with a light tan head. In the aroma, coffee and a small smokiness. In the taste, coffee, small sweet oatmeal, and a note of smoke. A small bite and medium to bigger bodied mouthfeel, with a dry roasted coffee in the aftertaste. Big coffee, and dryer and a bigger roast than the standard Obscura.
★
332 characters
Troubadour Imperial Stout from Brouwerij De Musketiers
87
out of
100
based on
33
ratings.