Fat Head's Head Hunter IPA
| Fat Head's Brewery & Saloon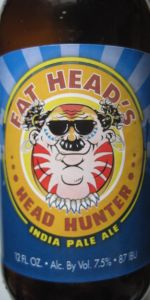 BEER INFO
Brewed by:
Fat Head's Brewery & Saloon
Ohio
,
United States
|
website
Style:
American IPA
Alcohol by volume (ABV):
7.50%
Availability:
Year-round
Notes / Commercial Description:
1st batches were 7.0% ABV
Added by WVbeergeek on 06-19-2009
Reviews: 558 | Ratings: 4,004
3.05
/5
rDev
-29.6%
look: 3.5 | smell: 3.5 | taste: 3 | feel: 3 | overall: 2.5
Tried this from the tap at Fatheads in North Olmsted Ohio. Everything fit and I though I was going to enjoy this one. Until I actually tried it.
As described in the previous tasting: "Uncivilized and aggressive, this West Coast styled IPA packs wicked hops flavors and aroma. Savage amounts of Simcoe, Columbus, and Cascade hops define this brew's signature pine and citrus notes".
I love IPAs but this one wasnt for me. The overpowering pine flavor killed this beer. Smell, Taste and after taste. Drank it all to get my money worth and then moved on. Their Weizenbock is wonderful though.
★
592 characters

4.42
/5
rDev
+2.1%
look: 4 | smell: 4.5 | taste: 4.5 | feel: 4 | overall: 4.5
I had this on tap at Fat Heads in Cleveland, apparently brewed on premises. The menu description: "Uncivilized and aggressive, this west coast styled IPA packs wicked hops flavors and aroma. Savage amounts of Simcoe, Columbus, and Cascade hops define this brew's signature pine and citrus notes".
The beer is clear and gold colored with about 2 fingers of foam that lace into sheets on the glass. The smell is ridiculously on target, I've had Pliny the Elder each night for the last 3 nights and this is not really distinguishable by aroma. A lot of grapefruit and a little pine, this is near perfection. The taste is about the same, exactly what I crave from an IPA. Very assertive hops punches with grapefruit and alpha acids, nice counterbalance from malts but not enough to sweeten the hops to neutrality. Just very well done, this is a delicious IPA. The body's about right for the style, just north of water, very very drinkable.
This is an outstanding IPA when you factor in the low ABV (6.2%), just very good. I hope to see this bottled and distributed.
★
1,064 characters
3.48
/5
rDev
-19.6%
look: 4 | smell: 3.5 | taste: 3.5 | feel: 3 | overall: 3.5
Wow, not overly impressed with this. Orange body, pale white head, average lacing. Pine and citrus nose. Enh. Grapefruity taste but quite sour; a little TOO much grapefruit, it seems. Astringent 'feel. Okay drinkability.
Seems all west coast on the surface but underneath it's pedestrian at best. Get one of the other 41 beers on tap is my advice. And, as an unabashed Fat Heads fanboy, it hurts to say this. Honestly. Bottom line: get something else.
★
452 characters

3.97
/5
rDev
-8.3%
look: 3.5 | smell: 4 | taste: 4 | feel: 4 | overall: 4
On tap at Fat Head's Brewery & Saloon on 8/10/09.
A - Clear amber/orange body with slim, creamy off-white head that disolved into a patchy film and left thin strands of lace around the glass.
S - Very similar hop character as the S.P.A. byt with more of a pronounced citrus oomph. Some piney accents also join the party. Hops are balanced by a sweet caramel malt backbone.
T - Opens with an assertive hop bite right off the bat with equal parts juicy citrus fruit and sharp, pungent pine notes. Sweet caramel malt evens the playing field a bit, but ultimately the hops dominate the flavor.
M - Medium bodied with an oily texture and lots of residual hop oils resulting in a mild syrupy mouthfeel overall. Finishes with an assertive hop bite that lingers for a while on the palate.
D - Solid IPA with plenty of hop character. This one features a nice hop profile ncluding Simcoe, Cascade and Columbus varieties. Nice, although I liked the Pack-a-Wallop S.P.A. better.
★
975 characters

2.6
/5
rDev
-40%
look: 3 | smell: 3 | taste: 2 | feel: 3 | overall: 3
On tap at the brewery a few hours ago. Review from notes. Poured into a clean, clear glass. Notes from brewery: Uncivilized and aggressive this west coast styled IPA packs wicked hop flavors and aroma. Savage amounts of Simcoe, Columbus and Cascade hops define this brews signature pine and citrus notes. Try with our smoked wings in the Killer sauce and run the risk of a shrunken head!
A Basic Orange brown translucent body under a minimal light head.
S Cascade hops but not that strong. This is what I expected and it is true to the style.
T Hops, unbalanced hops. Grapefruit tartness from start to finish. Unimaginitive and unbalanced.
M Moderate feel. Would have been thin but the hops beef up the feel with their tangy tartness.
D Only fair. I cannot have more than one of these.
★
790 characters

4.18
/5
rDev
-3.5%
look: 4 | smell: 4 | taste: 4.25 | feel: 4.25 | overall: 4.25
On tap @ Fathead's (Pittsburgh, PA) on 7/18/09. Served in a pint glass.
Pours a crystal clear copper, which is topped with a finger of foamy off-white head. Rich and creamy looking retention, that leaves back lace that hangs in thick swathes down the sides of the glass. The aroma is pretty much West Coast smelling. Floral and a bit piney hop character, with some big-time spice and a thick tang of tropical fruits. Some even more sweeter notes of caramel and bread come out under the citrus, and I'm also pleased to not be picking up any warmth at all. I'm really digging the mix of flavors here, but I wish that they were popping just a bit more.
The taste starts with a big hop bite up front of very aggressive spicy bitterness, with a sticky resinous edge to it. That sweet mix of citrus and caramel from the nose is present, but it's not nearly balancing enough here in the taste, leaving this way too uneven and bitter up front. The hops are just lingering way too long in this, keeping this IPA from being completely enjoyable. The mouthfeel is medium bodied, with a mellow creaminess to the carbonation up front but then prickles up towards the back. This sharpness in the back is actually right where the most unpleasant aspects of the bitterness is lingering, but I'm not going to hold that against the feel. The one saving grace of the unbalanced nature of this, is that I'm not picking up any alcohol beef whatsoever. Pretty darn impressive for a 7% beer with raging hops in it.
Tis a shame, as I really liked this everywhere but the taste. I know that the board described this as "aggressive" and uncivilized" but it was just way too uneven towards the hops for my taste. If you don't mind out-of-control bitterness, then by all means go for it, as the aroma is quite nice and the body and drinkibility are right on for a higher ABV IPA.
★
1,857 characters
4.68
/5
rDev
+8.1%
look: 5 | smell: 4.5 | taste: 4.5 | feel: 5 | overall: 5
A great IPA!
I usually buy in single bottles from a local beverage store largely being afraid of buying sixes to not like what i bought.
I had to get Headhunter IPA in a Growler (my first) and was offered a sample before i bought it. Being bold, I said no to the sample and bought the 64oz growler to be surprised.
I figured that this breweries brewmiester worked for Great Lakes for a bit, so it had to be good.
Good?!?!?! This was great and I highly recomend it.
★
464 characters

4.42
/5
rDev
+2.1%
look: 4 | smell: 4.5 | taste: 4.5 | feel: 4 | overall: 4.5
Boy, did I love this beer. On tap at the Fathead's in Pittsburgh.
A-Pours a pale amber with a thin white head and little to no lacing.
S-What an excellent aroma. Lots of pine and citrus goodness with a hint of sweetness, again from the hops I believe.
T-Delicious. Aggressive earthy hope presence right away giving way to a piney hop and citrus finish. Not a lot of malt there, just enough to provide a solid backbone.
M-Medium bodied, oily, a bit resinous.
D-This is right up my alley. Aromatic, hoppy, delicious.
HV
★
524 characters
Fat Head's Head Hunter IPA from Fat Head's Brewery & Saloon
96
out of
100
based on
558
ratings.