Dismiss Notice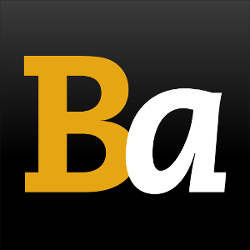 Site Performance Updates: We're aware of the nightly site outage, and working on resolving the issue.
Wolff's Biergarten
PLACE STATS
Reviews:

15

Ratings:

Avg:

3.8

pDev:

8.68%

Taps:

14

Bottles/Cans:

23

Cask:

N

Beer-to-Go:

N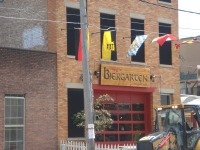 PLACE INFO
Type:
Bar, Eatery
895 Broadway
Albany
,
New York
, 12207-1306
United States
(518) 427-2461 |
map
wolffsbiergarten.com
Notes:
No notes at this time.
Added by BeerAdvocate on 03-17-2009
Reviews: 15 | Ratings: 32

3.23
/5
rDev
-15%
vibe: 2 | quality: 3.5 | service: 3 | selection: 3.5 | food: 3.5
I am really torn on this place. I did not put up a review but I have been here a few times so...
I really love the idea of what they are trying to do here. They have quite a few taps of mostly German beer with a Belgian thrown in (Stella) The bottle list is small but they have some decent stuff. The bottles are REALLY expensive though. The beers on tap come in .3 .5 and 1 liter glasses. On your birthday you can get a 2l boot of the Hofbreau Munich. We went on my girlfriends birthday and she got the boot. The only down side is they only had 3 boots so there was a wait. No problem the boot is free with a $10 purchase. I got my .5 of the Rheisdorf Kolsch. Here is the issue with the boot. Everyone else who had one was throwing up. Now I can't knock the establishment for that but it is a tad on the meathead side of things. Many chants broke out encouraging people do down the boot. Then they would stumble to the bathrooms. Which is the next problem. There are 4 dartboards with one next to the mens room and another next to the womans with 2 in the middle. Every time you have to pee you take your life into your hands as there are always intoxicated people throwing darts. Then if you get into the bathroom intact you will probably have to wait for someone to finish vomiting. Seems kind of harsh but honestly every time I have gone a good percentage of people have been intoxicated. The good. Really nice old firehouse that used to be a swanky nightclub (which is ridiculous in Albany). The beer is good but I would like to see a little more variety. The prices are a little steep but they are served in the right glassware. The food is ok but again a little on the pricey side. It gets insanely crowded so get there early to avoid the rum soaks. The service has been good and awful. Sometimes they are just understaffed other times the bartender is just talking to their friends. Great idea just needs some work.
★
1,923 characters
3.48
/5
rDev
-8.4%
vibe: 4 | quality: 3.5 | service: 3.5 | selection: 3 | food: 4
Went here numerous times, most recently was on my birthday. We went in around 2pm and was greeted by the bartender and partons around the bar. After checking our ID's he told me that I get a free 2L beer boot filled with beer because it was my birthday. Nice touch.
Standard German beers like hofbrau, paulaner, becks, hacker pschorr, radeberger, as wells as some belgians and others. Menu was good, mostly german styled bar food. I dont think its a german chef but the food is sorta german with sausages and brats and what not. A couple TV lined the walls and there was dart boards.
The concept is great and in the summer they open up the firehouse door which lets a nice breeze in. Wooden picnic tables instead of the authentic biergarten tables actually adds some character to the albany biergarten.
Its definately worth a stop in and its just about a mile past CH Evans (Albany Pump Station)
★
900 characters

3.53
/5
rDev
-7.1%
vibe: 4 | quality: 4 | service: 3 | selection: 3.5 | food: 3
Wolff's is located in an industrial area of Albany's waterfront.
The front of the building has a very large garage door as the primary entrance during good weather. Entrance and heating issues during Winter Months remain to be seen.
The space is casually decorated with various residential building-fronts mimicked on one side with the bar located on the opposite side. Further in the back are high-tops, dart boards and a counter for ordering food.
The center space is filled with wood picnic tables and the floor is heavily coated with spent peanut shells; peanuts are complimentary and can be requested from the bar.
In place of bar stools, there are fixed benches that sit two comfortably or three uncomfortably. These are spaced apart with room for one person to stand between them.
The Beer ... approximately 14 taps of all German beer! Two or three lines contain German Imports which can be found widely at other locations; however, the majority are less obtainable elsewhere. The bottled selection extends into the Belgian styles.
All taps can be poured into .3, .5 or 1L authentic glassware which gives patrons of all interests the options of sampling to heavy drinking.
The focus here is obviously German Imports. The only thing that was missing, in my opionion, were German Styles presently brewed in the USA. While not traditional, I think it would be a nice touch to see Domestic Micros of German Styles available on tap (Ex: Victory Prima Pils)
★
1,465 characters

3.71
/5
rDev
-2.4%
vibe: 3 | quality: 3.5 | service: 4 | selection: 4
A friend started their birthday extravaganza there. The bar seemed to be lacking a consistent vibe. I thought it would be a semi up-scale beer bar. However there are peanut shells all over the place, very loud college/just graduated scene. For a German bar they were playing classic rock, did not go well together at all.
As previously mentioned the bathrooms are located near dart boards so you risk your life to get to the bathroom. You're almost relieved that you can relieve yourself. Also the dart board are not set up for regulation length, the darts provided are of low quality.
Beer is decent, they have a few nice beers but the main options are average quality german pilsners.
★
688 characters
3.95
/5
rDev
+3.9%
vibe: 4 | quality: 4 | service: 4 | selection: 4 | food: 3.5
Fun place. Quite good selection of German beers on tap, with fun glassware (.3/.5/1l mugs). The atmosphere is fun and lighthearted, with a mixed crowd and good spirits. Peanut shell covered floor, picnic bench seating, soccer on TV and a garage-style front door open to the street in the summer makes this place a great place to have a beer (and dinner) with friends. Probably the only place around where you can find this selection of German beers on tap.
The food is generally good, German-inspired fare including sausage, schnitzel and various other odds and ends. Prices are reasonable, though not necessarily cheap. Cash only.
Don't forget to go on your birthday for the free 2l boot (with $40 refundable deposit)!
★
721 characters
4
/5
rDev
+5.3%
vibe: 4 | quality: 4 | service: 4 | selection: 4 | food: 4
Great atmosphere. Great beer. Only problem is it should have more great German beers in bottle. Disappointed to not find any schlenkerla beers, other rauch beers or some famous german beers like aventinus julius echter dunkel or any berliner weisse beers.
Great otherwise though! The entire set up was very nice and comfortable. I will definitely enjoy many a nights posted up on a the bar there. Price were very nice, and the food was excellent. Very glad to have this bar around albany. Make sure to check it out!
★
517 characters
4.08
/5
rDev
+7.4%
vibe: 4.75 | quality: 4 | service: 4 | selection: 4.5 | food: 2.75
Best selection of German beers on tap in the Albany area, nice place to catch a soccer game with some local hooligans or shoot darts with friends. The food is pretty mehh mostly consisting of wurst variations. It is the only place in Albany that gives a free boot of beer on your birthday , the beer selection is good but as for the food I will be sticking to the free peanuts.
★
377 characters

4.09
/5
rDev
+7.6%
vibe: 4.25 | quality: 4 | service: 4.25 | selection: 4 | food: 4
It's hard to find more than a couple of German beer on tap but at Wollf's they have a nice selection; the several that I enjoyed were fresh and tasty. You order food at one counter and beer paying for each as you go. The place has character, sort of German beer hall meets sports bar but I stopped by for the food and stayed for the beer anyway.
★
345 characters

4.13
/5
rDev
+8.7%
vibe: 4 | quality: 4 | service: 4 | selection: 4.5 | food: 4
Another great beer stop is Albany. Chock full of draft & bottle German beers (as well as German wines for those folk. Prices aren't bad- $12-15 for a freakin' liter of (good) beer. Food selection is standard wurst, saurkraut, etc. Free peanuts.
There is a ping pong table and several dart boards against the rear wall (which makes coming out of the bathroom a bit scary not knowing if you're going to get nailed in between the eyes with a dart.)
My one complaint is their current lack of boots. Their board states they have boots, (Free 2L boot o' beer on your birthday) but upon inquiry, they informed me that they HAD a single boot until it was dropped by some birthday boy soon after opening.
★
697 characters

4.16
/5
rDev
+9.5%
vibe: 4 | quality: 4.5 | service: 4.5 | selection: 3.5
Draft beer is served in authentic .3 .5 and 1L vessels
11 German beers on tap plus Pilsner Urquell and Stella Artois
17 bottles German beer six Belgian offerings
We set out for this place after the Dead show let out in Albany in 4/17/09. we arrived shortly after midnight and this place was rocking. It was a short cab ride from Downtown near the Palace theater. Upon our arrival we checked in with the doorman who assured us that getting a cab back downtown would be easy. It turned out that it was not quite as easy as we hoped but none the less I guess catching a cab at 3:00am might be challenge in any city except Las Vegas...what do I know I live in Vermont.
We didn't have any food here, as the kitchen was already closed when we arrived shortly after midnight. The service was friendly, the place was very cool. Communal seating with lot's of long tables to sit at with strangers. The bar even had benches bolted to the floor, so you shared elbow space at the bar on a bench.
It's an open air venue, with seating out front, and plenty tables. If you are in the Albany area it's definitely worth a visit.
CASH ONLY!!
★
1,127 characters

4.2
/5
rDev
+10.5%
vibe: 4.5 | quality: 4.5 | service: 4 | selection: 4 | food: 4
One of the more ineresting places in Albany, they have everything from a ping-pong table to 4 dartboards, and decenet number of TV's. Only had the food once, but can't complain about that, it was pretty good. My favorite part is the free 2 liter birthday boot, although next year I am going to ask how much it would cost to have it filled up with Weihenstephaner hefeweisse instead of the house beer, the Hofbrau Munich. Definitly the place we go on special occasions such as birthdays or a nice warm day in the beginning or end of the school year.
★
548 characters
4.2
/5
rDev
+10.5%
vibe: 4.5 | quality: 4.5 | service: 4 | selection: 4 | food: 4
Definitely love going to Biergarten. They have the best selection of European beers on tap and bottled in the Albany area, bar none. It's a great place to catch soccer games and other sports occasionally with friends and some locals or shoot darts with folks also. The food is pretty good in my opinion. Portions of kraut, wurst and potato salad, etc are excellent and taste is good too. They also give you a free boot of beer on your birthday, and free roasted peanuts while you're hanging out. The only downside for me is the bar is cash-only. Not a huge problem overall but I do not like carrying cash.
★
605 characters

4.26
/5
rDev
+12.1%
vibe: 4.25 | quality: 4 | service: 4 | selection: 4.75 | food: 4.5
German style beer garden atmosphere with a blend of American garage door style party atmosphere! This place provides an open, free flowing atmosphere that makes it easy to mingle and meet. You can easily over look the messy peanut shelled floor since they provide that free snack on every German style picnic table. While snacking on the "nuts" you can enjoy a plethora of German style beers; whatever suits your fancy. If German beer doesn't do it for ya, they also serve a hearty menu of Belgians (they have Delirium Tremens!). The food is also ethnically eclectic. For those not on the adventurous side with their tastebuds stick with the pizza (they own a place next door which they'll pick up for you) which is awesome! Pizza and beer are always a classic combo! Nonetheless, this atmosphere is alluring for all kinds and if the beer doesn't draw you in, there are the large TVs and dart boards to keep you occupied while guzzling your liter of beer. It's worth mentioning the "birthday boot" of beer that you can get for free on your special day-look out, it's 64 oz of deliciousness! You may leave the 'garten with a 'feather in your German hat'!
★
1,153 characters

4.78
/5
rDev
+25.8%
vibe: 4 | quality: 5 | service: 5 | selection: 4.5 | food: 5
Great place to go with some friends and drink some really good German Beers. Plus the vibe here in the summer is fantastic, they open up the garage so you feel an outdoor vibe while you are sitting inside. Plus the food here is great, definitely a place you will want to visit if you are ever in the Albany Area.
★
312 characters
4.78
/5
rDev
+25.8%
vibe: 4.5 | quality: 5 | service: 5 | selection: 4.5 | food: 4.5
Exceptional across the board for a city that's long-needed a biergarten that's open on a daily basis. We have the fabulous Mahar's, with a selection that can't be beat - but the tap and bottle choices at Wolff's, plus the authentic and tasty German fare, make this my favorite place for a brew.
While it shouldn't be noteworthy, it is - that all brews are served as they should be, right glass, right temperature. And the service is friendly and engaging. The atmosphere is comfortable, and the smart setup means that you can get to the bar fairly quickly.
★
557 characters
Wolff's Biergarten in Albany, NY
87
out of
100
based on
15
ratings.