Coco Jones
| Black Raven Brewing Co.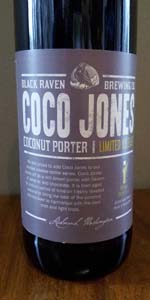 BEER INFO
Brewed by:
Black Raven Brewing Co.
Washington
,
United States
|
website
Style:
American Porter
Alcohol by volume (ABV):
5.90%
Availability:
Rotating
Notes / Commercial Description:
No notes at this time.
Added by barleywinefiend on 06-27-2010
Reviews: 15 | Ratings: 81
4.02
/5
rDev
-2.7%
look: 4.25 | smell: 4 | taste: 4 | feel: 4 | overall: 4
Toasted malt, dark chocolate, and wood - that's pretty much all I can pick up from the smell. Taste is all of the above, with wood and more wood on the back end. This is not a barrel aged beer, however the woody character is extremely prominent. A very enjoyable beer, but the coconut was nowhere to be found.
★
309 characters

4.25
/5
rDev
+2.9%
look: 4 | smell: 4 | taste: 4.5 | feel: 4 | overall: 4.25
On tap at the brewery. Enjoyed in a taster glass.
A: Dark brown with a one finger tan head that lingered. Ample lacing.
S: Nuts, coconut and chocolate. Decadent.
T: I took a sip, then before I knew it, another sip was gone and I was left wanting more. The taste of coconut and chocolate goes down so easily. This is a dangerously drinkable brew.
M: Medium with medium, creamy carbonation.
O: I liked this one so much, I bought a bomber to take home. One of the better Washington beers I tried. Recommended.
★
527 characters
4.65
/5
rDev
+12.6%
look: 4.75 | smell: 4.75 | taste: 4.5 | feel: 4.75 | overall: 4.75
Poured into a Pint Defiance tulip. The head is a creamy tan, the body is a very dark opaque brown. Aromas include faint dark fruits, semi sweet dark chocolate, and mild toasted coconut. The flavors include the same notes. The mouthfeel is smooth and foamy, with mild carbonation.
★
279 characters
3.97
/5
rDev
-3.9%
look: 4.25 | smell: 4 | taste: 3.75 | feel: 4 | overall: 4.25
Tap to glass @ brewery tap room@ Redmond, WA
Appearance: Dark Reddish Brown, slightly clear, some lacing, long lasting off white medium head
Aroma: toasted grains and nuts
Taste: Sweet with abrupt, no long lasting follow through
Feel Palate: Fizzy
Overall: very good beer good to repeat but not to look for
Drank April 5, 2015 9pm"
★
331 characters

3.95
/5
rDev
-4.4%
look: 3.75 | smell: 3.75 | taste: 4 | feel: 4.25 | overall: 4
22oz bottle served in pint glass. Beer pours mahogany brown, with an ample tan head. Aroma is of bitter cocoa and cappuccino. Flavor is like rich milk chocolate. Coconut flavors are way in the back and subdued, playing only a minor role in this chocolate malt porter brew. Flavors are really nice here, without unnecessary sweetness, just chocolaty goodness. Mouthfeel is heavy and creamy, like a stout, with mellow carbonation.
★
434 characters

4.07
/5
rDev
-1.5%
look: 3.75 | smell: 4.25 | taste: 4 | feel: 4.25 | overall: 4
Pours slightly lighter than I expected, a pure crisp dark brown, but... not quite thin, but just minimal depth. more like root beer than cola. Lovely creamy head turns into its petri dish with drifts at the edges. Incredibly lacing.
Nose is rich and creamy with something somewhere between nuttiness and almost incense/floral life. It's doubtless the coconut, but it doesn't show itself in the same tired way that most coconut _________ present. Enticing roasty and fresh like a light summer rain in the forest. But not an earthy temperate forest. Not quite tropical either. I'm meandering. It's good is what I'm saying. As it warms it becomes more woody coconut husk. It's growing on me even more.
Flavour brings a mild sweetness again that enwraps a roasty toasty inner layer. It's like those dried coconut flakes you can buy at the health food store, but only as a collaborative entry point to a woody/slightly roasty porter. Some vanilla to bring out the sweeter edge of the coconut, but not too much. This is definitely more those healthy toasted coconut slivers than the insipid sugar of macaroons or mounds. There's still some sweetness here, but I have to stop and think about it to realize how much is really there as it feels naturally blended in with the dark chocolate and woody husk.
A wonderful blend of fresh coconut meat and toasted husk with a solid base to keep it honest. I appreciate the restraint demonstrated here and the subtlety that is crafted.
★
1,473 characters

4.17
/5
rDev
+1%
look: 3.25 | smell: 4.25 | taste: 4.25 | feel: 4 | overall: 4.25
I had this beer on-tap in a pint glass at the brewery.
Appearance: medium brown hue with a bit of haze and a finger of frothy tan foam. Rather light for a porter.
Smell: lightly roasty with a nice chocolate and coconut element. I really like it.
Taste: fresh coconut right up front with a bit of toastiness and caramel underneath. Very dessert-like and satisfying.
Mouthfeel: medium body with a good carbonation and creaminess.
Overall: one of the best coconut porters I've had. This really strikes a balance between the coconut and the roasty, toasty porter elements.
★
578 characters

4
/5
rDev
-3.1%
look: 4 | smell: 4 | taste: 4 | feel: 4 | overall: 4
Poured into a Black Raven pint glass. Pours a dark mahogany brown with ruby notes and a one finger khaki head with great retention and lacing. Aroma of sweet toasted malt, milk chocolate and light coconut. Flavor starts with subdued toasted malt, chocolate and light coconut, but the chocolate flavors develop nicely to a pleasant dark chocolate and coconut blend that really is reminiscent of a Mounds bar, finishing with a well balanced, sweet toasted malt, and coconut chocolate finish with a bit of hop bitterness. Nice medium body with good carbonation. A great, well balanced coconut porter, but it left me wishing for more malt and chocolate intensity to the flavor. I'd really like to see an imperial version of this one. Moderate, but well integrated flavor. An enjoyable porter with a deft hand with the coconut.
★
823 characters

3.8
/5
rDev
-8%
look: 3.5 | smell: 3.5 | taste: 4 | feel: 3.5 | overall: 4
Thanks to ChrisPro for sharing this beer.
A - A very dark brown, almost black, beer that had a nice tannish head that had moderate retention.
S - Slightly roasted malts, undeniable coconut, chocolate. It's straightforward, and has enough going on that it smells solid.
T - Delivers on the coconut promise. It's not a coconut bomb per se, but it has a lot of coconut in there to go with some chocolate and slightly roasted malts. It's not horrible, but I'm not the biggest fan.
M - Medium bodied with moderate carbonation.
O - For a coconut beer, this is a nice little novelty. I'm not blown away by it, but I didn't mind drinking it and it went down easily.
★
663 characters

4.4
/5
rDev
+6.5%
look: 4 | smell: 4 | taste: 5 | feel: 4 | overall: 4
Another WA goody sent down from hopburster. You da man Greg.
22oz bottle poured into a Duvel Tulip glass.
A - Pourd a medium to dark brown with a medium tan head. Good retention left on the glass.
S - Chocolate dominates, then some coffee, carmel, vanilla, and coconut decide to show up.
T - Chocolate is really up fron here, followed by some vanilla, then finishes with some carmel-coconut flavors.
D - Light body, fizzy in the mouth, some hoppiness does come through.
O - Very easy drinking and flavorful.
★
513 characters

4
/5
rDev
-3.1%
look: 4 | smell: 4 | taste: 4 | feel: 4 | overall: 4
Bottle to tulip. In my haste to get a taste in before my baby woke, I didn't give it enough time to warm. Rectified with second pour, where the aroma and taste noticeably improved.
A: Pours a dark, dark brown transitioning to golden/reddish amber translucency at the edges. A quickly-dissipating mocha head with small bubbles stubbornly hanging on throughout. No lacing or legs.
S: Initially disappointing; but only because I find more chocolate on the nose than coconut. I am flashing back to that Hostess Sno Ball® chocolate cake/coconut combo, though.
T: Much like the nose. A balanced Porter through-and-through, but not a knockout, and with no standout qualities aside from the aforementioned balance, and a bit of chocolate [malts] with even less coconut. It's a bittersweet chocolate bar that promises coconut on the wrapper and leaves you wanting a bit more. At least it has alcohol—undetectable at 5.9% ABV.
M: Smooth with pleasant carbonation. A body of substance but far from thick. It just feels good.
I was hoping for more but this was a pleasant drink and I'm looking forward to tasting my other bottles in the future and seeing what I think of it then. The coconut came across as extremely mild to me tonight. Don't drink this one too cold if you get your hands on a bottle.
★
1,297 characters

3.58
/5
rDev
-13.3%
look: 4 | smell: 3.5 | taste: 3.5 | feel: 4 | overall: 3.5
Poured into HOTD tulip 12/18/11
A: Pours a very dark brown with about a half inch of off white/light brown head and not much lacing to speak of
S: It takes a bit of warming up for this porter to start releasing its aromas. Smells of sweet browned coconut, biscuity malts and some dark malts.
T: I would not be surprised if this beer is fermented with an English yeast, it has many characteristics of one. The coconut flavor is mild but quite nice and the dark malts add a nice roasty bready flavor as well
M: Meduim body with a perfect amount of carbonation and a nice hop finish before the beer ever becomes too sweet.
O: Enjoyed the beer but would have loved to have a bit more coconut flavor and aroma and a bit more dark malt intensity. That being said I love Black Raven and the direction they are going.
★
814 characters

4.68
/5
rDev
+13.3%
look: 4.5 | smell: 4.5 | taste: 4.75 | feel: 4.75 | overall: 4.75
Another great offering by Black Raven. Would be up there with the great breweries in the country if more people from around the country had the chance to try them.
I consider myself one of the fortunate few to live close enough to try them whenever I want - which is fairly often.
The Coco Jones Porter is their Tamerlane Brown Porter infused with coconut.
Sublime from the get-go. Appearance dark brown. Head nice brown tight foamy bubbles hang around long enough.
Taste is smooth, milky, coconut and chocolate notes. Bold taste makes for a nice sipping beer in spite of its moderate ABV at 5.9%.
Snagged my allotment of four very limited release bottles to go.
My very good fortune.
★
686 characters
4.74
/5
rDev
+14.8%
look: 4 | smell: 5 | taste: 5 | feel: 4 | overall: 4.5
Coco is dark, almost black with slight brown hues towards the edge of the glass and possesses a billowing off-white head.
Smell is buttery coconut, sweet chocolate and roasted malts.
First taste is smooth porter up front, I suspect this is a variation of the their Tamerlane Brown Porter, and coconut Mounds on the finish.
The true success of this beer is it's balance, when I ordered I was really expecting a much sweeter beer but everything sits in harmony and the coconut is present but not overwhelming.
I really think this beer could convert people on all sides of craft beer, from the seasoned beer snob to the Mike's wielding soccer mom.
★
652 characters
4.47
/5
rDev
+8.2%
look: 4 | smell: 4.5 | taste: 4.5 | feel: 4.5 | overall: 4.5
A: Poured a very deep brown with good carbonation and nice sirty white head
S: Plenty of coconut, roated malt and chocolate
T: A nice balanced flavor from beginning to end. Starts with a smooth coconut taste which brings out some chcolate, roasted malt and milky flavor. Not overly done on the coconut.
M: Nice, smooth and milky, good carbonation.
D: Oh yeah.
★
363 characters
Coco Jones from Black Raven Brewing Co.
89
out of
100
based on
15
ratings.