Dismiss Notice
Get FREE shipping on all US orders of $25 or more from the BeerAdvocate Store.
No promo code required. Offer valid through 4/30.
Ready to gear up? Start shopping →
Lot #6 Double IPA
| Evolution Craft Brewing Company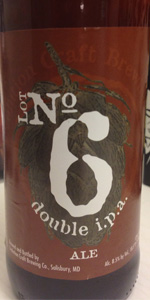 BEER INFO
Brewed by:
Evolution Craft Brewing Company
Maryland
,
United States
|
website
Style:
American Double / Imperial IPA
Alcohol by volume (ABV):
8.50%
Availability:
Rotating
Notes / Commercial Description:
No notes at this time.
Added by lackenhauser on 02-27-2010
Reviews: 111 | Ratings: 648
4.27
/5
rDev
+3.9%
look: 4.5 | smell: 5 | taste: 4 | feel: 4 | overall: 4
A- caramel tint with orange flecks in the light. Low amount of head and a carb laced ring around the snifter where I got this one at Pickled Pig pub in Rohoboth.
S- bright floral notes with grapefruit and piney wood.
T- as per usual smell leads into taste with a sweet caramel big body forefront and earthy grapefruit hops ( hallertau?) massive hop aftertaste which I love balancing out the massive malt bill
M/D- lovely. Earthy hoppy and just what I want in a dipa. Enjoy this one.
★
487 characters
4
/5
rDev
-2.7%
look: 4 | smell: 4 | taste: 4 | feel: 4 | overall: 4
Served on tap at Max's Taphouse in Baltimore.
A- Light amber with a couple of fingers of sticky head.
S- Surprisingly fruity for an IPA, with hops at the end.
T- Again, I couldn't believe how fruity this tasted on the front... very good! Like an IPA, on the way down is the deliciously hoppy taste, which is magnified by the almost 10% ABV.
M- Medium, it's a double IPA after all.
D- Very good, but at 10% very dangerous. Prost!
★
434 characters
3.44
/5
rDev
-16.3%
look: 4.5 | smell: 3 | taste: 3.5 | feel: 3.5 | overall: 3.5
Pours an organish copper color with a two finger head and great fingers of lacing all over the glass. A great looking beer. The aroma is of greatfruit hops with earthy hops presen also. The taste is a caramel malt backbone with grapfruit hops, earthy hops and citrus present. The mouthfeel is moderate carbonation. The drinkability is good with the alcohol well hidden and the beer being an easy drink. Overall its a solid beer but in a crowded dipa market it is close to the top but not top of class and needs to do more to distinquish itself.
★
544 characters

3.95
/5
rDev
-3.9%
look: 4.5 | smell: 4.5 | taste: 3.5 | feel: 4 | overall: 4
Many thanks to beandip for this one!
Poured into a tulip pint: Clear, light copper body with loads of nucleation under a dense, sticky, eggshell head. Drops to a thick coating & retains well, leaving hills of lacing.
Very crisp grapefruit in the smell, strong, clear, but light without much sweetness weighing it down. Fresh tea leaves, citrus zest - an "autumnal" sort of character, like dry leaves. Just a hint of an angelfood-like maltiness in the background, but very subtle. Damn, this smells good! A nice cornbread sweetness shows up after a while.
Very dry taste with some citrus zest & pith, tea again. Piney. Just a little bit of sugar hanging around the edges, again very subtle, but enough to keep it afloat. Booze is almost invisible. Bitter, bitter aftertaste that really hangs in there.
Medium-full-bodied, crisp, with an edge to it, & moderate carbonation.
I like that this isn't too sweet, like a lot of DIPAs. It almost errs too much in the other direction, but is saved by that little bit of sugar. Still very dry & bitter, challenging but enjoyable. I could have another one, sure. Thanks again, beandip!
★
1,129 characters

4.57
/5
rDev
+11.2%
look: 4 | smell: 4.5 | taste: 4.5 | feel: 4.5 | overall: 5
Thanks to Deuane for sharing a growler on 11/11/10.
A - The growler dispensed a clear, effervescent amber/orange liquid with copper hues and two fingers of solid froth on top that reduced to a quarter inch ring and swirly retention and left splashes of spotty lace.
S - The aromatic nose blends grassy and citrus hops with toasted grains and sweet malt effortlessly. A mild alcohol presence emerges as the liquid reached room temperature.
T - Hops impart a faint hint of catbox with a dominant fruity tang and some grassy characteristics. Malt profile is equally as diverse, offering toasty and grainy notes as well as caramel sweetness. Finishes with a moderate hop bite supported by a pleasant malty character, which results in an extremely well-balanced flavor. This is some delicious stuff!
M - Light to medium bodied with a hint of oily texture and a slight sticky syrupy aspect. Carbonation is spot-on for the style. Mouthfeel is solid all around. It is also important to note that the alcohol presence remains well-concealed throughout. This is a stealthy DIPA!
D - DIPA? 9.3% ABV? Really?! I was extremely impressed with this beer. It is insanely drinkable for a DIPA, and produced tasty hop burps to boot! This is probably the best new IPA I've had in quite some time. Really enjoyable!
★
1,303 characters

4.4
/5
rDev
+7.1%
look: 4 | smell: 4 | taste: 4.5 | feel: 4 | overall: 5
Thanks to imstillthegman for hooking me up with a growler of this one.
A-Brilliant, clear golden copper with a medium white head that slowly reduced to a thin cap and left spotty lace. The clarity of this beer really blows me away.
S-Citrus, grass and pine hop notes with a light underlying sweet biscuit malt in support. Straight forward but pleasant and rather intoxicating.
T-Wow--what is up with this? Nothing spectacular but everything is so right! Great hop zing up front with a pleasant biscuit malt sweetness in support. This is an example of a beer that does nothing wrong and almost everything right.
M-Medium-light bodied fairly sharp but yet not to harsh. Hops linger longer with warming.
D-WTF? This is something special. 9.3%--who knew? I could pound this sucker all day! Well done Evolution.
★
811 characters

4.07
/5
rDev
-1%
look: 4 | smell: 4.5 | taste: 4 | feel: 4.5 | overall: 3.5
A growler filled at the brewery last Friday.
A: The DIPA is a brilliant golden yellow color, so much lighter than I was expecting that you'd think it was watered down. A small head, never more than 3/4 of a finger, leaves spots of lace around the glass.
S: The DIPA certainly doesn't smell watered down! Tropical and sweet, there is an excess of citrus fruits and mangos lingering around. A bit of boozy heat (unavoidable at 9.3%) and touch of pine round out the mix. A very full aroma.
T: Boozy and rich, not for the hop-timid. This DIPA packs a punch. Citrusy hops, grapefruit predominantly, are sweet and full, I'd say 'lush' but I think that I'm overusing that word. Leafy bitterness follows, a wall of sharpness that lingers with each sip. Paler malts, not quite caramel, hand around but don't have much to say amongst the sea of hops. The ale is big, but it isn't overpowering (at least initially, I am hurting a bit this morning).
M: The mouthfeel, boozy as it is at times, is full of sweet tropical flavors, almost a dessert DIPA. The hoppiness'll grab you.
D: At 9.3%, this is no pounding beer. I left a third of the growler for today but I'm already looking forward to it.
★
1,187 characters
4.34
/5
rDev
+5.6%
look: 4 | smell: 5 | taste: 4.5 | feel: 4 | overall: 3.5
Sampled in my one-of-a-kind Ollie's hybrid wine/pilsner glass from a growler filled at the Delmar brewery five hours before.
The first thing that one notices is that the brew is strongly carbonated and highly aromatic. I smelled the growler all the way home from the brewery, and even though the tapster had poured off quite a bit of foam in filling the growler, it still was quite active in pouring at home. The strong foam makes the perfume of this beer very dominant even between sips. In this it competes with Dogfish Head's Burton Baton, one of my favorites, and I bet that if one were to decant part of the growler carefully into a champagne bottle, it would age well.
The taste, like their Lot #3 IPA, is strongly reminiscent of very good grapefruit juice, with the same astringency. There are other complex "flowery" notes that come from the hop mixture, which lingers pleasantly in the back of the mouth. The brew goes down smoothly enough, but, as other reviewers note, the 9% alcohol content soon calls attention to itself, and so it is very much a beer to sip and unwind with at the end of a tiring day, rather than a sessionable beer.
The variety, at present, is available only occasionally, at the brewery or occasionally on draft at a tavern specializing in local craft beer. It is more expensive than their other varieties, but well worth seeking out and trying.
★
1,382 characters

3.9
/5
rDev
-5.1%
look: 4 | smell: 4 | taste: 4 | feel: 4 | overall: 3.5
Appearance: clear oramge in color with a 1/2" head. Some lace develops during the session.
Smell: pine, grapefruit, and some softer orange tones are easily detectable.
Taste: nice caramel profile with a decent amount of pine, grapefruit, orange, and pears. Alcohol is noticeable and warming here.
Mouthfeel: medium bodied. Crisp throughout with a dry finish. Aftertaste is long as the flavors linger in the mouth.
Drinkability: I found this to be easy drinking, but took it slow as the alcohol levels are a bit high here.
★
525 characters

4.02
/5
rDev
-2.2%
look: 4 | smell: 4.5 | taste: 4 | feel: 4 | overall: 3.5
On-tap at Frisco's
Burnished copper, this beer glows, capped by a thin white head. Retention is decent and there's some lace. The nose is chock-full of hop character with plenty of citrus bitterness, particularly orange rind and some grapefruit. Particularly aromatic as well, this smells great. Malt character is low, which is always a plus in my book. The palate opens with a big hop character with a medium level of flavor and a medium-high bitterness. As with the nose,the dominating character is citrus, with a blend of orange, orange rind, grapefruit and a little pine. Sweetness is medium low with just some malt flavor without the big mouthfeel. Drying on the finish with a lingering bitterness, this light bodied beer does not hide its alcohol very well with some being quite apparent. That said, it's still a solid beer, one that I will drink again.
★
860 characters
4.77
/5
rDev
+16.1%
look: 4 | smell: 4.5 | taste: 5 | feel: 4.5 | overall: 5
Very nice golden orange sort of color. Sticky/gummy lacing on the glass. Huge piney aroma. Tons of hop bitterness and flavor in your face! Long lingering hop bite to it. Has that sort of sticky hop goodness that makes a great DIPA. Solid maltiness to it as well. Incredible balance. Very full body with a sticky/gummy lip smacking sweetness. I could drink this all night. No sign of the high abv here. Possibly my new favorite from EVO
★
435 characters
Lot #6 Double IPA from Evolution Craft Brewing Company
91
out of
100
based on
111
ratings.