Dismiss Notice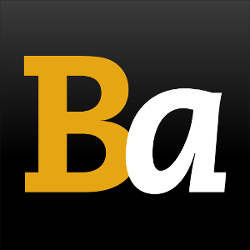 Site Performance Updates: We're aware of the nightly site outage, and working on resolving the issue.
Wachusett Summer
| Wachusett Brewing Company
BA SCORE
77
okay
62
Reviews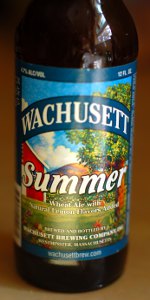 BEER INFO
Brewed by:
Wachusett Brewing Company
Massachusetts
,
United States
|
website
Style:
American Pale Wheat Ale
Alcohol by volume (ABV):
4.70%
Availability:
Rotating
Notes / Commercial Description:
An American Wheat Ale with a hint of lemon. Refreshing, light & ready for the beach.
Availability: Mar - Aug
Added by Andy on 05-24-2002
Reviews: 62 | Ratings: 146
4.07
/5
rDev
+23.3%
look: 3.5 | smell: 4 | taste: 4 | feel: 4 | overall: 4.5
Wachusett Summer Breeze
12 oz brown bottle
Freshness date notched for October
Served in a 20 oz tulip pint glass
* Directly from the brewery in Westminster, MA
Pours a golden and slightly cloudy yellow with a bone white head on top. The head vanishes into a thin lace leaving trails of sticky lacings along the side of the glass.
The nose is chalky and grainy. Faint whiffs of citrus in the background.
This beer tastes very crisp and clean. Refreshing wheat dryness up front with a lemon bite on the finish that compliments the beer as a whole. Grains and wheat make this a refreshing beverage on a 90 degree Sunday afternoon like today. Great drinkability level.
★
679 characters

4.15
/5
rDev
+25.8%
look: 4 | smell: 4 | taste: 4 | feel: 4.5 | overall: 4.5
The warm weather is here in Boston ... time for some summer beer to start off with.
12 oz brown bottle with a freshness date on the label, good head retention and a shimmering pale golden color.
Shortbread biscuit aroma with some hints of lemon zest, clean yet fragrant.
Moderate body and fluffy palate, crisp wheat with a mild bubble gum undertone up front. Touch of lemon peel and hop bitterness are the quencher here. Nice clean and drying finish.
This is one light yet tasty summer brew, I could see getting it by the case and serve it up nice and cold.
★
569 characters
2.17
/5
rDev
-34.2%
look: 1.5 | smell: 2 | taste: 2.5 | feel: 2 | overall: 2
Where's the head? Not sure what happened, but wheat beers should never pour this flat. Straw yellow in color and extremely clear (no haze!).
Slight skunk to the smell--I am tasting this in March, but I purchased it yesterday. Malt aromas are hindered by a small amount of metal.
Flavor is a slight improvement in that it doesn't taste skunky. Still, this is a mild brew. Strongest flavor is of raw grain, slightly grassy. Low level hops can be detected in the swallow. This is a light bodied beer with low carbonation. The flavors remind me of the first attempts at non-alcoholic beer.
Sorry, but this is going into tonights dinner rather than finish the glass.
★
670 characters
3.92
/5
rDev
+18.8%
look: 3.5 | smell: 4 | taste: 4 | feel: 3.5 | overall: 4
Pours a clear pale yellow-gold, well carbonated and topped with a two finger white head. Leaves just small bits of thin lacing.
Fruity wheat aroma, with a floral bouquet.
Slightly tart taste, citrus zest, wheat, light malt, and a honey-like note.
Light body, with a slightly coating mouthfeel.
Good unflavored American wheat, not as good as a weizen, but it's light and crisp, goes down very easily, and hits the style.
★
423 characters
3.57
/5
rDev
+8.2%
look: 3 | smell: 3.5 | taste: 3.5 | feel: 3.5 | overall: 4
This was an adequate summer beer. I enjoyed at on a hot summer night at a cookout, and I found this beer to be a good refreshing compliment. It has a clear, straw-like color, with a mediocre head. The mild smell is earthy. The beer has a sweet citrusy taste, with a hint of hops. This is an enjoyable enough seasonal beer for a hot summer day.
★
343 characters

4.42
/5
rDev
+33.9%
look: 4 | smell: 4.5 | taste: 4 | feel: 5 | overall: 5
Clear pale yellow with a small creamy head - decent retention and lacing. Smell is sweet lemon peel, bananas, white pepper, clove, and some golden delicious apple. Flavor is simpler, a light light citrus brightness that bubbles up and away quickly leaving a small sweet sugar coating on the teeth. Effervescent in a wonderful way, dry but smooth - this beer has to have one of the best feels ever. I beg for another sip.
Although very light in flavor, this is one hell of a brew. Between this and their IPA, Wachusett deserves more props than I tend to give them.
★
566 characters

3.13
/5
rDev
-5.2%
look: 3.5 | smell: 3 | taste: 3 | feel: 3 | overall: 3.5
12 oz longneck bottle, with best before month notch on label.
This wheat ale poured a clear, yellow color with creamy, bright white foam that clung to the glass. The smell was clean with wheat, malt, and a hint of hops in the aroma. The taste was a clean, wheat flavor (no fruit). There was some malt and a bit of a sweet grainy taste. The modest hop flavors came through in the finish. The mouthfeel was light: light body with good carbonation. This was a fairly refreshing, light bodied american wheat ale.
★
511 characters
2.18
/5
rDev
-33.9%
look: 2.5 | smell: 2 | taste: 2 | feel: 2.5 | overall: 2.5
Super clear pale straw color, medium rocky white head, quickly diminishes to minimal lacing. Almost non-existent aroma, but what is there is slightly bready and some raw graininess. Flavor is sweat, grainy, some breadiness. Body is thin & watery, but crisp and clean.
★
267 characters

1.16
/5
rDev
-64.8%
look: 2 | smell: 1 | taste: 1 | feel: 2 | overall: 1
Yeech! I certainly hope this beer was spoiled because I can't imagine a brewer producing a beer that tastes like this intentionally. Pale straw, American wheat beer like appearance. Thin bright white head. Wicked musty off aroma and flavor and that's about all that can be detected. This is either gone bad or the brewery is using some funky overpowering yeast for this beer. I will try again and update my review if I find it elsewhere.
★
437 characters

3.52
/5
rDev
+6.7%
look: 3 | smell: 3.5 | taste: 3.5 | feel: 3 | overall: 4
MM # 5 from Uncle Jimbo.
Comes in a 12 oz brown bottle with a nice bucolic scene on the label.
Well poured into the glass this looks disconcertingly like a pilsner..except its a slightly darker yellow..small pure white head.
smell is pretty fresh and brisk..mostly malts but some small wheatiness.
Nice enough taste pretty neutral..but I can get a taste of wheat at the nd..its sort of creamy.
Little thin on the tongue but not too bad.
For all its faults this is one extremely drinkable beer.
★
499 characters
4
/5
rDev
+21.2%
look: 4 | smell: 4 | taste: 4 | feel: 4 | overall: 4
A real good summer brew. Nice light color and bright white head that only last a short time after the pour. The cirtus smell is real summer like and the taste is crisp and citrusy, a great tasting and refreshing beer for the season. If you are a fan of seasonal brews this one certainly does summer ales justice. I just discovered the Wachusett brewing company and I cannot say enough about their products. They make a fine beer. keep it up.
★
441 characters
3.53
/5
rDev
+7%
look: 3.5 | smell: 3 | taste: 3.5 | feel: 4 | overall: 4
This is much lighter than most summer seasonals. It pours a very big thick white head that quickly fades to a light ring. Clear golden body.
Fruit and lemon with a light breadiness.
Very clean tasting.
This isn't my favourite summer ale, (I prefer alittle more body and alittle less lemon) but during the heat wave this week this was the perfect beer to try.
★
363 characters
Wachusett Summer from Wachusett Brewing Company
77
out of
100
based on
62
ratings.