Session Pale Ale
| Fremont Brewing Company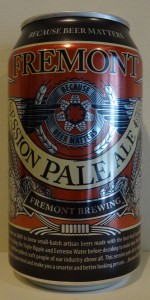 BEER INFO
Brewed by:
Fremont Brewing Company
Washington
,
United States
|
website
Style:
American Pale Ale (APA)
Alcohol by volume (ABV):
4.50%
Availability:
Year-round
Notes / Commercial Description:
We dedicate this beer to you, Craft Beer Fan, for embracing adventure, creativity, facial hair, and the skilled craft people of our industry above all. This session pale ale is made with Citra and Simcoe hops grown in Washington's Yakima Valley which will enlighten your mind and make you a smarter and better looking person…Because Beer Matters. "Hey, it's better in the can." – V.W.P.
Added by HuskyinPDX on 07-01-2014
Reviews: 15 | Ratings: 48
4.05
/5
rDev
+2.8%
look: 4 | smell: 4 | taste: 4 | feel: 4.5 | overall: 4
L: hazy with v. white head and a bit of lacing
S: mild hop and bit of malt
T: nice and hoppy - classic citrus & pine - with a good balance of malty bisquit
F: best part of this beer: FINALLY a full bodied session beer in the American style (as opposed to all those great full bodied UK session beers)
O: one of - if not the - best hoppy session beers I've had.
★
360 characters
3.59
/5
rDev
-8.9%
look: 3 | smell: 4 | taste: 3.5 | feel: 3.5 | overall: 3.5
From tap at the brewery in Fremont
Appearance: light yellow, minimal head, white foam
Aroma: hoppy, strong aroma
Taste: low bitterness, no bold taste
Palate: strong carbonation
Overall: Good session beer
Drank: 2016/04/03
★
223 characters
3.96
/5
rDev
+0.5%
look: 4.25 | smell: 3.75 | taste: 4 | feel: 4 | overall: 4
Appearance : Beautiful peach amber glow with 10% opacity just barely highlighting the edges. Head is fluffy and 3 fingers tall, leaving tons of lace around the pilsner glass.
Smell : Orange pith, grapefruit, with a touch of fresh green onion.
Taste : Very much like a hoppy pilsner to start, with a nice orange/grapefruity bite. Some white raisin as well.
Feel : Carbonated and smooth, just how I like it.
Overall : Another great Seattle-based IPA. Would have again.
★
473 characters

3.92
/5
rDev
-0.5%
look: 4 | smell: 3.75 | taste: 4 | feel: 3.75 | overall: 4
great session brew with near-miracle level intensity of taste (given the very low abv). My first beer from Fremont and I'm looking forward to others. The nose is pretty subdued, but hoppiness taste/mouthfeel more than compensate for that. Several would go down very easily on any summer day.
★
298 characters
3.74
/5
rDev
-5.1%
look: 4 | smell: 3.75 | taste: 3.75 | feel: 4 | overall: 3.5
This is a solid beer & pretty representational of the Fremont's brews.
Deep, hazy golden with soft honey tones in the nose and subtle papaya and grape hops on the tongue.
A softness to the body, too...this is a slightly creamier, less astringent version of their 77 session IPA, I feel.
★
289 characters

3.64
/5
rDev
-7.6%
look: 3.25 | smell: 3.5 | taste: 3.75 | feel: 4 | overall: 3.5
12oz Can
A — Pours a bright pale yellow color into the glass, showing great clarity and a light white colored head on top, there are wispy spots of lacing around the edges.
S — Smell is fairly pungent and unexpectedly bright, there are great bitter piney hop notes, as well as a bit of lemon and citrus.
T — A solidly sweet malt base leads way to a crisp and dry hop note of pine and lemon. Super refreshing and clean.
M — Light in body, ample carbonation, bubbly and bright.
O — Very good overall, unexpectedly hoppy and dry.
★
546 characters
3.83
/5
rDev
-2.8%
look: 3.75 | smell: 3.75 | taste: 3.75 | feel: 4 | overall: 4
i had the bomber, not the can, insanely fairly priced, thanks fremont for always keeping your beers reasonable, they will always have a home in my fridge. this one has a little bit of a red pepper hop profile to it, hints of mango and citrus fruit as well, especially in the nose and in the middle of the flavor, front of the tongue, and a pretty high degree of hop bitterness for a beer not billed as an ipa. i love all the body and carbonation too, it doesnt feel at all like a typical session beer. it feels not dumbed down in the least, and instead quite robust, a real work of art on the palate. i guess the hops could be a little more pronounced in the nose, and a little more citra forward in the flavor, but it comes together well, and i think is about as good as you can get with a beer like this. nice and dry on the finish, yeast neutral, and quite drinkable obviously, thats the point. another well made beer from frement, i will absolutely keep buying all their new stuff that comes to market here, its all very high quality. more summer than fall here though. do they do this one all year? it just landed here in denver.
★
1,134 characters

4.29
/5
rDev
+8.9%
look: 4.25 | smell: 4.5 | taste: 4.25 | feel: 4 | overall: 4.25
I may have just found my new session beer. Super drinkable with a low malt bill and crazy amount of hops for a session. Zero off tastes, just an IPA lite!
★
154 characters

3.58
/5
rDev
-9.1%
look: 3.75 | smell: 3.75 | taste: 3.5 | feel: 3.5 | overall: 3.5
Crisp and lemony brew. Pours a yellow color with more than adequate suds in the Affligem chalice. Pleasant flowery hop aroma. Fairly tart and sharpish mouthfeel with abundant carbonation. A pleasant gulp with a dry finish and moderate bitterness.
I would compare this to Day Hike Session Ale from Two Beers, though the Fremont brew seems more flavorful. Still, it's hard to do a very light beer where they're trying to get just enough hop flavor without overdoing the bitterness. From the 12 oz can purchased at Elizabeth Station in Bellingham.
★
545 characters

3.75
/5
rDev
-4.8%
look: 3.75 | smell: 3.75 | taste: 3.75 | feel: 3.75 | overall: 3.75
Enjoyed on draft at a little Thai joint in WA. Pours a hazy orange with billowy off-white head that dissipates slowly. Notes of citrus in the nose and rind in the taste, with a slight lemon peel bitterness. This light bodied brew has loads of carbonation and was really good with the curry I had. Cheers!
★
304 characters

4.16
/5
rDev
+5.6%
look: 4.25 | smell: 3.75 | taste: 4.5 | feel: 4 | overall: 4
Clear, light yellow beer with minimal head. Slightly sweet herbal smell but nothing much over the top. Nice hop-forward taste with nice biscuity malt balance on the back end. Super pleasant taste. Crisp, refreshing, a lil' hoppy but not that much. A real nice summer beer.
★
272 characters

3.78
/5
rDev
-4.1%
look: 3.75 | smell: 3.75 | taste: 3.75 | feel: 4 | overall: 3.75
Poured from 12oz can into my Fremont can-pint glass.
Appearance: pale golden hue with a very light haze and a strong effervescence. Head pours a finger of frothy white foam that doesn't stick around too terribly long. Not bad.
Smell: lightly sweet aroma with mostly herbal-earthy hops with just a dash of fruitiness. Definitely falls into the range of other session pale ales I've had.
Taste: earthy and a bit herbal, with a somewhat drier malt character than in the aroma. Not at all bad for the style.
Mouthfeel: medium body with a good level of carbonation and a concomitant creaminess. I like it!
Overall: a pretty strong entry in the echelon of session pales and IPAs that are all the rage now. Could be a good tailgating beer.
★
747 characters
4.16
/5
rDev
+5.6%
look: 4 | smell: 4.25 | taste: 4.25 | feel: 4 | overall: 4
On tap into a Fremont "can" glass @ the UBG. Pours a crystal clear glowing orange w/ a thin white head.
Aroma is big juicy citrus, mostly clean grapefruit and orange.
Taste is dry biscuity pale malt and copious citrusy hops. A nice clean hoppy bitterness on the finish.
Mouthfeel is clean, crisp and refreshing. Very drinkable.
Overall a really tasty, understate pale ale. Love how the Citra hops are featured here.
★
420 characters
4.75
/5
rDev
+20.6%
Poured from a can into a Mac & Jack's pint glass on 05.20.14.
A: 3 finger white, fluffy head, which retains well. See through straw yellow.
S: Red grapefruit, malt, pine.
T: Red grapefruit, sweet malt.
M: Crisp and nicely carbonated. A bit more watery than the regular UniversAle Pale.
O: This is the baby brother of Fremont's flagship UniversAle Pale. It surprisingly doesn't lose much of the flavor despite it being a session beer.
Rating: A
★
450 characters

3.96
/5
rDev
+0.5%
look: 4.25 | smell: 3.75 | taste: 4 | feel: 4 | overall: 4
Can opened on 4.16.14
A - Pours a slightly hazy, very light orange with a huge off-white head that fades slowly.
S - Light citrus rind.
T - Light citrus, lemon peel, a touch of bitterness.
D - Tons of carbonation and a light body.
O - Very light and citrusy. A nice bitter bite for such a light beer.
★
305 characters
Session Pale Ale from Fremont Brewing Company
87
out of
100
based on
15
ratings.