Dismiss Notice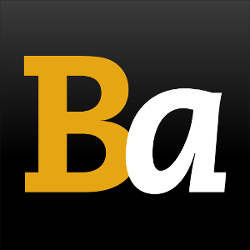 Site Performance Updates: We're aware of the nightly site outage, and working on resolving the issue.
Homefront IPA
| Fremont Brewing Company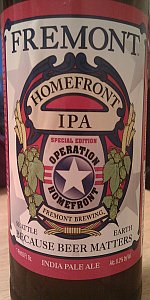 BEER INFO
Brewed by:
Fremont Brewing Company
Washington
,
United States
|
website
Style:
American IPA
Alcohol by volume (ABV):
6.20%
Availability:
Rotating
Notes / Commercial Description:
A special beer created with ex-Seattle Mariner pitcher Chris Ray and Brother Phil of COTU Brewing to honor our veterans. Homefront IPA is brewed with oranges and aged on Louisville Slugger® bats donated by the legendary bat maker. This beer is our way to say thank you to our vets for their service and sacrifice. All proceeds from the sale of this beer will be donated to Hops for Heroes … Because Veterans Matter!
Added by dirtylou on 08-05-2011
Reviews: 14 | Ratings: 67

3.87
/5
rDev
-1%
look: 4.5 | smell: 3.75 | taste: 3.75 | feel: 4 | overall: 4
Pours a crisp clear light amber colour, with a billowing pillowy white head. Beautiful lacing traces its way down the glass.
Nose has some grassy and some slightly floral sweet and slightly spicy notes to it.
Flavour starts off with that same orange blosom special. floral sweet with some focused creamy orange, doesn't taste like but kind of reminds me of those orange creamcicles I liked as a kid. Fiercely bitter towards the finish though with cloying pith bullying everything else aside and taking the reins.
Crisp and refreshing body, this has a little snap to it at the end, but very clean and smoothe down the middle. Body is of medium heft.
★
654 characters

3.6
/5
rDev
-7.9%
look: 3.75 | smell: 3.75 | taste: 3.5 | feel: 3.75 | overall: 3.5
12oz can with no freshness date, but of the 2015 vintage according to the info on the can. This is the most recent release of a beer that first debuted at Safeco Field in 2011. It was a collaboration Fremont did with then-Mariner Chris Ray, an IPA brewed with orange peel and "aged on donated Louisville Slugger maple bats." The Yakima Valley hops and grains are donated as well and the proceeds go to "military-based charities." Apparently, a bunch of other breweries, including Cigar City, have agreed to brew this beer and donate the money from it as well. Pretty cool. BTW, the label on the can is totally different from the one pictured on BA.
Poured a darkened coppery amber color that took on a more golden hue when held up to light. This had a good-sized off-white head and lots of tiny bubbles and floaties flitting about. Most of the head collapsed fairly soon, but a good remnant remained for a while, leaving some lace on the sides of an old Boundary Bay pint glass
Quite citrusy in the nose, but more orangey than the usual grapefruity aromas one associates with IPAs. I expected that with the orange peel, but there were also some more tropical fruit aromas present as well.
Pleasantly citrusy hop flavor, with just enough malt to keep things grounded without otherwise intruding. There's a more herbal flavor in the background. There's a small but noticeable lack of "zest" to the proceedings, like it's not terribly fresh, but it's still quite drinkable.
Medium bodied, with a slightly oily mouthfeel.
A decent IPA, brewed for a worthy cause, but it's no great shakes as a beer. I wish I could have gotten my hands on a fresher example, as I think this can had a little mileage on it.
★
1,727 characters

4.11
/5
rDev
+5.1%
look: 4.5 | smell: 4 | taste: 4 | feel: 4.25 | overall: 4.25
I guess Fremont started putting "Bottled on" date now on their bottles. Kudos to Fremont!
This bottle says "Bottled on: 05/06/13"... so about 2 weeks old. Sweet!
A: Light orange slightly hazy body with 2 finger foam. Good lacing.
S: Smells like your typical Fremont APA. Very similar to SBW Organic Pale, Summer Ale, and Select 77. Amarillo hops (I am guessing), Sweet malt, grain. I don't really pick up much of the oak in the nose.
T: Bright hops to start, orange, tangine, citrus, and strong bitterness towards the middle and end (not piney bitterness - must be the oak), maybe some honey to balance it off. Quite tasty. I can also taste some graininess that is very typical of Fremont PA or APA.
M: Quite smooth and thick but well carbed.
O: Solid brew. I think the oak is contributing quite heavily to the bitterness (I don't think it's the hops that is causing it in this brew). A tad bit on the sweeter side, given 6.2% ABV.
★
941 characters

4.05
/5
rDev
+3.6%
look: 3.5 | smell: 3.5 | taste: 4.5 | feel: 4 | overall: 4
Pours a hazy orange color, with a creamy colored foamy head that laces well. It's opaque, definitely bottle conditioned.
The aroma is sweet citrus fruits, splashes of floral hoppiness and a bit of bready malts. Not overly pungent, but it's quite pleasant.
The taste has a nice strong bitter bite to it at first, moving then to a citrus and grapefruit note, some flowery notes and a spicy, woody note. I'll bet that last taste sensation can be thanks to the Louisville Sluggers.
Nice crisp carbonation, lighter in body, rather refreshing.
Overall, it's a rather splendid little IPA. Doesn't hurt as well that it's a good cause.
★
633 characters
4.3
/5
rDev
+10%
look: 4.5 | smell: 4.5 | taste: 4.5 | feel: 3.5 | overall: 4
A: Poured a crystal clear yellowish orange color with a nice white cap, bubbles and nice lacing
S: A wallop or fresh orange peel and lemon zest. How refreshing!
T: Fresh citrus is immediate, fresh orange peel with some secondary lemon zest, a very light grass note with a nice but subtle bittering hop finish. Clean, refreshing and crisp
M: Medium bodies, well carbonated, I did detect a bit of soapiness on the back end
: Solid IPA all the way and I can't believe I have not souhgt this beer out before. Would and will drink again. Fremont keeps getting better and better!
★
577 characters

3.75
/5
rDev
-4.1%
look: 4 | smell: 4 | taste: 3.5 | feel: 3.5 | overall: 4
22 oz. bottle poured into a straight pint glass. Notes from August 28th, 2011.
A: The beer pours a deep orange hue with nice clarity, no real haze present. There was a one finger head of off-white foam on top, with strong lacing remaining throughout.
S: The aroma is a wonderful blend citrus and pine hops, with a bit vanilla, maple and caramel malt lingering in the background.
T: An initial caramel malt taste makes way for some pineapple and apricot hop flavor. The sip is eventually rounded out with just a hint of vanilla and maple flavors.
M: Medium-light body with with decent carbonation. Alcohol not present at all.
O: Not your standard wood-aged brew. Having the beer rest on maple baseball bats is quite clever, and imparts a truly unique flavor to this IPA. Although Chris Ray is no longer with the Mariners, I sure hope we see this around Seattle once more this coming summer.
★
894 characters

3.84
/5
rDev
-1.8%
look: 5 | smell: 3.5 | taste: 4 | feel: 3 | overall: 4
Poured into a Gulden Draak tulip. Pours a medium coppery orange amber. Massive fine white head that kept growing from active carbonation, ended up looking like a shaving cup. Very cool looking. Aroma of citrus and herbal hops, faint light fruit and malt. Hops up front with tropical fruit and citrus. Malt component is very light. Very faint oak flavor. Finishes somewhat dry and abruptly, but leaves a lingering orange citrus and hop aftertaste. Light bodied, but redeemed by the carbonation. Somewhat subdued in flavor, but interesting flavor progression and very pleasant to drink.
★
584 characters

4
/5
rDev
+2.3%
look: 4 | smell: 4 | taste: 4 | feel: 4 | overall: 4
22oz bottle poured into a pint glass
Pours clear bright golden with a nice clumpy head. Smell is mild but hoppy. Honeysuckle and flowers, some nice sweetness.
Taste shows off the hops a lot more, with a little spicy character getting into it. Nice and crisp.
Mouthfeel is light and clean. Overall, I like this beer.
★
318 characters

3.51
/5
rDev
-10.2%
look: 4 | smell: 3 | taste: 3.5 | feel: 3.5 | overall: 4
Another bottle I was happy to find this past weekend in Seattle.
22oz poured into a Pint glass.
A - Pours a clear, dark orange with a 3/4 finger cream-colored head. Good retention and some lacing is left on the glass.
S - Citrus up front mixed with some floral tones, they are almost candy like.
T - Floral again, some slight woody-tartness. A leafy - earthiness lingers in your mouth.
D - Very oily in the mouth. Good carbonation.
O - Good taste, but the bitter leaf taste just linges to long.
★
499 characters
4.12
/5
rDev
+5.4%
look: 4 | smell: 4.5 | taste: 4 | feel: 4 | overall: 4
Had this on tap last weekend & put up a quick review from memory, then found a bottle the next day so I wanted to give it a more thorough review. (just deleted previous review)
22oz bottle (no dates or codes, but fresh) poured into a tulip. Slightly hazy orange/copper color with a nice white head, good lacing.
Aroma is bright tropical fruit: oranges, pineapple. Smells really good.
Taste is crisp, clean hops and pale malt. Less citrus than in the nose, but still a really nice balance.
Overall not a top-tier but still a solid local brew. That this beer supports a great cause makes it taste that much better.
★
616 characters

4.45
/5
rDev
+13.8%
look: 4.5 | smell: 4.5 | taste: 4.5 | feel: 4 | overall: 4.5
22oz bottle poured into a pint glass.
A: Nice orange color with decent clarity. One finger slightly off white head with awesome retention and lacing.
S: Nice blend of citrus and floral hops, with some resiny notes, as if they fresh hopped it. A very slight oak aroma and a touch of caramel malts.
T: Light caramel malts upfront. Citrus hops, pineapple and mango mainly. Can definitely catch some good oak notes without being overdone. Not overly bitter.
M: Light to medium bodied. Medium carbonation. Oily and slick. Slightly dry finish.
O: Fremont is a great small brewery. I've only had a few of their beers but they are all great. This is Oak Aged perfectly for an IPA.
★
677 characters
3.75
/5
rDev
-4.1%
look: 3.5 | smell: 3.5 | taste: 4 | feel: 4 | overall: 3.5
(from notes)
Yet another ale from the fairly new Fremont Brewery. This unique sucka is actually aged on Louisville Sluggers, I kid you not. They aged the beer on donated baseball bats!
Okay, so this new ale is in line with their other pitch-perfect Interurban IPA. Pours a transparent yellow-orange hue with plenty of carbonation and the kind of resilient head one comes to expect from any good and fresh IPA. It is a rather easy going and balanced drink, refreshing, with an orange-oil component. It also has a distinct maple aroma on the exhale, the kind of woodiness that tingles your upper sinuses (courtesy of the Sluggers, no doubt). The flavor is of standard, yet impeccable, northwestern IPA: we've got a balance of citrusy hops and caramel. Yes, I will be drinking this again and again, I I have done with all the other Fremont brews.
The purchase also supported Operation Homefront. Good deeds, good brews.
★
921 characters

3.81
/5
rDev
-2.6%
look: 4.5 | smell: 3.5 | taste: 4 | feel: 3 | overall: 4
22 oz bottle shared by my buddy on his move from Seattle to Chicago
A - Pours clear yellow-orange with a bit of white head. Bubbles constantly refilling the head, also leaves nice lacing
S - dominated by orange and lemon, then some subtle sawdust and vanilla. Nice aroma but could've been more in your face.
T - very little sweetness then a perfectly balanced bitter finish. Lots of citrus notes as well as a nice woody flavor. I've had mixed experiences with wood aged IPAs, but this was done fairly well.
M - a little light on the carb, but I tend to enjoy that. Nice crispness, but a long lingering tannic wood finish. Thus slightly detracted from the beer
O - solid beer by Fremont, which is 2 for 2 in my book. I think I would've loved this beer without the wood, but still very well balanced and drinkable.
★
817 characters

3.88
/5
rDev
-0.8%
look: 4 | smell: 3.5 | taste: 4 | feel: 4 | overall: 4
"Homefront IPA is an India Pale Ale summer IPA brewed with sweet orange peel and aged on the zest of fresh oranges in addition to maple bats donated by Louisville Slugger.Yes, we think it is a wonderful summer IPA and yes, the orange really does come through. And, yes, we are a little biased so why not try one for yourself and lift a glass to those who fight for us. And thanks."
appearance: served in an imperial pint, clear orange body, foamy white head leaves a light ring of bubbles
smell: fresh citrus, orange zest, crackery malt, honey
taste: nice ipa - finishes really nice with distinct orange zest. The woody notes are quite subtle, which I think is appropriate. Bitterness levels are low - just a nice refreshing IPA
mouthfeel: light, crisp
overall: good - even non-IPA drinkers can probably get their palate around this
★
848 characters
Homefront IPA from Fremont Brewing Company
86
out of
100
based on
14
ratings.