Dismiss Notice
Get 12 monthly issues of BeerAdvocate magazine and save $5 when you select "auto-renew."

Subscribe now →
Dismiss Notice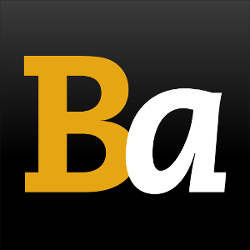 Join our email list →

And we'll send you the latest updates and offers from BeerAdvocate, because knowing is half the battle.
Bravo Brown
- Firestone Walker Brewing Co.
Reviews: 14 | Hads: 88

4.79
/5
rDev
+13%
look: 4 | smell: 5 | taste: 5 | feel: 4.5 | overall: 4.5
Numerous 8oz pours consumed in a snifter at Stone's Firestone Walker night on 11/13/2009. This beer is incorrectly classified as an Imperial Stout on this site. It is an Imperial Brown. This iteration of the beer was aged in bourbon barrels. The beer is dark brown, bordering on black, with a small light brown head.
Big bourbon nose with strong notes of brown sugar. Vanilla is apparent, as is caramel. Really nice. Light booze accompanies a touch of
earthiness. The beer showcases a great blend or vanilla, caramel, butterscotch, and bourbon, with just the right amount of sweetness.
The flavor opens up with sweet caramel and strong bourbon. Light vanilla notes are evident, as is a touch of brown sugar. No roast or alcohol is apparent. Bravo is moderately boozy with a delicious bourbon caramel finish.
A very tasty barrel aged Imperial Brown. In fact, I can't think of a better one. My favorite or all the wondrous epochs.
★
931 characters
4.79
/5
rDev
+13%
look: 4 | smell: 5 | taste: 5 | feel: 4.5 | overall: 4.5
Served in a snifter at the Blue Palms Brewhouse in Los Angeles for seven dollars, this beer is not retired, reviewed 11/14/08 from notes, it is an imperial brown ale and not a stout, it has sherry notes and not bourbon, and it is amazing
A-Deep dark brown with not much light shining through, though there is some red around the edges, miniscule 1/8 inch beige head that settles extremely quickly, minimal retention, no lacing
S-Sherry, hints of whiskey, grains, butterscotch, brown sugar, milk chocolate roasted nuts, dark charred malts, mild coffee, vanilla, oak, butter, cream, and tons of booze
T-Tastes starts off with lots of sherry and other mixed booze flavors, sugar and nuts made up the middle and provided some great texture, finish had more hard alcohol mixed with a great vanilla taste, this was served a little cold at first, once it really warmed there was a nice buttery cream taste in the middle that joined the malts, other breweries need to take a hint from Firestone and start using sherry more often, there is a bit of a port wine feel by the end but there is a nice brown sugar flavor, some cocoa that is fairly soft joined the mix and this was enjoyable to say the least
M-Hot with booze, sticky, spicy, and malty mouthfeel, medium bodied that was a little on the thinner side, nice low to moderate level of carbonation, taste lingers nicely with a bite
D-Alcohol is right up front and not hidden well at all but somehow this goes down with ease, light on the stomach for what it is, could have a few more glasses for sure, so so smooth
Being that it is the base beer of Firestone 11, I expected good things and I got great instead, this is better than the blend by itself in my opinion, if this stuff is bottled along with Parabola, the hype machine will be in full force, mark my words, such a great balance of barrel characteristics and a full body, would love to drink again, highly recommended
★
1,924 characters
4.67
/5
rDev
+10.1%
look: 4.5 | smell: 5 | taste: 4.5 | feel: 4 | overall: 5
My god this an amazing beer. And all I have to say is that I disagree with highlandlad in many ways. Had 2, 8 ounces glasses of this amazing brew and I can't believe its not bottle yet. Pours black with no head. Nose is super bourbon with a lot of nice sweetness. Taste is exceptional, a true bourbon beer, Epic, EPIC, EPIC. The bourbon really works with the beer and its not boozy, its very balanced between alcohol and flavor. So damn good!
★
444 characters

4.59
/5
rDev
+8.3%
look: 3.5 | smell: 4.5 | taste: 5 | feel: 4 | overall: 4.5
On tap at The Stone Brewing Bistro & World Gardens on 11/13/09 during their Firestone Walker 13th on the 13th event. Served in a snifter.
Pours a deep, somewhat clear, dark brown (just a wee bit of light is peeping through) with a thin covering of off-white foam. There is more of lightish look to the retention and lacing but the flare-up has a nice moderate look to it. Bourbon really comes out boldly here in the aroma, with some deep notes of burnt molasses. Fortunately, I'm also getting a get bit of the brandy too, as it gives off more of a dry and fruity feel. The Brown Ale is under there somewhere (with roast and caramel coming out the most) but the barrel blend seems to add most of the deep sweetness to this. Earthy tannic wood and some vanilla add a slickness to the nose.
The taste is pretty similar to the aroma, with burnt maple syrup and char mixing in with a flush of fruity cherries. Notes of vanilla and oak weave mingle in, giving this smoothness. This is just so sweet and sticky, with the flavor moving effortlessly in and out of each other. The finish matches this, being warm, syrupy, and sugary on the lips. The mouthfeel is full bodied; with a bit of a heavier prickly carbonation up front, giving way to a slick and more viscous feel underneath. This definitely wears it's ABV on thee ole sleeve, having an assertive beef to it, but luckily that anticipated alcohol sting never comes. Really steady sipper here for the size.
I'd really like to see more of these bourbon and brandy blends done, as I love how each brought a different type of deep sweetness to the profile, yet they still played off each other brilliantly. Really tremendous stuff here that was definitely up there as one of my favorites from a pretty outrageous night of Firestone Walker beers.
★
1,796 characters

4.47
/5
rDev
+5.4%
look: 4 | smell: 4.5 | taste: 4.5 | feel: 4.5 | overall: 4.5
On tap at City Beer. Listed as 13% ABV.
Dark auburn body with little head formation. Nice color and clarity when held to the light.
Smells strongly of caramel and toasted coconut, stewed fruits, dates, brown sugar. Great aroma that's reminiscent of Firestone's 11th anniversary ale. Pretty well integrated bourbon barrel character, and little discernible alcohol.
Palate of caramel and toasted coconut, mellow bourbon booziness and brown sugar, this is quite good. Sweet and rich with a full body, carbonation is gentle as usual with Firestone's barrel aged beers. The barrel is present but integrated, and it finishes semi-sweet with slight char from the barrel, finishing with toffee and tobacco. Great stuff, one of the better barrel aged beers I've tried from Firestone.
★
777 characters

4.39
/5
rDev
+3.5%
look: 3.5 | smell: 4.5 | taste: 4.5 | feel: 4 | overall: 4.5
Really happy to get a taste of this one on-tap at Brouwer's for my birthday dinner. 6 oz. served in a flute on November 27th, 2012.
A - Akin to many barleywines. Semi-soft cognac coloring. Minimal khaki foam. Hard to have much retention in this sorta-inappropriate glassware.
S - Peculiar. Plentiful burnt toffee, toasted cashew, and a jammy sort of fig note. Not at all revealing of booze, as anticipated from a FW offering.
T - Up front is bitter dark chocolate, transitioning into coconut, a wonderful caramel, dark fruit, honey, and a plethora of other elements. No alcohol solvency and minimal warming.
M - Medium body, appropriate medium carbonation, semi dry finish.
D - I like this better than Abacus (at least the batch 2 Sucaba iteration). Unquestionable revisit and a great base BA brew.
★
803 characters

4.35
/5
rDev
+2.6%
look: 4 | smell: 4 | taste: 4.5 | feel: 4.5 | overall: 4.5
I'm a little perplexed by the name/listing here - the description in the FoBAB program (presumably supplied by Firestone Walker) reads "A single-hopped strong brown ale brewed using the hop variety Bravo. The beer is then aged for up to 1 year in circa 1990s used Heaven Hill bourbon barrels. 12.5%"
A - Pours with a finger of tan foam that settles to a thick ring and partial cap. The body is a pleasant transparent amber color.
S - The aroma is big in vanilla, bourbon, caramel malts, molasses, and light coconut. Any trace of the Bravo hops is long gone from the aroma.
T - The taste is fairly similar but verges more into a toasted coconut and toffee direction, with some tannic oak, and a moderate level of earthy and roast bitterness in the finish.
M - Smooth medium body, low carbonation, and a tannic bite to the finish. Surprisingly little heat for 12.5%.
D - I'm a little shocked by the ABV on this one - I would have pegged it at 9% or so, as it seemed at most as boozy as all the other barleywines I sampled. I guess it's similar to Abacus in that vein. This brew is not very subtle - it's a bunch of sweet stuff in a bourbon barrel - but it is delicious.
★
1,172 characters

4.31
/5
rDev
+1.7%
look: 4.25 | smell: 4.5 | taste: 4.25 | feel: 4.25 | overall: 4.25
Most bourbon-heavy beer I've had by far. Barrel is at the front and center. Really big and boozy with significant bourbon on the nose and in the flavor.
★
152 characters

4.28
/5
rDev
+0.9%
look: 4.5 | smell: 4 | taste: 4.5 | feel: 4.5 | overall: 4
Sampled Bravo Brown yesterday at the Firestone 14th Anniversary Ale Release in Paso Robles, CA. Following review based on notes taken by me, Wiseman Nick.
Served in a small (~5oz.) Firestone Walker snifter.
Appearance: Deep, murky brown body with orange-amber highlights. A gorgeous, creamy, tan head sits atop and displays excellent retention. Mild lacing. Beautiful!
Smell: Brown malt, sugar, caramel-y bourbon, and raisins. Alcohol picks up strength as the beer warms. Rich and nicely put-together.
Taste: Brown malt, bourbon, nuts, caramel, and flowery esters. Earth and leather peek through in the dry, boozy finish. Bold, but also complex and balanced. Nicely done.
Mouthfeel: Warm, malty, a bit syrupy, and dry. Large and rich with lots of complexity. I really liked the feel of this one.
Drinkability: A bit intense, but really interesting and enjoyable. I'd love to try this again.
★
896 characters

4.2
/5
rDev
-0.9%
look: 4 | smell: 4 | taste: 4.5 | feel: 4 | overall: 4
Reviewed with the style of Imperial Brown in mind. Pours a medium murky brown with red hues, small mocha white head with good lacing and retention for a 12.5% beer. Smell is bourbon up front, vanilla oak, caramel malt and a bit of bitter pine hops and alcohol in the background. Taste is sweet bourbon, coconut and vanilla barrel characteristics, caramel malts, a bit of tannic bitterness and alcohol heat in the finish. Where is the bravo? Mouthfeel is medium/heavy body and a light carbonation, sticky and a bit coating. Drinkability is good for the style, but if a brewery is going to showcase a super high alpha acid hop in a beer, make it a little more noticeable. I did enjoy the beer and would rate it pretty high among the imperial brown ales I have tried.
★
764 characters

3.76
/5
rDev
-11.3%
look: 3.5 | smell: 3.75 | taste: 3.75 | feel: 4 | overall: 3.75
On tap at Hops and Pie, first time I've seen this one and I'm excited based on FW XI. Amber color, not as dark as I'd expect. Aroma is booze, barrel, sugar. Flavor is sweet barrel, vanilla and way too much alcohol. This beer works much better in a blend than as a solo beer.
★
274 characters

3.75
/5
rDev
-11.6%
look: 3.75 | smell: 3.75 | taste: 3.75 | feel: 3.75 | overall: 3.75
Ethyl alcohol notes pretty strong here. Some nice caramel, some leather and polished wood, some graininess. Alcohol notes dominate the finish and make it hard to savor.
★
168 characters

3.74
/5
rDev
-11.8%
look: 3 | smell: 4 | taste: 3.75 | feel: 3.5 | overall: 3.75
On tap at Firestone Walker Barrelworks in Buellton, CA.
Pours a hazy orange-brown with a foamy tan head that settles to wisps of film on top of the beer. Small dots of lace slowly drip into the remaining beer on the drink down. Smell is of malt, brown sugar, toffee, caramel, citrus zest, wood, and alcohol aromas. Taste is much the same with malt, brown sugar, and citrus zest flavors on the finish. There is a mild amount of hop and wood bitterness on the palate with each sip. This beer has a lower level of carbonation with a slightly crisp mouthfeel. Overall, this is a pretty good beer that is tasty but has a slightly better set of aromas in my opinion.
★
661 characters
3.12
/5
rDev
-26.4%
look: 4 | smell: 4.5 | taste: 2.5 | feel: 3 | overall: 2.5
(from notes) From cask at the Firkin Fest at the Triple Rock Brewery. Possibly one of the beers blended into the 10???
Deep brown, yet strangely transparent, much like the 10. No carbonation (cask, duh) and a fine looking, if not menacing looking, beer. Major bourbon screaming off the nose...like as in you can practically see fumes coming off. Butterscotch, black malts, and acidic coffee, and higher alcohol notes. So packed with whiskey that it's difficult to drink, almost like a boilermaker, where you drop a shot of whiskey in a beer. This was where the beer when a bit over the top for me. Too sticky to be a cask ale, this is simply too flat with too much residual sugars. Definately worth seeking out for the barrel aged lovers, but far from my favorite brew here today. The beer won this round, although I put up a fight. Cheers!
★
843 characters
Bravo Brown from Firestone Walker Brewing Co.
90
out of
100
based on
14
ratings.