Nobility
| Noble Ale Works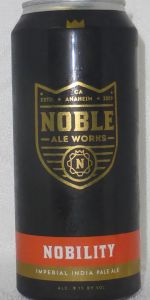 BEER INFO
Brewed by:
Noble Ale Works
California
,
United States
|
website
Style:
American Double / Imperial IPA
Alcohol by volume (ABV):
8.60%
Availability:
Rotating
Notes / Commercial Description:
No notes at this time.
Added by t0rin0 on 01-30-2011
Reviews: 15 | Ratings: 56

4.92
/5
rDev
+26.8%
look: 4.5 | smell: 5 | taste: 5 | feel: 4.5 | overall: 5
Batch #2, Re-released 6-17-11
Poured on tap straight from the Brewery.
Pours a semi-cloudy light orange/amber, GREAT 1 1/2 finger head that seems to never go away, leaving a center "pile" in the middle of the glass through out. Finally! half way through the beer, the head wants to dissipate. Sticky webbed lacing that has stuck to the side of the glass since it was poured. Medium carbonation.
Smells of Orange and Mango citrus and maybe a touch of pineapple. with a beautiful combination of Floral and piney hops. Citra NO doubt!
Definitely West Coast Imperial IPA all the way. exactly what you would expect from a very Hop forward DIPA. As soon as the first taste hits the tongue, you get an explosion of hops! Bitterness that follows the brew all the way down the throat! MY KIND OF DIPA! Sticky oily hops stick to the palate long after the drink. I can lick my upper lip to get seconds! Full bodied beer that lingers nice. Taste is the same as the smell. Get the Flowery taste more than the citrus. It's like I licked my Christmas tree. There's a NICE malt back bone that gives it the nice body, more of a soft caramel. And it's nice because the Malt follows nicely at the end that helps to try to balance away the bitterness, if at all. Just enough Malt, but no enough to take away from this CRAZY HOP BOMB. This is one full bodied great DIPA.
I LOVE THIS BEER. I caught Noble Ale Works first release of this beer at Hollingshead Deli, in CA. I was there for a pour of R.R. Pliny the Younger, and I had the Elder to follow and tried the Nobility. I thought at that time my "BUDS" would have been DESTROYED, but I enjoyed it. So this is their "SECOND" release that came out today, and I went down to give it a second shot. I FELL IN LOVE INSTANTLY! If you see this beer or lucky enough to find it..BUY IT! Noble Ale Works is a new brewery so their distribution is small, but I feel this will be one in the making.
★
1,922 characters

4.78
/5
rDev
+23.2%
look: 5 | smell: 4.5 | taste: 5 | feel: 5 | overall: 4.5
Wow, this beer has world class written all over it. Seriously one of the best DIPA I have ever tasted. I still can't believe such a great beer is brewed so close to home.
It smells so fruity and tastes the same. So citrusy and piney. It reminds me of duet but more potent. Definitely a top 5 DIPA in my book. So well balanced. I highly recommend this beer to hopheads.
★
370 characters
4.72
/5
rDev
+21.6%
look: 4.5 | smell: 5 | taste: 5 | feel: 3.5 | overall: 4.5
Bomb ass Beer!! Recommended by Joe at Walnut Liquorette! He was out of Pliny, Citra, and Alpine beers so he thought I should try this one and he was right!!
Sunset orange in color my favorite. Pine pineapple, mango, citrus and sweet malt aroma!!
I don't know their distribution but if you see it buy a bottle! This is extremely underrated and if more people knew about this it was most likely be in ba's top 50 dipa's.
★
418 characters
4.65
/5
rDev
+19.8%
look: 5 | smell: 5 | taste: 4.5 | feel: 4.5 | overall: 4.5
Fresh Bottle poured into my tulip. Sunset orange with a nice creamy off white head that leaves nice lacing as I sip down. The tell tale Citra nose is in full effect, sweet tropical fruits abound. The flavor follows along with nice mango, tangerine and a bite from the massive amount of hopping. The mouth is clean, dry and totally refreshing, not sweet and sticky which I love. Overall I had doubts about this but it delivers the goods if your a Citra fan as I am. Will definitely drink again.
★
493 characters
4.47
/5
rDev
+15.2%
look: 4 | smell: 4.5 | taste: 4.5 | feel: 4.5 | overall: 4.5
The latest Nobility is a nice step up from its earlier iterations, which were good but at times a little unbalanced.
A: Pours a nice golden copper with a wonderful ½" of head that clings thickly to the sides of the glass. This brew has a very attractive lacing that covers most of the tulip it's served in as it's consumed.
S: Piney, hoppy and slightly sweet aroma with a touch of floral citrus that stays until the glass is empty and lingers beyond.
T: Full body with wonderful pine, hops and floral overtones that are amazingly balanced out with a hint of malty sweetness. The taste falls right in with the initial aromas and does not disappoint. From the first taste you know this is a big classy West Coast Imperial.
M: Rich and slightly oily with medium carbonation and enough alcohol to bring everything together nicely. This Imperial has a solid mouthfeel that lends to swishing it through your teeth. Delightful and exceptionally pleasant.
Overall: Special and classic. This has become my favorite locally brewed Imperial IPA. My hat is off to Noble for their wonderful creation.
★
1,099 characters

4
/5
rDev
+3.1%
look: 4 | smell: 4 | taste: 4 | feel: 4 | overall: 4
Crispier than the apple that Eve took a bite out of in the Garden Of Eden; spunkier than a Russian satellite orbiting the earth... Raul is doing this well and good. It can't bat in the '27 Yankees line up, but it would do a good job hitting behind Mickey Mantle.
★
262 characters

4
/5
rDev
+3.1%
look: 4 | smell: 4 | taste: 4 | feel: 4 | overall: 4
bomber poured into a tulip.
A: pours a nice clear golden brown, with about a fingers worth of head that fades after a minute or so.
S: nice aromas of piney hops with a bit of malt and a faint aroma of sweetness.
T: Initial taste is a sweet hops, with a interesting malty middle, and a bitter bite at the end.
M: Nothing to crazy, just a decent amount of carbonation.
O: not a bad beer, although i think they could kick it up a notch in the hop department. all the other noble beers tend to be on the hop side.
★
514 characters
3.9
/5
rDev
+0.5%
look: 4 | smell: 4 | taste: 4 | feel: 3 | overall: 4
This was sold to me as a "Pliny clone" by the guy usually sells me Pliny. It's a decent DIPA, but one thing is for sure... it's not anywhere close to being a Pliny clone. It has a nice nose, and you can smell some hops. It's a little darker than Pliny. Taste-wise, it does offer some nice piney, citrus-like hop flavor at the front, but I would describe it as being slightly maltier than Pliny and the finish-- something which sets Pliny apart is the extremely short, clean finish-- the finish of Nobility is closer to Blind Pig than it is to Pliny.
As my glass warms up, the finish is getting longer, and I have this bitter aftertaste that lingers several minutes after the last sip. These are $8 for a 22 oz bottle at my usual supplier, and I won't be buying this again. At that price it needs to be *better* than Pliny to make a convert out of me. But it's not.
★
866 characters
3.78
/5
rDev
-2.6%
look: 4.5 | smell: 4 | taste: 3.5 | feel: 3.5 | overall: 4
Pours a nice clear copper with a very large bubbly barely off white head that leaves plenty of stickiness. The nose is dominated by citrus, namely grapefruit, with a definite malt presence. The taste has the citrus hops as well as some pine resin and some alcohol sweetness. Medium bodied with a drying sticky finish. Definitely a solid offering.
★
346 characters

3.74
/5
rDev
-3.6%
look: 4.5 | smell: 3 | taste: 4 | feel: 3.5 | overall: 4
Pours lightly hazy with a copper-orange color. An off-white head leaves tons of lacing and a nice ring for the whole beer.
Smell is understated floral hops, and only because I was looking for hop. A warm maltiness is the primary aroma, and there is a touch of pith back there too.
Taste isn't as disappointing. Big bitter taste through out. Pithy and consistent. There is a bit of sweet malt as it nears the end of the taste, but it's still underneath the bitter.
Texture is really smooth, but lacking that bite. Carbonation is on par, booze pretty well hidden.
I was really bummed out by the smell, but at least the flavor is all hop. A bit of citrus hop in the flavor would have greatly added to it's complexity and overall taste. Still, nice to see some local beer being produced.
DOA
★
792 characters
3.68
/5
rDev
-5.2%
look: 4 | smell: 3.5 | taste: 3.5 | feel: 4 | overall: 4
1332nd Review on BA
Bottle to Parra Tulip
22oz
Purchased at Lees Discount liquor- Las Vegas for $7.99
App- A few colors in the glass. Starts on the top of the pour as a dark caramel brown. Settles down into an amber then yellow to an orange. A nice large medium egg shell color with a large sticky lace with good webbing.
Smell- A bit of an old malty note with a deep citrus and deep piney resin note. Not the most aromatic DIPA. Has a touch of thick hops with some earthy creamy notes.
Taste- Has a lot of malts behind it with a large creamy hop note. Its tastefully layered with a good hoppy bitter and a large pine note. Integrated is a strong suit here. One way or the other and this would be a Ke$ha beer. A dirty hot mess.
Mouth- A nice thicker medium body with a medium full carbonation. Hoppy, creamy and piney residual flavors. Nice feel to it.
Drink- Its tasty but not mind blowing. A lot of West coast DIPAs are better but this was nice. Creamy, piney and hoppy with a semi layered/balanced citrus.
★
1,017 characters

3.55
/5
rDev
-8.5%
look: 3.5 | smell: 3.5 | taste: 3.5 | feel: 4 | overall: 3.5
On-tap at Noble Ale Works
A: The beer pours a cloudy orange-amber color with a soapy off-white head with decent retention.
S: Starts off with a good but not great citrus note of grapefruit and orange peel. There is quite a bit of bread going on here, and perhaps some grass and pine hop character as well.
T: Considering the nose, this is a pretty bitter beer. Lots of piney hops with a decent amount of grapefruit and even some lemon peel. This is a very dry beer, which is good for a double IPA. As the glass warms up, there's a hint of tropical fruit on the back end.
M: The body is medium and so is the carbonation.
D: A decent enough DIPA, but nothing fantastic. As mothman would say: you're going to need to up your offer.
★
733 characters

3.5
/5
rDev
-9.8%
look: 3.5 | smell: 3.5 | taste: 3.5 | feel: 3.5 | overall: 3.5
Sampled 1/29/2011 at the brewery.
Pours dark orange, hazy, white head that lasts and laces decently.
Aroma is mostly butter and BO but also some pine/wood present. Not a good sign.
Flavor is piney, dank, and full of pineapple with some sweetness and bitterness in the background. I also notice only a touch of that butter that came through in the nose (thank goodness). Low booze and good carbonation.
Body is medium as is drinkability.
Ƭίcƙ
★
473 characters

3.34
/5
rDev
-13.9%
look: 3 | smell: 3.25 | taste: 3.25 | feel: 3.75 | overall: 3.5
Quite hazy, even cloudy in the tumbler. This looks like an orange-tinted Hefeweizen with a modest head and some coarse bubbles along the glass. The brewer claims this is made with Citra hops, which I have liked better in other beers, though the bitterness is not so unpleasant. Overall this has plenty of acidic character, but the malt keeps it somewhat in check. The sharpness cuts through the murky, herbal hop flavors.
A hop tea with plenty of brisk tannins plus apple butter fruitiness. Sweet, fruity, powerful-- not much for savory sipping, but just the ticket for relaxing after a road-trip day. From the 22 oz bottle purchased at Lee's Discount Liquor in Mesquite, Nevada.
★
680 characters
2.67
/5
rDev
-31.2%
look: 2 | smell: 2.5 | taste: 2.5 | feel: 3.5 | overall: 3
Enjoyed a half pint on 6/25/11 at the Noble Ale Works facility.
A: Poured cloudy with a deep yellow hue into a sturdy clear plastic cup. The appearance is similar to a hefeweizen, rather than what I come to expect from a well crafted made DIPA.
S: At first, the beer smells a little "green"/young, which ditracts from the overall experience. As I continue to enhale, I was able to pick up some distinct, yet subtle orange and tangerine-like aromas. Pretty standard for a DIPA.
T: Some bitter punch, which is nice...but other than that...the beer continued to taste really young.
M: Medium body and just the right amount of carbonation.
Overall: Not a horrible beer by any means, but average at best at it's current state. I think with some more time, this beer could mature into something pretty darn great! Cheers!
★
822 characters
Nobility from Noble Ale Works
86
out of
100
based on
15
ratings.