Java Chip Mint Stout
| Odd Side Ales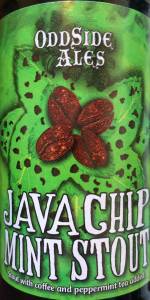 BEER INFO
Brewed by:
Odd Side Ales
Michigan
,
United States
|
website
Style:
American Stout
Alcohol by volume (ABV):
6.00%
Availability:
Rotating
Notes / Commercial Description:
No notes at this time.
Added by tectactoe on 06-12-2013
Reviews: 34 | Ratings: 228

3.99
/5
rDev
+5.6%
look: 3.75 | smell: 4 | taste: 4 | feel: 4 | overall: 4
Bottle into tulip
Appearance - Black with an light brown head about 1/2 finger.
Smell - So mint chocolatey. It smells like mint chocolate chip ice cream. There is a slight underlying smell of coffee but not as much compared to the mint and chocolate. No getting any alcohol in the nose.
Taste - Defintiely an interesting flavor profile. Starts out with chocolate and mint. The mint carries it's flavor almost throughout the entire taste and after the intial chocolate you also get the coffee flavors. There is a mixture of dark roast, and spent coffee grounds, and bread, sweet and also slightly bitter.
Mouthfeel - Medium bodied, light/medium carbonation, refreshing and smooth.
Overall - Good beer. I wasn't sure what to expect but I defintely not dissapointed. For me this beer made me think of eating mint chocolate ice cream which I also like.
★
855 characters

3.89
/5
rDev
+2.9%
look: 3 | smell: 4 | taste: 4 | feel: 4 | overall: 3.75
Dark brown ale, no head. Has a strong chocolate aroma with a touch of mint. Taste is chocolate, roasted malts, and a nice dose of mint. The balance is very nice, and the mint doesn't come off too strong. Has a medium body feel, with very little carbonation. I would drink this again.
★
285 characters

3.95
/5
rDev
+4.5%
look: 3.75 | smell: 4.25 | taste: 4 | feel: 3.5 | overall: 3.75
I picked up a bottle of Oddside Ale's Java Chip Mint Stout last week for $2.19 at The Lager Mill. I've been looking forward to this one for a couple weeks, I've only had one other mint Stout and i enjoyed it and I'm interested to see what Oddsides can do with this style, so lets see how it goes. No visible bottling date, but I know it's fresh. Poured from a brown 12oz bottle into a into a imperial pint glass.
A- The label looks pretty good, it's got a nice design to it and I think it's fairly eye catching. It poured a very dark brown color that was on the border of being black and it didn't really let any light come through with a little over a fingers worth of darker tan head that died down to a thin ring that stayed till the end and it left some spotty lacing behind. This was a pretty nice looking beer, but I wish it had a little better head retention.
S- The aroma starts off with a medium amount of sweetness followed by the roasted malts being the first to show up and they impart a nice roasted and very chocolate heavy aroma with some lighter coffee aromas in the background. Up next comes the mint which shows up nicely and the combination of the mint and the chocolate aromas make for an aroma that this very similar to a thin mint cookie. This beer had a very nice aroma, it smells just like I hoped it would.
T- The taste seems to be similar to the aroma and it starts off with a slightly lower amount of medium sweetness with the roasted malts still being the first to show up and they impart all those roasted malt and chocolate aspects that I got in the aroma with the chocolate still sticking out the most and there's a light coffee flavor in the background along with a slight grainy flavor. Up next comes the mint that's a little lighter than it was it was the aroma, but it's still very noticeable and it works well with the chocolate flavors. On the finish there's a fairly low amount of bitterness with a chocolate, light coffee and mint like aftertaste. This was a pretty good tasting beer, but I wish that the coffee showed up just a little more.
M- Smooth, slightly watery, a little creamy, on the thicker side of being medium bodied with a lower amount of medium carbonation. The mouthfeel was nice, but I wish it was slightly thicker.
Overall I thought this was a pretty nice beer and nice example of a Mint Stout, the mint seemed to be at just at the right and level and when combined with the chocolate aspect it really did resemble a thin mint cookie. This beer had nice drinkability, it was smooth, a little watery, not filling, and the taste did a nice job at holding my attention, I think I could drink a couple of these but the mint might start to wear on me after that and I think this makes for a nice beer to enjoy in the winter time. What I like the most about this beer was the balance between the chocolate and mint aspects, it was very thin mint cookie like. What I liked the lest about this beer was that the mouthfeel, it was a little on the thin side for the style and I wish the coffee aspect showed up a little more. I would buy this again, but I don't think I'll get a six pack and it would make for a nice alternative to Naughty Girl Stout. I would recommend this to people who like mint stouts. All in all I thought this beer was pretty solid, when it comes down to it I enjoy Right Brains Naughty Girl Stout more, but this is still a pretty nice beer and i'm glad Oddsides decided to distribute it. Nice job guys, keep up the solid work.
★
3,502 characters

3.59
/5
rDev
-5%
look: 3.75 | smell: 4 | taste: 3.5 | feel: 3 | overall: 3.5
A: Looks like your average stout, black with a thin brown head that sits for a short time.
S: The mint is apparent here, adding a cool, minty note to the coffee beer background. It's nearly approaching Thin Mint cookie levels of aromatic deliciousness. The nose definitely sets up high expectations.
T: Somewhat of a letdown here. The mint is much more subtle than the nose let on and gets lost in the typical coffee beer sharpness.
M: Feel is much too thin. This is the kind of body you shoot for with a passable porter. If you want to call it a proper American stout, you need a bigger body. No surprise from Odd Side in this department though.
O: It seems like every other release from Odd Side is a coffee beer, and I for one think it's played out. We get it, craft lovers like coffee and coffee beers, but there's no need for one brewery to beat it to death. Whatever coffee magic they employed to make their Chocolade Koffie stout was nowhere to be found here. Just your typical harsh beer coffee covering up a novel ingredient that had more potential without the java beans. Until these guys quit the barista act and make some full-bodied beers, I don't think I'll be giving them any more of my money. Admittedly though, this was a fair beer, and if you like coffee beers this is obviously for you.
★
1,311 characters

3.86
/5
rDev
+2.1%
look: 3.25 | smell: 4 | taste: 4 | feel: 3.5 | overall: 3.75
A: Pours black/dark brown with a creamy carbonated sticky 2 finger head that fades quickly to a small bit of head that goes away fast. Leaves almost zero lacing on glass.
S: .... Thin mint cookies and coffee beans ! Chocolate milk (lol) !
T: Sticky crisp minty flavor with coffee and chocolate combined. Light bodied and crisp. Corbonated a little bit more than Id like it to be. Has an espresso like characteristic to it. The flavor hits quick and fades quick. Which is nice. The mint is not overpowering, in fact.. its just right !
M: Carbonated, thin thin thin.. yet crisp and albeit refreshing. An unusual and almost wrong(..?) characteristic of a stout... but it works well with these flavors
Really another interesting+great brew by Odd Side! Love em.
Is it a stout that drinks like a pilsner? What the huh>? I like it tho. and would recommend ... as a change of "stout-scenery"
★
894 characters
4.69
/5
rDev
+24.1%
look: 4.5 | smell: 4.75 | taste: 4.75 | feel: 4.25 | overall: 4.75
Flavors are exactly what you would expect from Odd Side, these people really know how to layer and intertwine beer flavors correctly. The price is reasonable at about 2.50 a 12oz bottle, and availability is very good as well. I would highly recommend this beer to a stout person who enjoys coffee and mint and doesnt mind a lighter feel.
★
337 characters
3.81
/5
rDev
+0.8%
look: 3.5 | smell: 3.75 | taste: 4 | feel: 3.5 | overall: 3.75
$2.19 single (or $2.29) just poured into a shaker pint. Bottled 1/20/14, poured 2/4/14.
Appearance: Dark brown or a black sort of color with a little head that bubbles away basically before guessing the height. Floaters galore, as well as a good amount of yeast at the bottom.
Smell: You get what you pay for. Mint, chocolate, and a little bit of that coffee as well. I've also had their regular Mint Stout, and this smells similar, but with a bit less mint.
Taste/feel: Quite nice, if relatively mild. Mint is definitely there, then just a vague sort of roastiness. Not a big depth of flavor, but good. I feel like this drinks more like a porter than a stout, since it has a thin mouthfeel. For a stout, underwhelming feel. There's a fair amount of sweetness to this beer to make it drinkable along with the fairly thin mouthfeel.
Good beer. Highly drinkable. Nice flavor... I just wanted a little bit more, as it drinks fairly light. The mint flavor is fine, but a little more chocolate/java/roast on the finish or something would really spruce it up, especially if the beer was thickened up a bit in the process. Surprise, surprise -- another well done beer from Odd Side. I preferred the regular Mint Stout by a tick, but I had that one on tap. The java in this one is quite nice, but it's mild, and after a handful of sips, it didn't really stand out anymore.
★
1,368 characters
4.15
/5
rDev
+9.8%
look: 3.75 | smell: 4.25 | taste: 4.25 | feel: 4 | overall: 4
Appearance- Dark suede black syrupy color with a light chocolate color head that quickly recedes, little to no lacing. Not overly impressive but it is what it is.
S- DAMN! This one smells like an awesome desert beer. I am picking up heavy aromas of mint, along with coffee, milk chocolate, and a boozy alcohol smell.
T/M- This one taste great it first hits the palate with a chocolate mint sweetness and then mellows out with a coffee bitterness. The mouthfeel of this one is silky and smooth, a little on the lighter end but does have a medium body to it.
Overall, I really like this one and am loving the consistent product and number of beers that Oddside has been putting out lately. For what this beer lacks in body it makes up for in flavor and drinkability. This is a good one and definitely worth seeking out.
★
822 characters

4.02
/5
rDev
+6.3%
look: 4.5 | smell: 4.25 | taste: 4 | feel: 3.25 | overall: 4
On tap at Pete's Place. It's awesome to see Odd Side Ales pumping out so many different brews, I've really liked just about everything I've had from them so far. It comes out looking pitch black, and except for the very, very top of the brew, there is absolutely no light coming through. The frothy, creamy, espresso colored head transforms slowly into a skin and leaves only a few chunks of lacing behind.
I take a few whiffs, and I'm immediately reminded of a York Peppermint Patty - it smells almost exactly like them. Rounds of deep, dark chocolate, semi-sweet with a lightly roasted underbody. Light mint and peppermint aromas ride along the smooth wave of cocoa and give that huge peppermint candy vibe. Not getting much coffee on the nose, except for maybe a hint of roast; this one is otherwise dominated by the cocoa and the mint.
Contrary to what the aroma says, the first sip leads with a sizable heap of coffee beans; delectable roast and a large amount of coffee edges its way to the forefront of the flavor profile and attacks your taste buds before all else. It isn't until the middle onward when the dark chocolate and minty-York flavors pop out, revealing a nicely balanced, sweeter edge.
As this beer warms, the flavors seem to traverse a bit and the mint-chocolate gets stronger while the java-coffee takes a bit of a backseat. My least favorite thing about this beer is probably the body... It just doesn't feel as huge as I'd like it to; it's actually pretty thin. Carbonation is adequate, but the mouth feel falls just short of creamy and chewy, which is how I'd like a java mint stout to feel.
All in all, another great brew from Odd Side. They seem to have their own mini-market in the American Stout business and candy-like adjuncts (Peanut Butter Cup, Dutch Chocolate, Java Chip Mint, etc.) and it seems to be doing pretty well. Unique and tasty, this would be a nice beer to enjoy with a huge bowl of mint chocolate chip ice cream.
★
1,962 characters
Java Chip Mint Stout from Odd Side Ales
85
out of
100
based on
34
ratings.