British IPA
| Quidi Vidi Brewing Company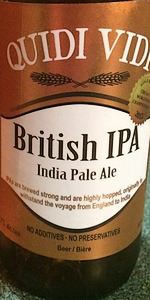 BEER INFO
Brewed by:
Quidi Vidi Brewing Company
Newfoundland and Labrador
,
Canada
|
website
Style:
English India Pale Ale (IPA)
Alcohol by volume (ABV):
5.70%
Availability:
Rotating
Notes / Commercial Description:
No notes at this time.
Added by Groulxsome on 03-25-2012
Reviews: 3 | Ratings: 13
More User Reviews:


3.35
/5
rDev
+4.4%
look: 3 | smell: 3 | taste: 3.5 | feel: 3.5 | overall: 3.5
If you have the chance to get it on tap or in a keg, that's the best way to have it. Great example of an IPA.
109 characters

4.28
/5
rDev
+33.3%
look: 4.5 | smell: 4 | taste: 4.5 | feel: 3.5 | overall: 4.5
Definitely had to change my rating for this beer when I got it on tap, and not while fairly drunk at a party. This beer has spectacular flavour characteristics, and has a wonderful smooth finish, and thus I felt I had to update this review
★
239 characters

1
/5
rDev
-68.8%
look: 1 | smell: 1 | taste: 1 | feel: 1 | overall: 1
Well...it is unique. So there's that. A uniquely awful beer. It has no hint of hop flavour or aroma whatsoever. If any hops were used, they were boiled to a pulp...like British (and not coincidentally, Newfoundland) vegetables still are in cooking. And I get that a British IPA won't taste like a west coast hop bomb....I appreciate the different function of the hops. But that is NOT a pass to produce an awful beer.
I also detect a distinct taste of molasses as an adjunct, which is not listed as an ingredient on the label, but shouldn't surprise anyone who appreciates the history of the island wrt trade in rum and molasses. The cane sugar would be a cheap way to boost the ABV and darken the colour.
Anyway, this is just a really, really bad beer. If you've ever had a decent IPA, this one will truly disappoint, if not actually disgust.
Tourist juice.
★
872 characters

4.08
/5
rDev
+27.1%
look: 4 | smell: 3.5 | taste: 4 | feel: 4 | overall: 5
Appearance: It pours out with a clear, golden colour with a little tinge of orange. The head is thin and somewhat loosely packed.
Smell: If you know what a QV beer smells like, it smells like that. If you don't, it's somewhat sweet malt with only a little hint of citrus hops. It's somewhat one note and mostly grain-centred.
Taste: Some citrus on the open which then yields to the standard QV malt profile – a sweet, slightly biscuity, slightly dry crystal malt affair – followed by a conservative amount of finishing hops. It's more copper than grapefruit on the bitter; more metallic than citrus.
Mouthfeel: Light creaminess with only a little alcohol burn. A somewhat astringent feeling from the acid of the hops. Similar to QV's 1892 in astringency, but lighter overall.
Overall: Ignore the rest of this review. This is a historic beer, so it should be remembered as such. Newfoundland hasn't had an IPA (aside from Keith's, which is both not an IPA and only was first imported in around 2007) brewed by a commercial brewery (import or local) for many years. In Newfoundland terms, Quidi Vidi is like Sierra Nevada or one of the early craft beer innovators first bringing back real beer to North America. This, then, is perhaps one of the best commercial beers brewed in Newfoundland – ever. It is the best of their line of beers, though 1892 is a close second. I want to see more of this. I want Newfoundland to catch up, and fast, to the rest of North American brewing culture. This seasonal is a step, and an important one, in that right direction. As I said, it's a historic beer, not only because it has brought the IPA style back to Newfoundland, but also because it finally – finally – shows a little interest in moving Newfoundland into the wider world of North American craft beer. I hope this throws down the gauntlet – that it makes Storm brew their long awaited IPA and makes Yellowbelly (who mimicked QV's Mummer's Brew brand) amp up the hops and wake up the tastebuds of this island who, in craft beer terms, is still far more than an hour and a half behind. We can do better than nostalgia-macros and someday, hopefully, the QV British IPA will be remembered as the beer that woke our little corner of North America up to the future of beer. I'm proud to be drinking this, and sad that, here in Toronto, I only have three more left.
(Edit, two months later) Note to those new to QV beers: they age very well. This beer is considerably better two months old than it was when I first got it. The malt has developed considerably. The metallic taste note has died down too.
★
2,628 characters

British IPA from Quidi Vidi Brewing Company
-
out of
100
based on
3
ratings.