Dismiss Notice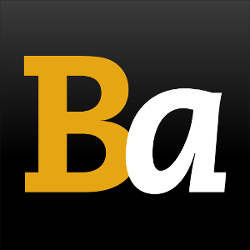 Site Performance Updates: We're aware of the nightly site outage, and working on resolving the issue.
Fest Devious Release #11
| Epic Brewing Company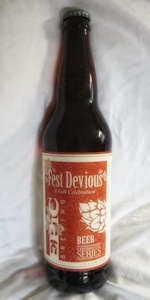 BEER INFO
Brewed by:
Epic Brewing Company
Utah
,
United States
|
website
Style:
Märzen / Oktoberfest
Alcohol by volume (ABV):
6.60%
Availability:
Limited (brewed once)
Notes / Commercial Description:
Epic's first Fest Devious release of 2013 is a Marzen. It pours a beautiful ruby red with a thin, fleeting white foamy head. Clean aromas of fall including caramel, roasted nuts and a tiny bit of pine bark accentuate this easy to drink lager. Lagered for 21 days, flavors of caramel, malt and light hops combine with a slight warming from the alcohol to make for a wonderful beer for the cool nights of fall.
Added by beergoot on 10-28-2013
This beer is retired; no longer brewed.
Reviews: 3 | Ratings: 26

3.78
/5
rDev
-2.6%
look: 3.75 | smell: 3.75 | taste: 3.75 | feel: 4 | overall: 3.75
I picked up a bottle of Epic Brewing Company's Fest Devious a few days ago for $3.89 at The Bavarian Inn. I know it's a little late for Marzen's but I never saw this beer during the fall and it wasn't till I visited a store that I don't normally go to that I saw it and I thought it was worth checking out, so lets see how it goes. Bottled on October 8th 2013. Poured from a brown 22oz bottle into a imperial pint glass.
A- The label looks ok, it's pretty typical for epic and it isn't too eye catching. It poured a burnt orange/caramel color that took on more of an amber and red color when held to the light with two and half fingers worth of slightly creamy off white head that died down to a thin ring that stayed till the end and it left some sticky and spotty lacing behind. This was a pretty nice looking beer, the color was a little bright for the style, but I thought it still looked nice.
S- The aroma starts off with a slightly higher amount of medium sweetness that had a light honey like aroma to it and it was followed by the malts being the first to show up and they impart a toasted malt, bread crust, slightly grainy, and some caramel like aromas. Up next comes some fruity yeast which imparts a noticeable fruity aroma that's a little similar to dark fruits and there's also a slight earthy aroma towards the end. This beer had a pretty nice aroma and I thought it was pretty true to style.
T- The taste seems to be pretty similar to the aroma and it starts off with a slightly higher amount of medium sweetness that has a slight honey like flavor to it and it's followed by the malts being the first to show up and they impart all those aspects that I got in the aroma along with a cereal and sweet malt flavor with the grainy and toasted malts seeming to stick out the most. Up next comes the yeast which imparts that same fruity aspect that's a little lighter then it was in the aroma and it has more of a generic fruit flavor then a dark fruit flavor this time. On the finish there's an earthy flavor with a slightly higher amount of medium bitterness with a grainy and toasted malt like aftertaste. This was a pretty nice tasting beer, but it was little more bitter than I like my Marzens to be.
M- Smooth, clean, a little crisp, medium bodied, with a medium amount of carbonation. The mouthfeel was pretty good and it was worked well with this beer.
Overall I thought this was a pretty nice beer and I thought it was a pretty nice example of a Marzen, it had a couple aspects that it didn't need to have for the style, but for the most part it's what I would expect from a solid Marzen. This beer had nice drinkability, it was smooth, clean, a little crisp, not too filling and the taste did a decent job at holding my attention, I think one bomber is the perfect amount for me, I think I would start to get bored with it if I drank more than that. What I liked the most about this beer was the mouthfeel, it worked pretty well with this beer and it's the type of mouthfeel that I expect from a good Marzen. What I liked the least about this beer was the slightly higher amount of medium bitterness, it's just has a little more bitterness than I like in my Marzens, but it doesn't hurt it as much as I thought it might. I would buy a bottle of this again if they release it next year, I would like to try a fresh bottle, but as far as I can tell I don't think age has hurt this beer much. I would recommend this to Marzen fans. All in all I was happy with this Marzen, it wasn't really unique or different from most American Marzens, but it did a good job at delivering most of the things that I want from a Marzen. It isn't my favorite Epic beer or favorite Marzen, but it's not a bad beer. Nice job guys, keep up the solid work.
★
3,759 characters

4.09
/5
rDev
+5.4%
look: 5 | smell: 3.5 | taste: 4.25 | feel: 4 | overall: 4.25
DATE TASTED: November 27, 2013... GLASSWARE: Schneider Weisen Edel-weisse pokal... OCCASION: Cavs/Heat Thanksgiving eve treat... APPEARANCE: thick, off-white three-finger head; excellent, almost decorative lacing; smoldering effervescence; cloudy, dense autumnal amber body... AROMA: caramel, toffee and generous pale malts; secondary pine hops balance the experience... PALATE: medium to full-bodied--teeth-chattering; surprisingly active early and late...TASTE: redundant to the aroma, caramel and toffee dominate the flavor; a zesty lemon hop spice intercedes for balance; a nuttiness reminiscent of a brown ale seeps in...complex and befitting of a waning Autumn night--a bit alcoholic late...OVERALL: the second beer I've had from Epic provides a similar experience to the first--rich, complex, almost challenging to evaluate or categorize, as the bottle suggests--a Marzen, yes, but much fuller of body and substantial of flavor...
★
937 characters

3.83
/5
rDev
-1.3%
look: 4 | smell: 4 | taste: 3.75 | feel: 3.75 | overall: 3.75
Label info: RELEASE#11; 6.6%ALC./VOL.; DEN#1539 MARZEN
Released under their Exponential Series
The body sports a dark copper body with a nice, creamy head and softly rising carbonation. Toasted grains, honey, and nuts and toffee make up the aroma; peanut brittle. Warm, sugary flavor, very similar to the smell with an additional hop bitterness bringing up the rear. Medium bodied, glass smooth; clean and dry finish.
A warm, delightful beer. Nice looking and easy drinking. An excellent fall weather beverage.
★
513 characters
Fest Devious Release #11 from Epic Brewing Company
-
out of
100
based on
3
ratings.