Dismiss Notice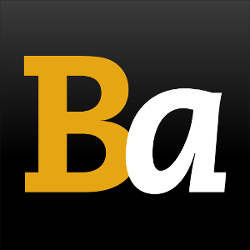 Site Performance Updates: We're aware of the nightly site outage, and working on resolving the issue.
Brainless IPA Belgian-Style India Pale Ale
| Epic Brewing Company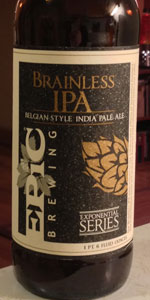 BEER INFO
Brewed by:
Epic Brewing Company
Utah
,
United States
|
website
Style:
Belgian IPA
Alcohol by volume (ABV):
6.30%
Availability:
Rotating
Notes / Commercial Description:
No notes at this time.
Added by JohnGalt1 on 02-19-2013
Reviews: 38 | Ratings: 216

3.8
/5
rDev
-3.6%
look: 4 | smell: 4 | taste: 3.75 | feel: 3.5 | overall: 3.75
Poured into pint glass.
A Hazy orange. Half inch of foam. Thick lacing. Looks like an IPA should.
S Topical fruit. Orange and lemon peel. Pine resin. Hint of malt.
T Big blast of citrus upfront. Peppery piney zest. Hoppy bitterness follows (nothing huge but it's there). A little malty sweetness in there as well.
M Light. A little runny. Fizzy carbonation. Clean finish.
O Good. I liked this quite a bit. Theres definitely better tropical/citrusy IPAs, but there's, also, many that are not as good. I'd have it again.
★
523 characters

3.89
/5
rDev
-1.3%
look: 4.25 | smell: 4 | taste: 4 | feel: 3.25 | overall: 3.75
A: burnt orange with a two finger head. great looking brew
s: a full bouquet. lots of pine, Orange juice, lemon zest, caramel, and grapefruit. smells big!
T: grassy and piney. lots of grapefruit. a nice caramel malt that holds everything together. awesome bitter on the end
m: light bodied, no carbonation. that's one small downfall for me, I think this could have a little more carbonation than it does.
O: very enjoyable, a great session! it's complex without having to think about it. smooth with a ton of pine and earth! 88
★
531 characters
4.08
/5
rDev
+3.6%
look: 4 | smell: 4 | taste: 4 | feel: 4.25 | overall: 4.25
like all epic beers from this series and beyond, the use of hops in this beer is expert. it pours a fantastic bright golden color with some darker orange hues and a massive fluff white head. the nose on it is distinctly Belgian yeast, floral and supercharged, complimenting the ripe citrus hop profile of this beer. the flavor is much like the nose, with the hop presence carrying throughout the whole beer, moving from lemony to bitter very quickly, and the summer yeast keeping everything dancing. the grain bill is light, but has a graham crackery honey sweetness to it that works well with the other players. the feel is outstanding too, with electric carbonation prickling the palate, and a drinkably medium body working. the finish is bitter and yeasty, as it should be in a Belgian ipa. this to me is another genre definer from epic, everything you want in the style and nothing you don't. it should be in a museum somewhere for that reason. too many lousy versions out there, this one struck a chord with me.
★
1,016 characters

3.9
/5
rDev
-1%
look: 4 | smell: 4 | taste: 4 | feel: 4 | overall: 3.5
22 ounce bottle into tulip glass; release #3, bottled on 2/2/2013. Pours very hazy golden amber color with a nice 2 finger dense and fluffy white head with fantastic retention, that reduces to a nice cap that lingers. Nice soapy lacing clings on the glass. Aromas of lemon zest, grapefruit, orange zest, pine, pear, floral, grass, pepper, and yeast spiciness. Very nice aromas with good balance and complexity of hop and yeast notes. Taste of lemon zest, grapefruit, orange zest, pear, floral, grass, pepper, pine, and earthy yeast spiciness. Fair amount of pine bitterness on the finish; with lingering notes of citrus, citrus zest, pear, floral, pepper, pine, and yeast spiciness on the finish for a bit. Very nice balance and complexity of hop flavors with spicy esters; with a good bitterness/sweetness balance and zero cloying flavors after the finish. Medium carbonation and body; with a fairly sticky and moderately crisp mouthfeel that is nice. Alcohol is very well hidden with only a slight warming noticed after the finish. Overall this is a very nice Belgian IPA. Good balance of hop and yeast ester flavors; and very smooth to drink. A very enjoyable offering.
★
1,172 characters

3.96
/5
rDev
+0.5%
look: 4.25 | smell: 3.75 | taste: 4 | feel: 4 | overall: 4
for the most part i think i have liked Epic's beers more than most.Poured into a tulip glass a slightly hazed burnt orange with a large fluffy white crown that left two broken rings of lace behind as it settled very slowly into a frothy mass.Aromas of overripe tropical fruits and light phenols,there is a little herbal and resinous note that get bigger as I drink more as well.Flavors of the before mentioned tropical fruits with some toasted grain and some mildly spicy phenols.Not an overly complex beer but the flavors are not bad.
★
535 characters

4
/5
rDev
+1.5%
look: 3.75 | smell: 4.25 | taste: 4 | feel: 4 | overall: 3.75
The hoppy IPA quality is quite nice. Mixed with the Belgian yeasty flavors it's really quite interesting. Amber brew in the glass with a nice foamy appearance and mouthfeel. Flowers and resins in the aroma.
Warm and spicy with roast malt and a tangy sensation. Thoroughly pleasant burr of bitterness with some pine and plenty of fruit. A lighter body with rich flavors. Moderately bitter aftertaste with more spice in the nose. Slight drying out at the end, but just sweet enough to go with the yeastiness. Very drinkable and to my palate, much better than the simple hop bomb IPAs.
From the 22 oz bottle bought at Bottleworks in San Diego, where they have a nice selection of Epic beers.
★
690 characters
4.06
/5
rDev
+3%
look: 4.5 | smell: 4 | taste: 4 | feel: 4.25 | overall: 4
A - dark, murky orange with a big, soft, white head that has decent retention
S - big citrus, oranges, bread, faint belgian yeast
T - very citrusy, oranges, peaches, apricot, mildly bitter finish, some faint belgian yeast
M - smooth, well carbonated, medium bodied, some warming alcohol
This is a really nice, fruity, citrusy, Belgian IPA. I was very impressed. It's got a great hop character and overall flavor as well as great drinkability. This is definitely a beer worth trying.
★
486 characters

3.69
/5
rDev
-6.3%
look: 3.5 | smell: 3.75 | taste: 3.75 | feel: 3.25 | overall: 3.75
On cask at Story Tavern in Burbank, CA.
Pours a murky honey orange with a foamy off-white head that settles to wisps of film on top of the beer. Small dots of lace form around the glass on the drink down. Smell is of malt, grain, yeast, and herbal hop aromas. Taste is much the same with yeast and citrus zest flavors on the finish. There is a medium amount of hop bitterness on the palate with each sip. This beer has a lower level of carbonation with a slightly crisp and medium bodied mouthfeel. Overall, this is a pretty good beer that is drinkable but I don't think that a cask presentation is optimal for this beer.
★
623 characters
3.78
/5
rDev
-4.1%
look: 4.5 | smell: 4 | taste: 3.5 | feel: 4 | overall: 3.75
Release #4
Pours a very hazy, dark golden orange color with tangerine edges and a two finger pillowy white head that very slowly settles into thick, lasting ring. Really good retention with large chunks of soapy lacing left behind.
Dank, floral hop aroma with lots of earthy, resinous pine and hop oils countered by citrus/tropical fruit notes, pale malt and estery light fruit notes. Grassy pine needle followed by orange peel, grapefruit, bread, biscuit, apple, pear and cracker. The Belgian yeast notes are subtle but come out a bit more as it warms. Smells more like a standard American IPA with earthy and sweet hop notes countered by a pale malt backbone.
Medium bodied with a blast of dry, sticky hop bitterness that lingers over the sweeter notes, Belgian yeast and pale malts into a bone dry finish. Earthy, resinous and bitter with lots of dry hop flavor followed by subtle sweetness with some grapefruit and orange peel, however, the citrus/tropical fruit character isn't as strong as the nose suggests. The Belgian yeast flavors are stronger than they were in the aroma with hints of bread, apple, pear and bubblegum. Sweet malt backbone balances things out with some caramel and toffee sweetness along with bread, biscuit and graham cracker. Subtle heat in the finish but it doesn't affect the drinkability. Overall, this beer isnt anything out of the ordinary but is a pretty solid offering from Epic. The hop flavors are decent but are slightly one dimensional and overpower the Belgian yeast notes a but too much for me. Still, I enjoyed drinking this and got through the bomber pretty quickly.
★
1,615 characters
4.02
/5
rDev
+2%
look: 4.25 | smell: 4 | taste: 4 | feel: 4 | overall: 4
22oz into a pint
A - Pours a deep orange color. Lots of pearly white head, well retained. Lightly bubbly.
S - Strong hoppy nose, some citrus and a boat load of some white pepper belgian yeast.
T - Starts off dry, peppery and spicy, some light pilsner maltiness. Mid-stream gets some hops, some citrus some earth. Finishes lightly sweet, some more of the belgian yeast hanging around. Bitter aftertaste.
M - Full bodied beer, a creamy mouthfeel. No alcohol warmth detected. Smooth.
O/D - Easy drinking beer for the belgian IPA style. Really well done. A bit filling. Certainly hefty on its Belgian spiciness.
★
614 characters

3.88
/5
rDev
-1.5%
look: 4 | smell: 3.5 | taste: 4 | feel: 4 | overall: 4
Good beer...kind of a hybrid style, I like this interpretation a lot. Poured into my Chimay chalice from a 22 oz bottle. A bright, hazy apricot/coppery color, nice size white bubbly head with better retention than most Belgian styles and much better lacing....Good looking beer.
Smell is a bit mild, kind of a floral/fruity hoppiness.
Tastes good. Kind of like a very mild Tripel with the addition of some citrus hops. The Tripel aspect is mostly sweet, light fruit (apricots and pears) with a little yeast flavoring and spices. The hops are prominent in the nose and in the finish. The blend is just right....So many Belgian IPAs are a hodge-podge that just don't "work".
Mouthfeel is rich. The hops and a nice bite at the end. Can't say the alcohol is hidden, because the beer is less potent than a typical Tripel, but it goes down smooth.
Overall, really tasty. Well worth a try.
★
886 characters

4.08
/5
rDev
+3.6%
look: 4.25 | smell: 4.25 | taste: 4 | feel: 4 | overall: 4
This ipa straddles the line between over the top American style and a more Belgian, very much taking on the role of a well balanced version of one of those.
It looks fairly ordinary. It is neither clear nor very cloudy. The very nice head subsides.
It doesn't smell too much, but the extremely well balanced taste quickly takes over.
aftertaste is slightly boozy. I would definitely buy this again. I suppose I was a little harsh.
★
435 characters

3.68
/5
rDev
-6.6%
look: 4.25 | smell: 3.75 | taste: 3.5 | feel: 3.75 | overall: 3.75
Batch #2
Picked this up tonight at the COOP for $6ish... Poured into my HotD tulip.. 2 finger off white head has great retention and produces sheets of lacing atop a slightly hazy light orange brew.
Nose shows nice citrus hoppiness... some tropical fruits.. yeasty notes show as some pink bubblegum and some light clovey notes... pale malts are there, but only to magnify the other aromas.
Flavor begins with a moderate bitter bite up front and then dies off and doesn't show again until the finish.. in the middle, the palate is much more dominated by the yeasty elements... again, bubblegum and lesser clove.. hoppiness is citrus zest and something that I could be misidentifying as pineapple..
Body/carbonation are typical IPA.. but the astounding head lends a sorta creamy mouthfeel as the sip goes down.
Pretty good.... Not the best Belgian IPA I have had, but well made nonetheless.
4.25/3.75/3.5/3.75/3.75
★
931 characters
Brainless IPA Belgian-Style India Pale Ale from Epic Brewing Company
88
out of
100
based on
38
ratings.