Mikkeller Bar
PLACE STATS
Reviews:

14

Ratings:

Avg:

4.6

pDev:

2.39%

Taps:

20

Bottles/Cans:

150

Cask:

N

Beer-to-Go:

N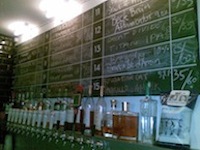 PLACE INFO
Type:
Bar, Eatery
Viktoriagade 8
København
, 1655
Denmark
+45 33 31 04 15 |
map
mikkeller.dk
Notes:
No notes at this time.
Added by digita7693 on 06-27-2010
Reviews: 14 | Ratings: 46
4.58
/5
rDev
-0.4%
vibe: 4.5 | quality: 4.75 | service: 4 | selection: 5
I try to come here every time I am in Copenhagen. It is small and cozy, the service is prompt/efficient but could cheer up a little, but they stand out by far in their beer selections. 20 great craft beer selections. I had some awesome samples from their spontan.... series here. The location is perfect. Downtown Copenhagen not far from the central station (Copenhagen H) and Tivoli. Therefore it is very easy to get here and back from almost anywhere including the airport.
★
475 characters

4.43
/5
rDev
-3.7%
vibe: 4.5 | quality: 4.5 | service: 4.5 | selection: 4.25
Excellent bar with a decent location. 20 beers on tap and a huge bottle list. Was near my hotel so stopped in a few times. Service was great every time. At one visit every stool at the bar had an American sitting. Prices in line with everyone else. Does get very busy in the evening. A must visit.
★
305 characters

4.73
/5
rDev
+2.8%
vibe: 4.25 | quality: 5 | service: 5 | selection: 5 | food: 3
March 2015. Pleasantly surprised to see open at 1 pm! Nearly empty and I grbbed seat at cool but small bar. Beatleguese for a start. Solid. Friendly bartemder. Nice list on tap and bottle list was mind blowing, including Fou Foune. Got a gratis Coffee IPA. Highly recommended.
★
276 characters

4.69
/5
rDev
+2%
vibe: 4.25 | quality: 4.75 | service: 4.5 | selection: 5
What a day! Only a couple of hours left in Kobenhavn and I am trying to hit every major spot in town before we leave… Fermentoren before dinner, then a tasting menu at Relais and then back to the hotel. The wife and I make it back to the hotel and hurry to Mikkeller before they close, walking briskly through desolate streets filled with sex shops and questionable prostitutes.
Lucky me we make it right it at last call, and we are there during a "Black Night" event where every beer on tap was something exceptional, rare and barrel-aged. Call me lucky for once and again!
The list was seriously deadly impressive. They had Parabola, Dark Lord Vanilla, Cigar City Marshall Zhukov Rum Barrel, Mikkeller Vanilla Shake Bourbon, Mikkeller Black Grand Marnier Barrel, Texas Ranger Eagle Rare and more. They have 20 taps here, and on this dark night they were all taken by black-as-fuck brews. Fuck Yeah!
I ordered four of them and got two extra tastings to boot. The bartender was friendly and accommodating to my ordering so many beers at closing time (1 am for real?).
Prices were, as you can imagine, outrageous. I think I may have paid twenty-five bucks for that Dark Lord Vanilla, but hey. No regrets.
The only downside of this Mikkeller is the small size of the place and how crowded it can get. I liked Mikkeller & Friends better but would and will certainly return here when I'm back in Denmark.
★
1,417 characters
4.5
/5
rDev
-2.2%
What a great little place.
Where else in Denmark can you find Three Floyds?! I mean come on!
The inside is extremely cozy, with nice Danish wood stools and tables, filled with great looking patrons. Black and white tiles with great lighting make it look fantastic and a great inviting place.
The selection is great, which is heavily dominated by Mikkeller but you will not be disappointed in trying to find something to drink here to enjoy. The cherry wine is also a good cheap option as well. Speaking of prices, everything in this city is expensive so its all relative to what you are willing to pay. You will often run into foreigners here as well, and probably a good chance someone who works at a brewery as well.
Didn't have any of the Smorebrod, but boy it looked good too. A real fun stop.
★
809 characters
4.65
/5
rDev
+1.1%
vibe: 4.5 | quality: 4.75 | service: 4.75 | selection: 4.5
Have been in Copenhagen for only few hours, but this place was a must for me. I was surprise of the location! Finding this tiny bar in the basement of what appears to me some locals appartements above... anyway, this place is a must for any beer fanatics. I don't have access to Mikkeller products locally, so this was my chance.
Some twenty beers on taps. Tasted four during that evening. All good. While there, three or for beers sell-out and was replaced. No time for tap-line to be left unused, trust me!
The bars suffers from its immence popularity. I would say that on the saturday evening that I've been there, 50 to 100 people was inside. Way to crowded for such a small bar. Once you get a chance to get access to a table or simply a chair, KEEP it. Enjoy company of other mates at your table. socialise with locals or many other beer fans aroud the world gethering in there.
Staff, knowledge, service, everything was great!
★
935 characters

4.51
/5
rDev
-2%
vibe: 4.25 | quality: 4.75 | service: 4.5 | selection: 4.75 | food: 3.5
12/29/12 and 12/30/12
An Italian home brew shop owner, a SABMiller rep and two Minnesotans walk into a bar. No joke--that's just the sort of beer geek pull that is the Mikkeller Bar. Hampus of the Malmo Bryyghus sent us on our merry way to this exquisite find in the Vesterbro section of Copenhagen. On our first visit, we were literally standing on the corner across a narrow street, map in hand, saying "It must be here!" The trick is to look on the outside of the street's bend to the subterranean Mikkeller. Or, check for a slew of bicycles parked irregularly but away from neighbors (a sign kindly asks bikers to park appropriately).
Packed on a Saturday night, we left for dinner and our first foray to Fermentoren. Returning on Sunday, it wasn't much less crowded. It thinned enough later that we scored two seats at the small bar with the tap list in full view. Primarily an outet for Mikkeller beers, we drank our fill of the house brew. The fresh hop Green Gold and an IPA called Tiger Baby were my favorites. But I also had excellent offerings from To Øl, Stillwater and a fantastic collaboration ale by Amager, Kissmeyer and Mikkeller.
While at the bar, one patron excitedly exclaimed that "We can't get beer like this in our country!" He was from Italy and we chatted briefly about drinking Rome before his beers arrived. He was either a bottle shop or brew shop owner, hard to understand, but clearly knew and appreciated beer. Literally, it was better than Christmas morning for this Italian.
Then came trouble: we looked at the extensive and well curated bottle list. And, yes, I said curated: a wide range of select specialty beers, including but not restricted to Mikkeller brews. Brew Dog's Tactical Nuclear Penguin was daring us for just 600 Kroners (about $120 US). I was about to take the plunge when I did some last minute research on BeerAdvocate (again, love free WiFi), which changed my mind. I didn't mind the price (cheaper than at Delirium last summer), but repeated reviews were from disappointed drinkers. Then I turned to the very front of the bottle list and looked at the staff recommendations. A bit more research and we ordered a more reasonable splurge of 225 Kroners: Mikkeller's 2012 Nelson Sauvingnon. Exquisite.
A young Swedish couple at the end of the bar ordered the same beer but the 2009 version. Daniel, Agnes and us became quick friends sharing sips of our respective bottles while chatting about the Scandinavian brewing world, Daniel being an SABMiller rep with a fine taste for beer. For me, our night epitomized a peak moment of beer questing: old and new friends laughing and learning in an environment of beer respect while drinking the art.
http://pintsizedrevelations.blogspot.com/2013/01/mikkeller-bar-copenhagen-dk.html
★
2,787 characters
5
/5
rDev
+8.7%
vibe: 5 | quality: 5 | service: 5 | selection: 5
Atmosphere: The place was great and cozy. Full of beer enthusiasts, including the bartenders, and while I was there, friendly expats and Danes.
Quality/service/selection: 20 or so beers on tap (mostly Mikkeller), a huge bottle list, and great service from knowledgeable bartenders.
Value: The beers on tap were a great value, especially for Copenhagen. The bottle list was a bit more pricey, but had several gems (e.g. aged bottles of limited Mikkeller releases) that looked interesting.
Overall: A must if you're in Copenhagen.
★
531 characters

4.6
/5
rDev 0%
vibe: 4 | quality: 5 | service: 5 | selection: 4
Finally made my way to this lovely place a wam summer day. As mentioned previously it´s easy to miss and you really have to know where to look.
We stumbled in at early afternoon and the place was not all too crowded.
The bar was simple, some chairs and tables outside and some places to sit inside.
Had a selection of 20 beers on tap. You can choose a big or a small glass. The prices are really good in my opinion.
Gets some minus though because the didn´t serve bottles at this time.
But this is a must if you´re in Copenhagen.
★
536 characters

4.68
/5
rDev
+1.7%
vibe: 5 | quality: 4 | service: 5 | selection: 5
If you're going to Copenhagen, this should be your top priority, along with Olbutikken. Conveniently, they're within a block of each other.
You can easily miss this place, as it just has simple lettering on the window, but as you step down into the small bar, it exudes Danish design. White walls, simple furniture, great music. This is definitely my style of place.
Draft beers all tasted fresh, and they had a couple styles of glasses, but not perfect. The draft list is okay, but the bottle list is where you should spend your time. You name a rare beer from Denmark or the Netherlands, and they have it, not to mention some of the rare stuff from the U.S. and Belgium (vintage Dark Lord, other FFF, etc.). They have virtually every barrel aged Mikkeller brew ever made, along with his sours, etc. Solid prices, ranging up to bottles costing you hundreds of dollars, but you can get some awesome stuff for $30 (think Black Cognac). Service was awesome, as they gave small pours of Utopias to a couple guests, tastes of a couple drafts, etc.
The only food available are nuts or sausages, which are great, but I don't want to review that. This is an exceptional bar and worth visiting once in your life.
★
1,207 characters
4.16
/5
rDev
-9.6%
vibe: 4 | quality: 4.5 | service: 3.5 | selection: 4.5
I made it to Copenhagen and spared no time in seeking this place out. It was very subtley marked with no sign so keep your eyes peeled, it's worth it.
Modern interior with lot's of black and quite small. Prices seemed on par for Copenhagen and cheap for Mikkeller stuff, especially since I've never been able to buy it at home. Great selection and always interesting taps that are always rotating. The pils and wheat are the only things that stay for good, the rest rotate and the guest beers are creative and interesting. The bottle list was extremely extensive and impressive.
Helpful bartenders that CAN be chatty. There is a slightly pretentious feeling to this place though, personified by my extremely bitchy bartender who was almost uninterested in me since I'd never heard of one of the breweries they were featuring. Beer snobbery at its finest. There were a few locals that chatted with me a bit and I met a guy who took me to Olbutikken after a day of drinking so that was nice.
Overall, I'd say that the Mikkeller Bar is a pretty awesome and well run place. A must visit if you're in Copenhagen, just watch out for the snobs.
★
1,142 characters
4.58
/5
rDev
-0.4%
vibe: 4 | quality: 4.5 | service: 4.5 | selection: 5
I went to Copenhagen for two days this was one of my first stops about four hours in.
First of all I pulled up and thought I had come to the wrong place. When you think of Mikkeller I was thinking some big fancy place, totally crazy and trendy atmosphere etc, in reality not even close. It is a hole in the place, located on the basement with a little lettering in the window, really easy to miss. You walk down and its a really small place about 10 tables at max with bar seats. White everything, very Euro look, nothing much on the walls to look at but nice and cozy...They have 10 Mikkeller, 5 guests, and a vintage list that is very impressive, tons of rare mikkeller, rare lambics, dark lord 07, 08, 09, you get the idea. The quality is all top notch stuff, except for the draft Mikkellers's, I kid sort of. They had a nice selection of beers all varied so you could taste all of them, which I did naturally. Just not a huge mikkeller fan yet, too much like dfh to me, all gimmick. Mostly, that proved to be true as a lot of the beers I tried just weren't very good, nice tries in theory but lacking in execution. There were some exceptions beer geek bacon being one of them. This isn't a referndum on Mikkeller beer so I'll finish by saying that is a great bar to go to and super cheap, I spent about 45 us dollars to try 13 beers. A must place to go, if just only to see the vintage list.
★
1,396 characters
4.78
/5
rDev
+3.9%
vibe: 4.5 | quality: 4.5 | service: 5 | selection: 5
Stopped in here a few times during a recent stay in Copenhagen.
Atmosphere is cozy - you walk down stairs to enter the pub and there are a few tables on the right and the bar on the left. If you follow the bar around to the left there's additional seating around the back. The chalkboard above the bar highlights the available beers and there are a few tables available outside.
Quality is very good. The glassware selection is somewhat limited but they're all rinsed before serving and are at a good temperature with proper amounts of head.
Service is very good. The bartenders can answer any question about the beer you may have and then answer another question you didn't even know you had. Additionally they're absurdly friendly and never make you wait to place another order.
Selection is simply amazing. Not only can you find one-off beers from Mikkeller among the ten dedicated taps but you'll find five other world-class beers on-tap and countless others available in bottles.
Value is good, especially considering it's in Scandanavia. Small pours run about $4-5 and larger ones from $5-7.
Overall this was hands down my favorite place in a city of full of world-class pubs. Well worth a stop if you're in the area.
★
1,229 characters

4.9
/5
rDev
+6.5%
vibe: 5 | quality: 5 | service: 5 | selection: 5 | food: 4
Mikkeller bar is in a pretty quiet street between 2 main streets, maybe a 10min walk from the main train station.
a wonderful atmosphere, chairs and tables to sit outside when the weather is nice, friendly people all around, couple smaller rooms to sit in and a real nice bar.
service - top notch! the bar tenders are very friendly and very knowledgeable, they will give you a couple tastes to find what you want and are happy to chat about beers and what not
quality/selection amazing on both fronts. this isnt a look at us we have 100 taps or 5million beers, they have 15 taps (10 mikkeller and 5 guest taps) that rotate. nice mix of several styles. and the mikkeller beers are great!
the bottle list is mind blowing! probably around 150 bottles: JJ blau, root, kagen, westvleteren, DL 07,08, Behemoth Barleywine vertical, stille nacht and oerbier verticals,
food - some delicious cheeses to be paired with beers, some other small things, smoked sausages, chips
value - more than fair 25cl 30-35dk (around 5€) 50cl 60dk
i cannot recommend this place enough!
★
1,068 characters
Mikkeller Bar in København, Denmark
97
out of
100
based on
14
ratings.