Snow Drop
| Grimm Brothers Brewhouse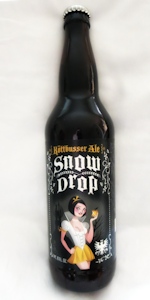 BEER INFO
Brewed by:
Grimm Brothers Brewhouse
Colorado
,
United States
|
website
Style:
Altbier
Alcohol by volume (ABV):
7.10%
Availability:
Year-round
Notes / Commercial Description:
Snow Drop
Once upon a time German beer was only deemed pure if it contained the four orthodox ingredients of brewing: water, barley, hops, and yeast. During this time, an ale known as Köttbusser was outlawed because it contained oats, honey, and molasses. Over the centuries since its prohibition, Köttbusser became a lost brewing style. At Grimm Brothers, we've resurrected this refreshing ale with a kiss of hops. You don't need a magic mirror to know that Snowdrop is the fairest in the land. Recommended by dwarves everywhere!
Brewed with Altbier yeast.
Added by Oxymoron on 07-26-2010
Reviews: 14 | Ratings: 57

3.74
/5
rDev
-3.6%
look: 3.5 | smell: 3.75 | taste: 3.75 | feel: 3.75 | overall: 3.75
Smell: lemony, yeast, light malt, sweet floral hops.
Look: hazy gold/straw, head disappeared in a few seconds leaving small white lacing.
Taste: Lemon, honey, sugar, light hops, grain
Feel: very light, watery, minimal carbonation although general foamy presence on the tongue.
Overall: a flavorful summer beer to have on a nice day that is easy to enjoy
★
359 characters

4.46
/5
rDev
+14.9%
look: 4.25 | smell: 4.5 | taste: 4.5 | feel: 4.25 | overall: 4.5
Sampled back on 3/12/16. Comes in a 12-ounce can. Can chilled down to 36 degrees F in my beer cooler and poured in to a 16-ounce flute glass.
Brew pours a golden-yellow in color with a thinner white cap. Some lacing is seen when sipped that is mostly 'ring-like' but light. Aroma is hard to pinpoint actually as there seems to be yeast, citrus zest, honey with some hops. Taste is even better than the aroma suggests! Think even more is going on with the taste but again it is hard to figure out what else is in this brew. Doesn't matter as this is one tasty brew! Crisp and clean with no bitterness. Doesn't taste 'boozy' either with the higher alcohol amount. Medium-bodied with perfect carbonation. A tasrt brew!
★
716 characters

3.91
/5
rDev
+0.8%
look: 3.75 | smell: 4 | taste: 4 | feel: 3.75 | overall: 3.75
12oz. Can
Pours a clean/clear pale yellow color, nice carbonation, with a nice fizzy white head, which leaves some sticky lacing behind. The nose is malty, slight yeast, slight hop, citrus notes. The taste is malty, yeasty, slightly hoppy, with some citrus. Medium body. Overall a tasty little brew.
★
300 characters

4.2
/5
rDev
+8.2%
look: 3.5 | smell: 4 | taste: 4.5 | feel: 3.75 | overall: 4.25
12 ounce can.
It pours a hazy straw gold...looks like a Wit or a Hefe. Small head of foam subsides quickly leaving a ring around the glass. Minimal lacing.
The smell is interesting. I get some sweet notes from the molasses and honey but I also get some smoke and a bit of lemon zest type of hoppiness.
Man is this tasty. There's an earthy quality that dominates. Yeah, there's some sweet to it with the honey, a bit of sweet and bitter with the molasses, then there's the smoke. Adds a nice dimension here but is far from being over done. Everything seems so in balance and that makes for a smooth drinker. Oh and I do get a hint or 2 of lemon zest in the finish. Deeper into the session and there's a definite nutty flavour kicking in.
Fairly light with the body and carbonation. Smoooooth.
This is really impressive. Kottbusser, eh? Welcome back!!
★
854 characters

3.8
/5
rDev
-2.1%
look: 4.25 | smell: 3.5 | taste: 3.75 | feel: 4 | overall: 4
This comes off really smooth and slightly sweet of a lager. Doesn't have the usual sharpness of lagers but definitely the yeast in there. Based on the description of oats and molasses it's no wonder why it finishes silk and slightly sweet. Pretty tasty to me and a little deceptive being 7.1% but pretty darn good.
★
315 characters

3.53
/5
rDev
-9%
look: 4 | smell: 3.5 | taste: 3.5 | feel: 3.5 | overall: 3.5
Nitro-tap pour into a shaker pint, the beer is a bright, yellow-gold coloring, with a huge, fluffy, bright white head. Nose of toasted grain, sugary sweetness, and tangy honey. Flavors are smoke and roasted sweetness forward, with tangy honey highlights, and some brown sugar characteristics. Smooth, mid-bodied, with a tangy sweet aftertaste. Smooth, sweet finish.
★
365 characters

3.46
/5
rDev
-10.8%
look: 3.75 | smell: 2.75 | taste: 3.75 | feel: 3.75 | overall: 3.5
Clear golden color in the tall Belle-Vue glass with a sizable head and lots of streaming bubbles. Just a smear of sediment in the bottle. Not much aroma.
Slightly sweet and toasty, some pale malty flavor but no hint of roasting. It's sort of a light ale of no particular distinction but it's pleasant enough. Fairly sudsy in the mouth with a resiny tang, though not much hint of hops. It has that slight sharpness of the crisper Weiss styles. The slight bitterness at the end is more yeasty than hoppy. Really not a bad beer that is worth trying if you like German styles.
This was placed in the Altbier category ("German style brown ale") but it's not remotely brown. This makes me think more of a Kellerbier or even Sierra Nevada Kellerweis. From the 22 oz bottle purchased at Wilbur's Total Beverage in Fort Collins.
★
821 characters

3.79
/5
rDev
-2.3%
look: 3.5 | smell: 3.75 | taste: 3.75 | feel: 4.25 | overall: 3.75
22oz bomber split into two servings
A – Pours a bright pale gold, head is bright white and thin, light and foamy. Carbonation is vigorous and sends plenty of bubbles up to the surface.
S – Light and airy, initial notes of pale malts take over, followed by some citrus and hay notes.
T – Crisp and clean, citrusy again, a very nice flavor profile, lemon, and light spice notes come through.
M – Carbonation is on the high side, but appropriate for the style. Overall very smooth and drinkable. Finish is crisp and clean. The 7% ABV is undetected.
O – Very nice, a different malt structure from some other Altbiers, drinkable, refreshing, crisp and clean, almost like snow melt...Now I get the name.
★
712 characters

3.77
/5
rDev
-2.8%
look: 4 | smell: 3.75 | taste: 3.75 | feel: 3.75 | overall: 3.75
16oz pint at the Glass Half Full taproom in Littleton, Colorado.
This beer appears a cloudy pale golden yellow colour, with one finger of foamy, mostly creamy off-white head, which leaves some decent broken cloudscape lace around the glass as it slowly wafts away.
It smells of grainy pale malt, mildly tart apples, a bit of lemon juice, and earthy, leafy hops. The taste is bright, crackery pale malt, the grainy edges filed down, some muddled light orchard fruit tartness, a hint of white pepper, and leafy, weedy hops.
The carbonation is fresh and peppy, the body medium-light in weight, moderately smooth, with a touch of airy creaminess. It finishes off-dry, the grain, fruit, and hops seemingly floating away.
A decently malty altbier, with the lightness that lends a certain lager-like crispness to it. No way in hell that you'd know about the elevated ABV from anything involving the beer itself. Recommended if you'd like your booze delivered, without any attendant heaviness.
★
989 characters

4
/5
rDev
+3.1%
look: 4 | smell: 4 | taste: 4 | feel: 4 | overall: 4
What a difference the nitro tap makes for this one. Tried this on standard tap, never really cared for it. On nitro, though, really dug it.
Pours a hazy light yellow with a thick, foamy white head. Aroma offerssome fruity esters from the wheat, some sugars from the oats, and a touch of molasses. Flavor offers some nice creaminess, molasses, sugars from the oats, honey, fruity esters from the wheat malt, and all cut ever so slightly with a gentle kiss of hops. A fuller, creamy, somewhat active mouthfeel. Overall, a beer made for nitro tap and really a great summertime nitro option, best suited for closing out the session.
★
629 characters

3.68
/5
rDev
-5.2%
look: 3.5 | smell: 3.5 | taste: 3.75 | feel: 3.75 | overall: 3.75
The beer is a köttbusser German ale...there's no style guidelines on BA or in the 2008 BJCP Style Guidelines. The brewery says the style had oats, honey, and molasses originally (although the bottle label only mentions honey and molasses being used in this version).
Poured a light, straw yellow color with lively carbonation producing a rich, white head. Wheat and soft lemon-like aroma up front; herbal and grassy; light bread. Light, refreshing flavors, bringing out a light malt grain note and a slowly developing hop bitterness at the finish. Mouthfeel is medium-light, smooth and silky, with a dry finish.
A nice, refreshing ale that will go down well during the warmer months. I wish I had more information on the style in order to compare with my impressions, but for now, I think this particular version may find a ready spot in my beer stash.
★
855 characters

4.31
/5
rDev
+11.1%
look: 3.5 | smell: 4.25 | taste: 4.5 | feel: 4.25 | overall: 4.25
Not really an altbier, but kind of is, I s'pose. This wasn't doesn't have the toasted bread and snap to it as some alt biers, not as bready. What is does have is a nice golden sweetness to it. The honey and molasses give it a fresh quality, maybe "bright" is a better word.
Appearance can use a bit more foam and retention, otherwise it looks like light honey. Aroma is sweet and somewhat biscuity, underneath it the hops dance around. Grassy and green.
A really nice beer that doesn't go overboard with the honey or molasses. High abv that does not really show itself. Nice summer brew
★
589 characters
4.23
/5
rDev
+9%
look: 4.5 | smell: 4 | taste: 4 | feel: 4 | overall: 5
This was my favorite beer with Grimm Brothers. They called it a Kottbusser (sorry if I spelled that wrong). A pre- reinheitsgebot beer with wheat, oats, honey and molasses. A lighter colored beer with good clarity. The smell is mostly grainy with a hint of sweetness and a light floral aroma. The taste is amazing. Grainy up front with a bit of sweetness on the back. The honey is noticeable but blended well. A great finish with a lingering malty sweetness. Some hoppy notes but very good.
★
490 characters
4.13
/5
rDev
+6.4%
look: 4.5 | smell: 4 | taste: 4 | feel: 4 | overall: 4.5
This is according to the people at Grimm Brothers a German beer style that pre dates the purity law. It's made with wheat, oats, honey and molasses. It's a golden straw color with perfect clarity and nice effervescence. The honey comes out in the nose but not much in the flavor. There is essentially no hop aroma or noticeable bitterness just a nice smooth and clean flavor with a slightly mineral finish from the molasses. Overall this is a nicely made clean and refreshing beer with a character that I have never tasted before. It is superbly drinkable and a perfect hot day quencher. I can't wait for them to bottle it as it will also become my new gateway beer for BMC drinkers.
★
683 characters
Snow Drop from Grimm Brothers Brewhouse
86
out of
100
based on
14
ratings.