Ulster Breakfast Stout
| Lavery Brewing Company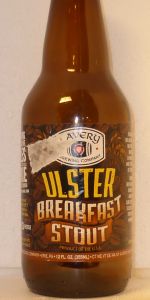 BEER INFO
Brewed by:
Lavery Brewing Company
Pennsylvania
,
United States
|
website
Style:
Milk / Sweet Stout
Alcohol by volume (ABV):
7.10%
Availability:
Rotating
Notes / Commercial Description:
No notes at this time.
Added by Morey on 04-13-2014
Reviews: 12 | Ratings: 108

4.23
/5
rDev
+3.2%
look: 4.25 | smell: 4.25 | taste: 4.25 | feel: 4 | overall: 4.25
This beer pours a jet black color with a one finger light mocha head. Retention is good and there are a ton of hanging sheets of lacing along with many spots. Smell is coffee, chocolate, roasted malts, and a hint of vanilla. Taste is similar, bitter coffee up front with sweet chocolate cutting through mid sip and a touch of vanilla on the finish. Feel is a little light for my preference, but about right for 7%. Overall a very good beer. No FBS, but I'd definitely still buy again.
★
484 characters

4.42
/5
rDev
+7.8%
look: 4.75 | smell: 4 | taste: 4.5 | feel: 4.75 | overall: 4.5
On tap from Piper's Pub South Side Pittsburgh. Very nice color and head. Nice smoke flavor which I enjoy. The end notes are not quite what I would enjoy, but the beginning is very nice!
★
186 characters

4.24
/5
rDev
+3.4%
look: 4.25 | smell: 4.5 | taste: 4.25 | feel: 3.5 | overall: 4.25
On tap at The Tap and Mallet in Rochester, NY.
Pours a glossy dark black, with a small mocha colored head, and a little bit of lacing.
Smells like bitter dark roast coffee, light smoke, and roasted malt.
This hits heavy on the bitter roast characteristics of stouts and coffees- which I like. It's got an earthy, bitter dark roasted coffee flavor, dark chocolate, roasted malt, and a definite ashy smokiness. Reminds me of coffee and cigarettes.
This is medium bodied, could be a bit richer, with creamy mouthfeel.
Really nice stuff here, just a solid kick ass coffee stout.
★
579 characters
3.99
/5
rDev
-2.7%
look: 4.25 | smell: 4 | taste: 4 | feel: 3.75 | overall: 4
Pours a dark Carmel to black color head fades but leaves a nice film and lacing. Very nice malt and some chocolate overtones. A very good breakfast Stout
★
153 characters
4.12
/5
rDev
+0.5%
look: 4.25 | smell: 4 | taste: 4.25 | feel: 4 | overall: 4
this beer is really really good. on tap at j ryans in downtown Syracuse. odd for me to have a beer I like this much from a brewery I have never before heard of. really pretty awesome this one, almost looks like it came from a nitro tap with almost an inch and a half of tall tan head, thick as a milkshake, with great pronounced rings of lace left in the wake of each sip. the beer is glassy shiny and almost perfectly black. smells and tastes like fresh dark roasted coffee, really intense, concentrated, bitter, and pungent. im sure this has a fair bit of brewed coffee blended right in, it has to. very little acidity though because the body is so thick and grainy that any acidity appears to have been absorbed or covered up by it. frothy and soft, pillowy and inviting in terms of texture. likely a good pinch of oats in the grain bill. I don't get the chocolate notes others have mentioned, but I do get the slightly sweet vanilla on the back end. creamy too, vanilla latte comes to mind. I would like to try some more lavery beers while I am back east, this first impression is extremely impressive. great morning/hangover brew!
★
1,135 characters

4.26
/5
rDev
+3.9%
look: 5 | smell: 4 | taste: 4.25 | feel: 4.5 | overall: 4.25
Dark. Dark in the daytime. Bubbles creep. Creep up in the daytime, if they want to. Im sniffin it out. Come coffee nose from this breakfast stout. Slight bitter hop up front. Followed by smooth coffee. Some sweet chocolate. And eventually real vanilla taste. Great mouthfeel. Really well done. Aftertaste is like ive been eating raw coffee bean. Very good bier. Would.
★
368 characters

4.05
/5
rDev
-1.2%
look: 3.75 | smell: 4.25 | taste: 4 | feel: 4 | overall: 4
Recommended by Whole Foods beer guy nice call. Good beer. Looks like stout, big aroma coffee and chocolate. Taste coffee, milk, chocolate. Smooth. Appropriate body and mouthfeel for it's 7% size. Would get again.
★
212 characters

4.08
/5
rDev
-0.5%
look: 4 | smell: 4 | taste: 4.25 | feel: 3.75 | overall: 4
Impossibly black with a thin khaki head around the edge.
Nose is coffee, roasted malts, dark chocolate, a little bit of toffee.
Taste hits hard up front with the coffee before subsiding into a dark/baker's chocolate. There's a very nice sweetness that lingers in the aftertaste, maybe a tiny bit of vanilla. Edit: Ok, yeah. As it warms up, the vanilla really shines through.
Feel is somewhat of a letdown, as it's not quite thick enough, and just ever so slightly over carbonated.
Over all, not mind-blowing, but solid. I'm happy with this one.
★
549 characters

4.02
/5
rDev
-2%
look: 4.25 | smell: 4 | taste: 4 | feel: 4 | overall: 4
This was a great milk/lactose stout. Since it says "breakfast stout" I too decided to try it with some breakfast foods. I had this with a batch of pancakes. It paired very well as expected. This dark robust stout was very strong right from the start. I was immediately hit with an intense coffee flavor. It finished with a slightly sweet and creamy feel which was perfect. The taste lingers and seems to get better as the stout warms up a bit. I myself thought the complexity of the beer comes out as the beer's temperature went up. I would definitely drink this again.
★
578 characters

3.97
/5
rDev
-3.2%
look: 4.5 | smell: 3.75 | taste: 4 | feel: 4 | overall: 4
Pours thick and black with a bit of head. Strong coffee notes on nose, along with roasted malts. Thick, but not too thick mouthfeel, nice and slightly coating. Intense coffee taste with sugar and cream, what you'd expect with this type of beer. Drank it while eating chocolate chip and pecan pancakes with pistachio ice cream. It was a glorious moment in my life.
★
364 characters

3.9
/5
rDev
-4.9%
look: 3.5 | smell: 4 | taste: 4 | feel: 3.75 | overall: 3.75
Undated bottle at 50 degrees into snifter
Aroma of roasted malt and coffee, lasts for entire bottle
Head small (<1 cm, aggressive pour), light brown, creamy, diminishing to 4 mm ring and 1 mm layer
Lacing poor – few islands of tiny bubbles
Body dark brown, opaque
Flavor begins with bitter roasted malt, ends with some hints of vanilla and - banana?
Palate light to medium, watery, soft carbonation
Appearance 3.5, Aroma 4, Flavor 4, Palate 3.75, Overall 3.75
★
464 characters

3.9
/5
rDev
-4.9%
look: 3.75 | smell: 3.75 | taste: 4 | feel: 3.75 | overall: 4
32 oz growler poured into a shaker pint.
Appearance
Deep, chestnut brown with some light penetration along the edges. 1 finger of tan head with good retention.
Nose
Coffee with cream and sugar, roasted barley, and caramel.
Taste
Medium roasted coffee with generous amounts of cream and sugar. Roasted barley, baker's chocolate, and caramel. Suggestions of raisin and fig.
Mouthfeel
Medium bodied, smooth, and moderately sweet.
Overall
Lots of coffee and sweetness. Smooth and easy drinking.
★
495 characters
Ulster Breakfast Stout from Lavery Brewing Company
88
out of
100
based on
12
ratings.