Úlfur IPA Nr. 3
| Borg Brugghús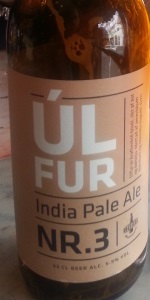 BEER INFO
Brewed by:
Borg Brugghús
Iceland
|
website
Style:
American IPA
Alcohol by volume (ABV):
5.90%
Availability:
Rotating
Notes / Commercial Description:
Icelands first IPA, very limited availabilty
Added by stulowitz on 01-19-2011
Reviews: 8 | Ratings: 32
4.39
/5
rDev
+6%
look: 5 | smell: 4 | taste: 4.5 | feel: 4.25 | overall: 4.5
Traditional West Coast IPA. Hoppy leaning on resinous, Pine and Orange Peel are predominant.
Hops Used: Amarillo, Simcoe, Cascade and Columbus
Color: Semi transparent, Golden Ambar
Head: 2 1/2 Fingers of a frothy off white head. Very danse head that lasts. Champagne like carbonation.
Aroma: Pine, orange peel, pineapple, grapefruit. citrusy
Flavor: Pine, very citrusy, resinous, orange, orange peel, grapefruit, medium bitterness at 60 IBUs, medium mouthfeel, well carbonated, great drinkability.
Grade: 94
★
512 characters

4.43
/5
rDev
+7%
look: 4.25 | smell: 4.25 | taste: 4.5 | feel: 4.5 | overall: 4.5
This review is for Nr.3 IPA in 330ml bottle from Vinbudin Reykjavik (Best Before Feb 28 2016). Poured into two red wine glasses, there is almost no head to this IPA. Smells like an American IPA through and through - the hops almost make your eyes water, they are so strong and bitter. Some light lace on the sides. Dark amber in color, slightly hazy. It's good quite cold - I would not want this any warmer. Fizzy, hops dominate. No trace of phenols in the smell, but some slight esters on the back end. Solid.
★
510 characters
4.24
/5
rDev
+2.4%
look: 4.25 | smell: 4.5 | taste: 4.25 | feel: 3.5 | overall: 4.25
Had at Café Bar in Reykjavik. Told by restaurateur as the best IPA in Iceland than he fessed up and said, at least it's the best in here. Tasty, American style with floral hops and medium high bitterness. Great color and poured with a nice 1.5-2 fingers. Favorite beer I've had here. If you are a US hop head, look no further.
★
327 characters
4.17
/5
rDev
+0.7%
look: 4 | smell: 4.5 | taste: 4 | feel: 4 | overall: 4.25
Beer is note retired, but there is two versions. Nr.3 IPA and Nr.17 Double IPA.
This review is for Nr.3 IPA in 330ml bottle from Vinbudin Reykjavik, December 2014
Best before 23.04.15
A - Lots of white lacing crests a gold pour. Looks good, but a little more orange would really make it sing.
S - Really fresh aromas of citrus and pine with some crystal malt. Can't fault that.
Flavours aren't as pronounced as the aromas, but they definitely carry through, along with a touch of alcohol and a fresh bitter finish.
M - Light, but enough malt to give it some body. Could possibly be a bit drier.
O - Beer (Bjór in Icelandic) was prohibited until 1989, but they've sure caught up since then with IPAs like this that rival the best in the world.
★
749 characters

3.53
/5
rDev
-14.7%
look: 4 | smell: 3.5 | taste: 3.5 | feel: 3.5 | overall: 3.5
I had this at the Icelandic Bar in Reykjavik. Poured into a standard pint glass.
Appearance: Pours a clear amber color with a half finger of fluffy, off white carbonation. The head leaves a layer on top of the pour throughout.
Smell: Fruity hops with a very mild malt sweetness. Simple yet nice.
Taste: This beer has a very nice balance to it. Citrus hop bitterness with just enough malt backbone. The bitterness builds to the finish where it really shines.
Mouthfeel: Medium body with fluffy carbonation and a dry finish.
Overall: This was a real solid IPA. The hop profile was nice and the balance was well executed. I would have another.
★
645 characters

4.5
/5
rDev
+8.7%
look: 4.5 | smell: 4.5 | taste: 4.5 | feel: 4.5 | overall: 4.5
exp 060612
A: Cough syrup orange, champagne like carbonation, single finger head.
S: Hoppy but very neutral, not bitter which implies sweetness. Dried apricot.
T: Very good, not too bitter, semi sweet honey/lemon tea.
M: Mild moderate sting somewhat soft going down.
O: Lovely, a very nice IPA
★
294 characters
4.18
/5
rDev
+1%
look: 4.5 | smell: 4 | taste: 4 | feel: 4.5 | overall: 4.5
I thought I might have the honor to add and be the first to review this beer but it looks as though someone beat me to it by a few hours! Regardless, I am happy to report Iceland has finally made a great beer that isn't a Euro Pale Lager! Look for this brewery to do great things if the locals catch on to flavorful beers.
Poured from a 12 oz. brown bottle. Pours a brilliantly clear very light golden color with a full egg-shell white head of about three fingers width. The head slowly receded to a thin cap that stayed with the beer down the glass.
The smell is very nice with sticky resinous hops dominating. Very piney with touches of floral citrus. Malt backbone is slightly present in the aroma with a light toasty quality.
The taste is much the same with a nice assault of pine driven hops over a simple malt backbone that provides a touch of honey sweetness. The finish is massively bitter and drying which prompts me to grab another sip.
Mouthfeel is medium light. Medium high carbonation provides a good tingle. The alcohol is undetectable.
Overall this is a very nice beer that is worth seeking out if in Iceland, particularly since everything else there is pretty much the same style.
Just a note, when I went to the Vinebud (something like that) in downtown Reykjavik to buy beer, I had to ask for this as it wasn't on the shelf. They had it in back.
★
1,372 characters
4.3
/5
rDev
+3.9%
look: 4 | smell: 4 | taste: 4.5 | feel: 5 | overall: 4
Proud to be the first to review this beer!
A great, straightforward IPA from Iceland of all places.
I say straightforward because it smells and tastes like a bunch of cascade hops and a modest amount of light malt - simple and great in my opinion.
The more exceptional part on this beer lies in the Icelandic water they must have used; it gives sush a smooth and appealing mouthfeel.
Wonderful to taste an example of a good craft beer made in the middle of the Atlantic. Too bad they don't export to my tiny island in the mid-Pacific!
★
541 characters
Úlfur IPA Nr. 3 from Borg Brugghús
-
out of
100
based on
8
ratings.