Dismiss Notice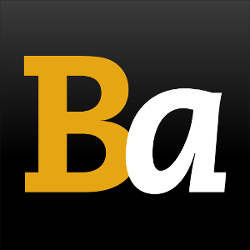 Site Performance Updates: We're aware of the nightly site outage, and working on resolving the issue.
Siberian Black Magic Panther (Bourbon)
| Westbrook Brewing Co.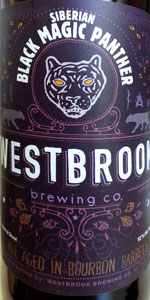 BEER INFO
Brewed by:
Westbrook Brewing Co.
South Carolina
,
United States
|
website
Style:
American Double / Imperial Stout
Alcohol by volume (ABV):
12.00%
Availability:
Limited (brewed once)
Notes / Commercial Description:
This beer is as hairy as a Siberian.. or as a panther. And you better believe it because it gets the black magic from sitting for two years in bourbon barrels. During those years it gathered its rage.. a rage this mythical beast of an imperial stout wants to unleash on your taste buds.
Added by ThatsThatDude on 03-13-2014
This beer is retired; no longer brewed.
Reviews: 15 | Ratings: 165
4.65
/5
rDev
+10.5%
look: 4.25 | smell: 4.75 | taste: 4.75 | feel: 4.5 | overall: 4.5
22oz poured into snifter.
Look: Pitch black with small head. Little carbonation visible.
Smell: Smells of vanilla, oak, figs, brown sugar, caramel, tobacco, and very little alcohol.
Taste: The taste on this is simply put as wow. IMO competes some bigger BB stouts. Right off the bat its tobacco, vanilla, fig, Brown sugar, little oakness, Dark chocolate. No flavor is really over powering. The taste stays on the palate for quite some time.
Feel: Thick, low carbonation, kinda slick, again taste stays for awhile.
Overall: a great one again by Westbrook. If you love the sweeter stouts then this is competeing with all of them
★
631 characters

4.11
/5
rDev
-2.4%
look: 4 | smell: 4.25 | taste: 4 | feel: 4 | overall: 4.25
22 oz bottle received in trade from Kale. Allowed to warm to an initial temperature of about 50, then served in a Belgian snifter.
The opaque black liquid looks rich and thick, which is not misleading. The aroma is complex and seemingly variable. It carries notes of well baked cookies, coffee, bourbon, faint wood, dark bread, and dark fruits. These all reappear in the flavor which, while excellent, is not quite as appealing as the aroma.
Very full bodied and smooth, with light carbonation and well hidden alcohol.
O: Exceptional.
★
540 characters

4.06
/5
rDev
-3.6%
look: 4 | smell: 4.25 | taste: 4 | feel: 4 | overall: 4
Shared at the Malt House while waiting for Great Taste tickets. Served alongside the Apple Brandy edition.
Appears dark black body, minimal brown hue, half finger brown head with no retention time, no lacing to be found. Smells of whiskey, oak, dark chocolate, espresso. Not much in way of sweetness. Flavour is bourbon forward, chocolate brownies, oak, cocoa. Straightforward beer. Mild oxidation. Mouthfeel is medium bodied, on the lower end of the carbonation spectrum but certainly still acceptable, slick and mildly sticky. Slight heat remains. Overall, an interesting BA imperial stout that is good, but definitely overshadowed by its Apple Brandy cousin.
★
662 characters

4.18
/5
rDev
-0.7%
look: 3 | smell: 5 | taste: 4 | feel: 4 | overall: 4
Got this and the apple brandy from cparles a while back. Cheers man!
From a bomber into a snifter
Bottled 6 February 2014
Aged 2yrs in bourbon barrels
APPEARANCE: Pours out sludgy and oily black yielding a 2+ finger, medium-thinner looking, slightly fizzy, dark mocha head with very good retention. Pitch black body and higher levels of carbonation for the style. Much higher than the apple brandy variant. Head slowly fades to a full creamy cap and leaves some nice lacing down the glass. A slight wisp remains and leaves tracing of lacing as the glass empties. Awesome colors here, but the head is a bit loose and it's somewhat overcarbed for the style.
SMELL: Monster nose on this one, and very similar to Skoon. Lots of bourbon, oak, roasted and burnt malts, pure chocolate, coconut, vanilla, toffee, as well as a good dose of sweet cream. Piles of bold aromas here. A good dose of bourbon and alcohol, as well as more vanilla and sweet cream than Skoon had. Both these Panthers smell just wonderful. Can't think of anything more I'd want in a nose of this style. Perfection.
TASTE: Oak, bourbon, toffee and vanilla cream up front, with notes of roasted and burnt malts as well. Big aftertaste of bourbon, sweet wood flavors, toffee, cream, touches of bitter dark chocolate and some burnt malts as well. Lots of sweetness from the wood, with very prevalent vanilla and sweet cream flavors here. More so than the apple brandy variant. There is a touch of bitter dark chocolate and roasted grain that fight for balance, but it's not quite up to the task, unfortunately. This is definitely decadent and wonderfully flavorful, but like the apple brandy, the bitterness needs to be pumped up just a touch to provide a bit more balance.
PALATE: Medium body and medium carbonation. Creamy on the palate, goes down fine and finishes rather sticky. Enough weight for sure and some heat lingers. Full and creamy, but comes close to being cloyingly sweet.
OVERALL: This was really nice, with lots of decadent sweet malts and barrel flavors to ponder and enjoy. Compared to Skoon, it's a bit boozier with more sweet wood, toffee and vanilla. This is enjoyable on its own, but for my palate, I'd prefer just a little more bitterness and roast, which would provide the touch needed to put this one into the next stratosphere. A beauty of a brew as it is, but not quite worthy of the Gods.
★
2,400 characters

3.75
/5
rDev
-10.9%
Thanks to Wowcoolman for sharing this one at his tasting.
Bottled on 2/6/14.
Pours an opaque black with a foamy dark khaki head that settles to wisps of film on top of the beer. Tiny dots of lace form around the glass on the drink down. Smell is of dark roasted malt, cocoa, bourbon, and wood aromas. Taste is much the same with cocoa, bourbon, and wood flavors on the finish. There is a mild amount of roast bitterness on the palate with each sip. This beer has a lower level of carbonation with a slightly crisp and medium bodied mouthfeel. Overall, this is a pretty good beer that is tasty, but the bourbon seems a bit subdued in my opinion.
Serving type: bottle.
★
669 characters

4.57
/5
rDev
+8.6%
A: Black with a really nice finger thick dark brown head
S: No explosion of aroma here, but whats there is good - lots of bourbon and chocolate
T: The lack of explosion in aroma is made by an explosion in taste. You get a lot of flavor the instant it touches your mouth. Huge dark chocolate, bourbon and oak.
M: Ultra mega thick. The mouthfeel of a 15% stout without the extra booze. I love it!
O: I drank this one first expecting the Apple Brandy version to beat it out. I was surprised to find that the bourbon is at least as good if not better.
★
556 characters

4.25
/5
rDev
+1%
The beer pours an oily looking black with a golden/tan, tight knit head that laces. The nose is predominantly bourbon caramel forward, subtle yet distinctly woody, minimal alcohol. The taste is even smoother with chocolaty malt sweetness, some fruit/herbal flavors, and a slightly astringent, semi-sweet finish. It's lowly carbonated with a smooth bourbony sweetness, some gram cracker grain, and a woody, slightly astringent finish. Great beer, worth trying now.
★
463 characters
3.78
/5
rDev
-10.2%
look: 3.75 | smell: 3.75 | taste: 3.75 | feel: 4 | overall: 3.75
Appearance: Pours a fudge brown color with a wispy mocha head; while the retention is not great, it showers lacing after every sip
Smell: For a Bourbon barrel beer, this smells oddly like a red wine barrel with strong vinous and dark fruit tones complementing the chocolate, roast and smoke
Taste: The vinous tones dominate, bringing dark fruit along with the undertones of chocolate, smoke, caramel and Whiskey tones; after the swallow, the vinous elements build, almost port-like, though there is plenty of chocolate and a hint of smoke in the finish
Mouthfeel: Full bodied with low to moderate carbonation; some warmth in the gullet
Overall: Perhaps I got a bad bottle as nobody else seems to have had the same experience; I like the vinous tones but I am not sure that was intended
Thanks, Jlang2012, for the opportunity
★
829 characters

4.19
/5
rDev
-0.5%
look: 4.5 | smell: 4.25 | taste: 4 | feel: 5 | overall: 4
Bomber poured into a matching Westbrook snifter. The brew appears black in color with 2 fingers dark brown that fades to a finger of mocha froth. Some spotty patchy lace rests atop and a swirl revives a finger back to the surface.
The aroma contains notes of raw oak. Very woody with whiskey, coffee, earth, vanilla sweetness and caramel that impart almost a feeling like freshly baked brownies. There is a hint of oaked spice almost like cinnamon also present as the beer breathes.
The flavor has a lot of raw oak bordering on cinnamon spice. Plenty of neutral woodiness and a light cardboard-like touch of oxidation. Some earth, coffee, bitter chocolate, vanilla, caramel are present mid-palate. A bunch of earthen feel before a tangy bourbon finish that is boozy yet sweet and somewhat reminescent of that previously mentioned brownie batter aspect.
This is a medium to full bodied brew with a modest level of carbonation. It is rich, full and creamy smooth. The feel of this brew is pretty fantastic but it boasts seemingly too much neutral barrel character. Dare I say, its over-done with raw wood and oxidation.
★
1,120 characters

4.31
/5
rDev
+2.4%
look: 4 | smell: 4.25 | taste: 4.5 | feel: 4 | overall: 4.25
Bottle shared by me at Bob's tasting.
Pours a dark, ink-like black, with a half inch mocha head, and only a small amount of lacing down the glass.
Smells like vanilla, coconut, chocolate fudge, and bourbon.
The taste is similar. Very sweet, with sweet smooth bourbon, some vanilla, a little bit of coconut, and decadent chocolate flavors- tastes like fudge and brownie batter. Some roasted malt flavors are there, but the bitterness from that is washed away by how sweet it is. Stops just short of being cloying, though.
Medium bodied, could be a little thicker, I think. Almost no carbonation. Smooth, creamy mouthfeel.
Westbrook continues to wow me, I can't wait to try the apple brandy version.
★
702 characters

4.2
/5
rDev
-0.2%
look: 3.75 | smell: 4.25 | taste: 4.25 | feel: 4 | overall: 4.25
Big thanks to DocJ007 for sharing this one with us last night.
A - Pours mostly black with a nice one and a half finger tall tan head, quickly dissipating down to a light film, leaving small webs of lace on the sides of the glass.
S - Smells of vanilla, oak, cocoa, dark fruits, caramel, toffee, bit of coffee, oak, smokey dark roasted malt and the warm bourbon. A bit rough around the edges but still quite nice.
T - Starts off with a mix of sweetness; mainly the caramel, toffee, vanilla, cocoa and dark fruits; quickly being joined by the smokey dark malt, coffee, oak and the warming bourbon heat. Finish is smokey with some light sweetness, combining with the bourbon booze burn to linger long after the finish.
M - Big body with moderate carbonation. Smooth feel, could use a little more carbonation tho. Much like the other version the 11% is hidden quite well.
O - I enjoyed this one. It has most of the flavors I love in a stout and the bourbon isn't over the top. It has some rough edges that should round out with a bit more time in the bottle. Not as good as the AB version but still quite good.
★
1,112 characters

3.65
/5
rDev
-13.3%
look: 4 | smell: 4 | taste: 3.5 | feel: 3.5 | overall: 3.5
650 mL bottle poured into a snifter.
Appearance - Inky black. Nice mocha head. Thin collar.
Smell - Not a ton of bourbon, but it's got a bright whiskey aroma. Vanilla. Sharp whiskey. Dark chocolate.
Taste - Dark chocolate and fudge. Sweet. Caramel. Sharp whiskey. Astringent oak. Nutty odd oaky finish.
Mouthfeel - Heavy. Medium low carbonation.
Overall - I expected to like this better, but it's not any better than the Apple Brandy. I don't love the barrel again, but it's a good base stout.
★
498 characters
3.26
/5
rDev
-22.6%
look: 3.5 | smell: 3.75 | taste: 2.75 | feel: 3.5 | overall: 3.5
22oz bottle shared with a friend
A: Dark Chocolate brown, thin off white head,
S: Smoky, molasses, cedar
T: Campfire ash especially as it warms, smoked malts, leather, raisins, fig, bourbon heat that is stronger cold but mellows as it warms
M: Thin to medium body
O: It's an okay BA smoked stout. Not in the same stratosphere as any of the BAMC variants, and more reminiscent of Bo and Luke than Mexican Cake.
★
415 characters
4.18
/5
rDev
-0.7%
look: 4.5 | smell: 4 | taste: 4.25 | feel: 4 | overall: 4.25
A- Pitch black, non-transparent with thin coffee lacing and barely any legs.
S- Barrel, burnt toffee, burnt caramel and charred dark fruits.
T- This tastes like a much thinner version of Assassin/UJS. The barrel is forefront, some bourbon soaked graham cracker, burnt toffee and caramel. Has a mild burnt aftertaste.
M- Really thin for me, almost CW Bourbon barrel stout thin. Smooth with little to no carb. Edit: Deeper into the bottle is was a bit thicker
O- I can see how some people would like this a lot; but that mild burnt aftertaste and the mouthfeel turn me off just a bit. Next up the Apple Brandy version; hoping for a better outcome with that one.
★
665 characters
4.54
/5
rDev
+7.8%
look: 4.5 | smell: 4.25 | taste: 4.75 | feel: 4.5 | overall: 4.5
Pours a deep burnt black with brown highlights and a tan head. Minimal lacing.
The smell is notes of chocolate, oak, roast, and bourbon. A bit muted compared to the apple brandy.
Flavor is huge roasted malt with notes of chocolate and oak. Lots of bourbon, but not so much as to detract from the base.
Mouthfeel is thick and viscous with medium carb.
Very well done, and while it doesn't have the nuances of the apple brandy, it stands up on its own as a stellar example of the style. Westbrook continues to amaze.
★
518 characters
Siberian Black Magic Panther (Bourbon) from Westbrook Brewing Co.
90
out of
100
based on
15
ratings.