Extra Pale Ale
| Almanac Beer Co.
BA SCORE
81
good
33
Reviews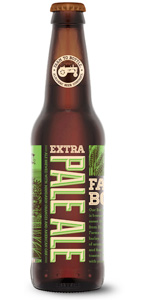 BEER INFO
Brewed by:
Almanac Beer Co.
California
,
United States
|
website
Style:
Belgian Pale Ale
Alcohol by volume (ABV):
6.00%
Availability:
Year-round
Notes / Commercial Description:
Our Belgian-style Extra Pale Ale is brewed with heaps of sweet Mandarin oranges from Blossom Bluff Farms and California two-row barley. We dry-hop with generous doses of aromatic Cascade and Columbus hops and finish the beer with a hint of lightly toasted American oak. Enjoyed best with your favorite seasonal fare.
Added by drgarage on 08-23-2012
Reviews: 33 | Ratings: 155
3.62
/5
rDev
+2%
look: 3.5 | smell: 4 | taste: 3.5 | feel: 3.5 | overall: 3.5
Poured a small white head with pretty good lacing, retention left a bit to be desired. Colour was a surprisingly dark medium brown amber colour.
S- an upfront maltiness with a lot of light fruitiness. Strong orange character, a bit of earthy character. Hops has a strong citrus fruity character. Pretty good.
T- an initial sweetness, then more orange oily bitterness. Maltness is lightly toasty, somewhat light. Hops are there more toward the end, lots of fruity, vegetal character. Flavourful, but could be more balanced and a bit more crisp to it. Finish is mildly bitter and holds on, but tastes a bit messy and mineraly.
M- carbonation is moderate, light body, pretty refreshing, though seems a bit minerally on the end. Could be more crisp. Works decently well, balance is not bad, could be better to be more sessionable.
A good beer, glad I picked it up. A definite diversion on the style, not exactly pale, and also has oranges, which work remarkably well, though not amazingly; leaving the beer a bit unbalanced toward the orange side. Still worth checking out.
★
1,073 characters
4
/5
rDev
+12.7%
look: 4 | smell: 4 | taste: 4 | feel: 4 | overall: 4
A: Pours a translucent amber with a fair amount of off-white head. The foam dissipates to a solid blanket over the surface and leaves lots of lacing.
S: Lightly sweet and grassy, with a touch of yeast.
T: Sweet with a strong bitter hop note underneath. The balance is pretty nice.
M: Medium body, medium carbonation.
Overall, a solid but not really exceptional hoppy American pale.
★
385 characters
3.73
/5
rDev
+5.1%
look: 4.5 | smell: 4 | taste: 3.5 | feel: 4 | overall: 3.5
A - pours a beautiful dark orange hue with a 2 finger head that sticks around for quite a while.
S - candied sugar, apple, lemon zest
T - lemon zest, dark fruit, Belgian yeast,deep bitterness on the back end.
M - thick with ample carbonation
D - decent brew. Definitely worth a try.
★
286 characters

3.24
/5
rDev
-8.7%
look: 2.5 | smell: 3.5 | taste: 3.5 | feel: 2.5 | overall: 3
A - Deep, semi-hazy copper. Thin white head, big bubbles, almost no lace, ok retention.
S - Apricot, lemon zest, apple skin, wheat.
T - Green plant stem bitterness, yellow peppers, bok choy, touch of malt.
M - Light frame, relatively light carbonation.
O - Fairly one demential. The flavors focus on a green bitter note, which isn't bad, but there isn't much else.
★
368 characters

4.32
/5
rDev
+21.7%
look: 4 | smell: 4.5 | taste: 4.5 | feel: 4 | overall: 4
A - Pours a clear golden-orange with a finger of frothy white head. The head fades down at a normal pace leaving behind some nice lacing.
S - Aroma is a mix of grapefruit, pineapple, and pine hops with citrus zest, sweet caramel malts, and some oak.
T - Starts off with a mix of grapefruit and citrus hops with some bitterness, orange zest, and sweet caramel malts. Through the middle, some pine and grassy hops come through with some more bitterness, some oak, and a touch of bready malts. The finish is a mix of sweet caramel malts, citrus zest, citrus and pine hops, bitterness, and some oak.
M - Medium bodied with moderate carbonation. Feels smooth with a dry and bitter finish.
D - Very drinkable. Really nice APA with a good hop profile and some nice complexity added by the oak.
★
790 characters

2.46
/5
rDev
-30.7%
look: 4 | smell: 3 | taste: 2 | feel: 2 | overall: 2.5
Appearance: The body is an attractive clear filtered gold. Pours with two fingers of lasting head.
Smell: Pretty yeasty, like a hopped up (and fruited) Belgian pale ale. Brings to mind orange flavored hard candy. Some chalkiness is present, presumably from the yeast, and plenty of zesty citrus. There's a touch of oak in here, too, which brings a note of vanilla that works well with the strong orange presence. This feels a bit muddled with so many different elements, but to it's credit there aren't any overbearing qualities either.
Taste & mouthfeel: Drying, somewhat astringent citrus rind flavor up front. The punchy hop bitterness and oak intensifies this effect. It's plenty yeasty, too. Chalky, phenolic, peppery, this has a bit of a farmhouse yeast quality to it. While the aroma is decent, I'm not a fan of this beer on the palate. The combination of heavy-handed bittering hops, oak and pithy orange creates a wearying astringency that beats the tongue down after half a glass.
Overall: OK stuff. It has potential, but the recipe needs some work.
★
1,062 characters

3.7
/5
rDev
+4.2%
look: 4 | smell: 4 | taste: 3.5 | feel: 4 | overall: 3.5
From what I read on the bottle, this is more of a Belgian style ale.
Overall, I find this a consistent beer, though it could use a boost in the flavor department. Kind of inky and Earthy, with minimal fruit tones showing. There are mandarin oranges in this? I can hardly tell. Whatever is there seems overpowered by the earthy tones from what seem like malts and the minimal spices from hops. The bottom line is this is a decent ale, but not really doing a whole lot for me. I have something in the back of my mind telling me that Almanac beers seem to be tasting the same, and at this point, I have tried them all.
★
617 characters
3.8
/5
rDev
+7%
look: 4 | smell: 4 | taste: 3.5 | feel: 4 | overall: 4
Enjoyed from the bottle on first day of availability.
A: Starts a pale gold but veers orange as more volume enters the glass. a healthy two finger head recedes to a 1/2 finger of foam with reasonable lacing around the top. Tiny bubbles rise to the surface consistently.
S: Big C hops! Cascade and Columbus, specifically. A little bit of spice and other citrus, as well. Might be orange, but I don't want to say that, because I knew it was made with mandarins before hand.
T: Nice hit of hops -- the kind of powerful pale ale intro at the outset I've been missing since my last Zombie Dust. Nice, dry finish. Definite strong orange flavors, finishing bitter -- maybe rind or pith? Very interesting, and I keep going back for more, but the finish holds me back from pushing this up to a 4.0.
M: Great, effervescent pale ale mouthfeel. Prickly carbonation, nice dry finish (though still sweeter than a saison).
O: This is a really impressive beer. Like a lot of people, I've been a bit disappointed in many of Almanac's early entries -- precisely because their concepts and designs held so much potential (though I did love the Winter Wit, I must say). That said, I think this is my favorite beer they've produced, and I'm thrilled that it's year-round and just $10-11 a 4-pack. Definitely drink it fresh -- too bad there's no dating yet. Hope that's on the way. It is clear this just got bottled, though.
★
1,418 characters
Extra Pale Ale from Almanac Beer Co.
81
out of
100
based on
33
ratings.