Dismiss Notice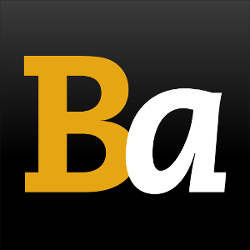 Site Performance Updates: We're aware of the nightly site outage, and working on resolving the issue.
Crooked Stave Raspberry Origins
| Crooked Stave Artisan Beer Project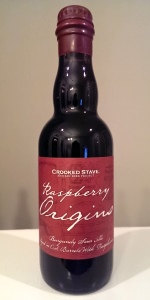 BEER INFO
Brewed by:
Crooked Stave Artisan Beer Project
Colorado
,
United States
|
website
Style:
American Wild Ale
Alcohol by volume (ABV):
7.00%
Availability:
Rotating
Notes / Commercial Description:
No notes at this time.
Added by funkyaudio on 05-29-2014
Reviews: 14 | Ratings: 188
4.6
/5
rDev
+8.2%
look: 4.5 | smell: 4.5 | taste: 4.75 | feel: 4.5 | overall: 4.5
Appearance: Arrives the color of raspberry jam with a frothy mauve head that hangs around and coats with lace
Smell: Raspberry jam with undertones of burgundy wine and oak
Taste: Raspberry jam and burgundy wine forward, with oak building; sourness builds through the middle, in a rather acetic direction; the finish is exceedingly dry with the fruit lingering
Mouthfeel: Medium body with moderate carbonation; puckering
Overall: Tremendous depth of flavor with the wine barrel treatment
★
495 characters

4.28
/5
rDev
+0.7%
look: 4 | smell: 4 | taste: 4.5 | feel: 4.25 | overall: 4.25
375ml dated December 2015 into a stemless wine glass.
Deep purple with crimson highlights. Appearance that mimics a pinot noir or cab with no transparency. A tiny bit of foam around the edges. Becomes pretty still while resting in the glass.
Raspberry jam on the nose at first, moves a bit into grape skin and a fresh vinous aroma. A touch of berry seeds and oak on the finish.
Opens with jammy raspberry flavors. Boysenberry and a bit of plum becomes apparent. Currants then a touch of leather, with some berry seeds and oak. Amazing flavors in this.
Medium bodied with a hint of carbonation. Somewhat sticky.
A decent nose of raspberry and oak, with a lot of flavor to back it up. While this beer isn't incredibly complex, it does showcase raspberry and wine flavors incredibly well.
★
790 characters

4.05
/5
rDev
-4.7%
look: 3.75 | smell: 4.25 | taste: 4 | feel: 4 | overall: 4
Poured from a 375 ml bottle dated December 2015 into a goblet.
A - Deep ruby colored backdrop, A skateboard punk pink cap borders on neon. Great appearance, mild carbonation keeps a ring of evidence. Laced gently, spot after spot.
S - Huge fruit nose, summer berries, and citrus with lychee, grape skin. A rise in temperature releases, young pinot noir, warm clean oak, milk chocolate. The aromatics are incredibly complex.
T - WOW, where to start, first pass, is all that fruit, raspberry, red grape character leads to a smooth barrel aged sour with subtle minerality, soft oak, lemon rine, and red wheat graininess. The offering glides between flavors, blending with the bacteria and yeast. Simply amazing
F - The tongue recoils at first impact, sour, tart, then after the introduction. A mutual accord and then friendship, adoration. The dry finish is quite a surprise based on the start. The core of the experience is fresh fruit, sour malts and a delightful roll out. The linger is epic and mouth watering.
O - What a treat, the berries start strong then with time the underlying offering reveals a barrel aged sour that stands on its own.
Cheers
★
1,153 characters

4.4
/5
rDev
+3.5%
look: 4.5 | smell: 4.5 | taste: 4.25 | feel: 4.5 | overall: 4.5
The aroma offers raspberry jam, crushed berry sees, along with some toasted oak notes.
The flavor follows with the flavor of raspberry seeds as similar when fresh raspberries are eaten. Tart qualities come through as the malt body and some oak lingers on the finish.
★
267 characters

4.35
/5
rDev
+2.4%
look: 3.5 | smell: 4 | taste: 4.5 | feel: 4.75 | overall: 4.5
My first from Crooked Stave. Which, up until about a week ago, I always misread as "Crooked Steve." So there's that. That's a neat tidbit.
Pours like a goddamn root beer. A tremendously dark red with soda pop fizz and no head of which to speak.
Smells mad tart but also one-dimensional. Huge raspberries and a tiny bit of oak. As it warms up, however, some light spiciness comes into play, as well.
Up front, the flavor is very tart, juicy, and acidic. The acidity and tartness never go away, but the juicy fruitiness gives way to a wonderfully variegated middle with nodes of jam, dark barley, and spice, finishing sweet and lactic without the intense, puckering dryness you encounter in similarly adventurous sours.
★
728 characters

4.33
/5
rDev
+1.9%
look: 3.5 | smell: 4.25 | taste: 4.5 | feel: 4 | overall: 4.5
Thanks to mrbubbler for sharing this one at his tasting.
2014 vintage. Bottled 2/2014.
Pours an opaque super dark crimson-brown with a foamy tan head that settles to a partial film on top of the beer. Foamy streaks of lace form around the glass on the drink down. Smell is sour with malt, raspberry, cocoa powder, acidic, and slight wood aromas. Taste is much the same with sour raspberry, raspberry juice, acidic, wood, and slight cocoa powder flavors on the finish. There is a mild amount of acidity on the palate with each sip. This beer has a good level of carbonation with a crisp mouthfeel. Overall, this is a very good beer with awesome sour raspberry and cocoa characteristics all around.
Serving type: bottle.
★
721 characters
4.53
/5
rDev
+6.6%
look: 4.5 | smell: 4.5 | taste: 4.5 | feel: 4.75 | overall: 4.5
375ml bottle sealed with burgundy red wax and a pressure cap.
bottled Feb/2014
poured into CS tulip glass.
Appearance: deep red bodied beer with a brown hue. Dirty white head that has a red hue to it. Head pours 2 full fingers tall and leaves thick lacing on the side of the glass. Head is thick and creamy composed of many tiny and compact bubbles. Head has some staying power and retains a thick cap on top of the beer.
Smell: Tons of raspberry in the nose. Musty funk. Nose does not do this beer much justice.
Taste: full on sourness and very jammy raspberries collide as the opening flavors dominating this beer. Wet oak and moderate funk in the middle of the beer. The beer expresses some spiciness and a minute hint of booze as well. Finishes with even more juicy raspberry flavor and more sourness.
Mouthfeel: medium bodied sour with low carbonation. Creamy and velvety mouthfeel. Semi dry finish. As sour as this beer is it interesting that it is not extremely dry. This drinks really easily considering the intense flavors. Its honestly a paradox, but works extremely well here.
Overall: What a way to take Origins to the next level. I think raspberry origins is almost as good a Raspberry Dark Origins which is one of my all time favorite Crooked Stave sours. The raspberry is very intense and the jamminess of raspberries are as big as the sourness of this beer. Superb mouthfeel displayed by this sour and it remains drinkable while having an intense flavor profile. The raspberries really push the boundaries of almost being to much fruit in this sour beer. Slightly surprised to be saying this when this beer was bottled in February/2014.
★
1,671 characters

3.06
/5
rDev
-28%
look: 3.5 | smell: 3 | taste: 3 | feel: 3.25 | overall: 3
375ml poured into a teku. The brew is a reddish mahogany color with a finger of pinkish head that fades leaving spotty lace.
The smell includes minerals that to me is perceived like a handful of dirty pocket change with some earth and funk. A grassy and seedy raspberry character is present behind the not so enjoyable opening.
The taste is tart with unripe raspberry, earth and funk with some neutral woody character. Minerals and carbonics blend to make almost a meaty feel to this which I kinda dislike. As it warms up, it gets slightly bitter.
This is medium bodied and moderately carbonated. It is sour and interesting but has some unpleasant character to it as well. I would skip on having this again though I appreciated the chance to give it a try.
★
760 characters

4.43
/5
rDev
+4.2%
look: 4.25 | smell: 4.25 | taste: 4.5 | feel: 4.5 | overall: 4.5
enjoyed side by side with a blackberry dark origins and an origins batch 3...the rasp was enjoyed from a crooked stave tulip.
a - more cherry red looking than the blackberry but fairly close in color to the original...this one, however boasts a generous cream colored head and some streaky lace.
s - nose is also closest to the original not carrying the whiskey of the blackberry, but definitely sings of raspberry over the original...fairly juicy.
t/m/o - way more tart than the original and the raspberry really compliments the beer in a nice way. raspberry is very fruity and juicy and works well on the beer...fairly sour, but not mouth puckering and extremely easy drinking and approachable. another great gateway sour since the juiciness of the fruit really works well with the burgandy base. phenomenal beer.
★
821 characters
4.44
/5
rDev
+4.5%
look: 4.25 | smell: 4.5 | taste: 4.5 | feel: 4 | overall: 4.5
every bit as good as cherry origins, and one of my favorite of the cellar reserve series. almost blood red in color, the head is stained too, intense looking brew to say the least. the raspberry is really forward in this, and way more tart than sweet, playing well with the burgundy malt base of this beer, and only exacerbating and enhancing the already extremely sour finish. its never really fruity exactly, which is cool, but the raspberry is very forward in this. its hard to explain, but the berry is assimilated into the base beer seamlessly, it doesnt seem forced in any way at all. quite a lactic finish to this thing, citric acidity too, and less funk than other crooked stave beers, this one is all sourness and pucker, dry and harsh a little in the finish. i like that its a red sour that avoids the vinegar hit of the flanders style, my palate prefers this type of bacterial integration much more. the berries give it life, and both this and the cherry edition take regular origins to the next level. truly astounding beer.
★
1,036 characters

4.1
/5
rDev
-3.5%
375 mL bottle poured into a snifter.
Appearance - Deep reddish brown. Nice white head. Thick collar.
Smell - Intense spicy oak. Nice raspberry. Vanilla and acidic.
Taste - Raspberry, but it isn't that sweet. Spicy wood and vanilla. Raspberry persists. Some deep caramel malts blend well with the sour raspberry flavor.
Mouthfeel - Nice tartness. Medium body. Well carbonated.
Overall - The raspberry is almost too intense, but everything else balances it out really nicely. Superb beer.
★
499 characters

4.22
/5
rDev
-0.7%
look: 4 | smell: 4.5 | taste: 4.25 | feel: 3.5 | overall: 4.25
From a 375 ml bottle (bottled February 2014) to a tulip.
A-A normal pour produces about one finger of head that fades quickly to a sparse cap. The foam is tan with a pinkish hue. The beer is nearly opaque with ruby/garnet coloring. No lacing.
S-The aroma is a very tart. I smell big doses of raspberry, as well as cranberry and white grape. There is a bit of oaky dryness and funk, as well as something that suggests bitter almond flavor. Also some vinegar. It is complex and inviting.
T-The taste tracks the smell pretty closely. The raspberry fruit is bright, tart, and intense. I also pick up cranberry, sour cherry, vinegar, white grape, and a bit of oak. This beer is certainly sour, but not mouth-puckering.
M-The feel is a bit off for me. It is medium in heft with a watery constitution and fine carbonation.
O-This is a very solid beer and a close competitor for Raspberry Dark Origins. The fruit shines here because it is not over-the-top in either sourness or sweetness, but the flavors manage to be intense and complex nonetheless. This is not Atrial Rubicite, but part of me likes this more because I could drink more of this without getting fatigued.
★
1,169 characters

3.96
/5
rDev
-6.8%
look: 4.25 | smell: 3.75 | taste: 4 | feel: 4 | overall: 4
Dark maroon pour, topped with a wispy layer of off white bubbles that rejuvenated with a swirl and left a few strands of lace on the glass. Lacto aroma, raspberry, lemon, red wine, yogurty, with hints of acetic acid. Tart raspberry in the taste, sour vinegar notes, but nothing out of control, lemony lacto, notes of leather and yogurt. Medium body, prickly mouthfeel. Not quite as good as the Dark Origins version, but still a tasty sour.
★
439 characters
4.48
/5
rDev
+5.4%
look: 4.5 | smell: 4.5 | taste: 4.5 | feel: 4.25 | overall: 4.5
Homer time!
A- Very dark raspberry in color. Almost comes off black when not put up to the right light. Then the deep dark raspberry hue shines. Minimal coffee lacing with pretty good legs.
S- Raspberry/cherry and the burgundy base sour are 50/50. Tart lactic acid, but very nice dark deep raspberry nose.
T- Again, the raspberry (minus the cherry in the nose) and burgundy base beer are in perfect proportion. Nice acidic bite at the end.
M- A bit thin for me. My raspberry standard is Batch 1, but they were not trying to recreate that beer. They should recreate that beer.
O- A very well done raspberry sour. A bit diff style than Atrial, but I like this more.
★
672 characters
Crooked Stave Raspberry Origins from Crooked Stave Artisan Beer Project
90
out of
100
based on
14
ratings.