Dismiss Notice
Get FREE shipping on all US orders of $25 or more from the BeerAdvocate Store.
No promo code required. Offer valid through 4/30.
Ready to gear up? Start shopping →
Origins
| Crooked Stave Artisan Beer Project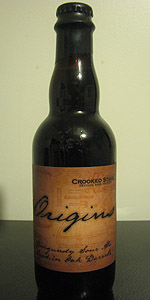 BEER INFO
Brewed by:
Crooked Stave Artisan Beer Project
Colorado
,
United States
|
website
Style:
American Wild Ale
Alcohol by volume (ABV):
6.50%
Availability:
Rotating
Notes / Commercial Description:
No notes at this time.
Added by Mebuzzard on 01-25-2013
Reviews: 63 | Ratings: 536
4.08
/5
rDev
-2.9%
look: 4.25 | smell: 4.25 | taste: 4 | feel: 4 | overall: 4
L - black/plum color, off white head with plum tinge, attractive lacing
A - sour/salty, fig, lime, dark fruit
T - prune or plum, cherry? dried fruits
F - light bodies (not thin), dry, and sour
★
195 characters

4.57
/5
rDev
+8.8%
look: 4.75 | smell: 4 | taste: 4.75 | feel: 4.75 | overall: 4.75
Lucked out with new tasting room schedule and visited on Sunday. guy working there was super friendly and really knew his stuff. He ended up giving us a tour to show us the new mega sized wine barrels they bought from wineries in NorCal. He also gave me some great recommendations for taprooms in Denver. Makes me wish I lived in Denver so I could join their club.
Now to the beer. I am a huge fan of Sours and the Burgundy Sour was impressive. Best Sour I have ever had outside of the Russian River collection. I have high expectations of this brewery as they expand operations. Hopefully this means more distribution towards the Pacific.
★
641 characters

3.8
/5
rDev
-9.5%
look: 4 | smell: 4 | taste: 3.75 | feel: 3.5 | overall: 3.75
March 26, 2015
375 ml bottle, snifter
A – Deep copper-red, a touch of mahogany and brown, with high clarity. An inch of head, large bubbles mostly, off-white to light tan, with low retention.
S – Lactic acid, sour and tart, and fruit punch aroma is prominent. Some light complementary barnyard, Brett funk, and souring acetic acid, though no impression of vinegar. A slightly viny, vegetal component. Malt might be light chocolate, a bit of toffee, but mostly hidden along with the hops.
T – Lactic acid / lactobacillus, moderately tart and puckering, with high acidity on the finish and aftertaste. Some sweet fruit, again resembling fruit punch, with cherry or grape juice notes. Malt character is very low, some bready-sweet and light chocolate, no discernible hop flavor.
M – Light and thin, with low carbonation. Mild puckering tartness and acidic on the finish. More sweet and sugary, very low bitterness.
O – A pleasant sour, no major flaws, but not particularly remarkable.
★
1,008 characters

4.24
/5
rDev
+1%
look: 4 | smell: 4.25 | taste: 4.25 | feel: 4.25 | overall: 4.25
Felt compelled to review because this is the first sour I've ever enjoyed/finished. I think it's the oak that is very prominent in the nose and taste. Sourness comes through in the finish.
★
190 characters

4.2
/5
rDev 0%
Batch 3, dated April 2014.
Malty with cherry tartness, vinegar and lacto sourness.
A tasty and well balanced sour. Good but not great. A bit young tasting right now, could develop well with some age.
★
201 characters
4.37
/5
rDev
+4%
look: 4.5 | smell: 4.25 | taste: 4.5 | feel: 4.25 | overall: 4.25
On tap at Crooked Stave. Poured a beautiful ruby color with small white head in to a CS snifter.
Nose is light with dark fruit notes and vinous aromas as it warms. It has light fruited flavors of strawberry, cherry and zin fruit grapes, along with some oakiness on the finish. Mouthfeel is soft and sessionable. for a wild ale / sour...
This was very balanced and light on the sour characteristic I expected would grab me. Could drink dangerous amounts of this. =)
The CS gang told me it was aged for 12 to 18 months on wood and made from a blend of batches Chad had been saving for this project.
Also told it will likely be bottled - so get some. Good stuff.
★
666 characters

4.1
/5
rDev
-2.4%
look: 4 | smell: 4.5 | taste: 4 | feel: 3.75 | overall: 4
I was lucky to get this as an extra in a trade. My first from Crooked Stave.
Pours out reddish brown.
It smells sour, tannic and also some wood comes through.
Taste is pretty complex, I noticed red fruit, lemon sourness and malty almost chocolate like flavors.
Overall it´s a delicious dark sour beer with so many nuances that it shouldn´t work....but it does.
I instantly retraded for a bunch of CS beers of the back of this one.
★
435 characters
3.69
/5
rDev
-12.1%
look: 3.75 | smell: 4 | taste: 3.5 | feel: 3.5 | overall: 3.75
Batch 4, 11/2014, consumed 1/31/16. Aged room temp, consumed 50F
A: dark brown, opaque red highlights, wispy khaki colored head that quickly dissipates.
S: a little muted at first, may have been a little cold. Once it warmed get a lot of of tart dark fruit- red apple and cherry skins, sour plum, malt, caramel, wood
T: Tart upfront but there balanced by some sweet. Sour dark fruit continues with red apple, sour cherry, slight fig notes. Also some sweet caramel and wood. The flavor was a little muddy when cold, but felt more integrated with bright fruit flavor as it warmed up. Some wood notes towards to the finish.
M: Medium, a little carbonation at first but flat by the end of the glass
O: Decent flanders style / sour brown ale but nothing special. I wish the tart fruit flavors were brighter, but this may be related to aging. Compared to some of the my favorite beers in this style (La Folie, Rodenbach grand cru) the flavor was a little muddy and lacked barrel character.
★
988 characters

3.84
/5
rDev
-8.6%
look: 4 | smell: 4.25 | taste: 3.75 | feel: 3.75 | overall: 3.5
375ml purchased for $12 at the brewery. Poured into a tulip.
This is an average-to-good sour in my book. It pours a dark ruby red/burgundy color as expected. Decent head at first that dissipates quickly. This beer smells better than it tastes: vinegary sourness backed up by a prominent oak undertones. Taste is similar - it's not quite as mouth-puckeringly sour as some beers on the market, but it's definitely a sour beer. My biggest complaint is that the beer seems fairly one-note: vinegary sourness with fruit on the front end with a tiny bit of oak lingering in the background. As you sip through the bottle, the characteristics of the beer really don't change, develop, or meld together to create an exceptional beer. This is one of Crooked Stave's "base beers" and you can tell.
I think my biggest problem with this beer is the price: $12 for 375ml - equivalent to $24 for a 750ml bomber. It's simply not good enough to warrant the price. For that price point, Cascade, Russian River, and Bruery are all producing better sours.
One caveat: the raspberry bourbon barrel aged version of this beer is EXCEPTIONAL - the best beer I've had in 2013.
★
1,156 characters
4.5
/5
rDev
+7.1%
look: 4.5 | smell: 4.5 | taste: 4.5 | feel: 4.5 | overall: 4.5
I always enjoy trying a Crooked Stave brew for the first time and this one was an exceptional treat! The burgundy flavor is so perfectly wrapped in the sour. Just fantastic.
★
175 characters
4.41
/5
rDev
+5%
look: 4.25 | smell: 4.5 | taste: 4.5 | feel: 4.25 | overall: 4.25
Pours a very dark mahogany with a thin head that quickly disolves almost like a sparkling cider. Lots of sour fruit taste which is outstanding. Can definitely taste the barrel flavor with a red wine type finish. Overall this is a fantastic sour
★
244 characters

4.23
/5
rDev
+0.7%
look: 4.25 | smell: 3.75 | taste: 4.5 | feel: 4.25 | overall: 4.25
375mL bottle poured into Teku glass
Pours nearly black despite it being a "burgundy sour." Aroma is a touch cloying. Lots of acidity throughout the taste with some good oak character and hints of cherry.
More oak and fruit comes out as it warms.
★
248 characters
4.68
/5
rDev
+11.4%
look: 4 | smell: 4.75 | taste: 4.75 | feel: 4.5 | overall: 4.75
Pours clear, deep burgundy in color, moderate carbonation. Smell is fruity/citrusy, reminds me of lemons and black currant. Taste is out of this world, perfect level of sour and tartness, hints of citrus and berries with a surprising hoppiness at the end. Would buy over and over, absolutely worth $16 for just under 13 oz.
★
323 characters
Origins from Crooked Stave Artisan Beer Project
92
out of
100
based on
63
ratings.