Mutton Buster
| Payette Brewing
BA SCORE
84
good
11
Reviews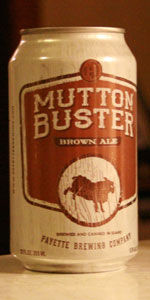 BEER INFO
Brewed by:
Payette Brewing
Idaho
,
United States
|
website
Style:
American Brown Ale
Alcohol by volume (ABV):
5.50%
Availability:
Year-round
Notes / Commercial Description:
The Mutton Buster combines a roasty flavor with notes of chocolate and nuttiness that creates a full flavored brown ale. While it is malt focused, there is mild hop bitterness with an earthy hop flavor. The Mutton Buster may be dark in color and heavy on the malt flavors, but it is sessionable enough to have a few any time of the year.
25 IBU
Added by isualum12 on 12-31-2011
Reviews: 11 | Ratings: 40
3.96
/5
rDev
+7.9%
look: 4.5 | smell: 4 | taste: 3.75 | feel: 4.25 | overall: 4
I bought a variety pack from this brewery at a local grocery store, and this is the first out of the box. I like the can and the name. I drank this one out a pilsner glass.
The Look-The beer is a beautiful dark nut brown that is translucent with constant rising bubbles. The head is very appealing. It starts at about 1/2" high and settles to about 1/4" and holds steady. It is a slight tan head that is very frothy and has lacing that sticks to the glass the whole way through.
The smell is pleasant and mild. It is slightly bitter and definitely malty. There is a hint of coffee about the aroma that is rather enjoyable.
The taste is also mild. The malt is present and there is a bitterness that clearly tells you that this is an ale. It is not a strong tasting beer at all. The brew should be allowed to warm a little to bring out its full flavor.
The feel is smooth and creamy. There is a lingering bitterness that leaves a hint of the hops on the back of the mouth. The body is not watery, but not quite syrupy. There is a discernible viscosity that fits somewhere in that range.
Overall, I would drink this beer again. This would be an excellent beer for someone who is just starting to move into ales. It won't overpower the tongue and will give an idea to the new drinker on how ales differ from lagers in taste.
★
1,326 characters

3.48
/5
rDev
-5.2%
look: 4 | smell: 3.5 | taste: 3.5 | feel: 3.5 | overall: 3.25
Kind of bland brown ale, watery mouthfeel. Looks good, with nice creamy beige head on brown body. taste is sweet, but short, nothing lasts to remember it by. Easy to drink, but so is water. Re-rate 11/9/2015. I have a better grasp on the style now, and this is pretty good. Learning new things every day....
★
307 characters

3.04
/5
rDev
-17.2%
look: 3.25 | smell: 3 | taste: 3 | feel: 3.25 | overall: 3
Dark amber/lite brown pour with off white head; good lacing and carbonation. Semi sweet malt nose and flavor; didn't find the chocolate or earthy hops as advertised. Lite mouthfeel. Overall, a brown ale lite on flavor - ok easy drinker.
★
236 characters

3.83
/5
rDev
+4.4%
look: 3.75 | smell: 3.75 | taste: 4 | feel: 3.5 | overall: 3.75
One of my favorite browns in a can. An unsweetened toasted mocha flavor from the malt and a very subtle bitter undertone on the finish. The texture falls a little flat quicker than most, but this beer goes down quick and your beer will be gone before this happens.
★
266 characters

4
/5
rDev
+9%
look: 4 | smell: 4 | taste: 4 | feel: 4 | overall: 4
on draft. Long lasting thick tan head, nutty aroma. Flavor has dinner nice chocolate notes, with a touch of roast, almost like a porter, but not quite. Very pleasant overall
★
174 characters
3.67
/5
rDev 0%
look: 4 | smell: 3.25 | taste: 3.75 | feel: 4 | overall: 3.75
The Mutton Buster from Payette is a solid Brown Ale offering. The beer poured a clear brownish amber with thin white head that is leaving a nice lace. The scent is carries some dark bread tones with some maltiness. The taste was nice and even through the entire drink. Some of the caramel malt lingers on the tongue. The mouthfeel was medium in body with smooth carbonation. Overall it was quite taste and worth a try!!!!
★
421 characters

3.65
/5
rDev
-0.5%
look: 3.25 | smell: 3.75 | taste: 3.75 | feel: 3.5 | overall: 3.5
Poured two fingers of head on an almost clear brown colored body.
The aroma is nice roasted malt with a touch of pine.
The taste has a good balance of roasted malt, milk cream and a moderate bitter finish.
The texture is soft and creamy with moderate carbonation.
A solid brown ale.
★
283 characters
4.05
/5
rDev
+10.4%
look: 4 | smell: 4 | taste: 4 | feel: 4.5 | overall: 4
A: Pours a nice clear dark brown with a big frothy tan head on top. Head fades slowly leaving an almost solid wall of lacework left behind. Retention is nice, a little swirl brings it back to life easily.
S: Nutty with a bunch of toasted bread. A touch of caramel in there. Surprisingly aromatic for the ABV.
T: Very nutty, hazelnut perhaps? Sharp and bitter toasted bread - almost pretzel-like. Flash of earthy hops and then a hint of cocoa in the middle and towards the finish. Finishes with that earthy bitterness and toast that lingers between sips.
M: Medium bodied, super smooth and creamy. Amazing mouthfeel for 5.5% to be honest.
O: Wow, this is one impressive brown ale. Sharp and strong flavors for such low ABV. Wonderful mouthfeel that hits just right. Decently hoppy but nothing over the top, just enough to add an extra layer of complexity. Wish I could get this one locally.
★
894 characters

3.38
/5
rDev
-7.9%
look: 4 | smell: 3.5 | taste: 3.5 | feel: 3 | overall: 3
12 oz. can poured into a pint glass.
Appearance - Mostly clear brown body with a nice white head. Leaves some good lacing. Kinda gushed out of the can when I opened it.
Smell - Nutty malt aroma. A little bit of chocolate and just a flash of hops in the back.
Taste - Chocolate is more pronounced, but it still a very nutty brown ale. Nothing harsh about it. Maybe could use a hop bite in the back to balance out the malt, but it's nice.
Mouthfeel - It gets just a touch thin in the mouthfeel. I'm also missing a hop bite that would make it feel a little more crisp. Easy drinking, though.
Overall - Hey, it's not bad. My first Idaho beer, too. Clean, but maybe lacking in some diversity of flavors.
★
703 characters
4
/5
rDev
+9%
look: 4 | smell: 4 | taste: 4 | feel: 4 | overall: 4
Nearly brand new 12oz can, attractive packaging, poured into a Sam Adams Perfect Pint.
A:Pours a dark brown, nearly opaque at the top of the glass, with a transparent caramel tint at the thinner parts of the glass. Light off-white head recedes fairly quickly.
S: Malty aroma, sweetness and roastyness, bready notes, toasted grain, and nuts, with an earthy hop edge underneath.
T: Tastes just like it smells, smooth creamy malt, underlying caramel with chocolate and roast..there are suggestions of oak and even vanilla. Minimal hop presence.
MF: Moderate body, smooth and creamy.
O: A simple but drinkable and enjoyable brown. Browns aren't know to be 'full of flavor' but every different dimension of this beer if quite nice.
★
731 characters

3.66
/5
rDev
-0.3%
look: 4 | smell: 3 | taste: 4 | feel: 4 | overall: 3.5
Payette's first crack @a brown that I know of. I had this on tap at their tap room and at partilla grill down in Hyde Park in Boise.
Look- classic brown look. Lighter in color than many browns I have seen. No sustaining head but a little lace.
Smell- no smell at all that I could get.
Taste- medium flavor of Carmel and chalk. There is a little butterscotch lacing in there.
Feel- dry with a light feel to it. Medium carbonization
Overall this is an alright beer. It wouldn't be my first local choice but it is anise change.
★
536 characters
Mutton Buster from Payette Brewing
84
out of
100
based on
11
ratings.