Mont Des Cats Biere Trappiste
| Abbaye Mont Des Cats
BA SCORE
83
good
34
Reviews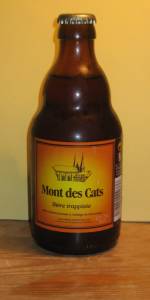 BEER INFO
Brewed by:
Abbaye Mont Des Cats
France
|
website
Style:
Belgian Strong Pale Ale
Alcohol by volume (ABV):
7.60%
Availability:
Year-round
Notes / Commercial Description:
No notes at this time.
Added by Klym on 07-27-2011
Reviews: 34 | Ratings: 115
3.31
/5
rDev
-10.1%
look: 4 | smell: 3 | taste: 3.5 | feel: 3.5 | overall: 3
I tried this at De Struise brewery a year ago. Some locals drove over the border and brought a bottle for the room to share.
To be honest, it was good, but not amazing. it was a relatively clean, light ale. Nothing overly memorable, but i wouldn't kick it out of bed in the morning.
★
283 characters

3.72
/5
rDev
+1.1%
look: 3.5 | smell: 4 | taste: 3.5 | feel: 3.5 | overall: 4
A: Amber, dark orange ale. Large head which disappears slowly into thin lacings.
S: Nice, fuity (citruses), some esters, typical Chimay yeasts.
T: Not as booming as other trappist ales, but quite well balanced between malty sweetness from caramel malts, fruity notes and yeasty taste. Light bitter aftertaste with quite a long finish.
M: Medium bodied with nice carbonation. Not too light. Just nice.
O: Not the best Trappist ale, for sure, but a well done, good , with its own particularities, refreshing beer.
★
515 characters

3.53
/5
rDev
-4.1%
look: 4 | smell: 3.5 | taste: 3.5 | feel: 3.5 | overall: 3.5
I bought this bottle yesterday in the Mont Cats shop when Matt (CRooney5787) and i were at Mont Cats. I have heard this beer is not very spectacular so it was time to try it.
Poured in my Struise glass this beer looks quit OK. Nice big head and a dark yellow to lightbrown fluid with nice tiny carbonation bubbles. Good start!
The smell is difficult to determine for me, at first i smelled some caramel and yeast.
Taste is not very spectacular, a bit sweet with a lightbitter twist at the end of each sip. Not gonnan buy a crate of this beer but i am glad i had it.
★
568 characters

3.35
/5
rDev
-9%
look: 3.5 | smell: 3.5 | taste: 3.5 | feel: 3 | overall: 3
Thanks Thorpe, a new Trappist beer. This beer should debunk the idea that just because you believe in God you can make a great beer. The two aren't related people.
Beer is brown and orange with a nice head, mostly clear, moderate carbonation. Eh, looks fine.
Aroma is mildly bready with some yeast, some malt, mild floralness.
Beer is sweet, way way sweet, heavy on the palate, yeast loses to the malt here. It is just too much I think, not horrible but an average beer at best. Oh well.
★
490 characters

3.06
/5
rDev
-16.8%
look: 4 | smell: 3 | taste: 3 | feel: 3 | overall: 3
Bottle shared by Thorpe429. Thanks Mike.
The beer is light orange / brown with a decent sized head and a fair amount of lacing left on the glass. The aroma offers malt, apples and assorted tree fruits, as well as sweet, sugary yeast. The flavor is a bit harsh and unbalanced. Too sweet, with ripe fruit presence a bit over the top. The newest Trappist ale is also the weakest. Perhaps this beer will improve in subsequent batches. Here's hoping.
★
446 characters

3.48
/5
rDev
-5.4%
look: 4 | smell: 3.5 | taste: 3.5 | feel: 3 | overall: 3.5
From the bottle at the De Heeren 20th Anniversary party during last week's trip to Belgium. Reviewed from notes.
Served in an Orval mini chalice.
Poured a moderate plum-brown color with a thick and foamy off-white head and some pretty good lacing on the way down.
The nose first brought forward quite a bit of brown-sugar-like sweetness without enough yeast character. It's clear from the start that this needed better attenuation. Mild caramel and a faint bit of dark fruit.
Body was too sweet and the finish too full.
On a side note, we had this again later in the week at the abbey cafe. That sample was too dry rather than too sweet, so there may be some inconsistencies at this point. Given that Chimay is brewing it, I imagine it could be recipe changes rather than brewing errors.
★
793 characters

3.71
/5
rDev
+0.8%
look: 4.5 | smell: 3.5 | taste: 3.5 | feel: 4 | overall: 4
33cl, label date 2013, purchased in Belgium.
The beer from the new French "Trappist brewery" is actually brewed by an old Trappist brewery, Chimay. No official "Authentic Trappist" logo on the label.
Pours a lightly cloudy reddish amber with a brilliant, voluminous off-white head. Great retention and lacing.
The aroma is bready, malty and yeasty, with some hops and spice.
The flavor is simple, with dry, toasted malts complemented by a lightly fruity Belgian yeast character. The finish is dry and pretty bitter. Slightest bit of plum and raisin. The mouthfeel is highly carbonated and somewhat creamy. Fine bubbles. Pretty easy to drink for a 7.6% ABV brew.
Is this really a Dubbel? Seems a little light body- and malt-wise for the style. I think Belgian Amber Ale might be more appropriate. Not bad.
★
809 characters

3.52
/5
rDev
-4.3%
look: 3 | smell: 3.5 | taste: 3.5 | feel: 4 | overall: 3.5
Looks to be about a 12oz bottle shared with Klym, a neat little pick up during his time in France.
Poured into small tulips.
A: Modest ¾ finger head rises like alka-seltzer foam in a violently carbonated fashion. The body is of a honey-orange hue, and is actually fairly hard to see through. No obvious floaties in the body, but there are trillions of bubbles. Seriously, the bubbles hold on to the sides of the glass like a homemade soda-pop. This is like volcanic activity status carbonation.
S: Lightly bready coriander with some mellow honeydew melon. The faintest note of yellow raisins gives a bit of flavor to the breads, but otherwise fairly simple. The beer really comes off as chimay like, but with a very mild yeast character. It's smelling like an in between offering of familiar chimays. Breadyness is merely a suggestion in the nose, and honestly that with the yeast is most all of what I get. A tad bit of lemon/honey/tea alcohol in the finish of the nose.
T: The beer isn't sour or tart in any fashion, just a clean drinking bread dough beverage. The mild presence of yeast seems to bitter the doughs in a way, almost in a witbier like fashion. I appreciate its presence as this would otherwise be a very bland bready offering, but the slight twist of yeast takes a generally bready beer and makes it at least flirting with some complexity. Otherwise pretty monotone. Lots of breads and some familiar flavors, but no real pep from citrus or fruits. Drying melon flesh (with some melony rinds included in the yeast twist) that makes its way in bread doughs.
M: This is probably the strongest point in the beer for me. I think there's a really fine bubble feeling to the brew that saves it from being sub-par. The feel definitely elevates it from the lows of the former categories, but ultimately doesn't quite save it from mediocrity. A fine-feeling brightly carbonated brew with some pep from the feel, but nowhere else.
O: This really feels quite average, with the flavors really being a bit cliche. I'll give it the benefit of saying that this isn't sloppy, but it's also not very interesting. It comes off in such a light way that I can't help but think "diet-Chimay". I appreciate the execution, but I would hope they might tinker around with the recipe a bit to give it more of a signature flavor. I am by no means a brewmaster, but it seems like that would be important to the cultural significance of a brewery that is trying to assert themselves as the 8th trappiste. A respectable decent offering, but not something I would taste and immediately identify as Abbey Monts Des Cats.
★
2,614 characters
3.55
/5
rDev
-3.5%
look: 3.5 | smell: 3.5 | taste: 3.5 | feel: 4 | overall: 3.5
Thanks to Simon from La Cave a Bulles for providing me a bottle of this during my recent trip to Paris. Poured into a tulip and shared with Cavery.
A: Pours a jurassic park amber with a one-finger microbubble whitehead that retains for a while but eventually leaves a small continent of white foam in the middle of the beer and a ring of thin bubbles. Lacing is minimal but not terrible.
S: Some hop character, yeast, breads, corn tortilla, and some mild cinnamon-like spicyness. Not too interesting of a smell, and not surprisingly reminds me much of a chimay.
T: Pretty much exactly the nose with some surprisingly powerful bitterness to the hops and a very mellowed bready, yeasty finish with lingering hop bitterness. Again, not bad but not interesting and very reminiscent of Chimay, especially Chimay red.
M: Medium bodied with plenty of prickling carbonation. Slides well throughout the mouth and leaves some tingling on the roof of the mouth along with a mild burn from the hops. I get some heat in the mouthfeel but little was present in the taste.
O: I was interested to try this beer and am still glad I did, but it's hard to get too excited about it. Tastes are simple, and Chimay's hand in the process of this beer's creation is so evident it really might as well just be Chimay Orange. I'll be happy to see what else Abbaye Mont Des Cats might produce, but this beer doesn't have much going for it other than the novelty of where it was produced.
★
1,478 characters
Mont Des Cats Biere Trappiste from Abbaye Mont Des Cats
83
out of
100
based on
34
ratings.