Fat Guy Oatmeal Stout
| Mission Springs Brewing Company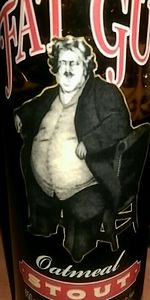 BEER INFO
Brewed by:
Mission Springs Brewing Company
British Columbia
,
Canada
|
website
Style:
Oatmeal Stout
Alcohol by volume (ABV):
5.60%
Availability:
Year-round
Notes / Commercial Description:
No notes at this time.
Added by BeerAdvocate on 11-18-2004
Reviews: 8 | Ratings: 14
3.42
/5
rDev
-0.6%
look: 3 | smell: 3.5 | taste: 3.5 | feel: 3 | overall: 3.5
650ml bottle poured into a tulip glass.
Pours completely opaque with a tan head that disappears as fast as it appears. Very slight lacing is the evidence of a mild carbonation. Aromas of chocolate, roasted malt, a little coffee and raw cocoa with a bit of demerara sugar.
Taste is well balanced if not terribly complex. The roasted malt shines through on first sip, then a molasses sweetness. Coffee and a bit of lactic sourness round things off. Simplistic, but enjoyable and quite drinkable. Smooth, creamy mouthfeel, but the body is a bit thinnish. Carbonation is very mild. This is a beginner stout, enjoyable and very drinkable, but flavour wise it just dosen't take it to the next level.
★
699 characters
More User Reviews:
3.7
/5
rDev
+7.6%
look: 3.75 | smell: 3.75 | taste: 3.75 | feel: 3.75 | overall: 3.5
3.85
/5
rDev
+11.9%
look: 4 | smell: 4 | taste: 3.75 | feel: 4 | overall: 3.75
Mission Springs 'Fat Guy Oatmeal Stout' @ 4.5% , served from a 650 ml bottle purchased for $5.35
A-pour is a dark brown from the bottle to near black in the glass with a small tan head leaving a minimal lace ring
S-crushed rolled oats , big hints of vanilla extract
T-sweet and smooth , such a low abv it has a decent body
MF-medium carbonation , medium body , doesn't taste like 4.5%
Ov-ok beer , weaker oatmeal stouts but tasty
prost LampertLand
★
453 characters

3.29
/5
rDev
-4.4%
look: 4.5 | smell: 3 | taste: 3 | feel: 4 | overall: 3.5
Fat Guy Oatmeal Stout, on-tap at the Alibi.
A: Black with a creamy tan head, good retention, great lacing.
S: A light roastyness from the meager aroma.
T: A little roasted grain that's alright, but lacking depth.
M: Smooth moderate body, light to moderate carbonation with a dry finish.
D: Perfectly drinkable, though not overly enticing.
★
343 characters
2.55
/5
rDev
-25.9%
look: 3 | smell: 3 | taste: 2 | feel: 2.5 | overall: 3
this stout pours a very dark brown (almost black) with a limited 1cm head that forms after cascading, then dissipates into a thin, bubbly foam which leaves some decent lacing at the top of my glass. Smell is rather faint but predominantly chocolate with some notes of both coffee and licorice - some bready malts as well. This stout has somewhat of a light chocolaty flavour with some decent roasty notes but is, unfortunately, riddled with a bland minerality which takes away, not only from the taste, but from the body of the beer as well (kind of makes it taste like mineral water on the linger). Mouthfeel is, indeed, on the light side for an oatmeal stout and has a milky, somewhat watery finish. This beer was abit of a dissapointment in all categories. The flavour simply does not stand out and the weak mouthfeel makes it less pleasant to drink. With a name like "Fat Guy" I would have expected more, shall I say, body?!... I can check this one off my list. I wouldn't turn one down, but I won't be buying this one again. There are much better oatmeal stouts out there fore the money.
★
1,092 characters

3.55
/5
rDev
+3.2%
look: 3.5 | smell: 3.5 | taste: 3.5 | feel: 3 | overall: 4
Had this while watching a Canucks game on the big screens.
6.0% alc/vol
Poured jet black with pretty much no head. It smelled very roasty and chocolately with hints of coffee. Very nice. Tasted pretty nice, like a stronger, more pronounced Guinness. It was a little watery overall. I could have drunk a lot of these in the night since the first one was gone in like 10 mins. I was driving however, so 1 was the limit!
★
420 characters

3.55
/5
rDev
+3.2%
look: 3.5 | smell: 3.5 | taste: 3.5 | feel: 4 | overall: 3.5
New label and new name (Fat Guy Oatmeal Stout). I have had this stout many times on tap and in the bottle but never reviewed it. Turns out a fault in the beer actually IMHO added character. The beer has a bretomyces infection which creates a slightly winy horseblanket nose and that winy aftertaste. Call me crazy but it actually made this average stout more interesting to drink. It developed an almost cellared taste that was pleasantly strange. I am sure that most would see this beer as off flavoured but I for one enjoyed the Brett notes.
★
543 characters
3.55
/5
rDev
+3.2%
look: 3.5 | smell: 3.5 | taste: 3.5 | feel: 3 | overall: 4
Hmm...a bit better in the bottle?
Nice dark look with a rich, roasted malt, toffee and chocolate smell. Taste is heavy on the coffee and roasted malt notes. Still not too good on the mouth, alternates between too much fizz and not enough. Quite drinkable.
Overall, good. Much better effort than some other BC brewers.
★
323 characters

3.93
/5
rDev
+14.2%
look: 4.5 | smell: 4 | taste: 4 | feel: 3 | overall: 4
A: 1/2" light brown head over black liquid.
S: Yeast, toasted oats and roasted malt.
T: Toasted oats and roasted malt with soft yeast. The yeast is quite nice.
M: Thin mouthfeel and low carbonation.
O: Good oatmeal stout for those who like them roasty and toasty.
★
267 characters

3.32
/5
rDev
-3.5%
look: 4.75 | smell: 3.25 | taste: 3.25 | feel: 3 | overall: 3.25

2.75
/5
rDev
-20.1%
look: 2.75 | smell: 2.75 | taste: 2.75 | feel: 2.75 | overall: 2.75
Fat Guy Oatmeal Stout from Mission Springs Brewing Company
-
out of
100
based on
8
ratings.