7 Monks Taproom
PLACE STATS
Reviews:

15

Ratings:

Avg:

4.26

pDev:

5.63%

Taps:

46

Bottles/Cans:

74

Cask:

N

Beer-to-Go:

Y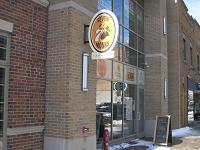 PLACE INFO
Type:
Bar, Eatery
128 S Union St
Traverse City
,
Michigan
, 49684-2611
United States
(231) 421-8410 |
map
www.7monkstap.com
Notes:
No notes at this time.
Added by mattbtr on 07-08-2011
Reviews: 15 | Ratings: 48

4.38
/5
rDev
+2.8%
vibe: 3.5 | quality: 4.5 | service: 4.5 | selection: 4.5
The beer selection was good. They had a very good offering of wet hopped ales the night of my visit. The place was a little dark and the music was a little loud for me. I am not that old, but I like to have a conversation with friends in a place like this. If I wand to get my groove on, I would go to a club. Over all a good spot to try some good beers.
★
360 characters

4.7
/5
rDev
+10.3%
vibe: 4.5 | quality: 4.75 | service: 4.75 | selection: 4.75 | food: 4.5
Its a blend of tourists and locals but the food is creative and good and the beer selection is outstanding - 46 taps and they sell growlers. They have live music Wednesday nights.
★
179 characters
4.75
/5
rDev
+11.5%
This is an excellent taproom with 40 beers on tap, a beer menu, a good food selection and a very clean and comfortable environment. It does not get any better than this place.
★
176 characters
4.31
/5
rDev
+1.2%
vibe: 4.25 | quality: 4.25 | service: 4.25 | selection: 4.5 | food: 4.25
7 Monks is a brick faced building, newly redone, with a glass facade. Upon entering it's somewhat dark and cozy with the yellowed lighting. The bar is to the right, a wall bar to the left along with some high top seating, booths and table seating in the rear with a couple TVs in the corners of the bar and a monsterous TV toward the back. The taplist is extensive (46) and well laid out by style featuring a ton of Michigan tap only beers, everything from brewpubs to breweries offerings. The service was friendly and helpful. I didn't ask any questions about the beer but I did have a couple questions about the food and they were answered quickly and correctly.
The taplist is very strong with offerings from Kuhnhenn, Shorts, Founders, Perrin, Terra Firma, and loads of other Michigan favorites,most of which are tap only releases. The online list has been well kept and updated in my experience. The lines are clean, the beer expertly poured and the service friendly and prompt. The prices are reasonable and the pours are large.
The food is top notch. I recently spent two nights in Traverse and ended up eating at 7 Monks both nights, mostly for the amazingly addictive bacon wrapped dates but the Harvest Pizza was excellent as well and the burger was good though slightly overcooked. Great frites as well, with a garlicky aioli.
7 Monks was my favorite bar while recently up in Michigan. Great selection, great atmosphere, friendly service, top notch bar food, and reasonable prices make 7 Monks a must stop in Traverse City.
★
1,539 characters

4.59
/5
rDev
+7.7%
vibe: 4.75 | quality: 4.5 | service: 4.5 | selection: 4.75 | food: 4.5
Visited here 10-10-13 during a week long vacation in the Traverse City area. We stopped in at 2-ish on a Thursday afternoon, there were a handful of other people in the place so it seemed pretty empty. The wife and I agreed, we could almost hear the crowds of busy nights past. Bar on the right looked like it could sit 25-ish and a bunch more tables could probably sit another 75-100 with plenty of standing room to accomodate Fri/Sat night crowds. Modern shelves with tap handles decorated the walls, the place was not too bright and not too dark....very cool vibe.
We took a couple of seats at the bar and were promptly greeted by the bartender. The menu had a mix of taps and bottles, it was about 4 pages long, 75% of which I had never tried and there were quite a few beers on the menu I had wanted for some time. I grabbed a Short's beer I never had, my wife got a sampler of a few other beers...prices were perfect for the serving sizes.
We also ordered the Harvest Pizza and an order of frites to munch on....it was terrific! If all of the other food is as good as our pizza/frites, you can't go wrong eating here. And the prices for their food were proper also, I believe our total bill was $60ish and we sat there for a couple of hours.
Overall, 7 Monks might not necessarily be a destination spot, but it is definitely a must visit when in the area. I missed out on visiting Right Brain and Terra Firma to go here, I don't regret it for one minute!!!
★
1,466 characters

4.16
/5
rDev
-2.3%
vibe: 4 | quality: 4.25 | service: 4 | selection: 4.25 | food: 4.25
Visited 7 Monks for 1st time this past weekend (October 12-13). I was in town for a wedding and pulled up this place on my phone. It got really good reviews and I'm glad I stopped in.
Classy decor with seating at bar, tables, booths (which are pretty big and spacious). It also has a small outdoor patio area.
The staff is friendly and very knowledgeable about the beers. My waitress had mentioned that she tried every beer on the menu. She was very knowledgeable about a lot of the beer styles and was very precise in the description of her favorite beers. One other thing I liked about this place was that they weren't shy about offering up samples.
I had one of their pretzels. It had a soft salty taste with a nice smoked bacon flavor to it. Not sure if that's a house special but it was amazing.
Location is in heart of old town Traverse City with many shops and eateries nearby. If you are in Traverse City, you should definitely stop in.
★
952 characters

4.59
/5
rDev
+7.7%
vibe: 4.5 | quality: 4.75 | service: 4.75 | selection: 4.5 | food: 4
We come up to traverse every yr for vacation, and this is one of our first stops. They have 46 taps going at all times, and a new hand pump weekly seems like. The service is great !! Very personable staff and excellent decor. The place is always clean and inviting. They always have a handful of unique traverse microbrews available and we had a great strawberry beer this yr. a must visit place if your a beer freak an in traverse.
★
432 characters

4.37
/5
rDev
+2.6%
vibe: 4 | quality: 4.5 | service: 4 | selection: 4.75
46 taps on the wall offer a great mix of local and otherwise beers... some quite interesting. The bottle selection is quite impressive as well. There's upscale bar food available for those looking for a bite to eat, and there's also wine, cider, and local mead on tap if you're wanting to stay clear of the hops (gluten-free options available too!). Just don't expect to show up in a robe — just because it's named after a group of monasteries doesn't mean they adhere to the same dress code.
I agree with some of the other commenters about the selection. I wish the website differentiated between what beers are 'on tap' and what is available in bottles/cans. However, follow them on Twitter to get an up-to-date list of new taps, sometimes updated minutes after they are switched (tested this while sitting at the bar watching the handle/keg get changed and simultaneously checking Twitter).
My father (who drinks nothing except Bud Light... *shudder*) was even guided by the bar staff until he found something he enjoyed. WooHoo for my dad liking microbrews!
★
1,065 characters

4.55
/5
rDev
+6.8%
vibe: 4.25 | quality: 4.75 | service: 4.75 | selection: 4.75 | food: 3.25
Visited 7 Monks for 1st time in June. Second visit in late July. Enjoyed both visits immensely.
For a fan of Belgian brews this place is nirvana. Many of the standards and some of the harder to find ales are on their menu. Impressive wall of taps with many Michigan breweries represented. Excellent selection in bottles as well.
Classy decor with seating at bar, tables, booths and a small outdoor patio area. Very clean and well kept. Atmosphere is comparable to nice restaurant and I was comfortable to have 9 year old daughter with us there in the afternoon.
The staff is friendly and very knowledgeable. They could speak to the flavors and nuisances of the beers and make suggestions based on your preferences.
They offered up samples of drafts to help you narrow your selection. Serving sizes included a 6 oz size glass which was perfect for perusing the great selection without hitting one's limit too early.
Can't speak to food much as we have only had the sweet potato fries which come with a tasty dip.
Location is in heart of old town Traverse City with many shops and eateries nearby. This worked great for 2nd visit as family dropped me off, visited shops, and joined me for last drink.
If you are anywhere near Traverse City, you should make a point to stop in at 7 Monks.
★
1,293 characters
4.08
/5
rDev
-4.2%
vibe: 3.5 | quality: 4 | service: 4 | selection: 4.5
Been reading alot about this new spot in TC so I made a point to wait around town until they opened so I could check it out.
Very beautiful, elegant and booshy lay out to the bar area, moden, but not over the top. The tap wall is very impressive, especially for being in Northern Michigan, big props.
They have about 40 taps, and they are varying from a handful of true Belgian, to another handful of Belgian style, and a good group of American Craft...some Short's, some good Dark Horse, Bell's, Founder's Imperial Stout...good stuff.
The bartender was knowledgeable and very friendly. They seem to be well trained, not obnoxious, and attentive.
They had some sort of family photo shoot going on inside the bar that started about a half hour after we got there...typical Traverse City bullcrap...
I want to make it clear that their website is quite misleading. If you follow the link on their to their tap list, it is broken down by style, and they have a listing for Trappist Ales, and a good list of nice beers. Rochefort 10, 8, etc...Those are not on tap. The whole time I'm checking out their website I'm saying "What, how", but alas they are in a bottle. I wish they would fix that, but maybe I'm the only one who is having problems with that. Not a big deal, but it is misleading!
A great new spot in Northern lower Michigan. I really like this place, albiet a bit houghty, but it is in TC...Good spot.
★
1,413 characters
4.5
/5
rDev
+5.6%
vibe: 4.5 | quality: 4.5 | service: 4 | selection: 5
I went in there for the first time the other day and loved it. It took me nearly ten minutes to figure out what I wanted from the huge menu. Forty-some beers were on tap and more bottled and canned. The prices were pretty reasonable. The bar staff was awesome. Even though they were busy the guy and girl there took their time to answer any questions I had about a particular beer. I loved the selection they had from all over the place, particularly their focus on local brews. I didn't have any food there, but the guy who was eating steak next to me looked pretty happy with it. If you're in the area, make sure you stop in!
★
627 characters
4.72
/5
rDev
+10.8%
vibe: 4.5 | quality: 5 | service: 4.5 | selection: 5 | food: 4
If you are a fan of great beers and excellent selection, this is the place to be; not just in Traverse City but in northern Michigan. In many ways 7 Monks is a true tap room; 46 on tap and just as many in bottles. Nothing north of central MI even comes close to what is offered here.
A lot of money was spent to create a great tap room environment; polished metals, expensive wood, couches, mirrors, lighting; everything is first class. However, all these hard materials can make this a noisy place at times; not a problem if you have visited similar establishments in other places. Service was as described in previous reviews at first, but now there are servers to care for the customers who are not sitting at the bar. Some of the food is very good; some is marginal. But it many ways 7 Monks is still a work in progress; it continues to evolve as co-owners Jim and Matt receive feedback from their customers and implement those that add quality and value. People in this area can be hard to please, partly because of the variety of eating and drinking establishments. But the staff at 7 Monks works very hard to be customer friendly.
7 Monks is not for everyone; no drinking establishment is. But if you like what has been described in the reviews thus far, then this is the place to be. I'm confident that with the passage of time, 7 Monks will only get better. Say hello to me when you visit; I'll be the guy at the bar sampling the newest dark brew, usually as suggested by Jason, Kaitlin or one of the other knowledgeable staff (another plus; bartenders who KNOW beer!).
In an earlier review Mitchster mentioned that Bay Leaf was preferred. Bay Leaf is a great wine bar, but it is NOT a tap room. If I want to drink great wines from an excellent selection, I head straight to Bay Leaf. However, any serious beer drinker (perhaps I should say beer snob) will prefer 7 Monks hand down.
★
1,895 characters
4.65
/5
rDev
+9.2%
vibe: 4.5 | quality: 5 | service: 4 | selection: 5 | food: 4.5
7 Monks Taproom--wow. In Traverse City, MI--where I grew up--double wow.
I have traveled to Belgium and throughout continental Europe dozens of times--including several trips made specifically for purposes of indulging in continental ales and lagers. I am a partner in an nascent German brewing concern in northern Vermont. Further, I lived in Europe for five years. In short, I know well the shortcomings of many US bistros-cum-taprooms when it comes to mimicking Euro offerings, and feel qualified to offer an opinion here. In short, 7 Monks rocks.
Why?
1. A magnificent concentration and spectrum of Belgium and Belgian-style offerings extremely rare to find in the Midwestern US. Nice touch balancing these with the Weihenstephan Hefe dunkel and the Pinkus Alt, too. See these often, much less poured from a stainless tap wall that is, frankly, badass?
2. A lineup of Michigan- and even Grand Traverse-centric ales and lagers (many brewed in the Belgian style)--including some outstanding brews from Short's--that is well-chosen and rarely found in such abundance. Great publicity for MI beers.
3. Food: let's just say the burger is honestly the best I have EVER had, and the dates are killer. Great compliments to something like Delirium, I might add.
4. Atmosphere: stylish, progressive and family friendly. Sure, I would probably rather drink beer in continental Europe (note: I don't mention UK because British beer is obviously not the focus), and I rather enjoy cold, silent dark cellars with a fire while fondling a Westmalle Tripel. However, A) this is northern MI, not Europe; B) a place this good is going to attract other brew aficionados--I can't have it all to myself; and C) I actually like to watch football (with the sound off) while drinking awesome Belgian beer. Other ratings decrying the TVs are, honestly, mysterious to this beer lover and ardent Lion's fan.
5. Yes, the 'order at the bar' concept is novel, but I have seen this in a few other excellent beer bars out West. How they handle gratuities is their business, and not the least of my concern. Like other popular spots in TC, you might have to wait a few minutes prior to ordering food/drink. Big deal.
6. Prices were as I would expect. These make the atmosphere even better, to be honest, without being too exclusive.
In short, killer spot. I rate it as one of the best--and certainly most unique--taprooms in the Midwestern US based on beer quality and quantity; quality of food; and progressive, professional atmosphere with knowledgable bar staff.
★
2,547 characters
4.83
/5
rDev
+13.4%
vibe: 5 | quality: 5 | service: 4.5 | selection: 5 | food: 4.5
I knew that I would love this place when I first walked in! The atmoshere was a welcome change from the usual; upbeat and classy without being stuffy. Comfortable seating and lots of it.
The tap wall is a thing of beauty!! 43 beers on tap, more in the bottle, ranging from the traditional Belgium to Michigan crafted, and a few traditional favorites. Loved Richard in the Dirt, crafted just for them by Shorts. Also 4(I think)of Left foot Charlie's wines, also crafted just for them, I am told. Loved "Murmur".
Lets talk about the food. The burger is AMAZING!! Other favorites were the Dates, and the Scallop special,cooked just right.and the Trappest pizza, and "Monk and Cheese" (yes I went back with friends and we sampled!). Everything is ordered at the bar, which I found convenient, one bill, one tip.
The barbacks ,owners, and staff were very attentive, knowledgable,and super friendly
Overall, a great new spot!
★
923 characters
3.14
/5
rDev
-26.3%
vibe: 1.5 | quality: 4 | service: 2 | selection: 4
Went to the new taproom today. They had 43 beers on tap and more in bottles. The beer was fresh (of course, because it just opened), and served in appropriate glassware. Germany, Belgians, and American's were well represented. British selection was meager. Of course, the selection focused on Michigan beer.
Take a peek yourself at the beer menu:
http://www.7monkstap.com/beer/
Prices were OK, but to be honest, one can get better prices down the road at the Bay Leaf, where almost everything is $4. I had a Trois Pistoles ($9), a GLBC Dortmunder ($5), and my GF had Celebrator ($6.50) and some Monks Blood Red wine from Left Foot Charleys (on tap-and for $6, the pour was disappointingly small).
The problems - There are 7 large screen TV's, so this is not a place to ENJOY your beer, per say. It makes business sense to have 7 TV's because people will drink more as they watch the game and scream and yell (as they were doing today), even at 3:30 in the afternoon when I thought it wouldn't be too busy and not to loud.
The other problem: When we sat at a table (after waiting about 20 minutes), the waitress told us all food and beer is ordered at the bar. The problem with this is: 1) The tips for the waitress are going to be lower if I have to wait in line to place an order (isn't that her job?), and 2) I forgot to pay the waitress and paid the bartender instead, with tip...Oops.
★
1,392 characters
7 Monks Taproom in Traverse City, MI
93
out of
100
based on
15
ratings.