Pirinsko Svetlo
| Pirinsko Pivo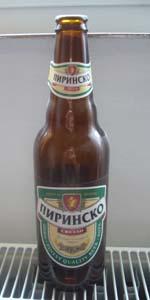 BEER INFO
Brewed by:
Pirinsko Pivo
Bulgaria
|
website
Style:
Euro Pale Lager
Alcohol by volume (ABV):
4.30%
Availability:
Year-round
Notes / Commercial Description:
No notes at this time.
Added by BucBasil on 11-03-2008
Reviews: 6 | Ratings: 14
More User Reviews:

3.17
/5
rDev
+14%
look: 3.25 | smell: 3 | taste: 3.25 | feel: 3 | overall: 3.25
Poured into a tulip glass made by Tuborg out of a chilled, green glass bottle.
Appearance:
Light champagne colour with a soapy head of one and a half fingers (if poured vigourously) that leaves a motley lacing on the glass. After a decent number of sips, the head nearly disappears, altogether.
Scent:
Melon aroma, with a little musk.
Mouthfeel:
Light carbonation provides for a relatively smooth texture. Almost like a juice, it certainly doesn't feel completely watery.
Taste:
Very little if any taste on the front end, upon swallowing there is a slight hint of (artificial) banana. This one is hard to pin down for me; can't really say it's hoppy or malty. It's somewhere in the middle. The artificial banana really begins to blossom as the beer slowly warms, going from a mere essence to a distinct flavour.
Overall, an extremely drinkable beer that, unlike its American counterparts that market themselves with the catchword "drinkability," doesn't taste like cracker-water with the sometime hint of grapefuit. It is definitely superior to its Romanian counterparts in that it isn't tinged with the scent of rubbing alcohol, but it is perhaps only on the same level as the Serbian lager Jelen (which I haven't had in years and in relation to which I cannot make a more concrete comparison). While not a stand-alone beer, it's rather enjoyable with a slice of pizza or two for a quick summer lunch.
I don't find its lack of complexity bothersome, but having also had it straight from a can before I can say one definitely wants to pour this one into a glass. The difference, as with almost any beer, is quite palpable. If you're not expecting a craft or elite-level European beer, this is an interesting experience worth giving a shot. My suggestion is not swallowing quickly after sipping, so that the beer's one (and really, only) flavour can really be appreciated by the sudden temperature change.
★
1,909 characters

2.49
/5
rDev
-10.4%
look: 2.75 | smell: 1.75 | taste: 2.75 | feel: 3 | overall: 2.5

2.52
/5
rDev
-9.4%
look: 2 | smell: 2.5 | taste: 2.5 | feel: 3 | overall: 2.5
It is owned by Carlsberg, and if I'm right,in this moment it is produced in Carlsberg brewery in Serbia.
A - Usual dull pale appearance,golden,white foam,few bubbles.
S - Skunky,citrus with some grains.
T/M - Drinkable,but must be cold. Unpleasant bitter aftertaste,grains. Not bad.
O - Nothing new or special,but drinkable.
★
328 characters

2.64
/5
rDev
-5%
look: 2.75 | smell: 2.5 | taste: 2.5 | feel: 2.75 | overall: 3
1.2 litre green plastic bottle with plastic screw-top acquired at a Picadilly market in Sofia, Bulgaria, and served into a Staropramen pilsner glass in Sofia. 4.40% ABV according to the label.
HEAD: No head at all. No lacing.
BODY: Clear almost watery yellow. No yeast particulate or hop sediment is visible. Clean enough.
Appears direly undercarbonated. Far from appealing, but not off-putting either. It's below average but not intolerable.
AROMA: Generic barley, sweet malts, grains, and maybe corn adjunct. Not real appealing, honestly. Inoffensive aroma of average strength.
No yeast character, alcohol, or off-notes are detectable. Lacks any detectable hop profile.
TASTE/TEXTURE: Too sweet. Grainy. Barley. No real hop presence at all. No yeast character, off-notes, spices, or alcohol comes through. It's not very well balanced, which is worse still because it's so damned simple. Shallow depth of flavour. Brief duration of flavour. Average intensity of flavour. Decent amplitude.
Not complex, intricate, subtle, or nuanced at all. I kind of like it as a budget brew, but it's far from impressive. More bland and boring than anything else.
Smooth, wet, unrefreshing, a biteen overcarbonated, light-bodied, and reasonably thin.
Not oily, gushed, hot, boozy, astringent, or harsh.
OVERALL: Downable but completely unremarkable. I wouldn't buy it again, but it's appropriate for the price point. You could do far worse, and I've definitely had worse budget brews. It'll meet low expectations. A nice table beer for pairing with food I suppose.
C-
★
1,564 characters

3.35
/5
rDev
+20.5%
look: 3.25 | smell: 3.25 | taste: 3.5 | feel: 3.25 | overall: 3.25
2.83
/5
rDev
+1.8%
look: 2.5 | smell: 2 | taste: 3 | feel: 3 | overall: 3.5
Pretaste Notes: My first foray into the world of Bulgarian beers. This stuff is really popular in the Southwest of Bulgaria, and you can always find a local dyado (old man/grandfather) with a few of these in front of him on the table.
Appearance: Poured from the 2 liter bottle. The beer is a straw-like golden color with a quickly fading 2 finger pure white head.
Smell: Grainy with a crackery finish.
Taste: Crackery malt and a grassy note. Grainy. Finishing clean and smooth with a sweet honey-like character.
Mouthfeel: Light and crisp.
Drinkability: You know it's classy when it comes in a 2 liter bottle... At Bulgarian parties, a couple of these will always be on hand, and will be empty at the end of night. Drank like water.
★
748 characters


2.85
/5
rDev
+2.5%
look: 3.5 | smell: 2.75 | taste: 2.75 | feel: 2.75 | overall: 3
Greenish yellow color, with a creamy white head, some bubbles on the sides.
Quite fresh smell, but othing really interesting. Same for the taste. Standard lager.
A quite definite maltiness, a bit of hop, some grainy cereals.
Quite carbonated, malt and hop in the aftertaste.
Light tomedium body.
As expected.
★
308 characters

2.66
/5
rDev
-4.3%
look: 3.5 | smell: 2.5 | taste: 2.5 | feel: 2.5 | overall: 3
Brought back from Bulgaria recently. BB 13/08/2012, served chilled in a straight pint glass.
A: pours a moderately fizzy straw body with an off-white fluffy head.
S: lightly salty-sweet lager malts, starch, with mild fruitiness and floral hints of hops lingering at the back, very faint in terms of maltiness and hops overall, but quite common for this type of mass produced lager.
T: semi-grainy and semi-boiled-veggie like sweetness of washed-off malts abounds, not unpleasant but quite bland to say the least. Hops don't make themselves felt in terms of aroma, taste and bitterness. The finish is rather clean without unwanted sugary feel but it is short-lived nevertheless. An intriguing Chinese sweet-Xian Cao-jelly-like aftertaste lingers in the very end, which comes rather pleasant, though.
M&D: o.k. on the mouthfeel, refreshing enough, and in general it lacks any clear flavour profile, which I think can make it a good accompaniment to a few delicious kebapche on the streets of Sofia, especially in the burning summer there!
★
1,039 characters
2.09
/5
rDev
-24.8%
look: 2.25 | smell: 2 | taste: 2.25 | feel: 1.75 | overall: 2

Pirinsko Svetlo from Pirinsko Pivo
-
out of
100
based on
6
ratings.