He'Brew Jewbelation Fifteen
| Shmaltz Brewing Company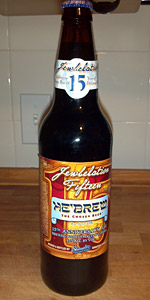 BEER INFO
Brewed by:
Shmaltz Brewing Company
New York
,
United States
|
website
Style:
American Strong Ale
Alcohol by volume (ABV):
15.00%
Availability:
Limited (brewed once)
Notes / Commercial Description:
No notes at this time.
Added by LtCracker20 on 12-09-2011
This beer is retired; no longer brewed.
Reviews: 134 | Ratings: 386
3.38
/5
rDev
-15.7%
look: 3.5 | smell: 3 | taste: 3.5 | feel: 3.5 | overall: 3.5
Poured from a 22oz bottle into a tulip.
A- Pours very thick out of the bottle. Viscous and dark, resembled a dirty motor oil. Poured a one finger head that was gone right away leaving no lacing on the glass. Held it up to a light and nothing changed... dark, thick, black.
S- 15-15-15 Malts, hops, alcohol was not as expected. The Malt took over here, I struggled to find the hops as the sweetness of molasses was prevalent. The alcohol was hiding a bit.
T- Tastes very sweet, almost too sweet for me. The molasses really takes over. I was hoping for more hops to come through and balance out the roasted malts, but they just weren't there. The bitterness only shows slightly in the aftertaste.
M- Sticky and viscous with little carbonation. The alcohol is warming and it felt a lot warmer than my serving temperature.
O- I was a little disappointed with the bitterness, when I see that 15 hops are used with the 15 different malts I expect more balance. I guess when malt is in the company's name, it should be expected that malt takes over. Even with this there is no doubt I would buy it again because $5 for a 15% beer is great.
★
1,137 characters

3.31
/5
rDev
-17.5%
look: 4 | smell: 3 | taste: 3.5 | feel: 3.5 | overall: 3
A: Pours a near opaque black. Just a hint of ruby/brown around the edges. A bubbly tan head is slow to rise, but eventually reaches to a finger. The foam gently recedes with some patchy lace.
S: Not much in the nose. Roasted malt, light coffee and chocolate.
T: Really big and really sweet. Way under attenuated, but still not bad. The roast tries to balance that out. Big alcohol punch as well.
M/D: A full, sticky, and syrupy body. Of coarse there is lots of alcohol, which makes this hard for me to sip on and finish.
I am stating the obvious, but this is really big. Lots of sweetness, lots of alcohol, and just to much right now. For me anyway. This needs to sit for a few years to be enjoyable and drinkable.
★
715 characters

3.22
/5
rDev
-19.7%
look: 3 | smell: 3.5 | taste: 3 | feel: 3 | overall: 3.5
Dark colored body, almost completely opaque. Small amount of brown head on top of stagnant appearance of the body. Aroma contains notes of molasses, chocolate malt, dark fruit. Toffee aromas pertrude throughout. Flavor contains a center of strong molasses, cocoa, figs, and raisins. Brown sugar apparent in this sugary malt bomb. Finish provides an inkling of hops, but the sugary malt is still the predominant force in this beer. Alcohol percentage is greatly noticed, as this beer is a slow sipper. Aftertaste leaves molasses and the thick mouthfeel coating on the palate, with the spicey hop finish lingering. Overall, a strong beer but not very drinkable, a bit too sweet and cloying.
★
688 characters

3.2
/5
rDev
-20.2%
look: 4 | smell: 4 | taste: 2.5 | feel: 3 | overall: 3.5
Pours a very dark brown color with a medium tan head that disappears quickly. Scent is packed with sweet molasses and brown sugar. Dark fruits and plenty of sweet and roasted malt. Vanilla and toffee with an intense amount of sugary sweetness. Something tells me this beer is going to be overly sweet. Taste is initially molasses and burnt sugar, followed by brown sugar and vanilla. Such a malt bomb! This beer has so much malt flavor it's ridiculous! Intense sweetness...not very boozy at all for such high ABV, but I'm pretty positive you can't taste the alcohol due to how sugary and sweet this is. There are some pleasant flavors within this beer, it's just too much. Mouthfeel is full bodied and syrupy. Drinkability is low. Overall, I will not be able to finish this bomber. I was able to drink a bottle of Fruet to myself the other night, and it was a bigger bottle and more ABV...this one is just a bit messy. This beer reminds me of the 2009 Dark Lord I drank. So I'm sure Dark Lord fans will enjoy this beer.
★
1,019 characters

3.18
/5
rDev
-20.7%
look: 4 | smell: 3.5 | taste: 3 | feel: 3 | overall: 3
This beer pours the darkest of browns, on the verge of black with a one finger khaki head. The aromas are incredibly sweet and malty. I also get some almond butter in the nose with a boatload of molasses and sorghum. Their is also some raisin and figs. It's a little much. The flavors too, syrupy and overly sweet. You get so much honey, sorghum, figs, and molasses that it's hard to pick out anything else. It's definitely "dark fruity". It's cloyingly sweet. It drinks medium bodied and overly sticky. There is just so much sugar. This beer isn't very drinkable. The alcohol isn't noticeable until a couple minutes after your last sip, then it's warming. Overall this is a strange beer and not worthy trying in my opinion. Get back to me if they barrel age it.
★
762 characters
3.02
/5
rDev
-24.7%
look: 2.5 | smell: 3 | taste: 3 | feel: 3.5 | overall: 3
Poured from a 22oz bottle into a mini snifter.
Appearance: a dark brown with a tan fingers worth of head that fades to a film and leaves no lacing.
Smells: a sweet plum and caramel malt with little hop notes but a dark fruit like figs are apparent.
Tastes: this is a really malty brew. there is sweet dark fruit flavors and a maple hint that last trough to the aftertaste. There is a little hop character that is floral from what I pick up.
Mouthfeel: there is a super sweet aftertaste, but it balances the 15% quite well. I enjoy the carbonation as I drink it because I though it was going to less than it did from the appearance.
Overall: at 7 bucks this is a flavorful brew with a kick. I think its a dessert beer better suitable for sharing and well worth a try if you see it.
★
786 characters
2.4
/5
rDev
-40.1%
look: 3.5 | smell: 4 | taste: 1.5 | feel: 2.25 | overall: 2
Imagine beer-flavored cough syrup. Ales are all about the balance, but apparently the malt-zoh ballers at He'Brew applied the Mae West theory that "too much of a good thing is marvelous." It's not. It's just too much.
★
218 characters

2.18
/5
rDev
-45.6%
look: 3.5 | smell: 3 | taste: 1.5 | feel: 2.5 | overall: 2
Appearance: Poured like a Quadrupel with some tan-ish head. Dark, again like a Quad, amber red/amber colour.
Smell: Smells of a ridiculous amount of malt. Probably too much actually. No hoppiness in the aroma as it's dominated by sweet, sugary malts.
Taste: Bleh! This tastes of soy sauce and sugar. Again, no hoppiness in flavour but there is some bitterness. This is probably the most intensely malty beer I've tasted. There is a strong, concentrated dark fruit flavour...But it's too much.
Mouthfeel: It's so cloying that I didn't enjoy it whatsoever. I understand that it's a sipper, but why ship it in a 650 mL bottle? That could serve 10 people easily and everyone would be ready to move on to something else. It had strong soy sauce saltiness with crazy plum-concentrate sweetness.
Overall: Not enjoyable. I couldn't drink more than a sip and I've tried some pretty ridiculous beers before. I appreciate the idea of a 15th Anniversary beer brewed with 15 malts, hops and 15% alc/vol...But where do you draw the line? 23% ABV for the 23rd Anniversary brew? Novel idea, but not very well executed in my opinion. To each their own, of course.
★
1,150 characters
1.63
/5
rDev
-59.4%
look: 1.5 | smell: 3.5 | taste: 1 | feel: 1 | overall: 1
I am going to make an oxy-moronical statement- This is hands down the worst beer I have ever tried, yet I recommend everyone to try it. I don't even know where to begin, three days later and I am still having nightmares about it. There was no point at all in adding hops, this is like concentrated malt to the ninth degree. An 8 oz glass has a cup of molasses and brown sugar in it. It's like pure malt extract, pure malt sludge. Sweeter than blackstrap molasses! The most insane beer I have ever tried. The malts made the hops its bitch.... This beer would make even the most die-hard malt-head, freak out completely. It's like a pure malty syrup with an alcohol kick. Ok, try it, and if you live, please post a review here. I was able to consume about 16 oz of a 22 oz bomber. A 22 oz bomber of this could supply the malt for 25 complete full kegs of Budweiser.
★
863 characters
He'Brew Jewbelation Fifteen from Shmaltz Brewing Company
89
out of
100
based on
134
ratings.