Barrel-Aged Framinghammer
| Jack's Abby Brewing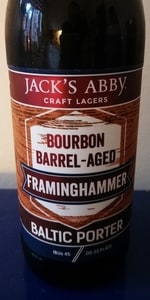 BEER INFO
Brewed by:
Jack's Abby Brewing
Massachusetts
,
United States
|
website
Style:
Baltic Porter
Alcohol by volume (ABV):
10.00%
Availability:
Rotating
Notes / Commercial Description:
The 2012 on tap/growlers were aged in Jim Beam barrels. The 2013 bottles were aged in Willet barrels. 2014 release was aged in Four Roses.
Added by taez555 on 03-30-2012
Reviews: 162 | Ratings: 1,404

3.78
/5
rDev
-12.3%
look: 3 | smell: 4.25 | taste: 3.75 | feel: 3.75 | overall: 3.5
Black in color with a small tan head. The head dissipates almost immediately and cannot be revived, even with a swirl of the glass. The beer sticks to the side of the glass, a common feature I've noticed in many bourbon barrel aged beers. Great aroma, dominated by bourbon, with notes of vanilla, dark chocolate, and brown sugar. The taste follows suit. Full-bodied, yet surprisingly drinkable despite how boozy it is. The bourbon is up front and on your face, which is ok with me but should be noted regardless. I did get tired of this beer towards the end. Very smooth but really hurts from the lack of carbonation. Add those fizzy bubbles in and this is a winner. Without them, it's still tasty, but just falls a little flat.
★
729 characters
3.78
/5
rDev
-12.3%
look: 3.75 | smell: 3.75 | taste: 3.75 | feel: 4 | overall: 3.75
A- Dark brown hazelnut in color, transparent on edges. No head to speak of. Silent
S- Malt base, oak and some sour smell (had the word and lost it)
T- Ya, a baltic porter that has a bit of bourbon barrel aged characteristic to it. Malt, barrel and vanilla at the end for me.
M- Pretty standard as far as thin or thick; again I can't think of words right now. Feels like it has been sitting out for 5 days in the fridge with the lack of carb. That doesn't really bother me though.
O- I well done BA Baltic. I like that I got to taste a well done version of this
★
566 characters
3.7
/5
rDev
-14.2%
look: 4 | smell: 4 | taste: 3.5 | feel: 3.5 | overall: 3.75
Writing a short review as this was based on an 8 oz taster.
A bit disappointed with this one. It had a deep, almost black color with a decent head. The aroma was nice. The bourbon was present and so was the oak.
The taste just felt flat to me. Not flat in terms of carbonation but it just didn't pop like I expected it to. The bourbon and vanilla flavors were far more subdued than I expected and the oak was nowhere to be found. It basically tasted like a boozy porter.
Absolutely want to try this again as I love Jack's Abby, but first impression leaves a lot to be desired. The other iterations of this beer are much better, in my humble opinion.
★
654 characters

3.65
/5
rDev
-15.3%
look: 4 | smell: 4 | taste: 3.5 | feel: 3.5 | overall: 3.5
A- Deep brown, but not quite black. Some light. 1 finger tan head settles into a soft ring. Oily lacing.
S- Roasted oats, charred dark fruits of figs and black cherries. Not a tone of barrel character coming thru on the nose. Reminds me some of Stone IRS with the licorice. Some sharp notes cut through.
T- Just like the nose, but with some intense sugary sweetness. Vanilla and oak on the back end as the barrel finally steps up to the plate, and it does so in a pretty big way with the bourbon. Some brown sugar maybe. A little cloying at times. Mouth is syrupy and sticky. Probably due to the intense amount of sweet malt and sugars added here. Warmth in the back of the throat.
O- Pretty good. A little sweeter than I like. Prefer the style to have more roast and nutty character.
★
789 characters

3.59
/5
rDev
-16.7%
look: 3 | smell: 4 | taste: 3.5 | feel: 3.5 | overall: 3.5
Happy to give this one a try. Thanks to Masterski for the bottle.
From a 50cl bottle into a snifter
March 2013
OG: 23.5 Plato
IBU: 55
APPEARANCE: A clear brown pour yields a one finger, medium looking, tan head with very good retention. Transparent black body with no carbonation evident. Head fades to a thin wisp and frothy ring. A ring remains until the end but leaves no lacing down the glass.
SMELL: Roasted notes, dark chocolate, bourbon and oak on the nose. Light caramel and vanilla in there as well. Pretty nice.
TASTE: Roasted and caramel flavors up front with a bigger and barrel heavy finish. Bourbon, oak, vanilla and alcohol linger beside some nice bitter dark chocolate and coffee acting as balance to the strong and influential bourbon barrel. Pretty flavorful after the swallow but a little lacking up front.
PALATE: Medium body and medium levels of carbonation. Creamy smooth on the palate, goes down smooth and finishes slightly sticky. A touch light perhaps, though plenty creamy. A bit of heat lingers on the palate.
OVERALL: This is pretty solid. It's a little barrel heavy maybe, but that's is excusable, and it lacks a touch up front, but besides that, this is a solid barrel aged strong porter. Something worth checking out if you get the chance. Thanks again Masterski. Enjoyed this one.
★
1,324 characters

3.58
/5
rDev
-16.9%
look: 4.5 | smell: 4 | taste: 3.25 | feel: 4 | overall: 3.25
This one just didn't do it for me, A bit of a let down after reading such great reviews, It is such an amazing difference after they add adjuncts. This is by far the worst of the framinghammer series (yes even the no BA is better)
★
230 characters

3.55
/5
rDev
-17.6%
look: 3.5 | smell: 3.5 | taste: 3.5 | feel: 3.5 | overall: 3.75
March 2013 vintage. .5 litre brown glass bottle with standard silver unbranded pressure cap acquired in a trade with the gracious ICCULIS (thanks again!) and served into a Mitchells of Lancaster flared stem-tulip in me gaff in low altitude Los Feliz, Los Angeles, California. 10% ABV confirmed. Self-identifies as a baltic porter; I'm reviewing it as such. Expectations are high given the recommendation of a friend (Duff27) and the brewery's mounting reputation for quality - though I've yet to have a Jack's Abby beer that really blows me away.
Served cold, straight from the fridge, and allowed to warm over the course of consumption. Side-poured with standard vigor as no carbonation issues are anticipated.
A: Pours a one finger head of nice tan colour. Not the richest or darkest tan colour I've seen, but quite lovely. Nicely creamy. Good thickness. Decent (~2 minute) retention for the high ABV. No bubble show. Light even lacing as the head slowly recedes. Overall, quite a good head for the style.
Body colour is a dark solid black - not quite a jet black, but dark. Opaque (both nontransparent and non-translucent). No yeast particles are visible.
It's a predictable appearance for the style, but within conventions it's rather attractive.
Sm: I get a pleasant subtle roasted barley character hidden beneath dark malts - the most prominent of which is chocolate malt. Definite bourbon barrel notes - including wonderfully well integrated vanilla, which is itself very natural feeling and not at all too sweet. Also some light oak; I'd prefer it come on a bit stronger because it's rather timid here. Bourbon character is delightful overall and seems seamlessly integrated with the base beer; there's a deliberate intentionality to the use of barrel aging here - a feature so often missing from so many recent attempts at barrel aged dark beers. Oats are noticeable.
No yeast character or alcohol is detectable. The woody oaky barrel notes are too restrained, lacking evocative character. I imagine this didn't spend an extended period of time in bourbon barrels - no more than 9-12 months I'd guess.
Scanning the reviews of others, I notice many are detecting spicy or more whiskey-centric barrel notes. To me, knowing nothing about it beforehand, it screamed bourbon. I look for these spicy/whiskey notes and do not find them; the vanilla alone makes it identifiably bourbon-y to me.
A moderate strength aroma of superb execution. Really looking forward to tasting it.
T: Lovely vanilla sweetness on the open, which lingers throughout. Definitely more sweet than the aroma made it seem - and to its detriment. Moving past the open into the body, I'm getting a balanced dark malt foundation with prominent chocolate malt notes. Maybe even some actual milk chocolate as well. Bourbon-y touches throughout the second act, but oak is sorely missed here. I'd like more from the roast as well; it's way too buried. The balance would really benefit from the added complexity and dimension of the roasted barley. Vanilla reemerges on the climax and carries through the finish. Aftertaste features a pleasant - if a bit too sweet - blend of vanilla and chocolate notes.
No yeast character or alcohol comes through - quite a feat for the ABV. Any hop character is unnoticeable.
Light, light touches of caramel in the second act. Oats lend it a bit more body (and certainly aid the smoothness of the mouthfeel) but offer little in terms of flavour.
The label notes that it was brewed with brown sugar. I get none of that from the flavour profile whatsoever.
Overall, it's a nicely complex baltic porter with some nice subtle touches and good balance. I'm a big fan.
Mf: Silky smooth and wet. Great thickness - enough to support the flavours but not so much as to be overbearing or limit drinkability. Good carbonation. Soft and pleasant on the palate. I'd venture to call it somewhat teasing. The silky character works here, but over time (i.e. the more I drink) the more the smoothness starts to be a bit too much. Good body. Not at all hot or gushing. Quite easy and relatively light on the palate - especially for the style. Good presence. Complements the flavour profile quite well.
Dr: Extraordinarily drinkable for the high ABV - which is itself largely unnoticeable. I could happily drink more than one of these alone in the same night. I'd love to try it on-draught, but I'm not convinced it'd age well. The main flaws are overdone sweetness and overdone smoothness, but they're largely minor. Its lack of roasted barley is a symptom of a greater issue - that of a missed opportunity for impressive complexity. Still, it's an obscenely enjoyable baltic porter that shouldn't be missed by any fan of the style. I was waiting to be impressed by Jack's Abby but I wait no more. This is the real deal. Love the marriage of the barrel notes with the base beer, but please tone down the sweetness. I'd like it more robust.
Low B
★
4,962 characters
3.52
/5
rDev
-18.3%
look: 4.5 | smell: 3 | taste: 3.5 | feel: 3.75 | overall: 3.75
16oz. capped bottle into a Cigar City snifter. Shared with schen9303.
Pours a luscious, 2 finger light mocha colored head with great retention. Beer is pitch black. Lacing is thick and layered with good cling. An outstanding looking beer.
Nose is chocolate, molasses and booze. Some light cocoa powder, roast and smoke too. Very mellow. Tickles the nose.
Opens chocolate, molasses, brown sugar and booze. Very sweet with some roast, liquorice and smoke in the middle. Sweet coca cola and more roasted malt at the finish. Boozy, sticky aftertaste. Solid.
Medium to full bodied with low carbonation. Smooth and slightly hot in the mouth and goes down warm and rich. Finishes messy with a long, lingering, sticky aftertaste. Solid.
Honestly, I thought there'd be a bit more to this beer. Slightly disappointing but its fun to compare to the rest of the variants.
★
866 characters

3.52
/5
rDev
-18.3%
look: 4 | smell: 3.75 | taste: 3.25 | feel: 3.75 | overall: 3.5
Bottle into a Duvel tulip. Thanks Drew!
A: Black with russet highlights and a finger of fine tan head. Good retention and spotty lace. Attractive.
S: Heady and roasty. Dark chocolate, char, light vanilla, and some sharp aromas that remind me of herbal hops. Weird, and not what I ws expecting, but not bad.
T : Anise, oak, char, baker's chocolate, and a profoundly bitter, astringent finish. Disappointing.
M: Lively, creamy medium body. A little on the thin side, but enjoyable.
O: Nowhere near as good as the base. Here's hiping the Coffee and Vanilla variants are better.
Cheers!
★
590 characters

3.38
/5
rDev
-21.6%
look: 4 | smell: 3.5 | taste: 3.25 | feel: 3.5 | overall: 3.25
I had Barrel-Aged Framinghammer alongside with some of its variants when Jack's Abby first hit distribution in Philadelphia in early 2015.
This beer is not very bourbon-forward. Smooth, feels crushable. Medium body, good chewy carbonation.
Mellow taste, raisin, dark fruits that remind of a Belgian quad. Sweetness, nutty aromas. Marshmallow at the end. The appearance is hefty, with a good-size coffee-colored head and lasting lacing.
Overall, it is enjoyable enough and drinkable… but for a well-praised 10% barrel-aged Baltic Porter… blah. So not impressed.
★
568 characters

3.37
/5
rDev
-21.8%
look: 3 | smell: 3.5 | taste: 3.25 | feel: 4 | overall: 3.25
Appearance: Pretty much black. Dark browns at edges when held to direct light. Starts with a creamy khaki head that drops to a small cap and collar. Some sheets and splotches of lacing. Minimal carbonation on the pour.
Smell: Sweet roasted malt and a healthy dose of bourbon. Vanilla, caramel, and alcohol. Some dark cocoa and milk chocolate. Milky chocolate with a clean yeast profile. Some caramel malt. Bourbon blends well with the base porter.
Taste: Oh hey bourbon. Silky smooth caramel and toffee with a creamy vanilla for days. Slightly roasted malt with a healthy infusion of chocolate malt. Some cocoa and sweet milk chocolate. Solidly infused with bourbon to the point it masks some of the base flavors. Carries the typical clean yeast finish of a Jack's Abby beer. Warming turns it in to cocoa laced bourbon with a mild roast.
Mouthfeel: Smooth bordering on creamy with a medium body. Minimal carbonation. Clean minus the bourbon.
Overall: More like a velvet hammer.
decent but lacks the general JA I want to drink it all the times thing. Damn good for a barrel aged porter though.
★
1,102 characters

2.92
/5
rDev
-32.3%
look: 4.5 | smell: 3 | taste: 2.5 | feel: 3.25 | overall: 3
Drank from a 1 pint .9 fl. oz./.5 liters bottle
Served in a snifter
Thanks to my friend wdarcy77 for this bottle.
Inky jet black appearance. Slightly thin for the style. The liquid was capped by a tight, creamy, one-finger tall crop of caramel colored foam. The head quickly fell to a film of bubbles. Patchy streaks of lacing cascaded down the glass.
The nose was quite subtle. Roasted malts were most noticeable. Hints of vanilla. Touch of brown sugar sweetness. Crisp and smooth lager yeast notes. Not bad overall, but rather unremarkable. A bit of booziness came forth as the beer warmed. Distinct bourbon notes become noticeably stronger with time. The nose also turned a bit smoother and sweeter.
The flavor profile was rather astringent. Charred malts dominated. Notes of espresso. Slight malt and brown sugar-like sweetness. Touch of vanilla. Lots of harsh, generic booziness. Quite roasty, hoppy and bitter on the back end and the finish. Acrid, ashy notes and oily hop resins lingered on my palate long after each sip. Like the nose, the flavor profile smoothed out a bit as the beer warmed.
The mouthfeel was thinner bodied for the style with a moderate, larger bubbled carbonation. Disappointing for a beer of this magnitude.
I am usually impressed by Jack's Abby's beers, but this one was a big disappointment. The beer was thin in both flavor and texture and seemed quite rough around the edges. Perhaps some age would help round this out.
★
1,458 characters
Barrel-Aged Framinghammer from Jack's Abby Brewing
95
out of
100
based on
162
ratings.