Hiveranno
| Odell Brewing Company
BA SCORE
83
good
23
Reviews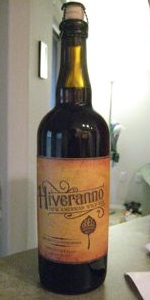 BEER INFO
Brewed by:
Odell Brewing Company
Colorado
,
United States
|
website
Style:
American Wild Ale
Alcohol by volume (ABV):
9.50%
Availability:
Limited (brewed once)
Notes / Commercial Description:
No notes at this time.
Added by optiontwo on 06-15-2011
This beer is retired; no longer brewed.
Reviews: 23 | Ratings: 61

4.53
/5
rDev
+24.8%
look: 4.5 | smell: 4 | taste: 5 | feel: 4 | overall: 4.5
A - Deep amber/brownish color; half-finger head with considerable retention and lacing.
S - Fruity/citrus/oak combination. Rather sharp. And lovely.
T - Some bitterness on the front end. Finishes nicely. Decent hop edge with a tad bit of sourness. The surprise was pineapple which adds a nice touch of sweetness and complexity, along with the oak which is more prominent. The alcohol comes through just a bit and mixes in well.
M - Medium, edging toward full, body with just the right amount of carbonation.
O - I tried this beer when it was first released, about four months ago. Didn't make a huge impression. Just tried it again a few times over the past month and it has obviously aged very well. Fantastic.
★
719 characters

2.66
/5
rDev
-26.7%
look: 4 | smell: 3 | taste: 3 | feel: 1 | overall: 2
750ml bottle opened after three months of sitting at room temperature. Unfortunately it was still flat... Dark brown-orange color with no head (obviously). Smells a little bit like dirty diaper, brett, oak, uhh not terrible but not great. Flavor was not at all sour but more brett and malt with some acidity. I was not able to finish this bottle unfortunately, a real let down after Deconstruction.
★
398 characters
4.32
/5
rDev
+19%
look: 4 | smell: 4.5 | taste: 4.5 | feel: 3 | overall: 4.5
I've been waiting to try this ever since I heard about it. Odell is the brewery that developed my taste for sours. Once I read about how this was made I couldn't wait to try it. Then I read the reviews and heard rumors that it is a risk of being dumped because of carbonation issues. So I was stoked to randomly find it on draft at Whole Foods in Chandler, AZ.
Appearance: Much darker than I expected. One-finger head that looked fairly thick. Had the overall look that was similar to Trappist Rochefort 10 when I had it.
Smell: Unbelievably funky. Never smelled anything like it. Oak, hops, and funk. Kinda smells like a mistake haha, but I enjoyed it and was very intrigued. Took a big whiff before each sip
Taste: Unlike anything I've ever tried. Very impressive amount of funk. I read an earlier review that said "band-aids" and I didn't get that, but my girlfriend said "I can kinda see the band-aid thing." It tastes like something wrong and unintended happened. I get a lot of wood, funk, and hops. The after taste holds for a very very long time...but I enjoy it immensely.
Mouthfeel: Nothing amazing but nice. Not very dry or overly carbonated. Fairly thick.
Overall: I can understand why some people do not like this beer. I have honestly never tasted anything remotely close to how this is. There is nothing to compare it to in my eyes. I'm only going off of the fact that I really enjoyed drinking it and hope that bottles meet the standards of the brewers and I can have this bottle sitting on my shelves. I wish you luck Hiveranno.
Cheers!
★
1,561 characters

1.62
/5
rDev
-55.4%
look: 3.5 | smell: 1.5 | taste: 1.5 | feel: 1.5 | overall: 1.5
A dear friend opened this up in Vermont this past weekend with high hopes, fantasties already shredded, mysteries denuded, glasses empty. The cork popped we sat in the glow of the mountain's moon and the dim Christmas lights. Seasonable carbonation, and a sexy label make for a promising redemptive opportunity.
One puff and the dream is battered back down into the fryer. Something a little too weird about this one. I've both poured out and tried to turn to distill batches of homebrew that smelled like this mixture of rambutan and rank citrus. There is a sourness there but the funk is also slightly reminiscent of bandaids. It is unpleasant.
The taste is similarly painful. Plasticky citrus sour funk and weird fruit. Mostly undrinkable. I want to be interested, and I am, which is how I end up with multiple pours. But my interest is some sort of masochistic fascination with liquid.
Between 5 of us we drink half the bottle. 2 brave souls attempt to finish the bottle the next morning, one of which even declaring "It's much better after sitting out all night." After more testing, it is decreed that it is exactly the same as the night before, only a bit flatter.
I'm thinkin we got some wild yeast that just don't make things right in here. That happens..and I ain't mad atcha.
★
1,286 characters

4
/5
rDev
+10.2%
look: 4 | smell: 4 | taste: 4 | feel: 4 | overall: 4
Served in some tall Odell stemware at Flanny's.
Murky mahogany, muddied and fading to lighter amber at the edges. One finger of creamy tan foam collapses slowly, sticking to the sides in thick glop.
Interesting. Lots of bright lime in the nose. Also grapefruit peel. Very hoppy, with a background of caramel, cola and sour balsamic.
Tastes almost like a soured IPA. Nice citrusy hops, orange peel, grass. On the malty side, there's brown sugar, a bit of toast and sweet cola. Behind it all, mild barnyard funk and touch of tartness.
Soft, pillowy body with lots of dense fizz. Light yet prickly carbonation and some alcohol heat in the throat.
Overall, like a malty, soured IPA. Hiveranno's good, but not great, and too expensive for what it is.
★
760 characters
3.47
/5
rDev
-4.4%
look: 3 | smell: 3.5 | taste: 3.5 | feel: 3.5 | overall: 3.5
717th Review on BA
Bottle to OSWG
750ml C/C
Thanks to Spdyfire83 for this one!
App- A multitude of browns and reds in this glass. A ring of tiny bubbles around the edges but no head. A bit of a let down to me but a couple reviews said this was intentional.
Smell- A bit watered down tart and aciditic with some dampness and some cherry flavors and some oak.
Taste- Its above average but im still a little let down. This was a bit thin and small. The ABV is very well hidden and with this mostly some fruit and oak shine through.
Mouth- A bit thin bodied and low carbonation. A nice tannic residual flavor.
Drink- Well it was new and different. I dont get the yeast notes but much more of a red wine tannin note. Bottle says 0739, not sure if this is bottle # but I dont think I am coming back to this except on tap if I ever found it.
★
840 characters

3.95
/5
rDev
+8.8%
look: 4 | smell: 4 | taste: 4 | feel: 3.5 | overall: 4
A - Pours a deep red-tinged brown with one finger of head. Head dissipates quickly and leaves no lacing.
S - a funky sourness in top of a huge citrus aroma.
T - very hoppy for a wild ale. Initial tart punch is quickly overtaken by a huge citrus hop character. Almost like a sour black IPA. Still pretty enjoyable. Finish is very oaky. Not like any wild ale I've ever had, but interesting and quite good. Finish also has some lingering citrus.
M - medium/light mouthfeel with a dry, tannin- filled finish.
O - interesting take on the style. I think a bit less oak would make this better, but I enjoyed it as is and would have another.
★
637 characters
4
/5
rDev
+10.2%
look: 4 | smell: 4 | taste: 4 | feel: 4 | overall: 4
on tap served in goblet
A- pours a hazy golden amber color with a fresh white cap some lacing on glass
S- was citrus fruits and hops with with grapefruit and tropical fruit smells a sour apple smell also in background
T- very nice smooth and creamy with subtle tropical hops first a musty sour apple and lemon grass follow with a sweetness of malt and bread..
M- was medium carbonation with more sweet then sour notes.. ABV not detected to me more a sweet lemon saison with an ipa citrus taste
O- limited and very good it does need some more sour funk imo.. had it on tap ...bottles are not yet here.. but will be buying them when they arrive
★
647 characters

3.68
/5
rDev
+1.4%
look: 4 | smell: 3.5 | taste: 3.5 | feel: 4 | overall: 4
Served on tap at the Haute Dish in Minneapolis
A - pours a murky brownish red with a creamy head
S - smells a little woodsy and spicy with bright fruits
T - starts with a strong caramel malts that lay the base of the beer. This fades to a touch of vinegar complemented by a really nice blend of dark fruits (plums and grapes) with some apples and a bit of cherry. Tobacco is in the mix somewhere as well. Ends with a little bit of grassy and bitter hops and a bit of sourness. Really fruity overall.
M - creamy mouthfeel with a nice full body
D - pretty solid American wild ale. Really nice flavor profile and solid drinkability. I was shocked to see this one on tap and would recommend seeking it out if possible.
★
719 characters

4.03
/5
rDev
+11%
look: 4.5 | smell: 4 | taste: 4 | feel: 4 | overall: 4
Reddish brown color, pretty murky and I can see a few streaming bubbles in the low light. Aroma is full of oak and soft wood notes. Hoppy as well here, with a big fruit note as well as citrus.
Sharply tangy with a pleasantly hoppy bite that surprised me. Pine notes alongside citrus and tobacco. Malts are pretty sweet with a firm body. Long finish, slightly sticky with notes of hops and malts in the aftertaste.
★
415 characters
4
/5
rDev
+10.2%
look: 4 | smell: 4 | taste: 4 | feel: 4 | overall: 4
I love sours and wilds. I was extremely excited to try this beer after standing in line for a bit to get it.
Light funk on the nose smelling of unsugared fresh yogurt and light fruits. Yep, its a sour! It surely carries through to the taste. No alcohol presence with light sweetness followed by a mild acidic sour bite all over the palate and puckering tongue. As a sour lover I was not dissapointed by this beer. It wasn't as much of a mouth puckering kick in the face as I like but it's a great example of a sour.
★
517 characters
3.46
/5
rDev
-4.7%
look: 2.5 | smell: 4 | taste: 3.5 | feel: 2.5 | overall: 3.5
Shared a bottle of this one last night with Schmittymack. Poured a clear amber-brown color with only a few bubbles on top. Aromas of oak, tobacco and some light horse blanket. On the palate, this one was light to medium bodied, kind of thin and watery, slightly tart, with flavors of oak and some dark fruit.
★
308 characters
4.07
/5
rDev
+12.1%
look: 4 | smell: 4.5 | taste: 4 | feel: 3.5 | overall: 4
On tap and as far as I can tell this hasn't been added to BA yet.
A: Pours a murky rusty red with a decent amount of head. Very nice lacing.
S: Initially the oak comes across the nose which provides a very "soft" aroma. Along with the wood is a fairly assertive American hop scent which is charecteristically citrus but becomes honeydew melon-like when combined with the yeast and the oak.
T: The flavor profile is quite complex. There's certainly a hop presence which actually takes the forefront with citrus, a little pine, and noticeable bitterness. Then it fades to a lemon grass and melon like flavor, some funk, and just a touch of sour. I read that this beer comes across as a funky IPA and I find that to be pretty spot on. Only thing that I'm not keen on with the flavor is a sweetness that to me is not welcome but to some I'm sure it'd be just right.
M: Lingers on the tongue but is not too thick.
D: Surprising that this is 9.5% ABV. Pretty darn drinkable.
O: A great brew. I would definitely recommend it, especially if you like beers like Le Terroir.
M:
★
1,081 characters
Hiveranno from Odell Brewing Company
83
out of
100
based on
23
ratings.