Bourbon Cru
| Hardywood Park Craft Brewery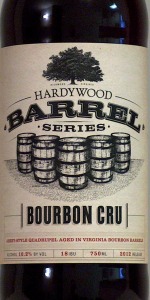 BEER INFO
Brewed by:
Hardywood Park Craft Brewery
Virginia
,
United States
|
website
Style:
Quadrupel (Quad)
Alcohol by volume (ABV):
12.00%
Availability:
Spring
Notes / Commercial Description:
Hardywood Bourbon Cru is brewed in the fashion of the abbey quadrupel, the grand cru of many of Belgium's revered monastic breweries. Bourbon Cru displays a sunset orange hue with a substantial head and brilliant clarity after months of barrel ageing. The maturity and melding of flavors brought on by the freshly drained, half-decade old Virginia bourbon barrels from Fredericksburg's A. Smith Bowman Distillery lends an extraordinary sense of harmony to Bourbon Cru.
Almond toffee and oaky vanilla aromatics give way to dark cherries, raisins and mature whiskey. A bit of plum flavor is greeted by caramel overtones and an assertive yet incredibly rounded body and a lingering, bourbon-laced finish.
18 IBU
Added by YumYumGumGum on 05-02-2012
Reviews: 53 | Ratings: 326

3.44
/5
rDev
-15.3%
look: 3.75 | smell: 3.5 | taste: 3.25 | feel: 3.75 | overall: 3.5
750ml bottle into a Duvel tulip. Because nothing says a hot summer day like a barrel-aged quad.
A: Pours a dark chestnut color. The head is a one finger off-white shade that starts off looking rough, but becomes smoother as it recedes. It retains a thin collar around the edges of the glass quite well, and tries to leave slight lacing on the glass.
S: There isn't a huge oak character here, more of a general bourbon note - still, it's presence is very welcome. I actually pick up more in the way of milk chocolate and hazelnut than I do typical dark fruits. However, they are there, if not as bold as I'd like them to be. Good aroma, but I expected more.
T: Bourbon opens the flavor profile quite respectably. After that...to be frank, I'm not picking up a whole lot. I think the problem is that apart from the bourbon character, the other flavors blend too much, harming its distinctive complexity. The finishing flavor is far more nutty than fruity, or even caramel-y. I don't note much of an oak character, either. I'd say it's closer to an English barleywine than a Belgian quad. Still, I love how it isn't remotely harsh. In this barrel-aged world, I can safely say I've had a few non barrel aged 10%'ers that were boozier than this. Still, I wish it had SOME depth to it - it's getting a little boring drinking this.
M: This one is pretty dry on the back end. Really dry, actually. It's also rather clean (for a quad) as well - giving it good drinkability and roundness at the cost of reduced decadence and flavor. That's actually this beer's best feature; in spite of the bourbon presence, it could honest-to-Slaanesh pass for a 7% brew. Even as it warms up, the alcohol presence is well hidden. Good carbonation helps drinkability, too.
O: This does an excellent job of providing bourbon qualities without the heat. As a quad, though, it's not very successful. There isn't much sense of complexity or boldness. But you know what? I like it to an extent. I won't have much trouble killing this by myself.
★
2,018 characters

3.42
/5
rDev
-15.8%
look: 3 | smell: 3.5 | taste: 3.5 | feel: 3 | overall: 3.5
Thanks again to Moses_Malone for this bottle; after having regular GBS, I wanted more, & here it is. 750ML corked & caged bottle with classy, parchment-and-black-ink label split with my wife.
The pour is clear pine sap amber with a low-hanging head that's quickly parted from the body; now it just looks like a light glass of vino. The nose is quite nice: coconut, vanilla, light powdered sugar, with an undercurrent of Charon. Which I hope I never experience in person.
Bourbon Barrel Cru is a gulpin' Cru. Sweet, sweet candied sugar coats the beer like a smooth liquid shell. Underneath that gum-receding shock is light vanilla, creamy caramel/toffee combo, pink bubblegum, peppery hit from the yeast (?). Bourbon? Hardly present in the taste, but as a warming afterglow. Supremely smooth, which is its best feature, but with a skimpy, scrawny body. Drinkable as all get out, but I like sugar-water.
Despite my many descriptors, this is a beer that doesn't light up the radar gun. The combo isn't dull, but it's…not terribly interesting. Just sweet & easy-drinking. Pretty good brew.
★
1,103 characters

3.24
/5
rDev
-20.2%
look: 4 | smell: 2.5 | taste: 4 | feel: 3 | overall: 2.5
Thanks to Matt for picking this up. Served in a cervoise. Pours a brownish color with a slight reddish hue. The nose has loads of sweet malt and just a touch of bourbon in the background. Mild dark-fruit notes,but nothing really Belgian about this. Flavor is similar. Too heavy on the sugar without much barrel and no notes from Belgian yeast. Medium body. Boring.
★
364 characters
Bourbon Cru from Hardywood Park Craft Brewery
90
out of
100
based on
53
ratings.