Dismiss Notice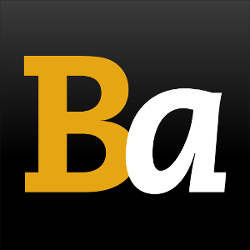 Site Performance Updates: We're aware of the nightly site outage, and working on resolving the issue.
Monkey Chased The Weasel
| Carton Brewing Company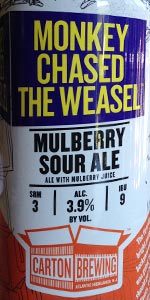 BEER INFO
Brewed by:
Carton Brewing Company
New Jersey
,
United States
|
website
Style:
Berliner Weissbier
Alcohol by volume (ABV):
3.90%
Availability:
Rotating
Notes / Commercial Description:
MONKEY CHASED THE WEASEL
Sour Ale
ABV: 3.9% | IBU: Sour | SRM: Ojo de Gallo
The backyard of our brewery has a mulberry tree that drops its fruit in the first days of summer. We moved into our building during early summer 2011, tracking a bright purple path through our new home with every laden step. It was then we decided: if mulberry was going to get that deep into the brewery, it probably should get into a beer as well. Stealing a process from Berliners, we let the lactics in a wheated mash sour up to a green apple/lemon level, accentuating the bright side of the mulberry profile. Meant for quaffing when there is no reason to avoid direct sunlight on balmy summer days, drink Monkey Chased The Weasel because there is more sun than moon at the top.
https://www.youtube.com/watch?v=nD ... 6WbvjLR1Kg
Added by claspada on 06-15-2012
Reviews: 35 | Ratings: 293

3.85
/5
rDev
-2%
look: 3.5 | smell: 3.5 | taste: 4 | feel: 4 | overall: 4
On-tap 8/23/2012 at Cloverleaf Tavern in Caldwell, NJ, served in a US pint glass.
A: The beer is a light gold color, with a large white head that fades slowly and leaves a thick lace on the glass.
S: The aroma contains esters, citrus, light caramelized malts and a faint touch of hops.
T: The taste starts out with a mild sourness. Then some sweet citrus flavors come in. The hops presence is very mild and the malt character is thin creating some balance. The after-taste is sour and slightly bready.
M: Crisp and smooth, light-to-medium body, medium carbonation, finish is clean.
O: Tasty, goes down easily, not too filling, very mild kick, good representation of style, it's a good beer to drink for a while if you're in the mood for the style.
★
756 characters
3.85
/5
rDev
-2%
look: 3.5 | smell: 3.5 | taste: 4 | feel: 4 | overall: 4
Pours straw gold with a small white head. Smells of tart peaches and apples with a slight barnyard ish funk. Taste is slightly tart green apples up front that mellows out to a very nice funky wheat base. Mouthfeel and carbonation are very on point for the style. Overall probably the most refershing thing I could have ordered on this 94 degree nyc day and at 3.9%abv I think I can drink it all day.
★
399 characters

3.84
/5
rDev
-2.3%
look: 4 | smell: 3.75 | taste: 4 | feel: 3.5 | overall: 3.75
The beer comes in a clear pale yellow.
The aroma has some apple, lots of tartness, some wheat, and lemon.
The flavor follows with apple and lemon tartness, some tartness, a bit of funk in there as well. The mouthfeel is thin, but in general quite refreshing.
The beer is a bit light on flavor, has a tartness of apple cider, but also some funk and wheat of a Berliner weiss.
★
378 characters
3.79
/5
rDev
-3.6%
look: 4 | smell: 3.75 | taste: 3.75 | feel: 4 | overall: 3.75
Served on tap at Morris Tap and Grill in NJ.
Pours cloudy hazy pale yellow gold. Ring of white foam. Peppery/rye like nose. Slight sour taste with a deep bite. Bitter hangs around. Interesting blend of a slight sour taste and a hop. Works very well together.
★
259 characters
3.74
/5
rDev
-4.8%
look: 3.5 | smell: 3.75 | taste: 3.75 | feel: 3.75 | overall: 3.75
first beer ive ever had with mulberry, and its a low alcohol summer berliner, how perfect! cleverly thought out, and well executed, this pinkish purple pale blonde white beer smells like tart fruit juice and a heavy sour lacto mash. its white wheat, low body, high refreshment, maximum drinkability. this is a perfect summer drink, tart enough to be refreshing without being sour enough to sit weird in the belly or be caustic when it warms up a little. the low abv makes it an all day beer, and i think the pint can is a nice format for it. a touch of white white acidity in the finish, along with the fruit, which i wouldnt immediately identify as mulberry, but it is a little different from other fruits, really juicy and tart. carbonation is medium, but its enough with how light the body is. overall a really fun beer, and a little something different. a great first impression from these guys as well. worth seeking out.
★
926 characters

3.68
/5
rDev
-6.4%
look: 3.75 | smell: 3.75 | taste: 3.5 | feel: 4 | overall: 3.75
64oz growler served in a DFH signature glass.
Appearance: Pours a golden yellow color with 1 finger of white head that dissipates almost instantly to a super thin collar. Body is slightly hazy with light amounts of visible carbonation
Smell: Light berry, wheat, mild lacto caracter and apple.
Taste: Moderate dry tart sourness upfront with a slight berry sweetness that comes through in the middle. Flavors are lemon, berry, grain with some funky, cheesy character as well. There's a mild but odd bitterness that comes through in the aftertaste that detracts from the overall taste a bit.
Mouthfeel: Medium bodied with low medium carbonation. Finishes tart and dry. Incredibly high drinkability.
Overall: Tasty, refreshing and crushable. Sightly weird aftertaste kept it from scoring higher, but this is still a great summer beer.
★
835 characters
3.5
/5
rDev
-10.9%
decent, didn't do it for me but I do like the effort to get different styles out to the people. Liked it up front but the finish lingered a bit too long.
★
153 characters

3.46
/5
rDev
-12%
look: 3.75 | smell: 3.25 | taste: 3.5 | feel: 3.5 | overall: 3.5
Finished off a very enjoyable tasting session at Tørst with this one.
Cloudy pale orange. Head is white, small bubbles with thin rim left behind. Bit dark, actually, for the style. But nice.
Smells very funky. Tart, vinegary, to the point of smokiness actually, which is a little bizarre. Hugely organic. Bit yeasty. Not bad.
Taste is tart, gets more tart and also funky and organic. Big apple cider note with cider vinegar edge. Gets a little bready and almost like a bread pudding with raisiny sweetness. Tart overall, a bit dry. Barnyardy. Mulchy at times too. Tastes nice, but has a few very odd moments through the palate.
Bit of body, gets a bit of a pull but not very puckering.
Decent Berliner weisse, very much in the organic school of beers.
★
761 characters
3.44
/5
rDev
-12.5%
look: 3.75 | smell: 3.5 | taste: 3.25 | feel: 3.75 | overall: 3.5
A: A nice hazy yellow in color, you can see the bubbles from the carbonation in the beer so there is a little transparency, started off with a little white head at the top that turned into a crown very quickly, not to much lacing was visible.
S: Wheat, Lemon, some hint of grapes and apples as well, sour note is present throughout.
T:The sourness hit me on the first sip, lots of wheat and lemon, and the sour is super present on the the palate, slight hints of apples on the tail end.
M: Light/Medium bodied, a good amount of carbonation.
O: Was not a fan of this brew, but I would say it wasn't terrible, I guess I am not a fan of sour beers, not to hard to drink but just something I didn't enjoy.
★
707 characters
2.42
/5
rDev
-38.4%
look: 3 | smell: 2.25 | taste: 2.25 | feel: 3 | overall: 2.5
Draft at The Pour House in Westmont, NJ.
Pours a slightly cloudy, dark golden straw color with a half finger white foam head that quickly settles into a thin ring. Minimal spots of lace left behind.
Slightly funky aroma with a faint lactic/cheesy presnce.  Kind of bland really with subtle spice, citrus rind and bread.  A bit sulfuric as well but the nose is kind of one dimensional and weak.
Medium bodid with some tart, puckering acidity up front that's countered by citrus fruit and sourdough bread notes.  Flavors fall off mid-palate and there is an odd metallic adjunct flavor that overpowers.  Doesn't have traditional characteristics associated with the style. Lacking in bready yeast, fullness in body, lactic funk and wheat beer notes. Kind of bland really with some lactic funk and sour lemon acidity up front.
★
831 characters
Monkey Chased The Weasel from Carton Brewing Company
87
out of
100
based on
35
ratings.