Darkest Hour
| Deep Ellum Brewing Company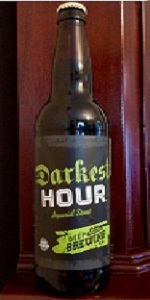 BEER INFO
Brewed by:
Deep Ellum Brewing Company
Texas
,
United States
|
website
Style:
American Double / Imperial Stout
Alcohol by volume (ABV):
9.00%
Availability:
Winter
Notes / Commercial Description:
No notes at this time.
Added by UTCengOwl on 01-21-2012
Reviews: 13 | Ratings: 83
3.25
/5
rDev
-17.7%
look: 3.75 | smell: 3.75 | taste: 3 | feel: 3.25 | overall: 3
Fresh bottle from spec's. This listed at 11%. Does not work for the style. The texture of the mouthfeel, the dryness, balance of chocolate, hops, malt. Whole package not in synch or drinkable.
★
194 characters
3.92
/5
rDev
-0.8%
look: 4.25 | smell: 4 | taste: 3.75 | feel: 4 | overall: 4
Appearance: Arrives with a carbon black color; the beige head builds up to a two-finger cap; very good retention
Smell: Roasty tones with dark chocolate and a hint of coffee
Taste: Roast and chocolate, up front, with some coffee and hop bitterness developing, in the middle; similar flavors progress to the finish
Mouthfeel: Full bodied with moderate carbonation
Overall: A nice double stout but I didn't get much impact from the rye in the grist; would have expected it to make a distinctive impact but it didn't
★
522 characters

3.15
/5
rDev
-20.3%
look: 3 | smell: 3 | taste: 3.25 | feel: 3 | overall: 3.25
Strange Belgian influence runs rampant in this otherwise subpar imperial stout. Has a basic dark malt and chocolate malt backbone with overly sweet candi sugar. No yeast or hop presence.
Too sweet. Imbalanced. Not real intricate.
C+
★
234 characters
3.37
/5
rDev
-14.7%
look: 3.5 | smell: 3.25 | taste: 3.5 | feel: 3.25 | overall: 3.25
Black in color with a tan head.
Rye and roast. The spice is there, but it dries out the beer more. It is pretty roasty the way it is. Lots of coffee roast with chocolate.
Ends dry and roasted.
Overall, solid but to dry. The rye was a unique take on the style.
★
263 characters

4
/5
rDev
+1.3%
look: 4 | smell: 4 | taste: 4 | feel: 4 | overall: 4
On tap at the Common Table 2nd Anniversary Party.
The beer pours a very dark brown to black color with a dark brown head. The aroma is full of chocolate and coffee, with some very nice roasted malt notes and a hint of cream. The flavor is more of the same, with a ton of milk chocolate and some coffee and roasted malt in the background. The beer is very sweet and I don't get hardly any hop character or bitterness. Medium to thick mouthfeel and medium carbonation.
★
468 characters

4.38
/5
rDev
+10.9%
look: 4.5 | smell: 4 | taste: 4.5 | feel: 4.5 | overall: 4.5
On tap at Down House in Houston Texas.
A: Pours a dark black color. Nearly opaque. A well formed one finger tan head forms and sticks throughout. Light lace is left behind. This is a looker.
S: Lightly roasted malts in the nose. Toasted bread/biscuit malts. Toffee and chocolate take over from here with some lighter creamed coffee. Very nice.
T: Ultra smooth milk chocolate. Toasted bready malts. Toffee some coffee. Excellent.
M/D: A full body with moderate carbonation. Ultra smooth and silky. The alcohol is not noticeable at all. Such an easy sipper, and a treat to drink.
This is really good. One of the better Imperial Stouts made in Texas. Incredibly enjoyable and well made. I will be looking forward to more from these guys.
★
736 characters

4
/5
rDev
+1.3%
look: 4 | smell: 4 | taste: 4 | feel: 4 | overall: 4
Almost black in the glass with brown around the edges. A thick creamy brown head builds up and slowly falls down leaving lacing.
Roasty, sweet, raisins, brown sugar, dark chocolate.
Velvety smooth full mouthfeel.
★
215 characters

4.17
/5
rDev
+5.6%
look: 4 | smell: 4.5 | taste: 4 | feel: 4.5 | overall: 4
Enjoyed on-tap @ the Schlafly Repeal of Prohibition Festival @ the Schlafly Bottleworks in Maplewood, MO. Tapped from the Black/Silver Tap Handle into a 16oz Schlafly Cup. Only allowed them to fill my cup half way at first, but then went for another 8oz pour. Fantastic!
Aroma- A very big and distinct cherry note pops out first at me. Rich and strong with barleywine like attributes. Very nice overall!
Appearance- Received with a 1.5 finger, dark brown head that had great retention. Has a jet black colored body and opaque. Leaves a good amount of suds behind.
Flavor- Sweet, deep malts, and richness all describe this brew. The sweetness branches out into the realm of fruits but not specifically to cherry like in the nose. Has a nice boozy flavor that isn't too overpowering and then has a medium bitterness.
Mouthfeel- Medium-Full Bodied & Thin, Light Carbonation, Textured and Chewy, and then has a sweet finish.
Overall Impression- A big time beer from Deep Ellum that has nice fruit characteristics and sweetness beyond anything I've had before. Such a complexed brew as well. I had to go back for two pours! You should try having one first and making your own judgement call on this wild beer.
★
1,214 characters
4.35
/5
rDev
+10.1%
look: 4 | smell: 4 | taste: 4.5 | feel: 4.5 | overall: 4.5
Beer number two at the brewery tour. I prefer to not have my big stouts in Shaker pint glasses... but what can you do. This is a completely new beer taste for me and I have to give them credit for that. Rye Imperial Stouts with Candi Syrup can evidently be really good.
The beer is black and imposing, as it should be. Wish I was drinking this in a balloon glass... oh, well.
The taste is shockingly interesting. The beer is sweet. Very sweet. Close to underfermented, but still not cloying. The beer is more smoky than roasty, but the malts aren't out of line for an Imperial Stout. The star is the Rye bite. When mixed with such a sweet, dark beer, they take on a distinct taste that I've never had before. It complements the roast and smoke extremely well and makes the beer almost refreshing.
This is fantastic stuff and I'd recommend that everyone should try it if they can.
★
888 characters
3.98
/5
rDev
+0.8%
look: 4.5 | smell: 4 | taste: 3.75 | feel: 4 | overall: 4.25
I've had this local Deep Ellum Imperial Stout many times. It is good but not the best that Deep Ellum has to offer.
(L) The color is dark brown almost black with a two inch thick light brown head
(A) The aroma is roasted malts, chocolate and coffee.
(T) The taste is sweet malts, chocolate, coffee, perhaps a bit too sweet, but overall pretty good.
(F) Velvety mouth feel but there's a hint of the alcohol. I like it, but it is not top notch.
★
450 characters
3.88
/5
rDev
-1.8%
look: 4 | smell: 3.5 | taste: 4 | feel: 4 | overall: 4
Poured at Lucky Lou's in Denton.
Well, the beer pretty well lives up to its name; it's obsidian black with a nice cream/tan head. No lace.
Darkest Hour smells sugary sweet! Chocolate-syrup is the front-runner here, but there are notes of spice and a smoky aroma that I suspect is roasted barley, but it keeps throwing me off. It's really hard to pick anything out because the sweetness is so potent.
The flavor is dominated by sugar and sweetness which, at first, comes as a surprise but is not a bad thing. Honestly, I did not think I'd be able to notice the rye but it definitely holds the flavors together and keeps the sweetness turning from delicious to disgusting. The smoke smell is overturned by a roasted character and towards the end of a sip, turns the sweetness into a nice burnt chocolate flavor. I bet this stout would be wayyy better when aged. The further down the glass I get, the more tired I get of it being so sweet, but the rye adds an important, yet subtle complexity it keeps me interested; Darkest Hour wouldn't be the same without it.
The alcohol isn't really present, even for 9%, but I can't tell if it's just hidden behind all of the sugar. Full-bodied but easy to drink. I don't know if I could drink more than a pint at a time, but I'd definitely order one again.
★
1,297 characters

3.69
/5
rDev
-6.6%
look: 4.5 | smell: 3.5 | taste: 3.75 | feel: 3.75 | overall: 3.5
I find it funny a brewery in Texas based a beer on winter solstice. We celebrate solstice in AK while here in Texas it's just another day.
This is a good effort by Deep Ellum to replicate Anchorage Brewing Co's brew by the same name (Gabe was brewing this style at Midnight Sun long before DE was open).
Pours a nice dark, almost black, color. Smells of caramel and brown sugar. Nice head but fades fast. Taste is an explosion of caramel, molasses and hints of coffee. I love this brew! However after living in Alaska off and on for the past 20 years I'm a bit spoiled.
I highly recommend this brew though
★
608 characters

4.59
/5
rDev
+16.2%
look: 4.5 | smell: 4.25 | taste: 4.75 | feel: 4.5 | overall: 4.75
On tap @ world of beer...Nice smooth dark as night beer ; sweet taste with a nice smooth mouth feel . Nice long finish, went very well W/ my Chimay Burger ..!! You must try this if you see it .!! Very Nice beer .!!
★
214 characters
Darkest Hour from Deep Ellum Brewing Company
87
out of
100
based on
13
ratings.