Boatswain Double IPA (Twin Screw Steamer)
| Rhinelander Brewing Company
BA SCORE
65
poor
60
Reviews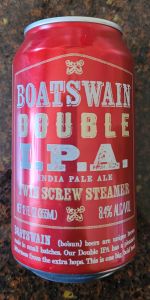 BEER INFO
Brewed by:
Rhinelander Brewing Company
Wisconsin
,
United States
|
website
Style:
American Double / Imperial IPA
Alcohol by volume (ABV):
8.40%
Availability:
Year-round
Notes / Commercial Description:
No notes at this time.
Added by chinchill on 12-16-2012
Reviews: 60 | Ratings: 235
1.58
/5
rDev
-39.9%
look: 3.5 | smell: 1 | taste: 1.5 | feel: 1.75 | overall: 1.75
Poured from a 22 oz bomber purchased at Trader Joe's for $2.99 or something.
Has a very nice honey amber color, with strong carbonation resulting in a fluffy off-white head that evaporated quickly with almost no lacing.
The smell is really off, not smelling like hops or malt. Smells more like cheap beer that has sat out overnight after a frat party. Not inviting at all.
The taste is the least balanced of any "craft" beer that I have ever had. Very sweet up front, followed almost immediately by a bitterness with no complexity. No citrus, no floral, just extreme, lingering bitterness.
Yes, I can feel it in my mouth. Kind of wishing at this point that I wasn't.
Overall, this is one of the worst non-mass-market beers that I've ever had. I actually poured most of the bottle down the drain, which for me is like sacrilege.
★
832 characters
3.2
/5
rDev
+21.7%
look: 4.5 | smell: 2.5 | taste: 3.25 | feel: 3.75 | overall: 3.25
Looks really good on a slow pour into a Redhook ESB Tulip. Had to slow down and let the beautiful head subside and finish a complete pour before drinking. Patient drinker tonight.
I have no idea of the bottling date. I have consumed this beer quite a few times before. This is my review.
Sweet smelling brew of sugar, wet straw, faint horrendous hint of rotting ginko fruit (yuck!), alcohol, hint of marigolds and daisies (flowers that smell like something dead), and yes, I do smell hops intensely as well, a bit like a wet mowed lawn in this case. Not bad.
Legs of lace follow my quaffs with a slender ladder persisting upon completion of the draught.
Taste arrives with alcohol right up front for me, followed by a sweet malt cloyed by something acetic and then ester, but all good, as a general hop infusion slams away doubting taste-buds. In fact this bottle surprises me with how good it tastes. I do not expect a great deal from this budget fare. I expect something to drink with dinner that is not revolting. I am enjoying this.
Mouthfeel is wonderful! Just the right amount of carbonation for me. But I manage my pours, and pick my glassware. You always know beer is not water. But this is like a hopped up carbonated honey drink. Maybe this has adjunct in proportion in the recipe. Feel good.
Overall, I enjoy this brew from time to time. Lucky to have something this strong and cheap. Not perfection. A hard working beer for the hardworking person with only a little bit of change to spare. Beer snobs will have to seek something else.
★
1,552 characters

1.12
/5
rDev
-57.4%
look: 3 | smell: 1 | taste: 1 | feel: 1 | overall: 1
Appearance: Pours a clear orange/caramel brown…tons of bubble action going on…some off white head formed and hung around...looks watery and average…(3/5)
Smell: Bitter! Smells like a cheap beer, think a skunky Old Milwaukee…grains and bitter hops…(1/5)
Taste: Bitter! There's grains, bitter hops, sweet/pale malts and cardboard…it's overly bitter, disgustingly bitter…the bitterness overpowers everything happening here and has the classic skunky, frat party cheap beer taste…GROSS! (0/5)
Mouthfeel: Light body, medium carbonation…fluffs disgusting bitterness all over my palate…bitter after taste…(.5/5)
Overall: This may be the single grossest beer I've ever had…there is an outrageous bitterness that isn't tasty nor does it leave room for any other flavors…I can't believe people actually bottle this and I'm more surprised people buy this…DO NOT PURCHASE this beer, save your money…I suspect burning two one dollar bills with a lighter would bring more satisfaction…seriously, this is disgusting and something I would be ashamed of…(0/5)
★
1,092 characters

3.63
/5
rDev
+38%
look: 4 | smell: 3.5 | taste: 3.5 | feel: 4.5 | overall: 3.5
I bought this to break into the Trader Joe's market a little, as I noticed that they carry multiple beers from Boatswain. It's a little too sweet an IPA for me and not as hoppy as I would like a Double IPA, but still a good purchase and worth the money, as it is not an expensive beer at all.
★
292 characters
2.44
/5
rDev
-7.2%
look: 3.5 | smell: 3.25 | taste: 2 | feel: 2.5 | overall: 2
Just shared this with my buddy Hank who had this review (that I completely agree with): This is nothing like a DIPA, I would barely say its an IPA. It has a slightly fruity nose with some citrus. Taste was malty, almost unfiltered, but hardly any hops. The bitterness at the end is the only IPA-esk thing about it. At $2.50 it was worth the try. If your looking for DIPA don't bother. If you want a cheap, easy ale, them pick it up.
★
432 characters

3.23
/5
rDev
+22.8%
look: 4 | smell: 3.5 | taste: 3 | feel: 3 | overall: 3.25
Poured from a 22 oz bottle into a glass stein.
Abundant head from an aggressive pour, the two-finger foam crown a pleasant off-white / light beige, the DIPA underneath an inviting copper color. Nice lacing and head retention.
Aroma has a nice malty bite with a hint of caramel. Malty taste, but a bit light / watery on mouthfeel. Not as much hop presence as I would have anticipated, however the aftertaste retains the hoppiness.
Taste is just average; my attraction was the brewery's name, Rhinelander Brewing CO (aka Minhas, nee Huber). Allegedly there will be a new Rhinelander Brewery in Rhinelander, WI, but I think there had better be some significantly better offerings to resurrect the old brewery's memory.
★
718 characters

3.04
/5
rDev
+15.6%
look: 3.25 | smell: 3 | taste: 3 | feel: 3.25 | overall: 3
Appearance: A slightly off orange color, with moderate foam and lacing.
Smell: Malt, caramel, and funk.
Taste: Caramel, malt, and funk.
Mouthfeel: Bready yet watery, creamy, with a hint of bitterness in the finish.
The Verdict: I'm torn. As a DIPA, it's bad. As just a cheap beer with a big kick, it's does the job fairly well. Maybe I'll pretend this Trader Joe's brew is actually a funky, slightly hoppy malt beverage and be happy with it.
★
455 characters

3.23
/5
rDev
+22.8%
look: 4 | smell: 3.5 | taste: 3 | feel: 3.5 | overall: 3
Was at my local Trader Joes today and picked up a 22oz bomber of this for $2.59. Short money, so why not...
Poured into a small tulip, it was a bright, clear orange-golden color. There is plenty of steady carbo, and the head is off-white, fine and creamy. Most of the foam congregates at the edges, and lacing is minimal. Aroma gives off a decent amount of hoppyness, along with some toasty malt action. Feel was near medium, though it was a bit light and airy.
Taste, too, has a smidge of sweetness and some toasty malt, but then it is mostly hoppy. What I get here is some mildly rindy citrus, with a bit of apricot-like fruitiness. For a DIPA, it doesn't have a strong hop profile, though. The hops linger a bit in the finish, yet overall this is fairly simplistic brew. Decent for the price, but not something to write home about... Prosit!
3.2/5 rDev +15.9%
look: 4 | smell: 3.5 | taste: 3 | feel: 3.5 | overall: 3
1554
★
928 characters

2.28
/5
rDev
-13.3%
look: 3 | smell: 2.5 | taste: 2 | feel: 2 | overall: 2.5
Well, the wife got this at Trader Joe's for $2 and it is possibly worth that. I've had several DIPAs and this one is definitely sub-par. It's a very light amber color with a thin finger of white foam that dissipates shortly. The aroma is an odd mix of sourness and bubblegum. The taste is metallic, sour mess with a hint of adjunct. The body is quite thin for the style, and the aftertaste is less than desirable.
In my opinion, if the beer industry consisted of the government taking over, and producing a basic example of each style, this would be the resulting DIPA. This will not be a repeat buy. It's tolerable and cheap.
★
626 characters

2.81
/5
rDev
+6.8%
look: 3.5 | smell: 2.5 | taste: 3 | feel: 3 | overall: 2.5
650 ml bottle from Trader Joes. IBU = 75 / O.G. = 17.15
Deep amber color with a small and short-lived head, leaving almost no lacing.
The aroma has a metallic off odor. Modest amount of earth hop aroma and flavor, but a rather poor quality hop aroma compared to better IPAs.
Medium body but lightly astringent.
O: drinkable and inexpensive, but disappointing and not recommended. [2.75]
★
395 characters
Boatswain Double IPA (Twin Screw Steamer) from Rhinelander Brewing Company
65
out of
100
based on
60
ratings.