Icelandic Arctic Berry Ale
| Einstök Ölgerð ( Einstök Beer Company )
BA SCORE
83
good
14
Reviews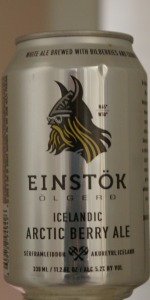 BEER INFO
Brewed by:
Einstök Ölgerð ( Einstök Beer Company )
Iceland
|
website
Style:
Witbier
Alcohol by volume (ABV):
5.20%
Availability:
Limited (brewed once)
Notes / Commercial Description:
We celebrate summer with our Arctic Berry Ale, a refreshing witbier flavored with tasty bilberries, hand-picked near the Arctic Circle.
Added by GMuir on 08-02-2014
This beer is retired; no longer brewed.
Reviews: 14 | Ratings: 59

3.77
/5
rDev
+3%
look: 3.5 | smell: 4 | taste: 3.75 | feel: 3.5 | overall: 3.75
Pours golden with a thin white head that leaves spots of lace. Strong berry aroma. Berry flavor up front with light malt backbone and subtle hop bitterness on the finish. I like it.
★
181 characters

3.71
/5
rDev
+1.4%
look: 3.5 | smell: 3.75 | taste: 3.75 | feel: 3.5 | overall: 3.75
Einstok's beers are pretty solid in general, this beer is very palatable, has a nice appearance, not much head. Pours a light straw color. Has a light berry flavor and a reasonable amount of carbonation. Not bad.
★
212 characters

3.37
/5
rDev
-7.9%
look: 3.5 | smell: 3.25 | taste: 3.5 | feel: 3.25 | overall: 3.25
I picked this up at Total Wine in Orlando and am sorry that it is now "retired". Poured out a hazy light golden color with a generous, but fleeting foamy white head. The smell is slightly fruity with some hint of malt. The taste is very mild with an almost blueberry flavor. The finish is very long lasting fruit flavor that lingers for a long time on the lips and tongue. The carbonation level is quite good. This beer should be brewed again! If you can find one give it a try.
★
486 characters

2.98
/5
rDev
-18.6%
look: 3 | smell: 2.5 | taste: 3.25 | feel: 3 | overall: 3
Pours light brown. Smells of berries and sour beer, like the dregs of some middle school concoction. Tastes good, much better than the aroma, but a little watery. Berries, generic barley. Kind of like is Leinies Berry Weiss used a very weak English mild as its base.
★
270 characters
3.7
/5
rDev
+1.1%
look: 3.5 | smell: 3.5 | taste: 3.75 | feel: 4 | overall: 3.75
Can poured into a BarrelHouse Brewing Co pint glass
A: Pours very light straw, almost white with a yellow tinge, with a frothy white head that settles and laces lightly.
S: Berry, bready malt, blueberry muffin, and maybe a little faint citrus.
T: Bright, slightly tart berry notes, white grape, maybe a little light citrus, nice wheat touch, and some malt sweetness.
M: Medium body, moderate carbonation.
O: Pretty darn refreshing.
★
438 characters

3.49
/5
rDev
-4.6%
look: 4.5 | smell: 3.5 | taste: 3.25 | feel: 3.75 | overall: 3.5
Looks great, shiny clear golden color with a thick, long lasting white head.
Hard to find much wit smell behind all the sweet berries. Maybe a little lemon and some wit yeast. The flavor is dominated by a somewhat artificial tasting powdery, berry flavored candy. There was a bit of dry yeastiness in the finish, but the berries dominated the wit. Pretty good for a curiosity, but one and done for me.
★
403 characters

4.54
/5
rDev
+24%
look: 4.25 | smell: 4.5 | taste: 4.75 | feel: 4.5 | overall: 4.25
Appearance: A soft white straw in color with a beautiful foamy white head. Very nice lacing and good retention.
Nose: Yeast, crackers, lemon, blueberry, apple,
Taste: Blueberry muffin, tart, bit of malt balance, white grapes.
Notes: A fun witbier that brings change and something new to ponder.
★
302 characters

3.63
/5
rDev
-0.8%
look: 4 | smell: 4 | taste: 3.5 | feel: 3.25 | overall: 3.5
I had picked this up at The Fridge, but when I went to review it, I realized that there was no extant picture. I took one, resized it and sat back for approval to take place. When this did not happen on a timely basis, it got shuffled into the queue until now. Viva Le CANQuest (TM)!
From the CAN: "White Ale Brewed with Bilberries and Crowberry Juice"; "Drekktu. Sigradu. Endurtaktu!"; "In Iceland, Sumardagurinn fyrsti (the First Day of Summer) designates the arrival of warmer temperatures and abundant sunshine. At Einstök, we're celebrating summer with this limited-edition Arctic Berry Ale, a refreshing witbier flavored with tasty bilberries, hand-picked near the Arctic Circle. It's the perfect ale for your summer adventures, but enjoy it while you [CAN] - it will disappear with the midnight sun. Drekktu. Sigradu. Endurtaktu!"; "N65/W16".
The Icelandic Crack! inspired an inverted Glug, producing three fingers of fluffy, bone-white head that fell as quickly as a souffle when the oven door is banged shut. Nose had a very berry-filled sweetness, but I would have guessed blueberries and/or strawberries, definitely NOT bilberries and crowberries! Color was a cloudy Yellow-Gold (SRM = 4 - 5), but the Gold Boys (Mammon, Croesus and Midas) did not show up as they sneer at cloudiness as indicative of a flaw. Not in a Witbier, boys! Mouthfeel was thin-to-medium. The taste was quite sweet, more so than I would expect from the style and especially for one being touted as a Summer beer. One of the things that I like about traditional Wits during the Summer is their orange-citrus tang, which this lacked. That is not to say that it was unpalatable, but instead, that it was just awfully sweet. I kept thinking of the Tastykake Mixed Berry pies that come out in the Spring and I like them just fine. I am just not a fan of sweet tastes in my beers, I guess. If they make this again in 2015, I will revisit it on a more timely basis.
★
1,946 characters

3.1
/5
rDev
-15.3%
Pours a thin head on a cloudy light straw body.
The aroma is fruit forward with lemon dominating.
The taste starts with a cider flavor, watery middle, wheat and mild bitter finish.
The texture is soft.
It's pretty mild, but good.
★
230 characters

4.01
/5
rDev
+9.6%
look: 4 | smell: 4.25 | taste: 4 | feel: 3.5 | overall: 4
A huge thanks to the legendary woodychandler for this beer. Poured from an 11.2 oz. can. Has a whiteish/golden color with a 1/2 inch head. Smell is bursting with berries. Taste is dominated with berries, some sweetness, some subtle hints of wheat, extremely refreshing. Feels medium bodied in the mouth and overall is a very enjoyable beer.
★
340 characters

3.7
/5
rDev
+1.1%
- White ale brewed with bilberries and crowberry juice. can.
(3.55) A: Cloudy lemon peel coloring with a quick release of macro-effervesce. Snow white capping, soapy structure, one inch high with a fair rate of holding. Spacious soapy spotting for lace.
(3.60) S: Nose of sweet blueberry muffin (most likely the bilberries im picking up), lightly tart with wheat with a light lemon and orange dryness.
(3.70) T: Flavor was blueberry muffin, lightly tart lemon and wheat. A touch of sweetness followed by grapefruit and a fruitiness of white grapes.
(3.70) M: Bready muffin, crisp bite, lightly tart and refreshing.
(3.70) O: smooth clean flavor, crisp, nice use of bilberries that were well balanced providing just the right amount of influence, not an overbearing berry drink, but delicately in harmony with the wit character, ideal for an summer drink. My first Icelandic beer.
★
890 characters

3.71
/5
rDev
+1.4%
Best by 5/29/15.
Pours a murky light yellow with a foamy white head that settles to a partial film on top of the beer. Foamy swaths of lace form around the glass on the drink down. Smell is of malt, grain, berry juice, and berry aromas. Taste is much the same with grain, berry juice, and berry flavors on the finish. There is a very mild amount of earth bitterness on the palate with each sip. This beer has a lower level of carbonation with a slightly crisp mouthfeel. Overall, this is a pretty good beer with some interesting berry additions that I have never tried before now.
Serving type: can.
★
601 characters
3.9
/5
rDev
+6.6%
popped the cap on this can and got a whiff of berry. very nice looking hazy pastel yellow. a little bland on the taste, but my buds might be a little skewered after a glass of Utopias and a couple shots of Crown Maple.....? but not bad. subtle berry flavor. easy to imbibe. my can says 5.2%.....
★
295 characters
4.42
/5
rDev
+20.8%
look: 4.5 | smell: 5 | taste: 4.25 | feel: 4 | overall: 4.25
I consumed quite an amount of this on-tap only beer while on holiday in Iceland. There were quite a few of Reykjavik many great bars had this on tap. I first came across it while having a light calamari lunch and it was just delicious. Very light and like a fruity wheat beer.
It is cloudy in appearance and the aroma is awesome! Even the barman pouring commented about how amazing it smelt.
All in, very refreshing, very Einstok and sadly i beleive for now only available in Iceland or maybe just very limited export.
★
521 characters
Icelandic Arctic Berry Ale from Einstök Ölgerð ( Einstök Beer Company )
83
out of
100
based on
14
ratings.