Timmermans Tradition Faro Lambic
| Brouwerij Timmermans-John Martin N.V.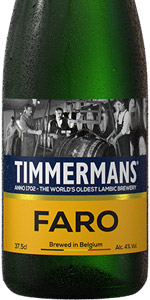 BEER INFO
Brewed by:
Brouwerij Timmermans-John Martin N.V.
Belgium
|
website
Style:
Faro
Alcohol by volume (ABV):
4.00%
Availability:
Year-round
Notes / Commercial Description:
No notes at this time.
Added by ohitsbrad on 09-07-2006
Reviews: 7 | Ratings: 18
3.48
/5
rDev
-7.7%
look: 4 | smell: 3.5 | taste: 3.5 | feel: 3 | overall: 3.5
This one pours a small head, with a very nice amber-copper-tangerine colour. Smell of vinegar, apples (cider), wood. Sour and a bit funky. Not much carbonation, and maybe too light in the palate. Taste of cider, vtoo much sugar, but it keeps some sourness and vinegar notes. Good, though I'd always take a lambic instead.
★
321 characters

3.31
/5
rDev
-12.2%
look: 4.5 | smell: 3.5 | taste: 3 | feel: 4 | overall: 3
Best By January 2012; Sampled July 2010
Pours with a frothy, off-white head. The beer is a darkish amber hue that shows a brilliantly clear, dark copper color when held up to the light. The aroma smells quite sweet, then of fruit (apples, perhaps some pear, though both notes seem like oxidized versions of the fruit), there is a touch of tin, definite oxidized caramel, and something that smells sort of rich and savory smelling or perhaps a bit rotten somehow (I am not sure on this last note, but it smells of something that even Lambic shouldn't smell like).
Wow, quite sweet tasting (especially compared to Girardin Dominicus that I just had); having said that I think that it is not as sweet as Lindeman's Faro. There is perhaps a touch of tartness in the finish, perhaps even a bit lemon like, but this is not very sour considering it should have a base of Lambic. This is quite light bodied, though the sugar does give it some heft. It is hard to really taste anything anything under the sugar; it definitely tastes like lemon-"flavored" sweet-tea, and there is a certain fruitiness here too.
The Lambic character seems to have made it less into this than it should have; the aroma is actually entirely devoid of anything resembling Lambic. Not bad and sort of refreshing, b/c it is so clean, but really seems more like sweet tea with fake lemon added than anything; and I am nor really a fan of that.
★
1,411 characters
3.85
/5
rDev
+2.1%
look: 4 | smell: 4 | taste: 4.5 | feel: 2.5 | overall: 3
Appareance: Translucent brassey-gold with a light head that leaves a loose Belgian Lace.
Aroma: The sourness is readily apparent, with a bit of green apples making itself known. Below that, just a hint of grain.
Taste: Sweet up front, with only a hint of sourness under it all. In between the malt is there, and it works quite well.
Mouthfeel: A bit weak. There's a slight zip of carbonation at first, but it goes away rather quickly and with a limp. Surprisingly, the sweetness doesn't leave a cloying aftertaste that one can find with sweet beers.
Drinkability: One of the few beers where the taste is exceptional, but the mouthfeel is a major detriment. A good beer, but not a great one.
★
695 characters

4.04
/5
rDev
+7.2%
look: 5 | smell: 3.5 | taste: 4 | feel: 5 | overall: 4
A - Gorgeous light gold color with pillowy head. There is a dance of bubbles in the glass
S - Very sweet aroma. Apple juice is absolutely apparent. Interesting, at least.
T - Tons of sugary sweetness, reminiscent of Kool-aid sweetness. Yeast qualities are intricate, but subdued. Light fruit come through, mainly apple and citrus.
M/D - Mild tartness and candied sugared sweetness makes this beer too easy to drink. I wish I could find this in my home town so I could enjoy it on a hot and humid Indiana summer day
★
517 characters
3.3
/5
rDev
-12.5%
look: 3.5 | smell: 3.5 | taste: 3 | feel: 3.5 | overall: 3.5
Bottle: Poured a deep orangey color lambic with a small foamy head with not much retention or lacing. Aroma of sour and tart notes with some light funk is surprising - nothing close to actual lambic but still retains some of the characteristics. Taste is quite sweet with some tart notes with some light oak. Not sure why apple juice was added in there but it was not overly noticeable.
★
386 characters

4.32
/5
rDev
+14.6%
look: 4 | smell: 4.5 | taste: 4.5 | feel: 4 | overall: 4
(Served in a tulip glass)
A- This beer pours an apricot colored clear body with a gentle carbonation of tiny bubbles. The snow white head is thick and creamy fading to a thin film and sticks to the glass after each sip.
S- The smell of green apples is flowery and is followed by a nice apple juice note. There is a faint cheese mold hint that is in the background.
T- The smooth cidery flavor has a soft wheat hint and a light wood hint to it. As the beer warms there is an apple juice taste and a finish of soft honey and club soda. There is a slight sour note at the finish that adds a nice depth and a soft brie rind note. There is a very soft smooth champaign vinegar note in the sweetness.
M- This beer has a light mouthfeel with a nice crisp finish.
D- Wow in a blind taste test I would swear this is a cider aged in oak with a great yeast. The beer is subtle but has a nice complexity that has a new layer with each sip.
★
935 characters
4.14
/5
rDev
+9.8%
look: 3 | smell: 4 | taste: 4.5 | feel: 4 | overall: 4
7 September 2006, Best Before Feb 07
Golden orange colour with a small white head. Aroma is of sour apples, oak and is a bit funky. Sweet white sugar taste. Lolly-ish, fruity (peach, green grapes), sour, acidic and vinegary with some grainy wheat flavours underneath. Reminiscent of a sweet fruity white wine. Medium bodied and acidic mouthfeel. A sweet, fruity and winey lambic.
★
382 characters
Timmermans Tradition Faro Lambic from Brouwerij Timmermans-John Martin N.V.
-
out of
100
based on
7
ratings.