8 Second Kölsch
| Elevation Beer Co.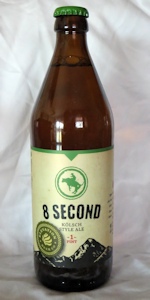 BEER INFO
Brewed by:
Elevation Beer Co.
Colorado
,
United States
|
website
Style:
Kölsch
Alcohol by volume (ABV):
4.50%
Availability:
Year-round
Notes / Commercial Description:
Head Brewer Christian Koch fell in love with this style after visiting the beer halls of Cologne and brewed our 8 Second Kölsch to be a true representation of this easy drinking, crisp Ale. We first brewed this beer as a specialty beer for our local county rodeo, and it quickly became a local hit. This is a beer that will find a place in craft beer destinations and cowboy bars alike, and is perfect for those looking for an easy drinking everyday craft beer.
Added by beergoot on 02-09-2013
Reviews: 11 | Ratings: 63

3.75
/5
rDev
-3.1%
look: 3.75 | smell: 3.75 | taste: 3.75 | feel: 3.75 | overall: 3.75
Poured from 12oz bottle into a dimpled mug.
Appearance: pale straw hue with a touch of haze and a thin layer of white foam. Not bad.
Smell: lightly grainy and yeasty with some sweetness overlaid. The underlying graininess is just a little sour but overall it's a good example of the style.
Taste: very much like the aroma, with that same dash of sour to the graininess and with a bit more sweetness. Still, it's a refreshing beer.
Mouthfeel: medium body with a decent carbonation and creaminess.
Overall: a pretty straightforward American Kölsch; light and refreshing.
★
581 characters

4.18
/5
rDev
+8%
look: 4 | smell: 4 | taste: 4.25 | feel: 4.25 | overall: 4.25
This was a very good Kolsch, which is a style not many breweries have attempted to make. Very smooth and light, yet flavorful, just as it should be. This is my third different Elevation beer so far and I am quickly becoming a fan. Very glad they are bottling and distributing now!
★
283 characters

3.89
/5
rDev
+0.5%
look: 4.5 | smell: 3 | taste: 4 | feel: 4.5 | overall: 4.25
Bottled on: 2/13/15 – purchased at the brewery in Poncha Springs.
APPEARANCE: Absolutely, crystal clear with just a small handful of bubbles lingering beneath the remains of the head. The cap is a mixed bag of very large bubbles and wisps of tiny ones after the initial finger of it fell. Lacing is surprisingly strong with no layers, just solid coverage, again, with a good mix of bubble sizes.
SMELL: Very nice aroma. Pineapple comes through first in my nose, but citrus, pine and an unexpected breadiness all come into play. There is a hint of grassiness lurking beneath it all along with a touch of mint.
TASTE: Wow, this is a bitter IPA! Big grapefruit and lemon flavors punch the palate right off the bat while some more nuanced notes, like pineapple, orange and pine play on top of a bed of grass. Caramel malt provides a nice balance from mid to late sip, but this is very hop forward.
MOUTHFEEL: The first sip of this is puckering bitterness, which I did not expect at all. After that, however, the malt starts to come through and balance this out nicely. Hops, of course, are on the heavy side, but the malt is strong enough. Dry at first, sweeter on the finish, the body is medium. There is a tickle of carbonation, just enough to clean the palate with each sip, but not so much that it rips any taste buds out.
OVERALL: I'm very surprised to see that a few past reviewers have said this is a malt forward beer. I don't drink this beer all the time, but I have had it before and it never seemed like that to me. Not that that would be a terrible thing, my experience has just been a lot different, that this is a beer who's hops are the star of the show. Pleasantly bitter, but balanced.
★
1,732 characters
3.9
/5
rDev
+0.8%
look: 3.5 | smell: 3.5 | taste: 4 | feel: 4 | overall: 4.25
Really good, really fresh tasting. Grainy, fragrent nose. Crisp, lively tastes of pale and wheat malts and delicously flowery hops. Went well with totrilla soup and sweet potato fries. Great beer!
★
196 characters

3.75
/5
rDev
-3.1%
look: 4 | smell: 4 | taste: 3.5 | feel: 4 | overall: 3.75
From the 16 ounce bottle into a stein. I poured it vigorously and it produced a light, foamy, pale white head. A pale straw colored body shows and has some light carbonation through the hazy liquid. The head persists well and leaves some lace behind.
Biscuity and cracker-like, with hints of sweet pale malt. The hops give it a floral quality. It's simple but enticing.
I get a lemony flavor here, then some subtle, cracker-like malt flavors. The hops are only slightly detectable, imparting a touch of floweriness.
As it should be, this beer is very light and drinkable. It keeps enough malt to thicken the body and keep it from soda or champagne territory, but it still drinks smoothly. The finish is dry and bready with only a slight bitterness.
This is enjoyable. I imagine it would be even tastier on tap and super fresh.
★
834 characters

3.64
/5
rDev
-5.9%
look: 3.75 | smell: 3.5 | taste: 3.5 | feel: 3.75 | overall: 4
Pours a light golden color with a decent head in the tall goblet. Clusters of bubbles clinging to the glass. Plenty of spritz on the tongue. Some pleasant resiny aroma with a whiff of citrus.
Light flowery hop flavors. Somewhat acidic and on the verge of being tart, but in a lemony rather than sour way. Very light body with the ongoing fizzy mouthfeel.
A quite drinkable and clean-tasting Kölsch. Light aromatics with a citrus note and an unobtrusive bitterness at the finish. From the 500 ml bottle purchased for four bucks at Grapevine Liquor in Denver.
★
560 characters

3.54
/5
rDev
-8.5%
look: 3.75 | smell: 3.5 | taste: 3.5 | feel: 3.75 | overall: 3.5
Appearance - light see through straw color high a huge head.
smell - grassy smell. not very strong and nice subtle smell
taste - very crisp and easy drinking up front. followed by a sweet maltiness and smooth finish. nice drinkable beer, but not a lot of flavor
mouthfeel - easy drinking with a crisp finish
overall - nice porch drinking beer, but not my style.
★
365 characters
4.25
/5
rDev
+9.8%
look: 4 | smell: 4 | taste: 4.25 | feel: 4.5 | overall: 4.5
hands down the best kolsch i have ever had, bar none. its simple summer beer really, but its put together in a way that not a single other example of the style can match. pale blonde beer, brightly carbonated, with a distinct grassy and slightly limey hop profile. the label seems to indicate a single hop of tettnanger, which i never knew could be so dynamic, especially on its own. pils and white wheat malts make up the base, which is light and clean, minimally cereal grainy, but still earthy and floral, its really fun beer. a four pack of pint bottles is nice, but a sixer of these would be the ideal dose. just so bright and easy drinking, perfectly refreshing when ice cold, and quite affordable for the quality. kolsch isnt a style of beer that has ever turned my head or inspired me much, but for an all day drinker, i can think of no better beer in the colorado market. i love the subtle but distinct hop profile on the finish, and the way the little bubbles prickle it into my palate. infinitely sessionable, 8 second is yet another example of brewing mastery from the good people of elevation. i cant get enough of this.
★
1,133 characters

3.88
/5
rDev
+0.3%
look: 4 | smell: 3.5 | taste: 4 | feel: 4 | overall: 4
On tap at Euclid Hall. Bright yellow color, nice looking head. Aroma was earthy, minerals, interesting. Flavor was crisp, fruity, probably wouldn't pass for a true German like Sunner but nonetheless it was a nice beer. This might be the best Elevation beer I've had this far, very refreshing.
★
292 characters

3.85
/5
rDev
-0.5%
look: 4 | smell: 4 | taste: 3.75 | feel: 4 | overall: 3.75
Pours a light, translucent gold with a white, frothy head. Aroma offers some hay, honey, lemon and some sweeter fruit essence, floral and some grainy breadiness. Flavor was quite similar; hay, lemon, honey, floral and some light grainy bread. A medium body, creamy, active mouthfeel, Super drinkable. Overall, Elevation with another nice beer. Super sessionable and super tasty. Gonna make for some nice sessions come baseball season, I believe.
★
445 characters

4.12
/5
rDev
+6.5%
look: 4 | smell: 3.25 | taste: 4.5 | feel: 4.5 | overall: 4.25
Found this on tap at Trinity Brewing in Colorado Springs...
Beautiful light gold body crowned with a soft, creamy white head. The aroma is hard to describe: a little grassy, a little veggie-like, a bit like old fruit. The feel is wonderfully soft on the palate, very dry, crisp, and light; very soft and pleasing carbonation. The flavors wrap around a soft malt background with slight fruity esters and a crisp, mellow hop bitterness throughout.
This is a very light, very refreshing beer and would be excellent knocking back a few on a patio in warm weather. A well-made, delicious, very session-able German ale.
★
616 characters
8 Second Kölsch from Elevation Beer Co.
86
out of
100
based on
11
ratings.