Dismiss Notice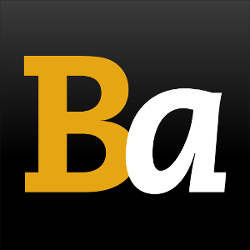 Site Performance Updates: We're aware of the nightly site outage, and working on resolving the issue.
Whatever, Nevermind
| Tired Hands Brewing Company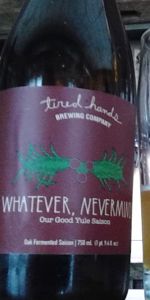 BEER INFO
Brewed by:
Tired Hands Brewing Company
Pennsylvania
,
United States
|
website
Style:
Saison / Farmhouse Ale
Alcohol by volume (ABV):
8.10%
Availability:
Rotating
Notes / Commercial Description:
No notes at this time.
Added by Knapp85 on 01-14-2013
Reviews: 15 | Ratings: 92

4.1
/5
rDev
+3%
look: 4 | smell: 4 | taste: 4.25 | feel: 4 | overall: 4
Bottle purchased at Tired Hands Fermentaria in Ardmore, PA.
This one pours a dark-ish orange, with a small head, and a good amount of lacing.
Smells like honey, hay funk, oak, mango/other citrus, and a bit of grassiness.
This isn't quite as good as Ourison, but still nice. It's sweeter than I expected, with a nice sweet honey flavor, along with a slight tartness, some oak, soft creamy citrus flavor.
This has a slightly creamy mouthfeel, and a normal level of carbonation.
This was super drinkable, and the 9% ABV didn't show itself at all.
★
549 characters

3.83
/5
rDev
-3.8%
look: 3.25 | smell: 4.5 | taste: 4 | feel: 3 | overall: 3.25
750ml poured into HF Durabor Charente glass. Aggressively poured with zero head, just a forcfield of small bubbles around the diameter of the glass. The smell is fruit with a light funk from the get. It tastes of apricots and peaches. The beer is lacking in the carbonation department. Seems a bit flat for style. The flavors are all in the bottle, it's just the carbonation (near nonexistent) that is the X Factor missing. This was my first Tired Hands saison I had heard such great things about. It was below expectations, but I will surely give others a shot. They have earned my attention with delicious IPAs.
★
613 characters

3.92
/5
rDev
-1.5%
look: 4 | smell: 3.75 | taste: 4 | feel: 3.75 | overall: 4
This beer poured a hazy yellow color into my tulip glass from a 750ml bottle. The nose is tart and slightly funky. The taste does follow the nose nice and tart but clean with a nice crispness. The true beauty of the saison yeast coming through. There is no hint of the 9% ABV in this beer. A most enjoyable saison.
★
314 characters

3.85
/5
rDev
-3.3%
look: 3.75 | smell: 3.75 | taste: 4 | feel: 3.75 | overall: 3.75
Growler. Poured a hazy yellow. Normally don't like imperial/high ABV Saisons. This one was pretty decent. Smells funky, fruity, grainy and devoid of booze thankfully. The flavor is even better. Funked and mildly tart. Some pale fleshed fruits. Malt that doesn't venture on being overly sweet. Rarely do I enjoy a Saison with this much alcohol but it's hidden very well.
★
369 characters

4
/5
rDev
+0.5%
look: 4 | smell: 4 | taste: 4 | feel: 4 | overall: 4
From 11/26/15 notes. 32 oz. growler from Fermentaria in Ardmore, PA 12 hours earlier.
Pours a hazy burnt orange color with one inch of bright white head and moderate carbonation evident. Super funky, lightly tart, oak, citrus hop, fruity malts, honeysuckle, mangos. Medium body and low carbonation.
Overall funky but I dig it.
★
328 characters

4.14
/5
rDev
+4%
look: 4 | smell: 4.25 | taste: 4.25 | feel: 3.75 | overall: 4
32 oz growler poured into a teku
Appearance: Pours a light orange with about a finger of a white head. Body is very hazy, but translucent.
Smell: Peppery yeast, white grape, pear, clove, some light funk and orange.
Taste: Highly tart, but doesn't quite cross into sourness. Palate is similar to the nose. There's lemon, pepper, white grape, slight grassiness and a honey like sweetness throughout.
Mouthfeel: Medium bodied, maybe a little thin, with light carbonation. Tart, semi-sweet finish.
Overall: Really nice. One of the sweeter saisons I've had, which gives it a really unique character when combined with the tartness. I'd be interested to see what would happen to this one if it were bottled and aged for a bit.
★
726 characters

4.32
/5
rDev
+8.5%
look: 4 | smell: 4.5 | taste: 4.25 | feel: 4 | overall: 4.5
32 oz growler, filled 1/10, pour into teku
A- A hazy golden orange with a two finger white head.
S- A nice funky saison, some earthy spice, pepper, honey, pears, sweet malts. Very nicely balanced.
T- Tart and sweet lemons, pepper, earthy spice, mild funk, touch of honey, nice sweetness, good balance.
M- Smooth, medium body, nice carbonation.
O- A good Saison from Tired Hands, nose reminds me of DuPont beers. Worth trying. The tartness is a really nice surprise.
★
473 characters

3.98
/5
rDev 0%
look: 4 | smell: 4 | taste: 4 | feel: 4.25 | overall: 3.75
Hazy golden orange in color, medium cap of white froth, decent lacing. Scent of spicy yeast hits before musty grain, light herbal notes with some fruity esters. Taste begins with musty grain and peppery spice, mild herbal and leafy qualities present, lightly sweet and fruity esters. Medium bodied, nice coating, dry. Solid, full flavored saison.
★
346 characters

4
/5
rDev
+0.5%
look: 4 | smell: 4 | taste: 4 | feel: 4 | overall: 4
Pours a clear golden honey color with a white head.
Smells of honey, mild spice, sweet white grape juice, hibiscus and maybe other flowers, some booze detectable. Complex and enticing.
Taste is sweet honey and flowers again, lemon zest, some interesting peanut/peanut butter flavor, booze. Again, complex and very tasty.
Strong well carbonated mouthfeel, very appropriate for the style, fairly thick and syrupy though, the 8% abv shows a little.
Great beer, complex and unique but still within expectations for the style.
8.0/10
★
533 characters

3.63
/5
rDev
-8.8%
look: 4 | smell: 3.5 | taste: 3.5 | feel: 4.5 | overall: 3.5
Served in a tasting glass.
Pours a cloudy golden amber with a layer of white head that leaves lace on the glass. I'm getting a strong herbal note in the smell along with a sweet citrus component. The taste isn't quite as sweet. There is a slight wine like tartness. Herbal notes combine with malt sweetness through the finish. I would have liked the flavors to be abut more delicate. The carbonation was tingly with a dry finish.
★
430 characters

4.1
/5
rDev
+3%
look: 4.25 | smell: 4.25 | taste: 4 | feel: 4.25 | overall: 4
1-liter growler into a matching Tired Hands oversized wine glass. The brew appears a clouded golden yellow with a rich and frothy white cap that holds with about a finger and fades leaving a full wall of webby lacing effect sticking to the glass. A swirl revives about a half finger back to the surface that again fades to a thin layering across the top.
The aroma is mildly spicy with suggestions of clove and pepper with a fruity inclusion that is minorly lemon-like. There is some bready quality about this that is quite pleasing coupled with an herbal hop element that is somewhat grassy. Trace amounts of bubblegum emerge as the brew warms up.
The flavor is bready with a flavor of wheat that provides a soft touch of something tart before the onset of fruity pear or apple skins. Some spice like pepper and clove is also present with a soft herbal hop flavoring to contrast. The aftertaste is somewhat fruity like lemon miked with that fresh grainy quality that was quite abundant initially in the aroma.
This is a medium bodied brew with a modest amount of carbonation. It is packed full of flavor that is well blended and rounded. That 8% abv is well masked. Style-wise this might be the first Tired Hands offering that was restraint enough to be familiar even though I never had it before. I dont know what they did to make this a "holiday" saison but quite frankly I dont care. This was very enjoyable.
★
1,416 characters

4.23
/5
rDev
+6.3%
look: 4.25 | smell: 4.25 | taste: 4.25 | feel: 4 | overall: 4.25
Growler poured into a tulip
A hazy, orange infused golden yellow body with a two finger off white cap. Good staying power, settling to a layer of foam with some spider web lacing.
The nose is of white wine, straw, lemon peel, pepper, doughy yeast, and grapefruit. Prominent wine notes with and underlying musty/earthy funk from the straw notes.
Earthy, musty funk up front before a wave of white wine, doughy yeast, pepper, and citrus. The finish is a balance of juniper, straw, and earth, giving way to wine and citrus. A little bit of bitter citrus coats the mouth and lingers around for a while.
Medium body with a smooth feel.
A bit of a different spin on a saison, bringing in wine notes and borderline hefeweizen notes. The musty, earthy funk from the straw flavors helps balance this out. This is a damn fine saison. I really enjoyed this.
★
851 characters

3.94
/5
rDev
-1%
look: 3.75 | smell: 4 | taste: 4 | feel: 4 | overall: 3.75
on tap at the brewpub
Golden orange pour, hazy hue, thick tuft of white head. Fades into solid retention with sticky lacing.
Inviting nose with citrus peel and orange. Light tartness, softly funky, tones of cracked pepper and lemon peel. A bit malty and warm.
Funky and spicy up front with lemon peel. Sweetness from the malty backbone with biscuit notes. Peppery spice, toasted grain, familiar saison yeast and alcohol warmth.
Fuller medium body, higher carbonation, bubbly and creamy on the tongue. Tasty combination of citrus, sweetness and alcohol, making it an enjoyable fit for the "holiday season" even though it's already passed us by.
★
650 characters

3.71
/5
rDev
-6.8%
look: 4 | smell: 3.5 | taste: 3.75 | feel: 3.75 | overall: 3.75
First had: on tap at the brewpub
A "strong holiday saison."
Hazy, golden-amber pour, with a frothy white head that left dabs of soapy lacing on the glass. Aroma was light, notes of spicy yeast and stone fruits. The taste was similar, ripe stone fruits, pale malts, saison yeast, hints of peppery spice and mint, some boozy heat trying to peak through. Nothing that really made me think "holiday ale," but then again, that's a pretty broad scope there. About medium in body, moderate carbonation, decent drinkability.
★
518 characters

3.65
/5
rDev
-8.3%
look: 3.75 | smell: 3.75 | taste: 3.5 | feel: 3.75 | overall: 3.75
This poured out as a hazy looking orange color with a white head on top. The retention settles quickly leaving a thin white film over top of the beer. There is a scattered lacing on the glass but nothing too fancy looking. The smell of the beer has large amounts of ripe banana aromas with a generous sweetness as well. The taste is fruity with a hint of some tangy spice in the finish. The mouthfeel of the beer has a pretty good amount of body to it. There is a good carbonation and goes down smooth for a higher ABV beer. Overall this beer is pretty good, it almost reminded me more of an "Imperial Hefeweizen" in some ways. Not a bad beer to try though.
★
657 characters
Whatever, Nevermind from Tired Hands Brewing Company
87
out of
100
based on
15
ratings.