Heavy Seas Alehouse
PLACE STATS
Reviews:

11

Ratings:

Avg:

3.82

pDev:

5.76%

Taps:

10

Bottles/Cans:

10

Cask:

Y

Beer-to-Go:

N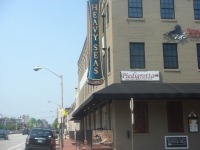 PLACE INFO
Type:
Bar, Eatery
1300 Bank St
Baltimore
,
Maryland
, 21231-2205
United States
(410) 522-0850 |
map
www.heavyseasalehouse.com
Notes:
No notes at this time.
Added by Imstillthegman on 02-20-2012
Reviews: 11 | Ratings: 26

4.01
/5
rDev
+5%
vibe: 4 | quality: 3.75 | service: 4 | selection: 4.25 | food: 4.25
stopped in here for a lunch and a couple of beers.
this is not a brewpub, just a restaurant location , with mostly Heavy Seas beers. they have a few guest taps. they have all of the year found Heavy seas beers, plus seasonals.
there is a bar up front with booths and tables, then another room in the back, plus a "cigar garden" shared with the place next door.
the food was very good, "gastropub" I'd say.
★
418 characters
3.61
/5
rDev
-5.5%
vibe: 3.5 | quality: 3.5 | service: 3.75 | selection: 3.5 | food: 4
Located in Little Italy-inside a huge building but I was suprised how small the actual ale house is. Rather dark inside...Around 8 Heavy Seas beers on tap and 2 casks. Nothing special-all standard offerings or a seasonal. Still you cant go wrong with Loose cannon for my money. Service at the bar was very attentive. Had some great hush puppies and a single crab cake that was almost as good as my mom's. Worth stopping by-I wish they had some ale house specials or one offs in here rather then their core line up. May seem pricey but for basically being downtown Baltimore I didnt find it out of line.
★
602 characters

3.56
/5
rDev
-6.8%
vibe: 3.75 | quality: 3.75 | service: 3.5 | selection: 3.25 | food: 3.75
The wife and I were walking to Max's and strolled right by Heavy Seas Alehouse. Must check it out! Beautiful industrial building, well repurposed. Spacious inside, but a bit corporate looking and not a whole lot of personality. Sort of Applebee's-meets-Google.
Surprisingly busy on a Christmas monday night, but nice at the bar. Tought-but-nice service from a no-nonsense Bawlmer chick. Their food menu is limited but has some interesting things, such as "Rusty Cannon cheese" (beer-washed Taleggio) and local oysters.
Their beer menu is confusing- they list a bunch of seasonals that are actually not available; their "real" lineup is on a chalkboard behind the bar: 6 year-round brews (including Peg Leg Imp Stout), 2 seasonal (Davy Jones and Aarghtoberfest) and 2 casks (Below Decks and Loose Cannon). I was hoping for much more, including some barrel-aged stuff.
We had a good time and would go back, even though this place is far from outstanding.
★
958 characters
4.3
/5
rDev
+12.6%
vibe: 3.75 | quality: 4.25 | service: 5 | selection: 4 | food: 4
Went here for lunch and a few brews on a cloudy rainy Saturday afternoon. Not that many people were there early in the afternoon, but the place looks like it could be rocking on a good evening. Beer was quality and food was good. Our server was very knowledgeable about the beer and even made some recommendations. The selection was awesome with Heavy Seas full selection plus two cask offerings. Food was pretty good, however a tad pricey. Overall somewhere I would come back to but maybe only for a drink.
★
507 characters
4.06
/5
rDev
+6.3%
vibe: 3.75 | quality: 4.5 | service: 3.75 | selection: 4 | food: 4
I had been eager to try Heavy Seas Alehouse since it opened, but I was finally able to get here with a small group for my birthday in April. It did not disappoint! If you are going here it is probably for Heavy Seas beer, which they offer the regular line-up and the available seasonals on draft. They also have bottled beer from other brewers, wine, cocktails, and rum. For the less-adventurous drinkers in the group, they had 1 or 2 domestic bottles on the menu which still cost around $5 each, so the restaurant is catering more toward the craft beer drinker. The biggest draw (to me) was the cask ales, which they had 2 when I was there: Loose Cannon and Powder Monkey. The Loose Cannon was a fine choice, very hoppy and flat (but not in a bad way, it is meant to be less carbonated than the usual draft or bottle). But the Powder Monkey was outstanding: sweet and delicious, with the right balance of malt to hop. The cask ales do change often, but they promise to have some available continuously.
While the beer is the obvious draw, the food was phenomenal as well! They had something for everyone: from local oysters, roast duck, and braised rabbit to burgers, salads, and pasta. The entire group was pleased with their meal. For dessert I had the Peg Leg stout Ice Cream float. The creamy, sweet ice cream paired well with the malty, slightly bitter, and creamy stout.
You will probably go here for the beer, but the check out the food as well. While not as fancy as The Brewer's Art, it is still a bit pricey so it will remain more of a place for special occasions to me.
★
1,583 characters
4.21
/5
rDev
+10.2%
vibe: 4.25 | quality: 4.5 | service: 4.75 | selection: 3.5 | food: 3.75
This place is a great addition to Baltimore's beer venues. The ales are fresh and represent the best that Heavy Seas has to offer. On my last visit, I had a bourbon-barrel-aged Belgian-style Holy Sheet from the firkin, and it was very, very good. For hop heads, they usually have the 70ish IBUs Loose Cannon on cask, but there are some innovative ales also such as the strong and spiced Wit beer Riptide.
Importantly, the service is great - they really try hard here. It is family friendly, and we have always felt welcome there whether we are with a large group of friends or when we are with our two small kids. The food is very tasty, though best value would be the sliders or the burger. Kids menu is awesome.
The decor is beautiful- heavy wood beams, leather, good lighting. The manager is great and bartenders are friendly, and there's a nice outdoor space.
I heartily recommend this place.
★
899 characters

3.55
/5
rDev
-7.1%
vibe: 4 | quality: 3.5 | service: 3.5 | selection: 3.5 | food: 3.5
Walking the Inner Harbor before a flight out. With 2 monsters, ksak, and AnnieK.
Atmosphere: Almost missed it a the corner of Bank and Central. Inside, wood is the theme. A long bar, plenty of tables, even an outdoor courtyard. We took a table near the door. The bar area is very nice - good place to belly up I think.
Quality: Decent food, good service, nice decor. My monsters were even given foam swords to take home with them. The beer list is a little deceiving though.
Service: No complaints on this front. We were visited regularly (including the aforementioned swords).
Selection: The beer list handed to you features all Heavy Seas beers. Beware though, a good many seasonals on that list that are no always available. Six or seven beers on tap, including the 2012 Letter of Marque, an imperial wit (that frankly wasn't very good). A few cask offerings, both the pale ale and Hop3 Loose Cannon. The Loose Cannon, my other choice, was quite good - the cask adding an intense cascade hoppiness.
Food: Food was serviceable - nothing terribly exciting. The menu includes pub grub and more adventurous entrees. Prices are reasonable if not on the high side.
★
1,166 characters

4.43
/5
rDev
+16%
vibe: 5 | quality: 4.5 | service: 4.5 | selection: 4 | food: 4.5
While in town to experience Sailabration, an event in which a flotilla of tall ships from around the world drop anchor in Baltimore, a city heavy with its own maritime tradition, I thought it necessary to adhere to a nautical motif and set my heading in the direction of Heavy Seas Alehouse.
Anyone familiar with the Baltimore's craft beer scene will surely know of Heavy Seas Brewery, the brainchild of local beer hero Hugh Sisson. While the brewery itself is located in an industrial park outside of town, Heavy Seas Ale house is situated on the eastern edge of Little Italy in what was once the Holland Tack Factory. The building evokes the industrial days of yore with its sturdy walls, expansive façade and wrap-around loading deck (for outdoor dining, perhaps?) and seems to be ready to play another important role for the beer lovers of Baltimore.
You enter into a moderate sized room; there is a rather small bar and a comfortable array of booths along the windows, both divided by a line of high top tables. The décor is strictly wood and brick. This is a sprawling establishment, something one will soon notices as they wander to the head (the bathroom for you landlubbers): there is another dining room, the Captain's Lounge and an intimate courtyard beer garden. Check out the original firedoor, which was manufactured right here in Baltimore.
Of course, Heavy Seas features their own beer – though it is not brewed on-site, offering 7 taps and two casks. During my visit, the majority was from the Clipper City era and there was nothing from the Mutiny Fleet. (Don't be fooled by the expansive beer menu; most of those listed were seasonal.) Still, I'm not gonna mutiny over this. The beer was fresh and well poured. The service, Dan the Bartender, was exceptional, and the food, made from local ingredients, was savory and filling. The venue also offers great Happy Hour deals, specials and a weekly firkin tapping. (Yes, I said firkin, which is a beer cask of moderate size.)
There is limited parking; however, the Charm City Circulator (Orange Route) runs directly by it. Certainly, a port worthy of your anchor.
★
2,145 characters

3.43
/5
rDev
-10.2%
vibe: 4 | quality: 3.5 | service: 3.5 | selection: 3 | food: 3.5
I went here for dinner for my birthday last night.
The place looks pretty nice, i like the open layout of the front room as you walk in. When i wandered back to the men's room later, i noticed there was another area of seating in the back, as well as what appeared to be some kind of outdoor/patio area. Whether they have table service or it's just an area to hang out if your drinking a couple beers, i don't know. They have some Heavy Seas signs hung up tastefully around the place, nothing too overbearing. It was after 8:00 on a Tuesday night, and the place was less than half full.
The beers are all Heavy Seas, with a few "guest" bottles. What they have available is dictated by seasons, but everything is pretty much what you can easily get at any liquor store in the area, although they do have 2 casks. They also have some specialty beer cocktails, which my wife had 2, and they were pretty good and interesting.
The service was good. The waitress was friendly, and i like the fact that they let you know right away what beers they have and a brief description, so you don't go ordering something they don't have at the moment. Other than that the service was pretty standard, nothing extraordinary but nothing to complain about either.
The quality of the food was pretty good. Again, nothing in particular to complain about, but nothing that was phenomanol either.
The one thing for me that was a bit of knock on this place was the prices. 7.50 for a pint from the casks, and 5.50 for the standard drafts. Although if your going to go to this place, Tuesday night might be the night to go, as it is "draft" night-3.50 for drafts, a bit more reasonable. Unfortunately, i did not take advantage of this as i ordered both the cask beers, which are not included in the special. Luckily, the waitress did take one of my beers off the tab when she found out from my wife that it was my birthday. So i thought that was a nice touch. The food was also on the pricey side.
Overall, the place is a bit too expensive while the food and beer just don't have enough to offer to make this a place i would come back to very often. It's a "one and done" kind of place for me. I was glad i tried it once. My wife made samiliar remarks as we were finishing up last night. It might be a place you could bring out of town guests if they were interested in trying some local beers or something like that. But then again, there's plenty of other options too.
★
2,453 characters

3.56
/5
rDev
-6.8%
vibe: 4 | quality: 3.5 | service: 3.5 | selection: 3.5
Out of curiousity, I stopped by the other night on my way home from Mahaffey's and Hudson St. Stackhouse. The alehouse is actually a pretty good size restaurant, contained in an old warehouse. There is considerable exposed brick and wood inside, and with the low lighting and professional wait staff (I assume), the place comes across as a cut above your typical beer bar (somewhat like Alewife, though the layout here is different). In any event, as you walk in from Central St., there is a good size dining area with high ceilings, but with also a fairly long bar area along to the right. I was here at 4:30 and the place was next to empty, though there were a few folks at the bar (including Hugh Sisson on this afternoon).
In terms of beer, I'd read the recent write-up/review in the Baltimore Sun, and so felt I knew what to expect. As expected, the alehouse features nothing but Clipper City/Heavy Seas beers on tap, along with a few bottled beer items (anchor steam, stella, pilsner urquel, as well as the usual slew of macro swill). On this day there were 11 beers on tap, including two cask items (the alehouse normally has 12 beers on tap, but I gather one of the selections had just recently blown). What's sort of odd is that when you first sit down, the bartender/waiter hands you a list of heavy seas beers, and I know my first reactions was "wow, they actually carry most everything by Heavy Seas." In fact, the list does include most everything from Heavy Seas (divided into Clipper fleet, Pyrate fleet and Mutiny fleet), and the bartender then points to the beers on the list that the alehouse is currently pouring. The beer selection is also wrtten on a board behind the bar, but it's a bit hard to see, due to the low lighting.
As for quality... shrug. I think heavy seas beers are competently made, but with not many standout selections. The Loose Cannon is a well made IPA, and I also have been impressed with the red sky at night saison and the black and dubbel cannon. I also very much enjoyed the glass of cask peg leg imperial stout I had at the alehouse, a beer I was told that was brewed with chocolate nibs.
Service was OK. It appears the staff have been trained to assume that most customers know nothing about craft beer or heavy seas beers, and so my bartender quickly launched into an unsolicted explanation about the different beers availabe this day. I tried to stop him ("thanks, I appreciate the information, but I'm familiar with heavy seas beers and I know what an imperial stout is"), but once he got rolling, it was difficult to interrupt.
As for food, I just got a small bowl of the roasted pecans (the kitchen wasn't open yet). While they tasted fine, I thought the $5 price tag was a little much. In any event I don't feel as if I can rate the quality of the food here based solely on a bowl of nuts (so I'll leave that blank).
In terms of price, in keeping with the upscale atmosphere I guess, they're a bit high. In addition to the $5 I paid for my nuts, my pint of cask peg leg was $7.50 I believe. After I just finished paying less than $5 for a glass of nugget nectar at Mahaffey's and the Stackhouse, I was bit surprised by what I was charged here. Otherwise, the alehouse seems to carry your normal area pub grub (with a few specialty items), but with an upscale dining price tag (burgers were in the $13 to $15 range as I recall).
I don't know. There's nothing at all wrong with this place, but I guess I'm a bit puzzled as to what they're aiming for. Prices are on the high side for what you get, and heavy seas beers are readily available all over town. Granted, no place will have the kind of heavy seas selection you'll find here, so I guess if you're a huge fan of their beer, this would be a place to come. Still, the alehouse is in something of an odd location, and really isn't close enough to Little Italy or the harbor area so as to be readily walkable from those parts of town (IMHO). Also, parking is limited to metered street parking, and even though the place was fairly empty on a Friday afternoon, there was very little parking to be found around there. I'm not aware of any nearby lots, so I have to think that finding parking late at night would probably be pretty miserable.
Not really sure I can think of any reason to ever go back here...
★
4,323 characters
3.78
/5
rDev
-1%
vibe: 5 | quality: 3.5 | service: 4.5 | selection: 3 | food: 3.5
The beer was great. The atmosphere was great. The food was average. We had great service, even if the waitress was a little nervous. We ordered tempura Fried bacon to start. It was good. The crab dip was outstanding, but the bacon was a little too fatty and greasy. Still, it was a good start.
For entrees, we ordered the mussels and stuffed flounder. The mussels were great--soft and fresh. The broth they came in was the best part of the meal....just wonderful. The stuffed flounder was just okay. It was a little dry and didn't have enough seasoning. The crab inside wasn't lump, so the stuffed flounder ended up unexciting. Also, the lemon sauce it sat in made the meal a bit too citrusy.
Overall, it was a great dinner. We'll go back and hope the food is a little better next time.
★
790 characters
Heavy Seas Alehouse in Baltimore, MD
88
out of
100
based on
11
ratings.