Dismiss Notice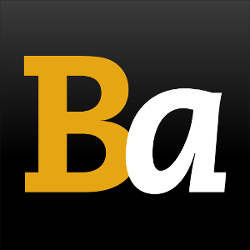 Site Performance Updates: We're aware of the nightly site outage, and working on resolving the issue.
Venusian Pale Ale
| Garage Project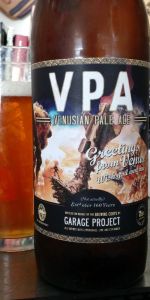 BEER INFO
Brewed by:
Garage Project
New Zealand (Aotearoa)
|
website
Style:
Herbed / Spiced Beer
Alcohol by volume (ABV):
7.30%
Availability:
Year-round
Notes / Commercial Description:
Brewed with Lemon grass, kaffir lime leaf, coriander, and grapefruit peel.
Added by CrazyDavros on 06-03-2013
Reviews: 8 | Ratings: 13

4.17
/5
rDev
+10.3%
look: 3.5 | smell: 4 | taste: 4.5 | feel: 4 | overall: 4
Hazy golden colour with a small white head. Good head retention and pretty lacing.
Dank, almost musty hop aroma. Great citrus and herbal notes. A little sweet.
Sweet malt and big punchy hops. Only moderate bitterness but the aroma on this sings. Really quite delicious.
Medium light body with moderate carbonation. Solid.
An excellent beer. Great flavours and eminently drinkable.
★
388 characters
More User Reviews:

3.75
/5
rDev
-0.8%
look: 3.75 | smell: 3.75 | taste: 3.75 | feel: 3.75 | overall: 3.75
Enjoyed on draft at the Oregon Brewer's Festival - pours a hazy yellow/orange with an inviting foamy head that lingers, as does the lacing. Nice nose - citrus is evident, lemons and limes and some freshly cut grass notes appear in the nose and taste as well. Nicely balanced, thin mouthfeel but fits well within style. The finish is dry with oily notes from the hops - unsure what hops were used here. This is a very nice example of the style and I wouldn't hesitate to have it again. It would pair well with a nice spicy Thai dish. Don't hesitate to give this one a shot. Cheers!
★
580 characters
3.8
/5
rDev
+0.5%
look: 4 | smell: 4 | taste: 3.75 | feel: 3.5 | overall: 3.75
Brilliant orange color, little carbonation, moderate head. Aroma: this is an IPA intersecting with something else. Malts, peach, coriander, incense, sandalwood, nutmeg. Though not extremely deep in the aroma. The taste is a bit more bitter, from earthy hops, more IPAish. Medium bodied. Interesting beer, but nothing sensational.
★
329 characters
3.34
/5
rDev
-11.6%
look: 3 | smell: 4 | taste: 3 | feel: 3 | overall: 3.5
Pours gold/amber with a fading head.
Nose shows lemon myrtle confectionery noes, light sweet malt and lemon zest.
Lemon myrtle is prominent as a flavour too along with the bitter grapefruit. The kaffir lime is faint. Quite herbal leading to an astringent bitterness.
Carbonation seems a little full on.
Needs more malt and less grapefruit.
★
343 characters
4
/5
rDev
+5.8%
look: 4 | smell: 4 | taste: 4 | feel: 4 | overall: 4


3.75
/5
rDev
-0.8%
look: 3.75 | smell: 3.75 | taste: 3.75 | feel: 3.75 | overall: 3.75

3.83
/5
rDev
+1.3%
look: 4 | smell: 4 | taste: 3.75 | feel: 3.75 | overall: 3.75

4
/5
rDev
+5.8%
look: 4 | smell: 4 | taste: 4 | feel: 4 | overall: 4
3.79
/5
rDev
+0.3%
look: 3.75 | smell: 4 | taste: 3.75 | feel: 3.5 | overall: 3.75
A: Big kaffir lime, Moderate grapefruit zest, lemon (coriander), light lemongrass that melds into a light malt sweetness.
A: Bright orange color, clear, with a frothy white head that slowly recedes. There is ample lacing in the glass.
T: Moderate kaffir lime upfront, with some grapefruit, lemony light tartness. There is a light lemongrass note, followed by light malt character with a slight sweetness. The beer is moderately bitter from the kaffir lime with a very dry finish.
M:Medium-light bodied with moderate carbonation. Drinks smooth and hides its alcohol well.
O: Interesting aroma, the bouquet of lime, grapefruit, coriander, and lemongrass provides a nice backdrop for the clean malt aroma. However, the kaffir lime is almost a little too strong in the aroma and definitely too strong in the flavor. A little lime leaf goes a really long way. All in all, still a pretty drinkable beer.
★
905 characters

3.65
/5
rDev
-3.4%
look: 4 | smell: 4 | taste: 3.5 | feel: 3.5 | overall: 3.5
Fifteen hundred odd beers* into my personal beer journey and I guess you could say the feeling of discovering something new has gone... or has it? Kiwi brewer Garage Project, who I've never been too keen forking out $18 for one of their brews, have piqued my interest with this VPA that contains "Venusian Spear Fungus" among other things, now I just had to try a beer with fungi. If this goes well I'll be reviewing their Indochine Pale Ale: Death from Above next.
Poured from a 500ml bottle into a Duvel tulip.
A: Hazy orange body with a bone coloured head which settles down to a light lace on top, and some bizarrely large carbonation bubbles knocking about. 8/10.
S: The classic IPA hop combo of pine/citrus is there, no surprises with that, but there is a lingering treacle sweetness layered in along with a touch of fresh basil. Colour me triple piqued now. 8/10.
T: So what we have is a tasty, but fairly typical, IPA in all its sweet and pine/citrus hoppy glory. I like it but at the same time I'm disappointed that a beer brewed with fungus isn't crazy-goofball-off-the-wall unique... I suspect that in brewing with bold hops, and the quantity of the ingredients I'm not getting that Garage says is in their brew (lemongrass, kaffir lime leaf, Venusian Spear Fungus) is underbalanced compared to the hops. I did however note on a second sip a kaffir lime/lemongrass aftertaste. Not sure what Venusian Spear Fungus tastes like though. 7/10.
M: Medium bodied with a light but dense carbonation, surprising given the large bubbles. 7/10.
D: Now I'm wondering if there are any other fungus beers out there... I imagine there's someone as eccentric as me that has thought about and done it... Anyway I did enjoy this as a stock standard IPA. The balance is good, and it doesn't scream 7.5% ABV, so that is good too. I will get my hands on their DfA as it sounds like an interesting brew. Overall this is good but nothing wow. 7/10.
Food match: I had a Lebanese zaatar with this beer (a flatbread cooked with ground oregano and other spices) and it went down well, but Thai/Vietnamese would also work too.
*That is to say I estimate that I've tried around 1,500 different beers over the last 16 years I've been drinking said delightful amber fluid, my review tally stands at 460 with this review though.
★
2,339 characters

3.62
/5
rDev
-4.2%
look: 3.75 | smell: 3.5 | taste: 3.75 | feel: 3.5 | overall: 3.5
Pours a golden clear hue with a fluffy two finger head and subtle lacing,the smell is fruit salad,grapefruit,lemons and grassy herbs,the mouthfeel is medium bodied with above moderate carbonation and had has tastes of spicy herbal hops,fruit salad,finger limes,lychee,sweet malts and finished with a grassy citrus dryness and overall it's not bad and while not being out of this world still very approachable cheers.
★
416 characters
3.68
/5
rDev
-2.6%
look: 4.25 | smell: 3.75 | taste: 3.5 | feel: 3.75 | overall: 3.75
Clear copper, big pine smell. Taste is automatically driven to grapefruit and lime with a touch of funk and a high level of bitterness. Feel is crisp and light to medium light body. Overall, I feel the bitterness took away from the uniqueness of this beers potential, but still a very interesting and good beer. Cheers!
★
319 characters
Venusian Pale Ale from Garage Project
-
out of
100
based on
8
ratings.