AKA IPA
| The Cromarty Brewing Company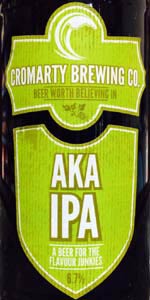 BEER INFO
Brewed by:
The Cromarty Brewing Company
United Kingdom (Scotland)
|
website
Style:
American IPA
Alcohol by volume (ABV):
6.70%
Availability:
Rotating
Notes / Commercial Description:
No notes at this time.
Added by Kirk on 06-29-2013
Reviews: 6 | Ratings: 14

3.66
/5
rDev
-2.9%
look: 4 | smell: 3.5 | taste: 3.75 | feel: 3.75 | overall: 3.5
Drank from my Ciney sniffer.
A - Pours a thick looking cloudy copper/amber colour with a nice tinge of red. The head is off white and laces nicely.
S - A little hop, pepper, and some citrus fruit, also a little malt.
T - Nice hops up front, the finish is malty and caramel with a nice kick of hop bitterness. Nice
M - The body is medium and the carbonation is low
O - A nice well rounded beer that is more of a traditional English IPA with some balls..
★
457 characters
More User Reviews:


4.1
/5
rDev
+8.8%
Big pine aroma then the taste takes you through a journey, toffee resinous that warms with fruit then citrus then bitterness WOW
129 characters


3.67
/5
rDev
-2.7%
look: 4.25 | smell: 3.5 | taste: 3.5 | feel: 3.75 | overall: 4
Pours a red-tinged amber colour. Head is tight, white, dense. Nice retention. Looks quite English, but great head.
Smells a bit oxidised. Some nice slight citric hop notes but just smells a bit wattle-esque and slightly stale. OK, but a bit weird.
Taste is slightly peppery and dry upfront. Develops some capsicum notes with a touch of citrus, orange and a touch of lemon and then some mild cakey notes, quite English malt. Yeah, decent but somewhat muted. And maybe a little stale; lacks the fragrant hop notes of which it had potential.
Smooth, full; has a dry note which matches the nutty flavours. Decent.
Lacks the oomph of a typical IPA (English or otherwise), but drinks very decently.
★
700 characters
3.94
/5
rDev
+4.5%
look: 4 | smell: 3.75 | taste: 4 | feel: 4 | overall: 4
500ml brown bottle purchased from Slowbeer in Melbourne.
Pours a seemingly hazed amber-orange colour with a little disturbed sediment from an overenthusiastic pour. When held to the light, it's actually quite a vibrant red, and clearer than expected. Head forms well, settling out to a solid ring of tight bubbles leaving some off-white lacing. Body is pretty decently weighted. Looks good.
Nose is a little muted, but quite pleasant, with a little citrus, and a slight peppery hop character coming through. Some earthy malts form a decent basis. Slightly herbal characters appear as it warms a little, although the pepper character becomes more prominent as well, so it still dominates. Not bad.
Taste is also good. Clear and clean, with a pleasantly bright hop fragrance that bounces around from front to back. Malt provides a caramel flavour that never gets too juicy or overly sweet: just providing solidity. Pepper and leafy hop characters come through towards the back, while there's a rather dry, stickily bitter finish that leaves an aftertaste of musk. Pleasant.
Overall, this is very drinkable stuff, and provides an enjoyable package overall. Something I'd happily drink again.
★
1,192 characters
3.69
/5
rDev
-2.1%
look: 3.5 | smell: 3.75 | taste: 3.75 | feel: 3.75 | overall: 3.5
3.66
/5
rDev
-2.9%
look: 4.25 | smell: 3.75 | taste: 3.5 | feel: 3.5 | overall: 3.75
500ml Bottle from Good Spirit Co. (Glasgow, £3.60):
Hazy orange to amber with a nice, thumb-sized head that is a foamy texture and very slightly off-white in colour. Okay retention that eventually settles as a fine lacing.
Refreshing hops and some subdued tropical fruits upfront with a malt base and some good citrus notes. Definitely quite fruity on the nose with a combination of berries and grapefruit with some pine too.
Tropical fruit bitterness to start off with, and one that features some pine, grapefruit and like the aroma some citrus as well. There is a touch of perfume to the hops and a malt base that features some caramel and background fruits.
Smooth & well-balanced with a good bitterness & slight alcohol bite. Not the most varied taste but it goes down well and was quite refreshing.
A mixed bag with the initial smell after opening the bottle coming through as quite a strong & tropical one that was very nice but as the beer had time to settle and open up it became apparent that this aroma was weakened slightly.
★
1,040 characters

4.21
/5
rDev
+11.7%
look: 2.75 | smell: 3.5 | taste: 4.75 | feel: 4 | overall: 4.5
From Jim's. BB Dec 14
A - clear gold body, large bubbles form an un appealing one finger head.
S - floral hops, malt, biscuit.
T - oh wow. A great mix of US IPA and the UK version. Delightful floral hops balance a biscuity malt backbone. Fabulous. Caramels and toffees in the mix, but overall balance is the key. Little bittering hops, so smooth overall.
M - light creamy carbonation.
O - what a find. Somewhat akin to Thornbridge Jaipur, as a hybrid of styles. A cross pond style!
★
487 characters
4.3
/5
rDev
+14.1%
look: 4 | smell: 4 | taste: 4.5 | feel: 4.5 | overall: 4.25

3.23
/5
rDev
-14.3%
look: 3.25 | smell: 3.25 | taste: 3.25 | feel: 3 | overall: 3.25
COMMERCIAL DESCRIPTION
I am no make believe IPA, I am big, resinous and stoked with American hops! I am also known as India Pale Ale
pours dark amber with nice off white head. Aroma of citrus zest and pine and biscuit in the background, Taste is nice, lots of pine and grapefruit with citrus
★
295 characters

AKA IPA from The Cromarty Brewing Company
-
out of
100
based on
6
ratings.